Share

Pearl River Piano: Building a Chinese brand for the global market
Pearl River Piano has been China's largest piano manufacturer since 1992. Based in Guangzhou, the company has undergone a major transformation from a national brand to a competitive global producer and seller of high quality pianos. Becoming competitive on a global scale meant the necessity of producing the highest quality pianos in order to meet the strict expectations and demands of European and American customers. The company currently enjoys roughly 20% of the market share in the U.S. and 15% of the market share in Europe. Boston Consulting Group reported that Pearl River Piano dominated the piano market with a 60% share in domestic sales and a 50% share in export sales in 2006. Today the Pearl River Piano Company has offices in over 100 countries.
China overtook Japan and Korean to become the largest piano producing country in the world in 2006. Local piano makers increased from 16 in 1998 to more than 120 in 2004. The China Music Instrument Association indicates that the total production of pianos in 2006 was more than 370,000 units, of which 28.6% were exported. Four state-owned firms together accounted for 38.4% of total production. Pearl River Piano, a state-owned company, remains the largest exporter and has an annual production capacity of 100,000 units – the world's largest according to The Music Trade Magazine in America.
Most Chinese Multinational Enterprises (MNEs), eager to compete in the international markets, are often stuck at the Original Equipment Manufacturer (OEM) stage: exporting their products to Western countries but labeling their products with the brand name of the purchasing company. Using the company's Chinese brand name is another thing. A general lack of marketing know-how and knowledge of western markets are major obstacles to further brand development of Chinese piano companies. Research conducted in 2008 revealed that Pearl River Piano was the only Chinese piano manufacturer that decided to use a strategy of self-branding in western markets, as well as more direct OEM exporting under its own name.
When Tong Zhicheng became president of Pearl River Piano in 1992, the company was already the biggest manufacturer of pianos in China. This was not enough to satisfy Tong, whose true ambition was to expand and compete successfully overseas. Tong reflects on why he was so passionate for his company to move beyond the borders of China: "Pianos are from the West. Success in Western markets is the only thing that can prove the high quality of our pianos."
Quality Control: Imported Techniques and Foreign Experts

Soon after taking the helm of Pearl River Piano, Tong Zhicheng focused heavily on how to improve product quality to meet the exacting standards of the European and U.S. markets. Although at this point, the Pearl River brand was renowned and enjoyed a large following in the Chinese market, the quality of the products was not at a level to compete successfully internationally. During the Annual Instrument Exhibition held in the U.S., the company's pavilion attracted little attention and the pianos demonstrated problems with inconsistent quality after the long-distance shipping from China to the U.S.
Tong wasted no time in turning things around by studying earlier examples of success achieved by Japanese piano makers. These Japanese companies were able to effectively gain a large portion of the global market through the use of automated production lines that allowed a record-setting turnout of high-quality pianos in a cost-effective way. Tong sought to emulate this success by increasing investment to modernize the company's production equipment and technology, spending roughly RMB 500 million through the next several years. His management team further incorporated operational and leadership strategies used by these Japanese companies.
Meanwhile, Pearl River Piano continued its long-term policy of using consultants from Europe and the U.S. to share their knowledge. David Campbell, the former technical manager for the American piano manufacturer, Steinway & Sons, has been the company consultant since 1987. Lothar Thomma, a German master piano designer was invited to help design the Pearl River-Ritmuller piano line in 1995.
In 1995, the overall improvements made to Pearl River Piano were noticed by the Japanese electronics company, Yamaha, who recommended they form a joint venture, creating the brand name of 'Yamaha-Pearl River.' The cooperation represented "a good opportunity to gain more input on product quality and to further upgrade our operations," explained Tong.
Years of collaboration with various companies through international joint ventures and employment of foreign technical experts has played a significant role in the globalization of China's piano industry. In fact, Chinese MNEs have benefited greatly from the use of foreign production methods and technology, which helped to increase production rates and new product development.  Between the years 1999 and 2002, the production rate gap between foreign and local Chinese firms had dropped from 5.25% to 3.29%, and the new development rate gap between foreign and local Chinese firms had dropped from 2.5% to 1.8%.
Negative Country of Origin Image and Localized Communication

Tong first set his sights on the U.S. and established the first overseas office of Pearl River Piano in Los Angeles in 1999, as Tong aspired to gain a foothold in the international piano market. But the initial efforts, which used Chinese sales representatives and business strategies from China, proved disappointing. "No one seemed interested in low-cost pianos made in China," Tong said.
The Country of Origin theory (COO) is the crucial factor in the internationalization process.  The theory states that the public perception or image of a nation plays a crucial role in the overall acceptance or rejection of a product produced in that particular nation, especially in the case of a new brand that is unfamiliar to foreign consumers.  Brands coming from developing countries as a result, often find it especially difficult to make successful inroads into the markets of developed nations because of the negative Country of Origin effect. Chinese piano manufacturers are subjected to a negative perception of the "made-in-China" label that exists in the global market, which explains the initial low sales figures for the Pearl River's office in Los Angeles.
The negative effects of the Country of Origin concept are at its most when consumers lack knowledge and information about a particular brand. To make their brands more attractive to consumers, business researchers suggest that Chinese companies invest more in developing their marketing communication strategies. In the case of piano manufacturers, companies could collect opinion data from key demographic groups like music professionals, music teacher, and piano designers.
Shifting tactics in an attempt to turn the sagging sales situation around, Tong stopped using the Chinese sales representatives and began recruiting a number of American representatives with extensive experience in the piano industry to fill top positions in the company's U.S. subsidiary. Meanwhile, the company got advice and assistance from American consultant David Campbell to push sales and decide upon 32 products from its 138 product types to match the tastes of U.S. piano buyers. Soon after these changes were put into effect, Pearl River pianos were sold in over 1,100 American outlets. So far, the company has its own distribution network of more than 300 dealers across America.
To gain access into the European market, Pearl River applied a different strategy – international acquisition- in order to attract the most demanding and sophisticated piano consumers in the world.  The company acquired the German-made brand Ritmuller in 1999, which is one of Europe's most respected piano brands with a history dating back over 200 years. This move represented a more committed OEM exporting mode using the distributor's name rather than through direct branding. The advantage is the brand would reinforce the communication with local consumers and decrease the negative Country of Origin effects. In 2004, Pearl River formally opened a European branch in Munich, and now ranks as Europe's second-largest piano company through its sales, with a 15% market share.
During the last decade, Pearl River Piano has made remarkable progress with its product quality and international recognition. During the 2008 financial crisis, China's piano exports shrank by over 70%, but Pearl River's sales revenues grew 9% and profits surged nearly 18%.  In 2008, Steinway & Sons made the decision to shift the production of its Essex brand pianos from Korea's Young Chang Company to Pearl River Piano in China. This is a positive sign for more Chinese companies to consider globalizing their brands and developing the capability to compete with the best European and American companies in the future.
You may also like
The BRICS countries no longer share similar economic trajectories, but the grouping still has a role to play.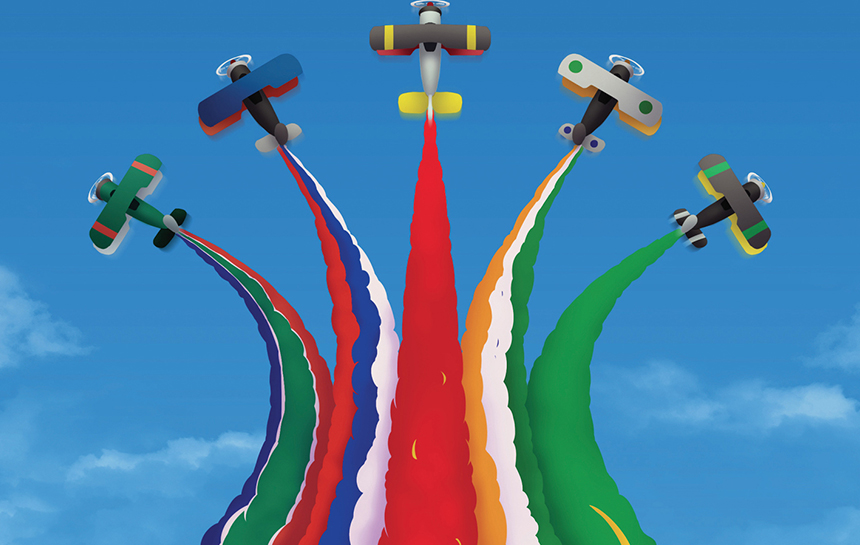 | Jun. 7 2023