China, home to half of the world's Smart Cities, is rapidly enhancing its technology to upgrade urban management. With the imminent rollout of the Internet of Things (IoT), Smart Cities featuring a centrally-controlled approach to just about everything, are becoming a reality, and China is leading the way
In the eastern city of Hangzhou, Chinese conglomerate Alibaba's "City Brain" technology has been, quite literally, stopping traffic. It controls nearly all traffic lights in the city, thereby helping first responders to reach emergency scenes in half the time it took in the past and shortening daily commutes for drivers.
In the capital of Beijing, American-born resident Shaun said the city's air has improved so much that "Beijing's air is no longer a deal-breaker," to living there. The better air quality can be attributed to a variety of factors, including new digital technology such as the Blue Map smartphone app. Created by the Institute of Public and Environmental Affairs, Blue Map is used by city officials in real time to take steps that include forcing factory shutdowns to reduce pollution.
There is still debate over exactly what a "smart city" is. Definitions range from a cities' management mechanisms being optimized by digital means to a city where robots do repetitive chores and people commute in autonomous vehicles to work. But, there is no doubt that China is absolutely at the forefront of developing and implementing the concept.
Managing traffic and pollution are the most visible forms of the running of a Smart City and they already have the ability to improve lives. But they are just the beginning.
The imminent rollout of the Internet of Things, (IoT), where everything will be connected to the Internet through 5G telecoms networks, will speed up the process further. Smart Cities are going to take a centrally-controlled approach to energy distribution, health care logistics, manufacturing, public services, residential site management, social administration, traffic and even entertainment services. So basically, life in general.
"One major push is driven by environment-related grievances, with cloud-computing solutions being used to monitor pollution flows," said Nick Marro, a China analyst with the Economist Intelligence Unit. "This then feeds into China's efforts to adjust its overall industrial structure, as reflected by smart city goals being mentioned in virtually all the important policy documents since the middle of this decade."
Flexible definitions
Pretty soon, every door, faucet, plug socket, car, refrigerator, traffic light, air-con, turnstile—in short, every item in our lives—will be interlinked, creating data and operating according to instructions from some central control unit. Cash is disappearing fast as all transactions turn digital, and cameras keep an eye on every street and doorway. Government is turning into e-government under which, for instance, official services are delivered to the populace via smartphone apps as opposed to the counters of local government offices where one once lined up.
"Smart city technologies facilitate the streamlining of services on the municipality and regional levels and allows stake-holding companies and individuals to interactively connect with these," says Gisela Loehlein, head of the Department of Architecture at Xi'an Jiaotong-Liverpool University in Suzhou. "For individuals, it's time-saving and convenient to do bureaucratic tasks with a smartphone app, which frees them from cumbersome encounters with authorities."
More than 500 Chinese cities have submitted proposals to make themselves "smart," and the Chinese government has designated 90 of them as pilot projects. According to business intelligence provider Frost & Sullivan, more than $2 trillion will be spent globally per year by 2025 on devices, software and systems associated with smart city development, and half of Asia's smart cities will be in China. These cities will generate an estimated $320 billion for the Chinese economy, with advanced driver systems, artificial intelligence, distributed energy generation, personalized health care and robotics to be its cornerstones.
The trend toward smart city is driven by China's economic growth, growing consumer spending and, of course, rapid urbanization. China's urban population has grown from 37% of the total at the turn of the century to 59%, with predictions of 71% and 80% for 2030 and 2050, respectively.
A recent report, entitled "Smart Cities China—shaping sustainable growth," argues that smartification of cities is crucial to turn China from the world's low-cost factory to the world's high-value adding innovation powerhouse. "Cities and smart technology will be essential to shifting the economic focus from a nation that 'makes' to one that 'creates'," the report says.
Issued by a group of German organizations and companies led by Siemens, the report concludes that, "Harnessing innovation and scaling up activity across all urban areas will be important in meeting the demands of urbanization."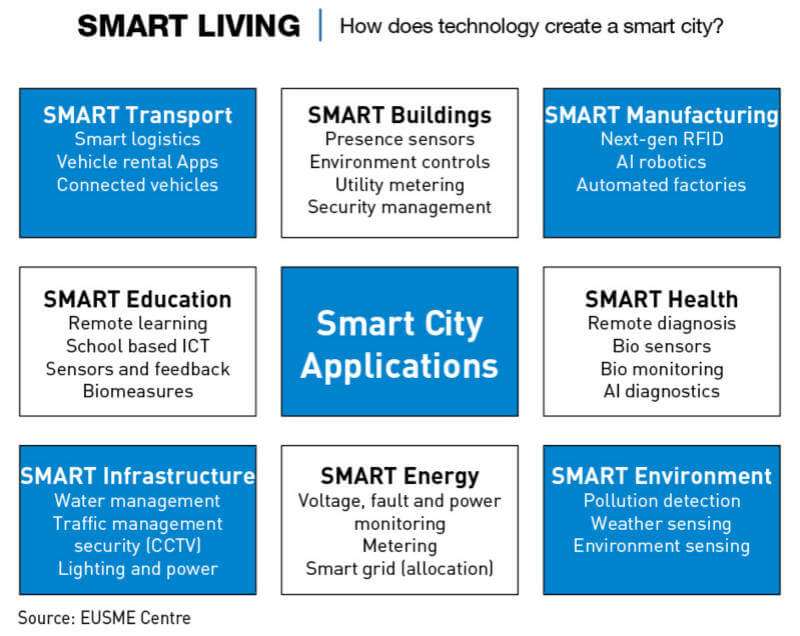 Cisco's former vice president Asia Pacific, China and Japan.
"Many projects at the time were primarily about attracting foreign investment to new greenfield business parks with help of the best possible infrastructure, including smart security and building energy management solutions as well as preemptive maintenance of office buildings."
Herzberg says that the installation of networks of surveillance cameras was associated with the goals of crime prevention, disaster recovery and traffic management. Energy management solutions entailed the adjustment of air conditioning, heating and lighting according to the actual presence, or absence, of people in the rooms.
It is still a major technical challenge to scale such solutions up to a city level, he says, but energy savings of up to 40% are often achieved in buildings. "Similarly, new digital solutions are reducing water leakage from pipe systems of up to 80% as well as optimizing the pumps' electricity consumption," Herzberg says.
Convenience & convenience
In terms of traffic management, the Hangzhou "City Brain" project, created by Alibaba, has since 2016 been using camera systems and sensors across the city to collect data on road conditions in real time. According to Alibaba, the data are fed to an artificial intelligence (AI) hub, which then manages traffic signals at 128 intersections.
As a result, Hangzhou's daily accident reporting increased, and response time decreased. In Hangzhou's Xiaoshan District, for example, average travel speed on roads with automated traffic signal control increased by 15%, reducing the average travel time by three minutes. The emergency vehicle response time was shortened by 50%.
Meanwhile, in Shanghai, the city government is backing a multitasking app called Citizen Cloud that allows citizens to pay for water, gas and even traffic violations via a few clicks online. Beijing has been pioneering the use of mobile payments for public transport and retail, and even the capital's street hawkers have accepted and been integrated into the technology.
Hospitals in Ningbo, Guangzhou and other cities, meanwhile, have launched one-stop online platforms where citizens can make appointments, pay hospital fees and access other health care services. They can also use WeChat Pay to have prescription medicines delivered to their home.
Still, among the challenges for smart cities over the world is privacy. Many AI devices and technologies are not yet really reliable or safe. Examples are autonomous vehicles and smart robots.
"Although AI technologies have been widely used in social governance, face recognition and marketing, they still have a long way to go to reach perfection," said Xu Chengwei, a Singapore Management University research fellow with a focus on China's smart city development. "We may feel more convenient in terms of smart life, but there's no such thing like a free lunch," he added.
Early birds catch worms
Given that most of China's smart city projects are government-owned and operated, companies that are approved for involvement are obviously in a sweet spot with the Chinese authorities.
Some Chinese companies benefit more than others, especially smart device manufacturers such as Huawei and ZTE. Internet companies like Alibaba, Baidu and Tencent have also profited from the growth of smart cities, as have delivery services companies such as Didi Chuxing and SF Express, as well as video surveillance product suppliers like Hikvision Digital.
In September, Huawei unveiled the world's first genuine 5G smartphone chip that will play a crucial role in connecting China's citizens to the smart city solutions of the future. Specifically, Huawei's Kirin 990 5G combines a 5G smartphone-system-on-chip (SOC) with a 5G modem, unlike its competitors from Qualcomm and Samsung Electronics that use a 4G SoC together with a 5G modem. This technical breakthrough makes Kirin 990 5G, the fastest, the most reliable and the most power-efficient on the market.
The development of 5G is rapidly helping to unleash IoT's full potential. As this technology grows, so will its role in the build-out of smart city functionality. Gartner, an IT research and consultancy company, estimates that 20.4 billion items will be connected around the world by 2020. Current wireless infrastructure does not have the capacity to accommodate so many devices or support such a large amount of information exchange.
In the past four years, Chinese startups involved in AI, which is the concept at the heart of all the technology that allows smart city devices to make instant decisions, have raised $6.1 billion from venture capital funds. This is 70% more than what their US counterparts collected in the same period, according to Lux Research.
Same but different
Chen Fei, a senior lecturer at the Liverpool School of Architecture, who was born in China, sees smart city technologies as presenting huge opportunities for public space design. As he explains, decisions no longer have to be based on what officials and experts think but can rather develop naturally from the data created by the individuals who use various facilities and spaces.
"Data on humidity, temperature and light collected from cameras and sensors can be used to adjust a public space's floor surface, heat- and light-reflective surroundings, greening, lighting and ventilation, so that it becomes more welcoming to citizens," Chen says.
"This is in line with the government's urban policy quest of moving public life away from gated communities to the streets. Indeed, to encourage people to see streets as social spaces rather than purely for traffic is a core aim of urban planning, and China is an ideal testbed for this."
On a policy level, China's smart city strategy appears not so different to what other countries have been doing. For example, the US government's Smart City Challenge, launched in 2015, and the European Union's Horizon 2020 work program on Smart Cities and Communities (2018-2020) both funnel support and funds to a set of early-adopter cities.
Herzberg, meanwhile, says that China's smart city policy approach is like that of South Korea in the sense that efforts are encouraged top-down by the central government. Projects are then actualized by strong, agile local and regional authorities able to go through the decision-making processes swiftly.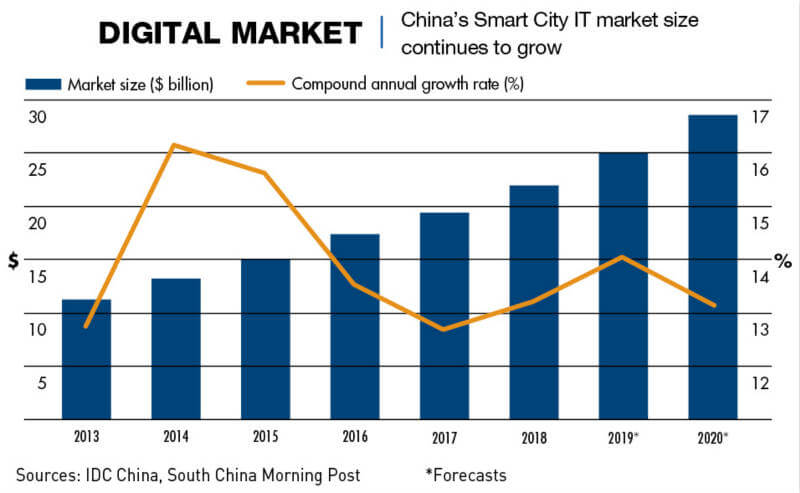 Enjoying what you're reading?
Sign up to our monthly newsletter to get more China insights delivered to your inbox.