Share

How China's Menswear Brand HLA Became so Successful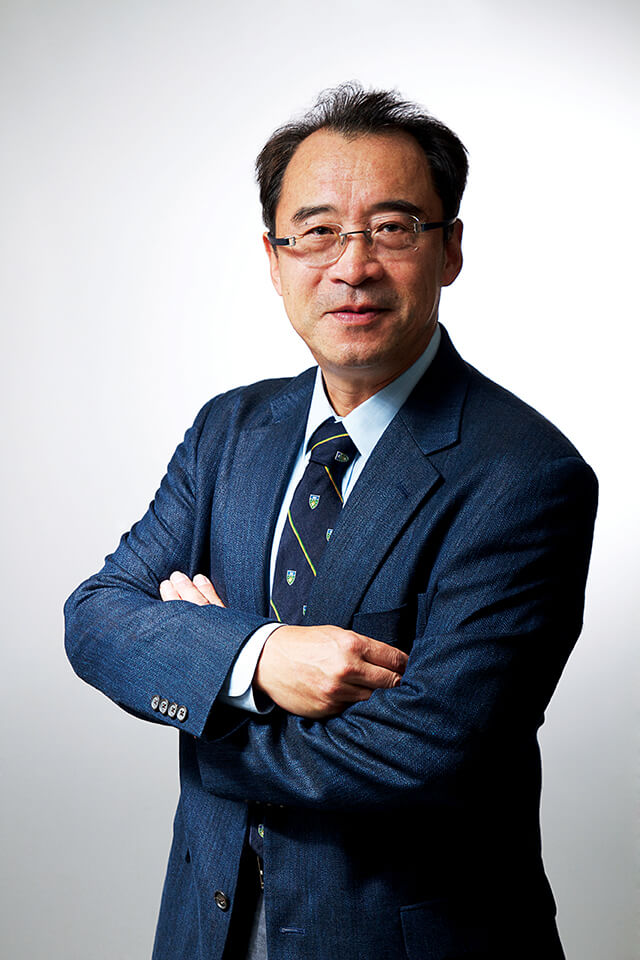 Li Lode, Professor of Operations Management at CKGSB, examines China's most successful menswear brand: HLA
Over the past five years, the business model of China's clothing industry has been unraveling. For decades, China's vast apparel industry competed mainly on price. But with labor, land and raw materials costs rising, environmental regulations tightening and competition becoming ever fiercer, even many of China's best-known brands have struggled.
There has been one glaring exception: HLA. The Jiangsu Province-based menswear label has grown stronger and stronger even as competitors shuttered hundreds of outlets.
In this interview, Li Lode, Professor of Operations Management at CKGSB and Professor Emeritus at Yale University, explains how HLA's extraordinary success has been made possible by smart strategic decisions.
Q: What inspired you to study HLA? What's special about this company?
A: Since its founding in 2002, HLA has grown from a small local factory in a third-tier Chinese city to the country's leading menswear brand. Within eight years, the company had opened stores in all 31 provinces, autonomous regions and municipalities on the Chinese mainland, from Tibet to Hainan.
What's more, the company was able to sustain this success. From 2012 to 2016, its annual retail sales and net profits grew at a compound rate of 59% and 30% respectively. This allowed the company to become the largest apparel company listed on Shanghai's A-share market.
Seeing this rapid growth, I was intrigued by questions such as: how HLA has continuously solved the problems encountered during its development? How has it innovated and improved its business model, and what universally applicable lessons can we learn?
What I found is that HLA's success has been based on a certain mindset. In short, it does not regard itself as a standalone enterprise, but as a partner in a supply chain. As a result, it has focused on creating a win-win environment for all the members of this supply chain. This allows it to take full advantage of the skills and resources of all the businesses within its supply chain, often making significant cost savings as a result, to achieve rapid growth. Many traditional manufacturing companies could learn from this strategy.
Q: How did HLA develop from a tiny township enterprise to a successful clothing company?
A: HLA's success was built on the business model innovations it adopted early on. HLA was originally founded as the Third Woolen Mill Factory, a collective run by its local township.
As the company tried to upgrade its business during the 1990s, it encountered a problem. On the one hand, when it tried to retail its own branded clothes, it found that it would have to compete directly with its former retail clients. On the other, when serving as an agent to other clothing brands, it faced tough competition from outlets like supermarkets and shopping malls.
Zhou Jianping, Chairman of HLA, sought to break out of this vicious circle. After visiting clothing brands in Japan in 2002, he decided to position HLA in a segment where the competition was less fierce: affordable menswear with a variety of designs and trendy lines.
He adopted the self-service retail chain model used by many of Japan's most popular brands, and aimed to create a "one-stop shop" retail chain experience for menswear in China.
Q: In China, competition in the apparel market is so fierce that many brands have closed their brick-and-mortar stores. How has HLA bucked this trend?
A: The driving force behind HLA's rapid growth has been its innovative business model. Instead of following the "all-round" model favored by many competitors, in which they manage the whole production and sales process from raw materials to design, manufacturing, distribution and store management, HLA has developed an "asset-light" or "barbell-style" model.

Under this model, the company focuses on two critical stages in the process. First, it concentrates on brand building; second, it maintains firm control over its supply chain and store management.
Apart from this, the company leaves material purchasing, garment production and distribution to its suppliers, and expands its store network rapidly through an innovative "quasi-direct sales" model. This means that the franchisees delegate the operation and management of their stores to HLA, while sharing the stores' profits with HLA in the manner of a financial investor.
Q: What are the advantages of this "asset-light" model?
A: HLA's lean business model is in some ways like that used by sharing-economy businesses such as Uber. The model allows HLA to design incentives to encourage its franchisees and suppliers to expand rapidly. At the same time, the company benefits from being able to specialize and focus its energies on a narrow set of critical tasks.
One feature of this kind of fast-fashion company is that it has many product lines that change rapidly. By outsourcing materials purchasing, production and some design functions to suppliers, HLA can concentrate on what the company is good at, such as supply chain management, store management and brand building, allowing it to raise the value of its products and achieve efficiency savings.
Q: How does HLA's "sharing-economy" model benefit its suppliers and consumers?
A: All of HLA's 200 suppliers are garment factories located in the southern part of Jiangsu Province. These small- and medium-sized manufacturers lack the scale or brand power to secure big orders when operating independently.
HLA effectively operates like a "platform" in the supply chain—in a similar way to a sharing-economy platform like Uber. Through HLA's unified information and logistics platform, these hundreds of suppliers can integrate their production capacities to meet the needs of the market across the country.
It also allows them to achieve economies of scale when procuring raw materials. For example, since 2012 HLA has been reforming its procurement practices to help major suppliers join together to collectively negotiate with upstream raw materials suppliers. This allows HLA's suppliers to get materials at discount prices, reducing the production costs both for them and for HLA.
Q: What other differences are there in the way HLA deals with its suppliers compared to traditional manufacturers?
A: Usually, domestic clothing brands have a simpler "commissioned processing" relationship with suppliers, in which suppliers earn a 5% to 8% processing fee.
However, HLA gives its suppliers a gross margin of an amazing 30-40%. What is the reason behind this? HLA's suppliers actually wear many hats: in addition to manufacturing, they also take on responsibility for product design, and bear the inventory costs as well as the risk of product returns.
Q: The suppliers provide the product design?
A: To be more precise, the product design is a joint process. Amazingly, despite the huge number of designs launched by HLA each year, the company only has around 150 designers at its headquarters.
HLA's central design team controls the core planning for new lines and developing proposals, while the rest of the non-core design processes are outsourced to the suppliers. This allows HLA to leverage the suppliers' 1,000-2,000 local designers. Usually, HLA selects 100 designs from almost 1,000 samples, and then gives the orders to the suppliers.
Q: The toughest part of this for the suppliers is that they must bear the risk for product returns. Why do the suppliers accept this arrangement?
A: At the moment, 20-30% of HLA's products are classified as "buy-out items," while the rest are sold on a consignment sale basis. The procurement contract HLA agrees with its suppliers states that HLA can return "unmarketable goods"—this is usually defined as goods that remained unsold after two seasons—to the supplier. However, some of these "unmarketable goods" are then repurchased by HLA for use in its sister brand Hieiika, formerly known as Baiyibaishun.
The suppliers can afford this because of the super-high 30-40% gross profit margins. If their dynamic sales rate remains stable at around 70-80%, their operating conditions are benign. If the sales rate is even higher, they will also receive bigger orders from HLA.
Q: Regarding HLA's sales channels, what are the advantages of its "quasi-direct sales" model?
A: HLA's approach to opening stores has been a big factor in its expansion. The three major foreign clothing brands in China—Uniqlo, H&M and Zara—all use a direct sales model, which gives them strong control over their terminal sales channels. However, the financial burden this imposes also restricts the speed at which they can expand.
Most domestic menswear brands typically use a more hierarchic agent system. Under this model, the brands do not have to open new stores themselves as they use their agents' existing sales channels. This allows them to expand quickly. However, as the franchisees own the stores, they have a strong say in how the stores are run. So, when the brands disagree with their franchisees, it is difficult for them to exert control over their stores, and this often harms the brands' interests.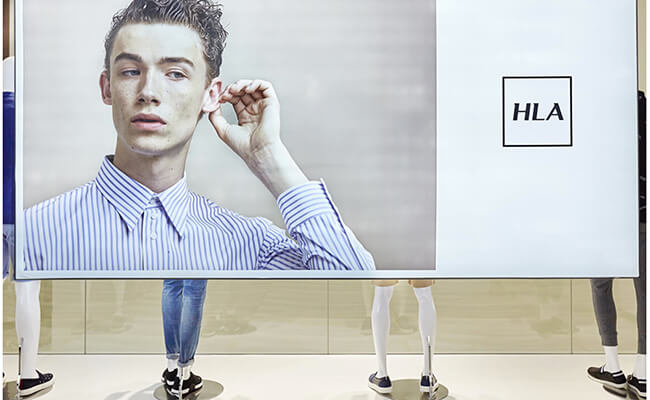 Unlike these other business models, HLA's "quasi-direct sales" model lets its franchisees play the role of a financial investor. They are responsible for paying relevant costs, but do not play an active role in store management. This has helped HLA achieve rapid expansion by leveraging its franchisees' capital while keeping control of its sales terminals.
Even in the second half of 2015, when the clothing market was sluggish, HLA still managed to open many flagship stores in prime areas of major cities. Lichen Zhou, HLA's Vice Chairman, said: "It's hard to secure these locations when the market is good, so now is a good time to get these places."
Q: How has HLA convinced its franchisees to give up control of the stores and merely play this financial investor-style role?
A: HLA has designed an attractive commission system. The company offers its franchisees a high commission rate of up to 35%. After paying for rent, utilities, staff wages, tax and other expenses, the franchisee takes the remaining amount as profit.
Meanwhile, under HLA's franchise model, franchisees do not have to pay a franchise fee, bear the risk for overstocking or play an active role in store management, so the commission is very attractive.
You may also like
Sir Vince Cable, former UK Secretary of State for Business, Innovation and Skills, discusses how China's relationship with the UK has.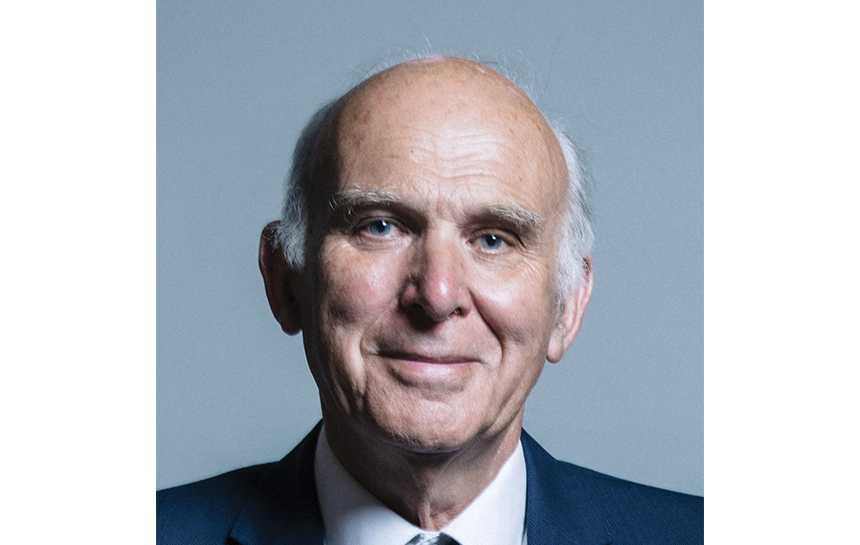 | Mar. 6 2023