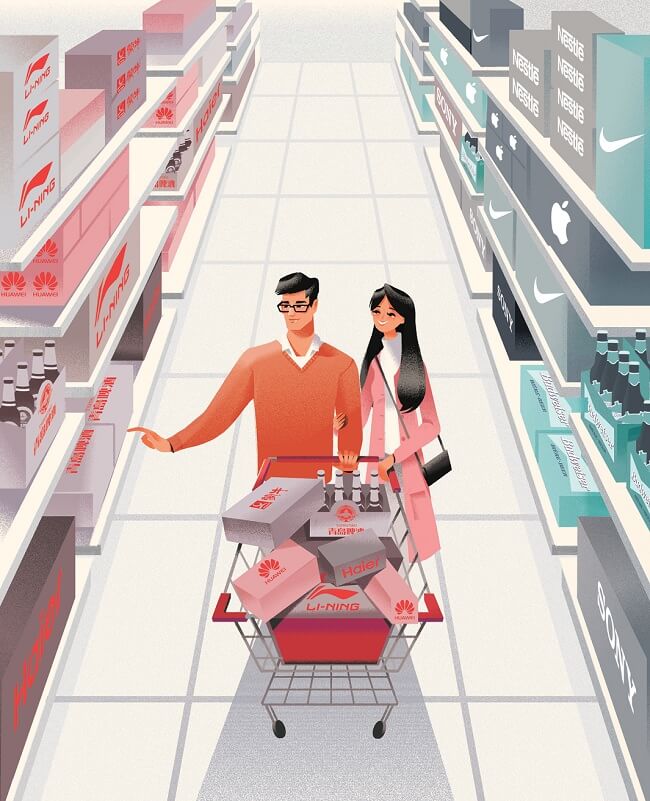 Multinationals in China now face formidable competition from domestic brands in almost every sector. What can they do to regain the ascendancy?
In recent months, Beijing's vast subway system has been plastered with posters featuring a range of famous faces clutching sleek new smartphones, from NBA superstar Stephen Curry to a gaggle of FC Barcelona soccer players.
Five years ago, such A-list celebrities would likely have been promoting the latest Apple iPhone or Samsung Galaxy, but now the brands running these campaigns are all Chinese. Huawei, Oppo, Vivo and Xiaomi are now the country's top four smartphone makers by market share, according to Counterpoint Research.
Similar power shifts have taken place in sectors across the entire economy, as domestic brands increasingly outmaneuver their global competitors. The transformation has been so profound that the "brand power" of domestic companies among Chinese consumers overtook that of multinationals last year, according to the influential BrandZ Top 100 Most Valuable Chinese Brands report.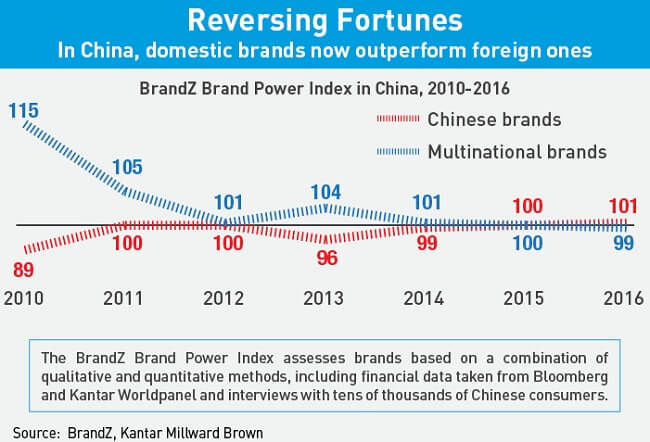 According to Mark Tanner, Managing Director of Shanghai-based marketing agency China Skinny, Chinese companies have been making enormous strides in recent years.
"Domestic brands have raised their standards and become contenders in the mid-premium segments: even the biggest of brands have been nimble and quick to adapt," Tanner explains to CKGSB Knowledge.
However, multinationals have so far failed to respond to this threat. "[Another surprise is] how slow and seemingly disconnected many foreign brands remain at adapting to China's dynamic market," says Tanner.
With real disposable income levels rising 8% year-on-year in China in 2017 and set to continue this fast growth, multinationals are at risk of being muscled out of the world's most exciting market unless they meet the challenge posed by China's flourishing domestic brands.
Remaking "Made in China"
A mere 15 years ago, the notion of mid-range Chinese-made goods being compared to foreign ones would have been laughable: domestic manufacturers were notorious for corner-cutting and producing shoddy goods. One Gallup Poll from 2004 indicated that 40% of Chinese consumers rated "Made in China" products as "poor/fair," while only 9% said the same about "Made in America" goods.
Horror stories were common place, from the ubiquity of electronic goods that broke after a single use to food-safety scandals, such as the poisoning of thousands of infants with melamine-contaminated milk in 2008. That scandal undermined consumer confidence in domestically-produced food products for years afterward.
But recently this perception has begun to change. Local companies have invested huge resources in upgrading standards and, just as importantly, communicating this to consumers.
"The quality of Chinese brands has improved in recent years and Chinese products are improving all the time," says Ji Fang, a Beijing resident. "Huawei is a good example."
The Chinese government has played a big role by driving domestic manufacturers to become internationally competitive. Premier Li Keqiang made raising the bar in China's consumer industries a key priority, telling a State Council meeting in 2016: "By improving the consumer goods sector, we will force the upgrading of equipment manufacturing. The manufacturing industry is the cornerstone for the country's entire industry."
Chinese companies have also been investing heavily in overseas manufacturers to acquire the world-class production know-how they need. Chinese outbound investment in manufacturing is rising faster than in any other sector, increasing by over $11 billion since 2015 to reach $31 billion. According to Zigor Aldama, a Shanghai-based reporter for Spain's El Pais who has been covering China since 1999, this investment is having a knock-on effect on consumers' perceptions of domestic brands.
"Chinese companies have greatly improved the quality and design of their products," says Aldama. "Increasing the country's innovation capabilities is also making it more interesting for the better educated youth and entrepreneurs. They feel China is more attractive and welcoming than the West."
Even China's dairy companies have bounced back. Top brands Mengniu and Yili have posted impressive gains in market share and profits by investing in offshore production facilities and developing new high-end products.
"[Dairy] brands trying to recover from the melamine scandal basically said, 'If we're going to survive this, we need to have our own premium brands that are actually more premium than even the foreign brands,'" says Benjamin Cavender, Principal at the China Market Research Group. "Chinese brands have a better sense of what Chinese consumers are worrying about."
The Importance of Selfies
Now that many Chinese companies are creating products on par quality-wise with those offered by foreign companies, their superior understanding of what consumers want is beginning to tell. This is most obvious in the smartphone market, where Huawei, Oppo and Vivo have all doubled their market share in the past five years. According to Cavender, the key to their success has been focusing on features that Chinese consumers care about.
"They [Chinese phone companies] do a good job on industrial design and quality: the phones look similar to a high-end Apple or Samsung phone," notes Cavender. "But they focus more on the idea that 'we know how you communicate with your friends, so we will design our phones to take the best selfies, the best food photos and really highlight those functionalities to the consumer.'"
Sun Hui, a young media worker from Hunan, a mountainous province in southern China, swapped her Samsung for a Huawei Honor last year. "Friends recommended the Honor," she says. "It's good-looking, a reasonable price and, of course, the camera is excellent."
Domestic brands' better knowledge of the local market also gives them a crucial advantage when it comes to advertising and selling their products online. According to Doreen Wang, Global Head of BrandZ for Millward Brown, many foreign brands struggle with digital in China. This is because they do not understand how best to use Chinese channels such as social media app WeChat and e-commerce platforms Taobao and Tmall.
"The restriction of Western internet companies' operation in China is limiting the growth of multinational brands who know best how to leverage the western digital channels to build brands outside of China," says Wang. "Local companies are more inclined and have the local knowledge to partner with local tech giants to communicate their products and services to local customers."
In a market where 57% of advertising spending went on digital in 2017, according to Group M, and e-commerce sales reached an estimated $1.1 trillion during the same year, the lumbering approach of foreign companies to online marketing is a huge weakness. However, Tanner believes there is an even greater challenge for foreign multinationals, as the differences in China's digital ecosystem run far deeper than simply which channels are most popular.
"Decision makers need to understand that China has a unique digital ecosystem: not only are the platforms different, but also the reliance and habits," says Tanner. "In most cases, Chinese consumers' engagement with digital is significantly more advanced."
Even companies in industries where brick-and-mortar retail remains effective need to pay attention to these trends, as cosmetics store chain Watsons found. The Hong Kong-based company was an early mover in the mainland market and now runs 3,000 physical outlets in China, but its recent success has come through a forward-thinking digital strategy.
The Watsons app taps into the Chinese habit of touching up selfies by offering a virtual makeup service called Style Me, as well as featuring special discounts synched up with the company's social media feeds. More than 60 million people have now signed up for its loyalty subscription service through the app, and the company's e-commerce sales soared 47% in 2016.
"I use the Watsons app," says Lu Tao, a Shanghai resident. "WeChat promotions save me a lot of money and are a way for me to check up on good deals at a range of stores. It recently helped me save 20% on a face cream."
Tanner expects that global companies that fail to follow Watsons' example may soon begin to fall behind. "I see the biggest changes happening in the physical retail space, where the lines between online and offline will blur," he says. "We will see consumers increasingly setting trends rather than being led by foreign fads."
Nation Matters
Foreign companies in China will not only have to get savvier about their marketing channels, there's also going to be more pressure on them to get the message right, too. In the past, such brands often enjoyed a prestige among Chinese consumers based simply on their status as a global brand. However, that is no longer automatically the case, particularly with regard to China's millennials, whose only memories are of a modern, confident China.
A 2016 report by McKinsey found that, if given the choice between a foreign and a Chinese brand of the same quality and price, 62% would pick the domestic one. This does not mean that the pendulum has swung toward domestic brands in every sector: another McKinsey survey found that 42% of respondents preferred or somewhat preferred foreign fashion accessories, while 19% said the same about foreign personal care products.
However, even in these areas multinationals find that there is little intrinsic advantage in being a global brand any more, as Chinese consumers are increasingly unable to perceive a difference between foreign and domestic products. According to McKinsey, 48% of Chinese consumers surveyed believed Yakult, a probiotic yogurt product from Japan, was Chinese and conversely 45% thought Meters/bonwe, a leading Chinese clothes brand, was foreign.
Many Chinese companies—particularly in fashion and apparel—are using these misperceptions to their advantage. Brands like Septwolves, Mo&Co and Peacebird not only adopt international-sounding names, but also project a modern, global lifestyle and boast of stores around the world. For its spring/summer 2017 collection, Peacebird hired British fashion photographer Josh Olins and a string of internationally famous models.
"Peacebird has done a good job of using international models and being more present on an international basis, not necessarily because they want to sell overseas, but because it gives the Chinese consumer the impression that they are as a brand more aware of international trends," says Cavender. "At the same time, they are focusing on localizing the product, so they have the best of both worlds."
Zhang Sai, a mid-20s fashion-conscious consumer from Anhui, an eastern province near Shanghai, sees Peacebird as a trendy alternative to brands such as H&M or Zara. "Peacebird is a successful Chinese brand and is more and more fashionable," she says. "It seems quite Western because they copy many foreign designs."
As Chinese consumers become more sophisticated and confident, even the most established brands will not be able to afford to be complacent, says Cavender.
"[Chinese] consumers… have a greater awareness of what brands are," he says. "[They] are much less likely to simply focus on big-name brands and instead focus on brands that reflect their image."
Instead of projecting a bland internationalism, foreign companies will need to focus on truly understanding Chinese customers. "Consumers are thinking, 'I want to be a more well-balanced self. How do I find products that fit me as an individual?'" observes Cavender. "Chinese companies have certainly done a better job of articulating how to provide that to the consumer."
Another Door Opens
Though many foreign companies have struggled to adapt to these trends, these changes could open new possibilities. As the spending power of China's middle class rises, new spaces are opening up for mid-range brands offering quality, safety and value, according to Tanner.
"A few years ago, [mid-range products] struggled for traction as Chinese consumers were either price-sensitive and sought the cheapest products or wanted premium products, with those left in the middle not really pleasing anyone," he notes. "But as Chinese consumers have matured, they are trading up across almost all categories and demographics."
Though domestic companies are ready to fill this gap, foreign companies have decades of experience in the mid-range market and should aim to compete strongly in this segment. Brands at the luxury end of the market should also benefit. According to McKinsey, affluent Chinese consumers will spend as much as $147 million on luxury items by 2025—double the current level.
"There is still tremendous opportunity: consumers are increasingly wealthy and are going to be buying across an increasingly wide number of categories," says Cavender. "But to be successful, they [multinationals] are going to have to create memorable retail experiences, better understand consumers and be clear about what their messaging is.
"But the reality is they are going to face more and more competition from domestic firms that are already doing a really good job."
Enjoying what you're reading?
Sign up to our monthly newsletter to get more China insights delivered to your inbox.