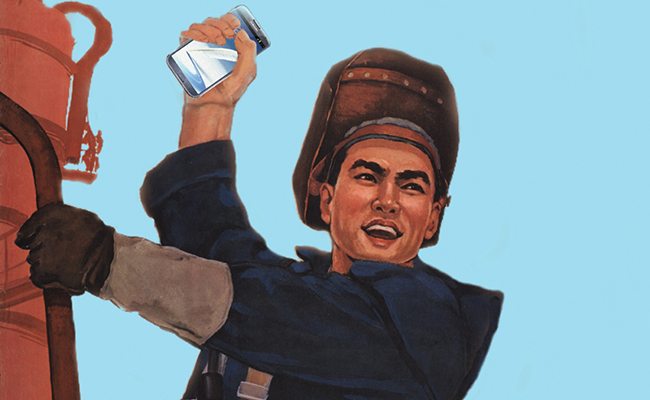 Domestic smartphone brands are gaining popularity in China's less-developed markets, forcing foreign brands to question their approach
It was a bitterly cold December morning in China's capital, with only a few pedestrians meandering along the icy sidewalk, lacking any great sense of purpose or urgency. The Apple Store they passed wore a forlorn look, which was surprising because this day marked the Beijing launch of Apple's iPhone 5. In the past, an iPhone launch meant that consumers would queue up in front of this store in the wee hours of the morning and anxiously wait for it to open. During the launch of the iPhone 4S, a riot nearly ensued before police intervention.
But this time only two customers were waiting for the store to open.
True, there may have been other factors aside from sheer rejection of the product, such as provision of an online pre-order option, but the thinning crowds revealed major shifts in China's smartphone market—in this case from international to domestic.
Apple's Loss, Lenovo's Gain.
Last November, a Chinese technology company pulled off a heist in China's smartphone market. Lenovo snatched the country's No. 2 spot in smartphones from Apple, surprising many industry watchers. As per IDC data, the iconic iPhone manufacturer fell to sixth place.
This is rather impressive given that only two years ago, Lenovo, China's biggest computer maker, was having trouble selling its low-end phones. A new line of smartphones ranging in price from RMB 800 to RMB 2,400 has since helped the company capture a tremendous 13% share of the market, up from about 1.7% a year ago, according to technology analysis firm, Canalys. Their phones are much cheaper than the latest iPhone 5, which retails for around RMB 5,000.
Lenovo's trajectory toward the top is a harbinger of deeper changes in the Chinese smartphone market. The center of gravity for digitally connected consumers is shifting rapidly toward smaller cities—away from the major metropolitan areas that have led sales up to now. In 2013, analysts say the most common smartphone in China will be a cheaper, entry-level device made by a Chinese company—unless the foreign phone makers can find a quick way to ramp up sales in less familiar regions of the country.
"That's fundamentally very different from what's happening in other markets. Everywhere else it's all about the latest and greatest, or the newest," says Shiv Putcha, Principal Emerging Markets Analyst at Ovum, a London-based tech consultancy. The market for smartphones in China expanded by some 100 million users in 2012, a jump from 85 million users in 2011 to about 185 million at the end of last year, and analysts project growth rates to continue in that range for a while. China, already the world's largest smartphone market with 330 million phones in use, is set to order 240 million more devices this year, or 29% of global demand, according to Canalys. The US, the world's second-largest market, will absorb only 125 million smartphones in 2013.
But China's smartphone market growth rate hasn't translated into increased market shares for the winners of years past, which were predominantly foreign brands and dozens of no-name domestic companies. Instead, big-name domestic phone makers have swooped into the gap between the two and swallowed up large swathes of consumers who entered the market only a year before. A defining characteristic of China's new smartphone user is price sensitivity, and that is especially true of the smaller cities that will see the fastest rate of market growth this year, with purchases matching spending power.
"What that will translate into in China's case, if not today then very soon, is volume," says Putcha.
Home Court Advantage
Most new consumers are primarily in non-coastal China, and the companies that first reach smaller cities with entry-level smartphones will prosper in 2013. Navigating the distribution channels in less-affluent China will test the brands' staying power, as will their ability to partner with China's network operators who greatly subsidize the cost for buyers.
The surge in sales for Lenovo phones isn't an isolated phenomenon. Following close behind was Shenzhen-headquartered Coolpad, Huawei and ZTE, all domestic brands that rode the wave of demand for cheaper devices. By the third quarter of 2012, the four brands had captured about 70% of all shipments in China. The greatest purchasing activity in the market has been for phones at around the RMB 1,000 mark, a price all four domestic firms have targeted, while foreign brands—especially Apple—maintain far higher price levels.
Chinese companies seemed to have a home-field advantage, the result of channeling acute market intelligence to fast-moving research and production teams. Being based in China means these brands can leverage more resources faster, insiders say.
"Domestic players have a much deeper understanding of Chinese customers' needs," says Jeffrey Yang, Huawei's Vice-President and Chief Marketing Officer for China. "R&D centers are mainly located in the China market already. They can respond to customers' needs immediately. For the international brands like iPhone and Samsung… it really takes a long process to meet those needs."
But this latest trend hasn't been a disaster for all foreign mega-brand phone makers concentrating on China's major cities. Samsung's Galaxy series handsets were the best-selling smartphones in China last year, and maintaining that spot going forward is highly possible. But the market shift to volume over quality will impact the marketing models for international brands that have stressed high-tech phones at the highest prices. But another key factor in terms of marketing smartphones in China is the role of the three principal mobile network operators.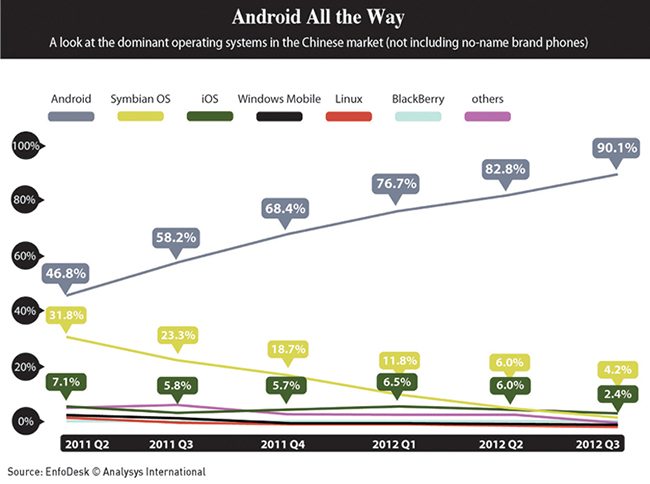 Subsidize Me
Chinese phone makers have developed strong, long-term relationships with the country's state-owned network operators. Firms such as China Mobile and China Unicom began subsidizing the cost of smartphones in the third quarter of 2011, the same period that saw consumers entering the smartphone market in huge numbers. Lenovo has partnered with all three network operators, undoubtedly contributing to its successful gain in market share. For consumers, the tie-ups typically mean two-year commitments to monthly phone plans in exchange for an often substantially cheaper phone. In 2012, China Unicom gave customers a free iPhone 4S handset if subscribers signed up for multi-year contracts.
These partnerships have not only led to cheaper phones for the end consumer, but have also boosted the brands' marketing potential as they venture past third-tier cities into less-developed markets that have been ignored by big names in the past. Yang says vendors did not have "enough confidence" to enter those markets due to a lack of market data and the prevalence of small phone vendors.
Only two years ago, "white box" phones, or phones produced by a myriad of no-name brands, dominated in third-tier cities and beyond. That is changing as phone makers and network operators bind products and services. Support from at least one of China's three massive mobile operators facilitates the push into these markets and the establishment of a brand presence, which is a crucial move for any manufacturer in the fight for volume in 2013, says Nicole Peng, Canalys' Research Director in China.
"Whichever vendors have established their brand name in the third-tier to sixth-tier cities, they will benefit the most this year. The big four [Lenovo, Coolpad, Huawei and ZTE] have been trying very hard to build their channels into these places," she adds. These four brands have all ramped up their advertising in these markets, in addition to setting up phone shops in smaller cities and strengthening the logistics systems that serve online retail in rural areas.
Partnering with a Chinese mobile operator will be decisive for international brands this year as well. In early December, Nokia announced a deal with the world's biggest mobile service provider, China Mobile. The deal brings a subsidized Nokia Lumia 920T to a potential 700 million China Mobile users, a majority of whom have yet to buy a smartphone or use third-generation (3G) Internet technology.
Just as analysts hailed the Nokia-China Mobile tie-up as a winning move for the ailing company that dominated China's pre-smartphone era, the collapse of talks over a deal between China Mobile and Apple has boded ill for the iPhone maker in terms of market share.
At the end of December, China Mobile CEO Li Yue told the media he would not grant Apple access to the world's largest pool of subscribers without a deal that significantly benefited the Chinese firm. Although Apple has partnerships with the smaller firms, China Unicom and China Telecom, analysts said the China Mobile discussions were a make-or-break moment that ended disappointingly. Though the iPhone has slipped in market standing, the device is far from devastated. Apple's iPhone 5 sold two million handsets immediately after the launch in mid-December alone, exceeding iPhone 4S sales and analysts' expectations.
China Mobile is definitely the big fish with 300 million more subscribers than China Unicom and China Telecom combined, according to Barclays Research. But most of China Mobile's subscribers use only 2G services, whereas in the 3G range the race between the three carriers is much closer. China Unicom has only 11 million fewer subscribers than China Mobile, at 76 million 3G users. China Telecom had 69 million 3G users.
The Windows Gamble
Binding services won't be the only game changer this year for international brands. In February, Nokia launched the Lumia 920T running the Windows 8 operating system. Despite a warm reception in big Chinese cities, the Windows system is not certain to succeed this year. Both Nokia and Microsoft will have to learn from past experience and work hard to push the Windows 8 devices to the forefront, analysts say.
When Nokia launched its first Windows phones in 2011, the Lumia 800 and 710, they were essentially alien products in a market increasingly held by the Android operating system. Nokia led a solo marketing campaign for the product without Microsoft backing—in sharp contrast to the Google-powered strategy for Android to which many attribute some of its initial success. Results were poor for the first Windows phone, but that could change with this year's phone, says Putcha at Ovum. Microsoft has backed the launch of the Windows 8 phone, giving the brand substantially more marketing firepower and Nokia a chance at recovering some of its former glory.
The Windows 8 phone enters an environment currently dominated by Android. At the time of the first Windows phone launch in 2011, about 40% of China's smartphones used the Android system, according to data from Analysys International. At the end of 2012, that figure had climbed to about 90%.
"This is a major challenge for Nokia," Putcha says. "In the rest of the world, Nokia is struggling against Apple's iOS and Android, but in China, it's really Android that they are struggling against. There is too much momentum behind Android."
Nokia committed to the Windows phone as its "primary smartphone strategy" in 2011, saying that it would be too difficult to stand out using Android. Stand out it did. The company reported an operating loss of $1.07 billion in 2011 and heavier losses predicted for 2012. In a recent media interview, the company's CEO Stephen Elop hinted that it could start to employ Android this year. Rumors circulated in mid-2012 of a possible buyout of the company by Samsung or some other major player.
Android Forever?
Android's current momentum in China is not necessarily the end of the story. China's four market leaders, as well as smaller brands, have adopted Android because it is virtually free to incorporate into devices and can be "scraped" easily, Putcha says.
Phone makers "scrape" operating systems to remove some elements of the basic system as provided by the developer, Google in Android's case, and customize the interface. This means that many Android phones in China often don't feature Google services, applications or even look like a Google product.
While Android is everywhere, actual face-to-face recognition of the system by first-time smartphone buyers, is rare, industry analysts and one Shanghai-based phone vendor say. For first-time buyers, a lack of distinctly Google characteristics combined with the availability of many different interfaces, make it difficult to distinguish between operating systems. Scraping allows for a higher level of customization. For the consumer, it means more perceived flexibility in the types of apps they can acquire.
But there are OS-aware consumers to contend with in major cities. Huawei's Yang says those customers are particular about the operating system on their phone. Apple's iOS has earned a reputation for being "fun", he said. Windows is geared more toward businesspeople, while An-droid covers the expanse between.
Depending on the joint marketing from Microsoft and China Mobile, the more OS-conscious customers may represent the sweet spot for Nokia's Windows Phone.
Staying Power
Sean Huang, a small Apple vendor at an electronics market in Shanghai, is unfazed by Lenovo's breakneck growth and Nokia's Windows 8 phone launch.
"I basically don't see them," he says. "There are so many Apple and Android phones around here."
But Android, unlike Apple, is poised to make good on both big and small markets. Samsung Galaxy and Lenovo's latest smartphone series both use Android, but Samsung's top spot reflects Android's first-tier market prowess, whereas cheaper Lenovo smartphones reflect its ability to reach the smaller growth markets. Rumors of a new Apple smartphone priced for emerging markets have circulated, but there's been no announcement as of yet.
Samsung's ability to stay at the top depends on its capacity to appeal to lower-tier markets, Peng at Canalys says.
"The question right now is whether or not Samsung will enter the low-cost smartphone market", she says. "With their resources and their production capacity, they would be able to maintain the number one spot if they are going for the mass-market aggressively. This is still very uncertain because in China Samsung is still a very premium brand. This is something they will really need to consider."
International phone makers are in for some long, hard thinking in the months ahead. They will have to choose between maintaining their roles as makers of up-market products for urbanites or higher market share, which means producing products for the smartphone-toting masses outside the major cities.