Share

Fast Fashion in China: Revved Retail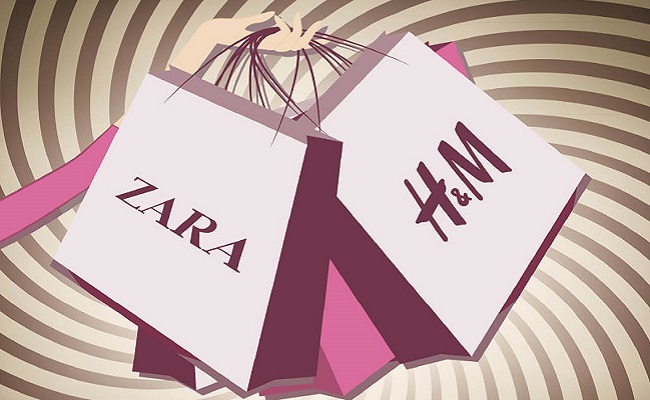 After years of extraordinary growth, has fast fashion peaked in China?
In November, property consultancy CBRE reported that landlords in second-tier city retail properties were courting China's main fast fashion brands to drive foot traffic, going so far as to waive a flat rent rate in exchange for a percentage of turnover to attract these apparel icons, hoping to cash in before the brands peak.
These landlords may be sensing a subtle but key change in China's retail apparel market, which in the main cities has thus far been dominated by fast fashion titans such as H&M, Zara, C&A and Uniqlo, all specializing in the high-speed/high-volume production cycles characteristic of fast fashion.
"Customers in the larger Chinese cities like Beijing and Shanghai are moving out of the phase when they just crave the big names," says Nels Frye, the blogger behind Stylites, one of China's most influential street style blogs. "They are dramatically more stylish these days and for instance, multi-label stores are a response to this change, where a more personal style can be defined."
These "multi-label stores", also called "concept stores", sell multiple labels and focus on curating to convey the store's attitude or style. Famed examples include Colette in Paris and Opening Ceremony in New York while in China there is Triple-Major and ink Beijing in Beijing's hipster Gulou neighborhood.
Concept stores in China aren't numerous enough to be considered a movement (yet), but there's enough activity to signal the coming of age of China's fashion world, which leads to the question: can China's fast fashion success stories continue their growth at unabated rates?
Inditex's announcement in September that they were scaling back the number of new store openings globally to give their flagship Zara stores a facelift caused speculation as to whether the market was wavering. Then Zara reported only a 1% increase in year-on-year first half global profits for 2013, beating forecasts but still its weakest performance in years. The fast fashion business model that has thrust foreign brands to the forefront of shopping centers across China is also up for grabs. More and more local apparel companies are scurrying to ratchet up their production cycles and match, if not outdo, the inventory turnover that has worked so well for foreign fast fashion brands, according to Alexandra Daniel, Business Consultant at fashion and apparel technology solutions company Lectra.
"If they [local retailers/clients] don't go with this transition, they'll go bankrupt," says Daniel.
CBRE's Shanghai Manager Shirley Hu, who also contributed to the CBRE fast fashion report, says that because of the surge of new retail property supply, particularly in second-tier cities, the near term growth prospects for foreign fast fashion brands remain strong. "The substantial new property supply will allow fast fashion brands more chances for expansion," she says.
But in the face of increasing fragmentation in China's apparel industry and the growth of online shopping, who will be the long-term winners in China's fast fashion ring and how will they maintain the title?
Apparel Smorgasbord
Fast fashion is defined by the velocity with which apparel companies can get styles from the catwalk to the consumer. For traditional apparel retailers, it is usually many months, while fast fashion retailers make new styles available to consumers in just weeks, sometimes turning over inventory up to 12 times a year. Fast fashion is also characterized by affordable prices that cater to a wide consumer demographic.
The most notable success of fast fashion in China is Spanish company Inditex, which owns brands such as Zara, Massimo Dutti and Pull & Bear. Since entering the Chinese market in 2007, Inditex now has more than 100 stores in 40 Chinese cities, opening 72 stores in the first three quarters of 2012 alone. To put that speed in context, Inditex entered the Indian market in 2010 and now has 12 stores in India. Similarly, Inditex took 14 years to reach 40 stores in Brazil.
Likewise, Inditex's Swedish rival H&M also stresses the China market. CEO Karl-Johan Persson has said that China is the country in which H&M will open the most stores, and that H&M is looking to increase its presence in lower-tier cities. Between 2011 and 2013, the company more than doubled its number of stores to the current total of 170.
Other companies with ambitious expansion plans include European fashion company C&A which has more than 40 stores and plans to have 150 by 2015, while Japanese fashion label Uniqlo, one of the early-comers in China's fast fashion scene, has proposed to open 100 new stores in China annually.
What is key about the expansion tactics is not just the volume, but also the geography.
Hong Kong-based Fung Group, which offers solutions in trade, logistics and distribution, reported that more than 80% of new stores opened by Zara and H&M were situated in second- and third-tier cities in 2012, meaning China's global fast fashion heavyweights are confident their fashion schematics can appeal to various income levels and socioeconomic backgrounds, and that there will be no shortage of retail space available in these places.
Keeping a China-focus has significant rewards. The domestic apparel market has some of the healthiest projections of any sector in China, with a market worth RMB 854 billion in 2012, according to market research firm Marketline. Good China performance also means good global performance. Inditex's profit rose by 22% between 2011 and 2012, while H&M reported a 22% year-on-year growth in the third quarter of 2013. Swedish bank Handelsbanken attributed this to strong sales in China, and has said that H&M is more profitable in China than in any of its other markets.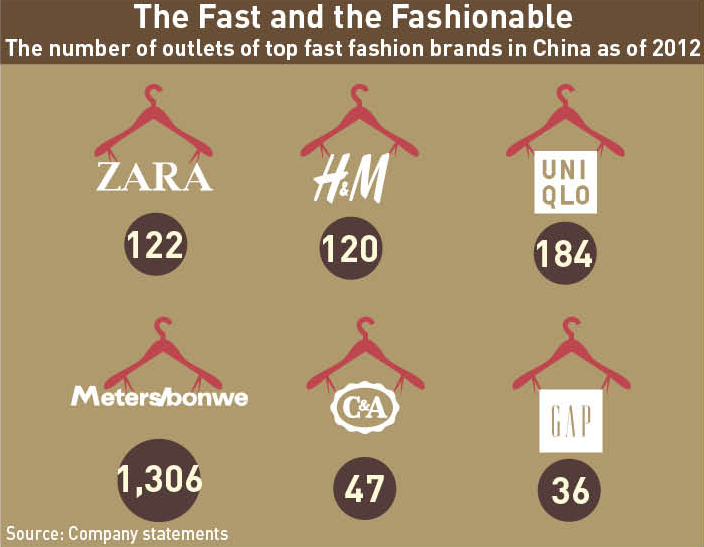 Tastes and Turnover
BCG Partner and Hong Kong Managing Director Vincent Lui, who co-authored BCG's report on the fashion market, says the success of these brands stems from consumers, particularly young urbanites, being exposed to global offerings and becoming more aware of global trends than in the past.
"Things in the fashion market have changed pretty quickly, and the post 1990s generation has the pulse of global trends down pat—they watch TV shows and spot global trends, so the international brands which are successful in China, and the reasons for why they are successful, are similar to why they are successful globally."
Shanghai-based trends consultancy Style-Vision Asia CEO Genevieve Flaven also puts it down to evolving tastes of Chinese consumers.
"I see women becoming more influenced by the European style and looking for more simple elegance," she says. "Three, four years ago, Zara was a bit 'flat' for the Chinese market because of the muted colors and more simple style, but it's doing extremely well now, and I'm pretty confident it will keep getting better."
Taste can't be overlooked, but the business model of high inventory turnover rates, shorter production cycles and rapid on-the-ground feedback from key outlets have helped the likes of Zara and Uniqlo capture market share globally and in China.
"High inventory certainly has its advantage in casual wear as China's growing middle class are looking to spend more on apparel," says Erica Ng, Business and Retail Editor for London-based fashion forecasting agency WGSN. "Zara's model is strong because they've grasped listening 'on the floor' and localization, and that's the business model trait which brands will need to grasp. Chinese consumers are radically fast in learning about global fashion brands and brands need to catch up in understanding their tastes and demands."
Sizing up the Competition
Chinese brands still make up most of the market, save for strong results from early comer Denmark-based Bestseller Group, which owns brands like Vero Moda and casual wear brand ONLY.
The China National Commercial Information Centre estimates that in terms of ladies' wear, Vero Moda and ONLY have impressive 10.9% and 9.9% shares of the market respectively.
While Western consumers have probably never heard of Metersbonwe, the Chinese fast fashion giant is one of the largest Chinese apparel companies and manufacturer of men's, women's and children's apparel. A pioneer of the apparel industry in China, Metersbonwe opened its first store in Wenzhou, Zhejiang province, in 1995, grew rapidly to more than 5,000 stores mainly in China's interior cities, and achieved profit growth of more than 30% annually until 2011, according to company reports.
But like the much-discussed inventory problems of the domestic sportswear industry, Metersbonwe's similar business model ran into serious issues. In 2012, the company had 3,817 franchise stores, which accounted for 74% of its total stores and 49% of its total revenue, according to company statements. In March this year, the company announced that its net profit attributable to shareholders plunged by 30% after market rumors said that its inventory figures had been manipulated, and in the fallout Metersbonwe closed 142 stores in the first half of 2013.
The inventory problem extends beyond a single company. The China National Garment Association warned in 2012 that inventory of domestic apparel enterprises had far surpassed warning levels and had enough stock on hand to satisfy demand for three years even if all domestic apparel makers halted production.
Flaven says stagnant style, often a result of inventory glut, will be detrimental to Chinese fast fashion retailers. "Metersbonwe and Girdear have not changed their styles for years now, it's always been very basic. For winter, it's a down jacket and checked shirts all the time and I don't think they understand the changes in fashion attitudes in China. For the other Chinese brands which are a bit more creative, their prices are as expensive as foreign brands like Zara while their designs are not that original."
Case in point, in the month of October, a black 'flounce skirt' from Ochirly was being sold for RMB 439 online, while a nearly identical skirt from H&M was priced at a mere RMB 182 online. But contrary to Flaven's assertion, the price difference hasn't been an issue for Ochirly, which recently got a $200 million boost of confidence from L Capital Asia, the financial arm of luxury giant LVMH. Liu says "identity and style" could usher in a higher price tolerance from Chinese consumers.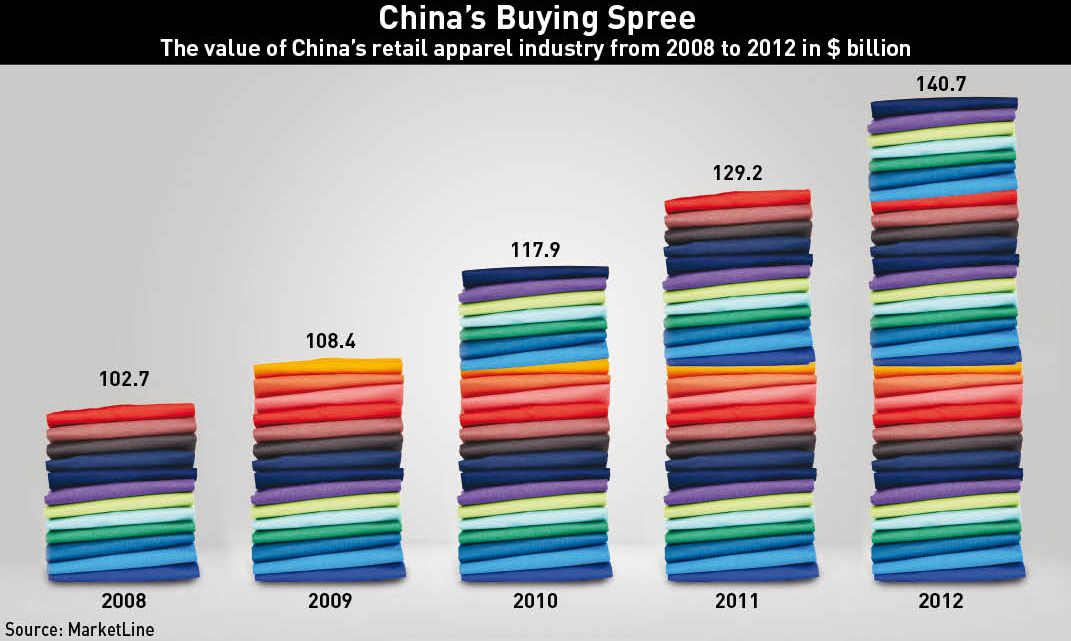 Future Fashion
The online component of fast fashion retail is not as automatic as one might think given that apparel accounted for half of all Taobao sales on Single's Day this year, according to statements from Alibaba.
"The fashion market is incredibly fragmented, and once you get a 1% or 2% share, you're considered a major player. Ecommerce will just be one more channel for retailers to compete in," says BCG's Lui. CBRE's Hu agrees, emphasizing that the focus for foreign fast fashion brand expansion will continue to be the physical store, and the benefits of e-retail will be more of a bonus for the main players Lui says that ultimately, success depends on products being able to capture the aspirational feelings of Chinese consumers.
"Chinese society is about upward mobility, and that characteristic stands out from the perception of fashion in other countries, where it's more indulgent, artistic and aesthetic. In China, fashion is an expression of achievement, and retailers will do well if they manage to translate that into apparel."
Ng highlights that a key characteristic of the fast fashion market in China is that the consumer landscape is changing even faster as compared to Western markets. Thus, retailers will need to learn how to keep up with this pace, especially now that local players are emulating the production cycles of their international counterparts.
"Chinese consumers are looking for more innovation, personalization, interaction, value in money, convenience, and they know what's in demand globally. Large players will have to be very clear on what their brand stands for and how that's translated to every customer, online and offline."
You may also like
China's progress on the UN's Sustainable Development Goals is mostly limited to existing national priorities.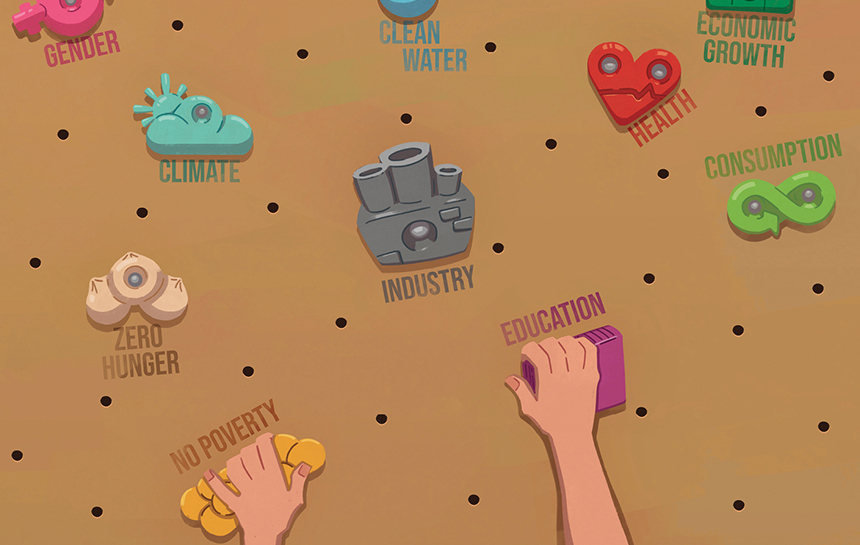 | Jun. 9 2023