Share

The Chinese art market, a new investment hotspot
While clear signs show the cooling down of real estate transactions and the widely swinging Chinese domestic stock market, passion for investing in Chinese art shows no sign of fading. Both Chinese artworks and Chinese buyers are creating an upsurge in the domestic and international art auction market.
ARTRON, China's largest online art publishing house, recently released its seasonal report "Chinese Art Auction Market 2011 Spring Season", based on data collected from China's 219 auction houses. The report showed that in the first half of 2011, the turnover of artworks in China was RMB 42.8 billion, breaking the record. Among the 122,984 traded pieces, 15 pieces were sold at price above RMB 100 million. Expert analysts say that investing capital overflowing from other investment areas has entered into the art market and is spurring its growth.
Mei Jianping, professor of finance at the Cheung Kong Graduate School of Business (CKGSB) predicted this boom in the art market years ago. He believes that "art will take its place alongside the stock market and real estate market to become one of the three major investment markets in China". The Mei Moses Fine Art Index, co-created by Mei, showed that between the year 2001 and 2010, the average annual rate of return on investment of Chinese Contemporary Oil Painting and Tradition Art were 19.4% and 14.9% respectively, while that of the SSE (Shanghai Stock Exchange) Composite Index, which shows the China's stock market condition, was only 6.1%.
The Art Market Monitor of ARTRON (AMMA) estimates that, in the first half of 2011, the capital withdrawn from equities alone has reached RMB 200 billion. As Professor Mei says, fine art bears similarities to a luxury apartment in the real estate market or a blue-chip stock in the stock market, insofar a return on investment is concerned. With the stock market in turmoil and dire economic growth, the opportunity for high returns provided by investment in art and its relative lower short-term volatility of investments attracts investors to turn to art investment against future uncertainties.
Chinese art investors not only focus on Chinese fine arts; they also go abroad to invest in foreign art products. Poldi Moire from Sotheby said, "Once the Chinese collectors put their investing focus on overseas markets, they will raise a significant wave in the international market." After five years of preparation, China's oldest art auction house, China Guardian, officially opened on New York's Park Avenue, once dominated by Sotheby's and Christie's. This branch office mainly focuses on finding Chinese paintings, porcelain, calligraphy, sculptures, and handicrafts to bring back to China to sell at domestic auctions.
Director and vice president of China Guardian Kou Qin, told the Wall Street Journal, "Ninety percent of our buyers are Mainland Chinese, but it is the same situation for the whole Chinese art market." He said the Chinese art market is booming and the prices are going up continuously, so Chinese art works are now be sold at a higher price in China. The auction market is responding to demand. On May 22, 2011, the painting "Eagle Standing on Pine Tree with Four-Character Couplet in Seal Script", by Qi Baishi sold for RMB 425.5 million in the China Guardian 2011 Spring Auction. It broke the world record for the price of a contemporary painting
Tianjin Cultural Artwork Exchange, a pilot art market, opened on January 26, 2011. It was set up with the purpose of allowing small investors to buy shares in the ownership of art works and provide another financial investment channel. However, since the setting up of the exchange, disputes about the non-exact entry criteria for listed art pieces, the lack of regulatory supervision of the exchange, and suspicion that the dramatic swing of the stock price is a signal of another wave of investment mania have not stopped. On March 28, just two months after opening, the exchange suspended opening new accounts in order to guarantee "the stable and orderly development of the market."
Apart from being used as a hedge against inflation and another channel for liquid capital in a prudent monetary environment, the artworks are also used by illegal traders as a way of making money. Mei pointed out that an abundance of fakes and a weak regulatory system are significant risks for China's art market.
"The relevant departments need to improve laws governing auctions to clarify the responsibilities of the auction houses, especially regarding the authenticity of artwork. The art market would also benefit from more active participation by financial institutions. For example, insurance companies could offer art-related insurance products." Professor Mei said. Mei indicated that the "financialization" of art assets is the inevitable outcome of the development of China's financial system.
You may also like
China's stock markets are growing in size and number, but too much state control could limit future development.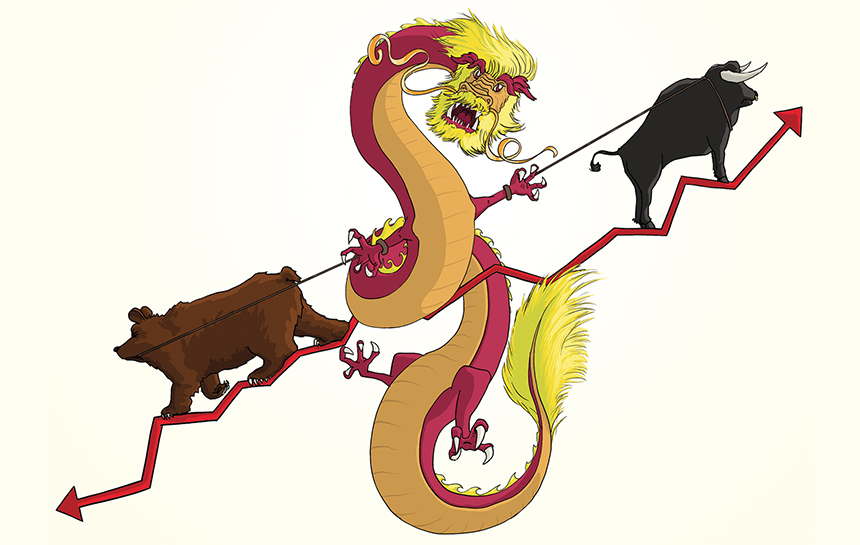 | Jun. 5 2023