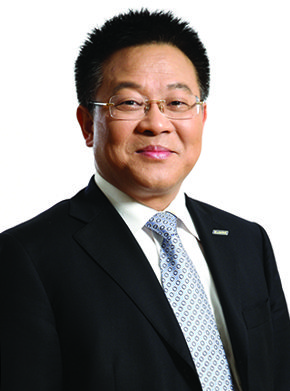 Sun Weimin, Vice-President of China's electronics giant Suning, on the company's foray into e-commerce and the synergies between brick-and-mortar and online
One of the biggest "3C" (computer, communication and consumer-electronics) retailers in China, Suning Appliances operates more than 1,700 chain stores, with one seemingly on every street corner of Mainland China. In a recent survey, Suning was named as one of the top three private enterprises in China (the others being steelmaker Jiangsu Shagang and Huawei Technologies). With continued expansion into overseas markets and further acquisition, Suning is poised to become China's answer to Best Buy, the well-known US consumer electronics retailer.
With e-commerce booming in China, Suning has been working to dramatically expand its business-to-consumer (B2C) online store, and the move has given Suning a boost both in terms of its market positioning and also its financial results. As Suning Vice-President Sun Weimin says, the company today is focused on both online and offline business. Vice-President Sun, a graduate in Psychology from Beijing Normal University, has helped Suning become one of the biggest 3C retail companies in China.
Sun shares his ideas on the ideal relationship between brick-and-mortar stores and online retail, as well as the status of the retail industry in China as a whole.
Q. Suning has expanded its sales network with more chain stores, but it opened less stores in 2012 than in previous years. What factors are driving this? Is it a statement on the Chinese economy or on the status of brick-and-mortar stores?
A. We plan to open around 200 stores this year, which is a little fewer than last year. However, we are focusing on the improvement of the service by optimizing our stores. Frankly, it [the decrease] has to some extent impacted our business as a whole, but I do not think it is merely because of the decrease in the numbers of stores. The macro-economic environment from the outside world is one of the major factors.
Q. With so much attention being given to brick-and-mortar stores opening online outlets this year, what do you see as the right relationship between stores and their online components?
A. For my part, they are both good channels for marketing. On one hand, we try to fuse the two approaches–brick-and-mortar stores and online outlets–by posting our products at the same time and by selling them at the same price; on the other hand, we hope to expand our market with the aid of the Internet, as it will be the ideal platform for enriching our products and services.
Q. An article in Global Entrepreneur suggested that Chinese brick-and-mortar stores are following the US model, where more than half of the most successful online retailers are related to major retail outlets such as Walmart and Macy's. Do you agree? To what extent is there or can there be a Chinese model?
A. There are big differences between the retail business in the US and China. In the US, consumers rely on their cars and highways to shop even if the big stores are nearby. However, in China, most of the stores, especially the superstores, are located in the core shopping zones of big cities. For the past decade, there have been many first-class e-retailers emerging in the US, such as Amazon; while even more e-retailers originate from the traditional brick-and-mortar stores. By contrast, China is a late starter in terms of e-business. What we should do now is set up the codes and standards so that more offline retailers are allowed to develop their online business.
Q. How does Suning.com distinguish itself from other B2C online outlets? You have said that Taobao's [an online trade platform, owned by Alibaba] platform can be difficult for beginners to master. To what extent is user-friendliness a key focus of Suning's online store?
A. Firstly, I think Suning has a head start in the 3C business market in China; and this is our main advantage. Secondly, we have accumulated resources in this sector for more than 20 years, especially in terms of management and logistics service. Last but not least, we have acquired abundant capital to further develop our business. As the third-party platform, we serve not only the suppliers, but also the consumers. We attempt to provide an all-around, one-stop shopping service for our customers in order to meet their demands.
Q. You recently said that Suning is attempting to raise up to $1.26 billion through bond sales in order to achieve a cash balance of $5.21 million. How is it going, and how will Suning spend the cash?
A. Right. The fact that we have raised RMB 4 billion (approx. $640 million) and RMB 8 billion (approx. $1.3 billion) separately in this July and August is based on our development strategy for 2015, which aims to improve our logistics and data-center system. In this way, we're preparing to build up both the online and offline retail outlets across the country with this money.
Q. Suning ran into some trouble with the NDRC [National Development and Reform Commission], along with other e-commece retailers such as 360buy.com and Gome, due to price claims made on their respective websites not being followed through in the actual stores. Do you feel this exposes a general weakness of online shopping in China that should be addressed? If yes, how?
A. It is not uncommon to see such competition among the e-businesses, such as the price war between these three companies. Now, China still needs further improvement on determining whether or not the basic rules can be effectively inplemented in online business. For example, have the online outlets legally registered or paid taxes? Are the online stores doing illegal business such as selling smuggled goods? I think it's both important and urgent that we set up an effective system to better supervise these operations.
Q. Are brick-and-mortar stores here to stay? Where is the next growth push come from?
A. Before 2005, we focused on the big cities of China. Since then, we have attempted to extend our products and services in every region of China. So far, we have built our brick-and-mortar stores in more than 600 cities across the country. We plan to develop our business in two major areas: first, to upgrade our retail stores in terms of quality and quantity; and second, to focus on the market expansion of some third- and fourth-tier cities in China.
Q. Suning is now the major shareholder of the Japanese home electronics chain, Laox. What was the main goal of the acquisition and how has the strategy worked so far?
A. Laox was once ranking in the top 10 electronic stores in Japan. However, last decade has seen its fall in sales, so we decided to buy it in 2010. By acquiring Laox, we hope to accumulate more experience for our globalization strategy. As one of the most successful home-appliance retail companies in Japan, Laox can help us learn a lot so that we could do better for our customers in the future. So far, this project has worked well. We have provideed financial support for Laox and helped it develop in the Japanese market.
Enjoying what you're reading?
Sign up to our monthly newsletter to get more China insights delivered to your inbox.