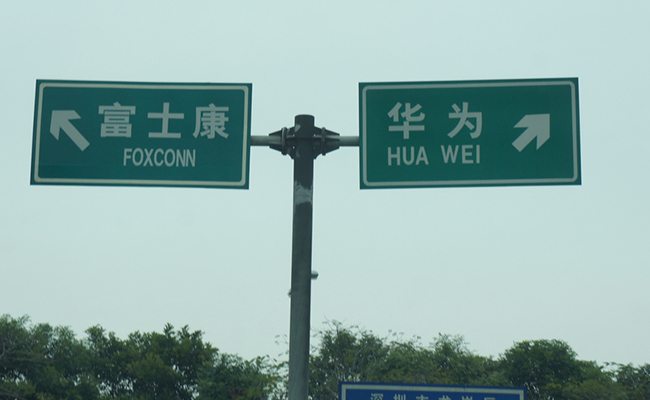 Why and how China will remain the factory of the world.
In 1974, 23-year-old Terry Gou founded his own business on a $7,500 loan from his mother. It was enough to rent a small space and buy a couple of machines to mold hunks of plastic into television dials. In truth, what he had was a shed masquerading as a factory.
These days, Gou's company Hon Hai, better known by its affiliate Foxconn, operates metropolises masquerading as factories.
"These places aren't like cities," says Thomas Dinges, Senior Principal Analyst at market research firm iSuppli. "They are cities."
That is the reality for the more than 300,000 Chinese–roughly the population of most county-level Chinese cities–living and working inside Hon Hai's three-square-kilometer Longhua industrial park near Shenzhen in southern China. The workers ride their bikes down the wide avenues of the compound, sleep in dormitories and eat at KFC and McDonald's on site, and even shop at internal bookstores where they can buy biographies of Terry Gou.
The scale of the operation is such that even cafeteria meat is supplied by Hon Hai's own chicken farms, part of the Longhua complex. The facility even has a certain amount of autonomy to govern its own affairs, as employees' emergency calls to the police are redirected to a thousand-person-strong on-site security force.
"Longhua's like a huge college campus, only half the population of San Francisco lives there, works there, and doesn't leave," says Dinges, who has visited.
There has been much talk about which countries or regions might replace China as the world's factory, and the possible impact of robotics in manufacturing. But China's unique massive factory compounds make a convincing argument that its title as reigning champion of global manufacturing won't be snatched away any time soon.
A New Manufacturing City
A standard city exists to serve the needs of its residents, but Longhua exists to serve the needs of its customers, the most important of which is Apple Inc. The facility has become a model for other integrated and self-contained manufacturing complexes around China.
The formula, adopted by other Chinese manufacturing firms including Flextronics, Compal, Quanta, and Wistron, involves the creation of a finely-tuned ecosystem, starting with suppliers. By locating much of the supply chain on campus, or very close by, feeding materials into an intensely focused production process, efficiency is maximized.
In addition, these mega manufacturers make as many components as possible on campus to supplement parts supplied from elsewhere. Each iPhone that Hon Hai manufactures is made up of parts from an array of internationally famous brands, but also contains components it makes itself on-site. This boosts Hon Hai's own share in the overall profit, while making the supply chain tighter and more focused.
"For very-high-volume products with stable output, it makes sense for manufacturers to make certain components themselves, for reasons of profit, logistics, quality, and responsiveness," says Tim Sturgeon, Senior Research Affiliate at MIT's Industrial Performance Center. He points out that Apple itself internalizes much of its chip design for the same reasons.
The phenomenon of clustering final-assembly manufacturers and their suppliers together is nothing new. After all, Detroit is known as Motor City for its collection of automotive firms. What distinguishes China's manufacturers, is their scale in terms of numbers of workers and production capacity, and the remarkably closed-circuit nature of production. They provide economies of scale that allow for production at cost levels attractive to very demanding customers.
While Hon Hai has expanded these ecosystems to the greatest extent yet seen anywhere in the world, other manufacturing firms in China run similarly complex compounds, including the Shanghai-Singapore-based electronics manufacturing service company Flextronics International Ltd.
Located in Zhuhai not far from the Hon Hai's Longhua facility, Flextronics' Doumen facility employs 53,000 workers. Flextronics CEO Michael Marks told Businessweek in 2010 that his firm's Chinese facilities began basing chicken farms and toolmakers on-site after seeing Hon Hai do so.
"I went to the Flextronics facility in Doumen, which is their biggest industrial park in the world, and there's everything there–soccer fields, dormitories, and all that," iSuppli analyst Dinges says. "But you can take a bus ride around it in 10 minutes. In Longhua you get lost."
Longhua is a manufacturing ecosystem of phenomenal proportions and reach, with facilities for prototyping new designs quickly alone employing more than 2,000 machinists.
"All of these things add up to speed and volume, which are essential when you're introducing a new product in a competitive market where timing is critical," says Jason Dedrick, Associate Professor of Information Studies at Syracuse University. "There might be demand for millions of units as soon as the product is released."
Companies like Hon Hai have taken the phrase "manufacturing city," once used to describe a city like Detroit, and brought it to life in the most literal way possible. It has removed all excess elements that aren't in some way a part of the production process, including staff housing, parks, and nightlife. "You won't find anyone working at Ford (in the US) who lives in a dormitory and whose entire daily life and schedule is dictated by his company," says Dinges.
A Hon Hai World?
From its earliest days, Hon Hai found success through a cutthroat business strategy. "They'd look at the competitor's lowest bid, knock 10% off, and bid that," says Dinges "Get in there, get the business, let the economies of scale grow, and then they'd begin to make money."
Hon Hai lays claim to the highest economies of scale in the industry, vital to maximizing efficiency and creating profit with massive volume and low margins. "Now that Foxconn is the biggest player around, it can keep costs low by placing pressure on its subcontractors and suppliers in a way that it could not have dreamed of doing when it was just an obscure niche player," says Gijsbert van Liemt, who has written research papers on the subject for Geneva's International Labour Office.
This is especially true for manufacturers serving brands like Apple, where the massive scale offsets relatively low profit margins. "The profit margin per unit is only a few percentage points," says Dinges, "but you multiple that by 10 million iPhones sold and it's a huge difference."
The production scale and intensity has made Hon Hai's Longhua plant difficult to replicate outside of China, despite the allure of lower wages in places like Vietnam, Indonesia, and India. Even in China, running such a giant facility with consistency and efficiency on such thin margins is a tightrope walk.
Hon Hai has also had its share of problems, including an incident in September when more than 2,000 workers rioted in its Taiyuan plant after a guard allegedly hit a worker. Another incident involved a strike at Foxconn's Zhengzhou plant over workload pressures related to quality requirements for the iPhone 5.
"There can be dis-economies of scale," says Zheng Yusheng, Professor of Operations Management, CKGSB. "It creates a huge problem in terms of management." The difficulties that managers of large organizations have in terms of controlling what is happening many management layers below them is just the start of the issue.
But in spite of the challenges, creating and operating such a tightly controlled and hyper-efficient facility in other parts of the developing world could be even more difficult. So many pieces of the equation must fall into place–population, infrastructure, government support, and supply chain concentration–that many doubt the creation of such a facility is now possible.
"Foxconn's Longhua facility could only be done in China," says Ou Jihong, Associate Professor of Operations Management, CKGSB.
That's not to say that the appeal of other manufacturing sources isn't real, both for the iconic iPhone maker and for other companies. Vietnam drew much attention five years ago when dozens of major manufacturers began planning facilities there to take advantage of low wages. Hon Hai itself proposed a $5 billion investment in Vietnam, and while it has since built five smaller factories there, it has encountered numerous production delays, including three years for one $200 million factory. None of the Vietnamese facilities have created a gravity shift away from China's manufacturing metropolises.
"If Foxconn really considered Vietnam a potential base for serving strategic customers, it would have implemented its promised project over the past four years," Man Ngoc Ly, director of a Vietnamese economic zone, told a local journal in 2011.
China's advantage in labor is probably the biggest reason the Longhua model has not yet been replicated outside of China. In November 2010, Hon Hai was unable to recruit even the 5,000 workers needed to man one of its Vietnamese assembly lines. One recruitment issue that has been cited by many sources is worker skill levels. Foxconn's Chinese employees are more highly skilled, making recruitment much easier. In Vietnam, recruitment on the scale of China would have to be coupled with a massive training program, with a cost that would offset the benefits of lower wages. Chinese recruits still turn up in large numbers at the Foxconn/Hon Hai plants, even after media coverage of a number of employee suicides in 2010 impacted on the company's reputation.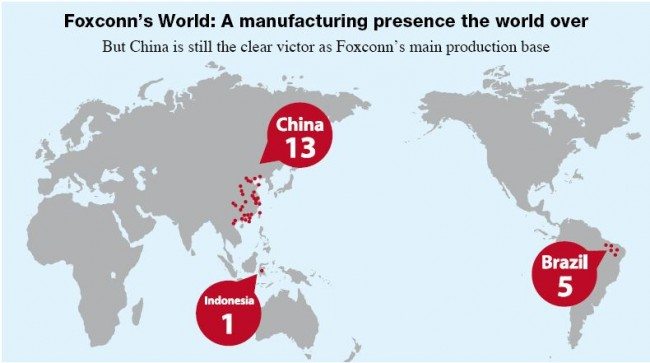 Countries like Indonesia and India have large populations, but companies have still found it difficult to acquire large groups of reliable workers. "In China there's a Confucian attitude–a willingness to sacrifice today for a better tomorrow," says CKGSB's Ou. "In India and Indonesia it's harder for people to organize such a huge number of people together."
Another factor contributing to China's appeal as a manufacturing center is government support, as shown by its efforts to improve the infrastructure attached to large-scale manufacturing facilities. In 2009, the Chongqing government agreed to lengthen its airport runway by 400 meters in order to accommodate Hon Hai and other manufacturers' request for better logistical infrastructure. In addition to improving its infrastructure, Chongqing's government granted Hon Hai a discounted corporate tax rate of 15%, 10% lower than the standard rate. In Chengdu, meanwhile, the local government agreed in 2010 to provide low-cost housing and other social benefits for workers in order to secure a $3.5 billion Hon Hai investment.
This level of support is not so easily found in democratic countries like India, Indonesia, and Brazil. "In India, for example, it's a democracy, so the government sometimes cannot do the things they want to do," said Ou.
This may change. In September of this year, Foxconn signed a memorandum of understanding with Brazil that will result in an investment of $500 million and the creation of 10,000 new jobs in a nation where 8,000 of its citizens are already under Foxconn's employment. While a very initial step, should the relationship between government endorsement and manufacturing development mature to reach China levels, Brazil stands a chance of matching China as a desirable destination for manufacturing. Not only is the nation of a size to support massive industrial parks, but it's also an attractive consumer market, blessed with proximity to the largest market in the world, the United States.
Closer to home lies yet another potential competitor, Indonesia, where Hon Hai has proposed $5-10 billion worth of investment over the next five years.
"The one thing Indonesia does have, unlike Vietnam and Brazil, is population and, from what I've heard, a trainable, reasonably educated workforce. It will be interesting to watch," says Dinges.
The maturing of Brazil and Indonesia into manufacturing powerhouses capable of seriously challenging China's well-developed manufacturing networks is still a ways in the future. That is not to say that the ecosystems could never move somewhere else, but given China's entrenched position, any such trend could take decades to reach fruition.
"In Chinese we call companies like Foxconn "longtou"–"the head of the dragon", says CKGSB's Zheng. "They rely on the suppliers and the whole ecological cycle here. The upstream, downstream, components manufacturing, and so on is not something where just one company moves. If you move, you have to move the whole industry."
As such, China remains well positioned, but is far from invulnerable. "China has the supply chain density and logistics infrastructure to maintain its position as a high-volume manufacturer of electronics even as labor costs rise," says Sturgeon. "But things are still mobile, make no mistake."
For mobility, the latest buzz surrounds automated production and robotics. Hon Hai's Louis Woo, Chairman of Foxconn's retail unit and special assistant to CEO Terry Gou, says that Hon Hai plans to invest in one million robots by 2014. He said this will make Chinese labor even more cost-effective. On the other hand, China is not the only country investing in such technology.
In September, US candy-maker Hershey invested $300 million in a US plant that uses automated IT systems, never before seen in candy production, designed to maintain production 24/7. This plant requires little more than one-seventh of its current Pennsylvania workforce. Such automation could allow manufacturers from developed countries to take advantage of their infrastructure. For Hershey, that means short distances between its plant and its milk suppliers.
The Next Revolution
Tightly integrated manufacturing ecosystems are likely to play an even bigger role in global manufacturing in the future. For guidance on that future, Gou could look to the man behind the old-school manufacturing city of Detroit, Henry Ford.
Like Henry Ford a century ago, these Chinese behemoths have revolutionized manufacturing with a renewed focus on vertical integration. Also like Ford–whose firm was only surpassed in market share when Toyota re-invented the supply chain concept for auto factories–the Chinese manufacturers will likely weather rising wages and economic uncertainties to retain dominance in their field.
Robotics is widely predicted to be the next tectonic shift in manufacturing and Hon Hai's recent focus on robotics is clearly aimed at keeping the company ahead of the curve.
"The only way you can see such a huge advantage diminishing is if, all of a sudden, people are taken out of the manufacturing equation," says Dinges. "When that day comes, anything can happen."
(Image courtesy Flickr user mwiththeat's photostream)
Enjoying what you're reading?
Sign up to our monthly newsletter to get more China insights delivered to your inbox.