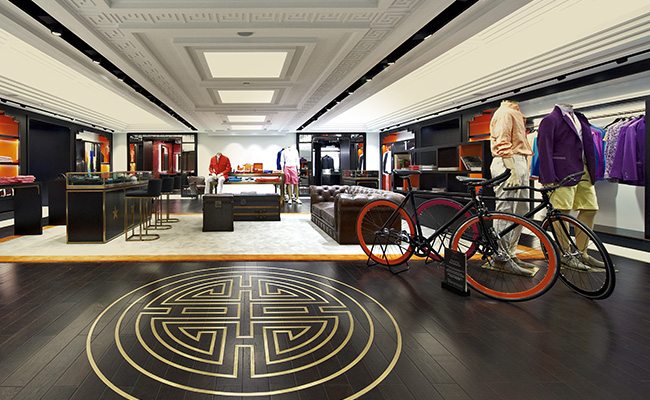 What luxury clothing retailer Shanghai Tang's ascent means for made-in-China luxury brands that play up their Chinese identity.
Nestled in a three-storied building on Hong Kong's hip Duddell Street is Chinese luxury clothing retailer Shanghai Tang's 1,400 square meter flagship store, the largest it has globally. 'Shanghai Tang Mansion' as this store is called is, in some ways, the hip new face of Chinese luxury shopping.
The contemporary Chinese design of the store, with wooden floors and symbolic images adorning the floors and walls, is light and airy, a refreshing change from a darker and more traditional Chinese look earlier.
China's luxury market is set to become the second-largest in the world, after Japan, in the second half of this decade. Growth is currently expected to be at about 10-15% in 2013, according to a CLSA report released this February.
Interestingly, however, Chinese luxury consumers prefer to buy well-known brands from the fashion capitals of the West such as Paris, Milan and London, says Frost & Sullivan China Consulting Director Julia Zhu. In China perception is everything. Brands like Louis Vuitton and Gucci are ubiquitous here. Western luxury brands have made it big in in China with targeted promotional strategies and visible branding.
The success of foreign luxury brands can also be attributed to the fact that China itself is a fledgling luxury market with a limited number of homegrown brands, says Zhu. Domestic luxury brands in China such as apparel brand NE Tiger and liquor company Maotai have little recall outside their home country, she says.
Shanghai Tang may be changing this paradigm. With its clear and youthful brand image, design and innovation, a global retail network, and operation capabilities, the company has managed to attain a surprising level of success—usually unexpected from a domestic Chinese company, she says.
But can Shanghai Tang really become the definitive Chinese luxury brand?
Re-Orient Yourself
Let's cut back to Duddell Street for a bit. Shanghai Tang's flagship store wasn't always on Duddell Street. It was on Hong Kong's iconic Pedder Street—named after the Pedder Building, whose image still features in the brand's famous logo. In 2011 the company lost its flagship store space in Pedder Street, which it had held since opening in 1994, because of rental pressures.
Losing the space on Pedder Street seemed to have proved a blessing in disguise for the luxury retailer. It gave the company a fresh start. In a unique display of versatility, the company reinvented its marketing strategy.
First up, it created a pop-up store on top of Hong Kong's Central Ferry Pier 4 In a series of colorful Mongolian yurts. Locals and tourists were both enamored. Marketing and promotional strategies became bolder, and the designs began to incorporate much more color and Chinese symbolism than they had before.
A few months later, Shanghai Tang Mansion opened on Duddell Street. Designed by Shanghai-based Design MVW, the store straddles two extremely disparate worlds: one upholding modern values of bright high ceilings and open spaces for shoppers to mill around peacefully, a marked shift from the older, slightly darker and more crowded Pedder Street store.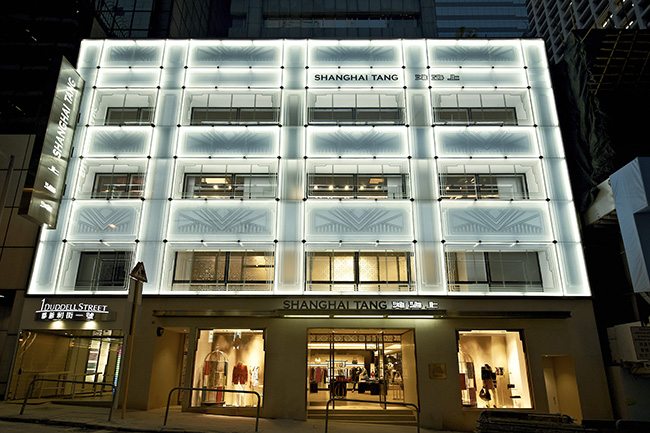 On the other hand, the new store remains steeped in ancient Chinese traditions, with Chinese motifs dotting its three floors—the more obvious ones such as the Chinese word 'shou' for longevity, inlaid into the floor of the men's department, while cloud-shaped shelves display perfumes in the fragrance section. Shanghai Tang loyalists are given the pleasure of a staircase modeled on the original Pedder Street store.
The three floors are set to give access to a fourth floor which is being geared to host a Shanghai Tang café. These are small touches, indicative of a renewed sense of strategy coming from the brand.
Rejuvenating Qipaos
Fashionable women in modern day China rarely wear qipaos (also known as cheongsams), a traditional Chinese dress reminiscent of a bygone era. When serial entrepreneur David Tang set up Shanghai Tang in 1994, he had just one goal in mind: to rejuvenate Chinese fashion of the 1920s, among them the qipaos. At that time, nobody else was looking at Chinese ethnic wear in the luxury segment.
Tang started Shanghai Tang as a custom-tailoring business and soon expanded to readymade garments. The brand grew to 43 outlets across the world. In 1998 the game plan underwent a change when Swiss luxury goods company Cie Financiere Richemont SA took a controlling share in the company. By 2005, Shanghai Tang Executive Chairman Raphael le Masne de Chermont reported that worldwide sales had grown 43% in that year alone, largely due to Asia sales. In 2006, founder David Tang sold his remaining 60% share in the company to Richemont.
Since then, the number of physical storefronts has slightly dwindled to 40 operating globally as of the end of 2012, from 43 in 2005; and Richemont's home markets of France and Switzerland continue to have no store presence at all. The Hong Kong and London stores are reportedly the most popular outlets, while New York has not yet seen a takeoff in sales.
The custom-tailoring service has continued to do well with the surge in popularity of affordable bespoke tailoring—Chinese brides and Cantonese pop stars routinely head to Shanghai Tang to buy their qipaos, while men get bespoke suits tailored. The London store is popular among Chinese living abroad, as well as Middle Eastern visitors looking to get an oriental chic look for special occasions.
"There's nothing else like Shanghai Tang out there—proud and Chinese," says Matt Marsden, Business Development Director for the Australia-headquartered merchandising and marketing company Global Designer Brands Ltd. "They advertise they're proudly made in China, using Chinese fabric. This makes a point—they're the only (Chinese luxury) brand that is made in China, sold in China."
Shanghai Tang is in the right place at the right time, says Marsden. He considers it to be the only successful international luxury brand that is able to create a clear and definite brand that is "unashamedly Chinese". The brand's use of bright colors resembles contemporary art, inspired by ancient Chinese art, jewelry and clothing, a selling point that has remained unchanged from David Tang's days. The Summer 2012 season, for instance, was inspired by beautiful designs of the Chinese Phoenix, providing cultural images inspired by Chinese strength and beauty. The creation of a design-inspired cultural story is a seller, says Marsden.
Western Marketing Tactics
"The change of ownership is a very important aspect because the original idea was to sell Chinese products for export," says Sun Baohong, Distinguished Chair Professor of Marketing, CKGSB. "With Richemont, the marketing strategy has changed. It (has become) very Westernized, making it easier for Chinese consumers to accept (the brand)." What Sun is referring to is a peculiar quirk of Chinese consumers—they find it easier to accept and are willing to pay a premium for a brand originating in the West vis-à-vis a domestic brand.
Richemont's entry led to a more sophisticated marketing strategy which was about promoting a lifestyle or a statement. "It's not a naïve and pushy promotion," says Sun. "Shanghai Tang is no longer selling men's or women's wear, it's more about fashion, trends, the China element, bold uses of color, and the China story behind it."
The company has creatively leveraged social media and online spaces such as Pinterest to promote the brand. It has created unique and viewer- friendly Youtube videos to market the products. There's even an iPhone app available entirely in Mandarin for domestic shoppers. All this has given the brand a young and hip vibe, which has helped increase the appeal among domestic buyers, says Sun.
Richemont Chairman le Masne de Chermont's former roles at established European luxury brands like Cartier, Piaget and Baume & Mercier have rubbed off well at Shanghai Tang. As Sun says, it has imbued a more Western style of selling which percolates down to the store clerks, sales people, and management.
Originally a brand for foreigners who travelled to China and wanted to purchase high-quality Chinese goods, Shanghai Tang has expanded its customer base tremendously. As Sun says, it now includes Westerners who are interested in Chinese tradition as well as those who want to indicate "I'm global, trendy, and I love Chinese culture", and those who want to say "I'm very Chinese but I want a high-quality product".
"In China its outlets are in fashionable, iconic places, with mostly foreign tourists," says Kantar Retail China Market Insights Manager Wilson Chen. "(Domestically) it is known as a luxury brand, but still differentiated from those classic ones, such as Louis Vuitton and Gucci," he says.
Compared to global luxury brands, domestic shoppers find Shanghai Tang more affordable to. Promoting the brand as a "fashionable Chinese legacy paired with modern innovation" attracts high-income Chinese women between the ages of 30 and 35, especially as it is more affordable than European luxury brands, says Chen.
"Shanghai Tang is the best combination of traditional Chinese culture paired with current dynamic market change and shopper needs," says Chen. "This model could be learned and re-applied by other Chinese brands, but success is not that easy to copy."
So can Shanghai Tang become the definitive Chinese luxury brand?
The jury is not out on that. But Marsden is optimistic. "I think the brand's got a very successful future ahead—it will double its growth in the next three to five years," he says.
As the Chinese become increasingly proud of their identity, Shanghai Tang can start leveraging this as a major strength. "It (can) give them continued inspiration to use classic Chinese designs and not fast fashion creations," he says.
Enjoying what you're reading?
Sign up to our monthly newsletter to get more China insights delivered to your inbox.