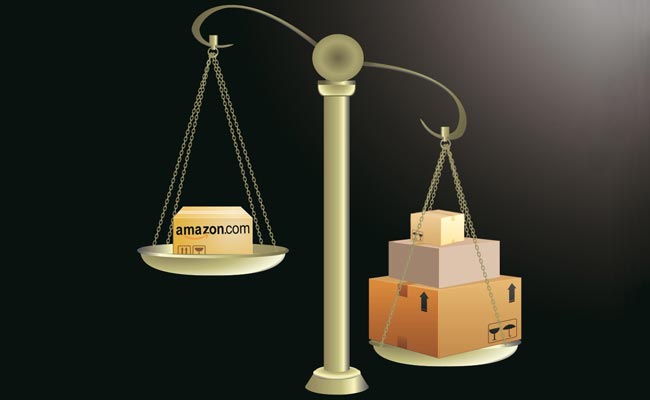 Amazon China is redoubling its efforts, but will it succeed at the second attempt in the country's hyper-competitive e-commerce sector?
If Amazon and its Founder, Chairman and CEO Jeff Bezos have one single guiding principle, it's relentless expansion. From e-commerce to drones to web services, Amazon has resolutely extended its reach across a whole range of sectors. But there's one place that its ambitions have hit the buffers: China.
In contrast to its gargantuan market share in the US and many other markets, Amazon has been operating in China for roughly a decade with dismal results. In 2013, Amazon's China site Amazon.cn had a miniscule 2.7% of the business-to-consumer (B2C) market, according to tracking by Observer Solutions, an e-commerce research and advisory firm.
"It's alive, it's doing reasonable business, but it's a very minor player in China," says Justin Ren, Associate Professor of Business Administration at Boston University School of Management, of Amazon China.
What frustrates Amazon shareholders and amazes many onlookers is that this unimpressive performance comes in one of the world's most promising markets. The Chinese e-commerce market grew a stunning 41% in 2013—three times faster than overall Chinese retail sales—to reach nearly $300 billion, according to the Ministry of Commerce.
Despite still being a developing market, China is already one of the most wired retail markets in the world. In 2013, online shopping accounted for 6.3% of all retail sales in China, compared with less than 6% in the US, and this figure is expected to at least double by 2015.
As Alibaba, Amazon's chief rival in China, was preparing for its IPO earlier in 2014, Amazon China made a series of interesting announcements hinting at a concerted turnaround effort. In May, it unveiled a $20 million investment in Yummy77, an online grocery sales site. In July, it appointed Doug Gurr, a former Amazon global vice-president in the UK, as its new China president. Then in August, it revealed that it was setting up operations in Shanghai's new free-trade zone (FTZ), an innovative move that would allow it to both import more goods from abroad into China, and export more Chinese-made products to consumers around the world.
In a statement to the BBC just after the FTZ announcement, Gurr said: "We seek to be the most customer-obsessed online shopping platform with vast selections, competitive price and most convenience in China." He added that the newly announced FTZ partnership would help realize that ambition.
But for all that intent the question remains: why has a company that is known around the world for innovation lagged so far behind in China? And can Amazon's new venture in the FTZ actually help turn its performance in China around? That is the multi-billion-dollar question.
History Lessons
Amazon's time in China since 2004 has been dogged by troubles—delayed product launches, onerous regulations, problems with piracy and fierce competition.
Amazon first entered China through its purchase of an online bookseller named Joyo.com for $75 million. At the time of the acquisition, Joyo was China's largest online retailer of books, music and videos, but rampant piracy of such products in China quickly stymied Amazon's new venture.
Many Chinese websites were already offering e-books for free, and local e-readers competing with Amazon's Kindle often came preloaded with hundreds of books. All this made people unwilling to pay much—or anything at all—for Amazon Joyo's products.
This situation was a particular challenge for Amazon, says Ren of Boston University, as it turned its American business model on its head. In the US, Amazon sells hardware like the Kindle almost at cost, but then makes money by selling content for that device. In China, that strategy stood no chance.
Instead, Amazon's Joyo gradually shifted into other product segments where counterfeiting was harder, such as clothing and electronics. The company continued with direct sales, but also offered a platform for independent buyers and sellers. In 2011, Amazon dropped the Joyo brand entirely and rebranded itself as Amazon.cn.
Then came regulation issues and product launch problems. It took many years for Amazon to gain regulatory approval to launch its full suite of e-reader and tablet products because in China a wireless product requires approval from three different government agencies.
Regulatory hurdles also delayed the launch of Amazon's cloud service, meaning that the company launched its China e-bookstore in December 2012 without even a release date for its Kindle e-reader.
Amazon didn't launch its Appstore in China until May of 2013, more than two years after other countries. And before the Kindle was launched in July 2013, Amazon was only able to sell books in China through Apple or Android devices—all competitors' products.
Regulatory barriers may hobble Amazon China in its next phase as well, especially in the hot field of internet finance. Chinese companies like Alibaba, Baidu and Tencent have begun offering online investment products and payment solutions to attract consumers to their platforms, innovations that have helped these companies increase and solidify their market share. And all three now also offer their own online payment tools similar in functionality to PayPal, facilitating smooth and easy e-commerce purchases. Amazon doesn't have Chinese regulatory approval to participate in such a business, and it has not revealed any plans to join the market.
"Once the payment circle is closed, it's going to significantly advance people's propensity to shop on [Alibaba's consumer-to-consumer (C2C) site] Taobao and Tencent," says Sun Baohong, Professor of Marketing at the Cheung Kong Graduate School of Business.
Finally, tough competition from local players has played its part. Joyo's market share fell from about 10% in the mid-2000s, as local companies recognized the opportunity presented by online retailing. Alibaba has long been the dominant player in China, but it has been joined in recent years by brick-and-mortar stores like Suning and Gome, online retailer JD.com, internet companies including Tencent and Baidu, and e-commerce sites such as Vancl, Yihaodian and Dangdang, which specialize in clothing, groceries and books, respectively.
Customers in China tend to see Amazon as being a respectable but very minor player. When asked about Amazon, consumers say positive things about the company; the problem is that typically they do not think much about Amazon at all.
Irene Zhang, an avid online shopper who hails from China but now works as a consultant at the World Bank in Washington, D.C., says Amazon.cn has a good reputation in China for selling books, CDs and DVDs. "I used it when I was in China," she said. "My impression at that time was that Amazon China was only good if you want to buy books. If you want other products, it was better to go to other websites like Taobao."
Also illustrating some of Amazon's difficulties is Monica Chang, a frequent user of Taobao from the northeastern city of Dalian. She says she wishes she had more online shopping choices "because different places have more services, such as express delivery, global sales and customer service rights." However, when asked about Amazon, she simply responded that it was unpopular in China.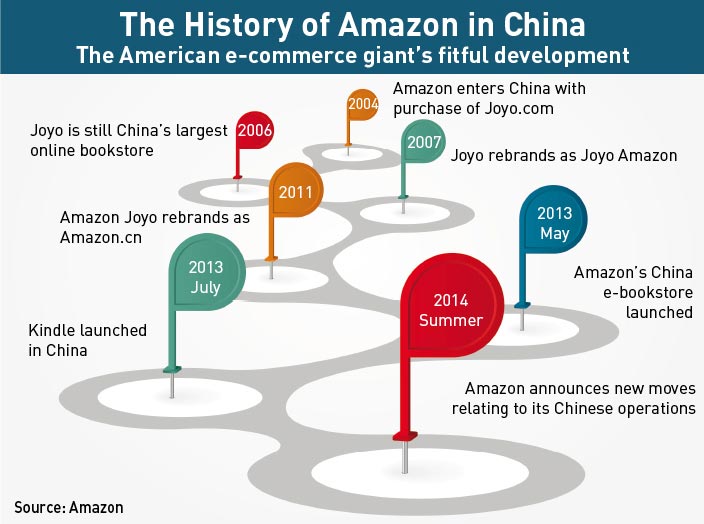 A Common Fate
Amazon's difficulties in China are not unique. Experts say the company faces challenges common to most foreign technology companies operating in China—the difficulties of localization, regulatory issues and fiercely competitive Chinese rivals.
Success stories of Western companies abound in many product segments, from automobiles and smartphones to high-end luxury goods—but e-commerce is a notable exception, says Ren of Boston University. "Apple, GE, Motorola, they all have made a lot of money [in China]. But other titans of the US economy—Amazon, eBay, Google—they all kind of failed."
Ren says there are a few main factors behind this. "The first is that they didn't understand truly the characteristics of the market they are entering. That's the main lesson … Second, internally, they don't have a really good leader in terms of management and understanding the market and getting the right people to do the right thing, and making quick decisions to compete with local competitors."
eBay, in particular, is a notable case study of what not to do in China. The company entered China in 2002 by buying EachNet, then China's largest C2C site, spending heavily in the process. But it soon found itself undermined by Taobao, which was launched the following year and was better suited to the Chinese market. By December 2006, eBay merged its China operations with internet portal Tom Online, effectively exiting the market.
Other US technology companies have not done much better: regulatory issues and tough local competition have hampered Google's business, which now holds just 3% of the Chinese search engine market. Expedia, Groupon, Yahoo and Microsoft have also all failed to earn much revenue from China. Western sites like YouTube, Facebook and Twitter have been banned from China entirely.
Years of experience in technology and other markets do not necessarily give an online company an advantage in China in the same way that, for example, experience in manufacturing cars might.
E-commerce companies "don't have the time to really understand the Chinese customer, and by the time they think they understand them, things have changed," says Ren.
Localization is another issue. Many Western technology companies came to China with a simple strategy, says Sun: exporting their success story from the US. "They refuse to act fast to the changing demand of Chinese consumers… [and] they don't know how to work with the government," she says.
Experts are divided over how successful Amazon has been in localizing its business. Sun believes that Amazon's localization efforts are the reason the company is still in China at all, "even though it's not making money," she says. But others are more critical.
"I think Amazon wasn't doing very good homework in terms of understanding the e-commerce landscape," says Ren. He attributes these shortcomings to weak local management, as well as the lack of a clear strategy or commitment from US headquarters.
Will Tao, an analyst at consultancy iResearch, agrees. "I think Amazon China's major challenge is that it can't react quickly," he says. "It arises from the nature of the company: it is a global company and China is only a part of its business."
Teng Bingsheng, Associate Professor of Strategic Management at CKGSB, adds that Amazon's model is higher priced and more focused on quality and service than its competitors. While Chinese consumers are evolving in this direction, Teng expects it will be another decade before these considerations win out over the focus on price.
"People vaguely know that [Amazon] is the largest e-commerce company in the US, probably in the world. But other than that, most people don't have any direct experience with them. They think that the products available on their China store are not so attractive and tend to have higher prices," Teng says.
What does the Future Hold?
Amazon may have failed so far to win over many Chinese consumers despite a solid reputation, an efficient logistics network and high quality products, but the company isn't giving up easily. As China continues to develop rapidly and become more integrated with the global economy, it is a market that Amazon, in its goal to be a global titan of e-commerce, cannot ignore.
But putting pressure on that aim is Amazon's recent financial performance. In the third quarter of 2014, the company witnessed a $437 million net loss—the same quarter the previous year saw a $41 million loss. That has led some shareholders and analysts to question Jeff Bezos' policy of relentless expansion, with Aram Rubinson, Managing Director and senior retail analyst at Wolfe Research, saying in a note that "the time has come to abandon China". But this summer's announcements make that highly unlikely.
The FTZ initiative will open Amazon's global platforms to Chinese consumers, allowing them to buy products that are normally unavailable in China and will leverage China's position as workshop to the world. The company is opening a logistics warehouse to help export Chinese products to consumers abroad, as well as launching a new initiative for cross-border payments.
The venture could be a promising one, since it taps into fast-growing and underserved market—the demand for foreign products. Rising incomes, greater awareness of foreign brands, and persistent quality problems with local products all contribute to a growing demand for foreign products. A 2013 report by PayPal and The Nielsen Company estimated that China's cross-border shopping market would nearly quadruple by 2019, growing from $35 billion to $163 billion, while the number of Chinese consumers participating in the market will double from 18 million to 36 million. Sun of CKGSB calls the business "an almost untapped segment".
But here too, Amazon faces tough competition, in part from Western retailers like Wal-Mart, which recently boosted its appeal by tying up with online grocery site Yihaodian, while Alibaba, flush with cash from its recent IPO, launched a competing site earlier this year called Tmall Global. Finally, Amazon's service will compete with vast numbers of individual buyers who market their services through Taobao. These people, called daigou (meaning "buying on behalf of"), buy foreign products in stores abroad and then ship them directly to consumers in China, often evading expensive customs taxes in the process.
Amazon will also face significant startup challenges in the FTZ, including integrating its international merchants into its China platform, and ensuring international deliveries are fast and seamless, says Julia Q. Zhu, the founder of e-commerce advisory Observer Solutions. Eliminating counterfeits, selecting the right products from abroad to market to Chinese shoppers, and dealing with potential regulatory hurdles will be additional challenges.
Amazon's partnership with the FTZ might represent a turning point for its fortunes in China, but the onus will be on Amazon to make use of the opportunity in a way that its rivals cannot.
Because of the uncertainties presented by such a dynamic market most analysts are hesitant to predict what proportion of China's online retail market Amazon could aspire to based on the FTZ initiative. But most experts say that it might allow Amazon to at least maintain and probably enlarge its China market share.
CKGSB's Sun predicts that the venture, if operated well, will increase Amazon's sales, though "by how much is hard to say". Teng of CKGSB also sees it as a way to improve business, though he says its success hinges on when consumer attitudes mature and higher quality products become a higher priority for shoppers.
But analysts see other potentially lucrative areas of expansion for Amazon's China business. Sun identifies the company's provision of data services and cloud computing services for other foreign companies as a potential growth area. And Zhu suggests that Amazon could reap rewards by expanding a service called Fulfillment by Amazon, which helps small businesses process orders, ship goods and provide customer services and business analytics to China.
In the near future, however, Amazon China seems unlikely to catch up to the country's larger e-commerce players. Most notably, Alibaba's recent IPO has given it substantial funds to expand its reach globally and in China. Experts including Tao of iResearch, Teng of CKGSB and Ren of Boston University say Alibaba and Amazon's businesses are likely to essentially mirror each other: they are likely to retain the dominant share of their home markets, while achieving only limited success in one another's backyard.
The American and Chinese e-commerce markets have enough growth potential to keep both e-commerce giants busy for quite a while, but in the longer term there is the prospect of aggressive global competition between them.
While Amazon's prospects in China appear somewhat limited, the company is probably going to continue striving to expand its China business and make the most of its unique value proposition of importing its goods from abroad—and that would make sense. Amazon's slice of the China online retail pie may be small, but it is a pie that is set to continue growing at a phenomenal pace.