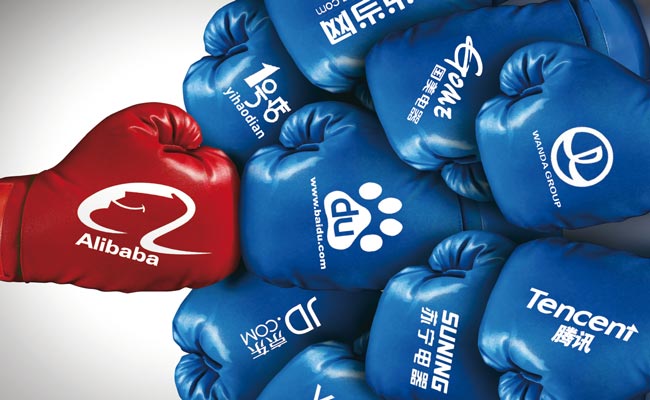 With its huge scale and steps toward global dominance, can anyone rival Alibaba's might in China's e-commerce sector?
When Alibaba made its initial public offering (IPO) in September 2014, the results were staggering, with its IPO raising $25 billion—making it the world's biggest. While that may have stunned many around the world, leading them to scramble to understand this company they'd never heard of, for those in China who were familiar with Alibaba, this outcome hardly came as a surprise.
After all—in just 15 years—the internet giant started in 1999 by former English teacher and now Executive Chairman, Jack Ma, has transformed a disconnected nation of inefficient, small businesses into a streamlined, online retail marketplace with global reach, yielding a strong grip on China—Alibaba now controls more than 80% of China's lucrative e-commerce market. Underpinning that are its wide range of services that include everything from its business-to-business (B2B) sales portal Alibaba, to the business-to-consumer (B2C) and consumer-to-consumer (C2C) retail platforms Taobao and Tmall, to its payment system Alipay, which is used for half of all online transactions in China.
The company also runs Alibaba Cloud Computing, which has 980,000 customers, and a finance arm that controls Zhao Cai Bao, a lending platform for small businesses and individuals that has already created a RMB 14 billion marketplace. In addition to these are a range of affiliated businesses that help the core business, such as Alimama, an online marketing technology platform for sellers on Alibaba's marketplaces, and China Smart Logistics, a logistics information platform.
But Alibaba's online dominance has raised questions of who or what could ever effectively challenge it.
In 2014, we got a hint of what might be to come when Wanda, Tencent, and Baidu announced a plan to invest RMB 5 billion in an online-to-offline (O2O) e-commerce company over the next three years with the intention to change the course of where shoppers spend their money in the future.
By banding together, they hope to imitate the vertical integration of Alibaba that allows CEO Ma and his team to offer customers a wrap-around online retail service, from product to payment, an approach that has been extremely successful.
So will such ventures and others succeed in troubling their main rival?
In Control
Historically, Alibaba has been adept at keeping revenue fenced off from competitors while keeping its customers happy.
In part, that was because of their ability to allay the concerns of consumers—Chinese customers are notoriously suspicious of the quality of goods you can buy online. To get around this, Ma set up Alipay—an escrow payment service that delays monies being exchanged until buyers are satisfied with the goods, with the added bonus for Alibaba that users need to sign up to Alipay before they can shop on Taobao.
Its ability to get ahead early on in the market has allowed the company to embed its various services in the minds of consumers, such that for many the alternatives are rarely a consideration.
"Definitely Taobao [is my preferred online shopping platform]," says Jessie Sun, an artist in Shanghai. "It's really convenient, safe and fast. They have almost everything that I need and I trust their service.
I have been using it for about five to six years so I know how to get things on Taobao pretty well."
She adds: "I like some other online shopping sites too, but they are way smaller. I have never really bothered to learn and trust too many of those."
Likewise, for many business owners Taobao is central to what they do and a key component to their success. A spokesperson for Alibaba Group notes: "We have seen a number of brands that were built entirely online, through Taobao Marketplace or Tmall.com, our China retail platforms."
Zhu Chenyun is a tea shop company owner in Shanghai who operates an online shop on Taobao selling fruit jams. She says it has transformed her business. "I have been running two tea shops for over three years and started my handmade jam business on Taobao about two years ago."
With more than 200 loyal customers who come to her Taobao shop each month, the 26-year-old can support her offline tea shops and cover new product development costs: "I plan to build a bigger jam studio in Shanghai."
Alibaba's enabling of small businesses has led to the rise of so-called "Taobao Villages"—clusters of rural online entrepreneurs who have opened shops on Taobao Marketplace—and as of November, 2013, there were approximately 20 of them in China, according to AliResearch. A Taobao Village generally refers to rural areas where at least 10% of the households are independently involved in e-commerce on Taobao Marketplace and generating a total gross merchandise volume of more than RMB 10 million.
Ever Upwards
China is now the world's largest digital retail market. E-commerce shoppers spent $1.3 trillion online in 2012, a figure that is expected to grow to $3.3 trillion by 2015, according to the 2013 report ʻChina's Ecommerce Prize' by management consultants Bain & Company.
While e-commerce might still contribute just a fraction of total retail sales in China, it plays an increasingly important role in driving overall domestic consumption. Offline retail development is lagging behind online growth. In 2013, online channels stayed strong, despite a slowdown in overall retail sales. E-commerce now accounts for 5% of all retail sales, with total online sales growing between 60-80% each year.
In 2014, Chinese and global consumers spent RMB 57.1 billion ($9.3 billion) in just 24 hours during the "11.11", or Singles Day, Shopping Festival on Alibaba's websites, smashing the previous year's record of RMB 35 billion ($5.7 billion). The 2013 record had equaled half of all China online and offline retail sales in September.
Further signs of the growth in the market can be seen in the proportion of GDP that e-commerce accounts for. In the first half of 2014, it was already 4.56% of China's GDP. While in 2013, the proportion of online retail sales made up 3.47% of GDP for the whole year, according to figures from Analysys International.
That growth has seen China reach a major milestone. According to Bain & Company, in 2014 the Chinese e-commerce market surpassed the US to become the biggest in the world, a trend driven by Alibaba's 300 million users—equivalent to the entire population of the US.
For all that rapid growth, there's still scope for it to continue even further. In 2013, only 48.9% of China's internet users were online shoppers, compared with 74.2% of the US, 77.6% of the UK, and 79.5% of Germany, according to the China Internet Network Information Centre. Also, just 45.8% of the Chinese population are internet users, compared with 83.2% of the US, 88.9% of the UK, and 86.1% of Germany.
This development means people are now using online retail for everything from getting their car serviced to designing furniture for their home. And Alibaba is currently the main beneficiary of such changing spending habits. At the end of 2013, the company's reported revenue was $3.06 billion, up 66% from a year earlier, with a net profit of $1.36 billion—up 110% year-on-year. And in the 12 months ending June 30, 2014, Alibaba's retail marketplaces (Taobao Marketplace, Tmall.com and Juhuasuan) had 279 million active buyers in total.
That paints a rosy picture for Alibaba, but the size of the market now means that the company's competitors are trying harder than ever to alter the situation. While the company's lead is undeniable, rivals are homing in on areas of potential where Jack Ma has little foothold, and may even be at a distinct disadvantage.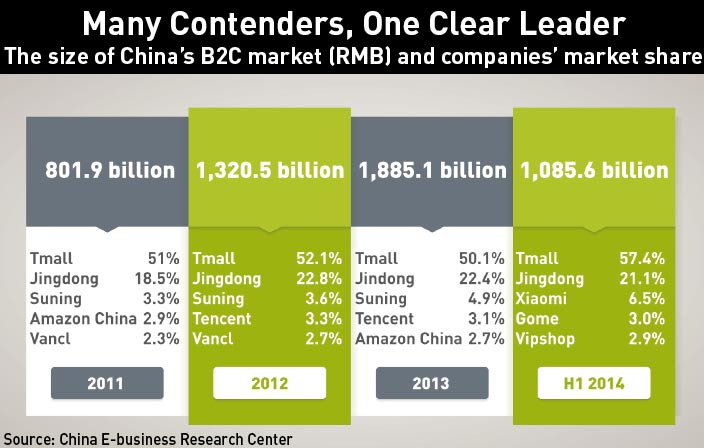 New Challengers
Real estate company Wanda, social networking and gaming company Tencent, and search engine company Baidu recently announced plans for a joint e-commerce platform focusing on O2O sales. Their hope is that Chinese customers will choose to browse online, and shop offline. In a press statement, Wanda's Chairman, Wang Jianlin, said he believes O2O is the "biggest pie in e-commerce," and added: "The pie has not been cut yet."
Meanwhile, mobile text and voice messaging service WeChat (owned by Tencent) is moving further into e-commerce and making a direct play to take some of Alibaba's market share. Tencent's latest app, Weidian (meaning mini-store), allows users to sell items over WeChat, a development which could have far-reaching advantages for existing e-commerce users. The company has also augmented the platform's ecommerce offerings by forming an alliance with JD.com (also known as Jingdong), Alibaba's chief rival online retailer. The deal will create an exclusive shopping channel for JD.com on WeChat.
These moves mean that WeChat is quickly evolving into something that could potentially disrupt the monolithic Alibaba marketplace model that is the current standard. The company's new Weidian store offers many enticing features for online retailers. These include the facility to receive payments from customers from a range of banks (not just Alipay or Tencent), to move your store from Taobao, and a commission payment for WeChat friends when they recommend a product to their contacts.
"If you look seriously at Weidian, [it's] actually Taobao but on social media," says a principal from one of the world's largest consultancies and a specialist in Chinese ecommerce—she is not authorized to speak publicly about specific companies.
"But there is a difference. They're tending toward the micro-purchases, not highvalue," she says. "Weidian actually helps small enterprises and consumers. [They] will help you track your logistics, they help you with your payments tools, they help you if you link to a logistics company and things like that."
The principal points out that social media has become "inherent" to Chinese life. "Buying things on social media is much more convenient and smoother than having to go to Taobao or Tmall. Personally I think that will be a new trend we will see very soon," she adds. "Social media is very strong in China, much stronger than just the buying and selling of things."
Alibaba's investments in social media have so been far less successful than its retail ventures, making this a particularly vulnerable area for the company. Last year, it launched chat app Laiwang (after banning Alibaba sellers from using WeChat) and has also invested in Sina's Weibo—China's Twitter and a Tencent rival. But Laiwang has 10 million users in comparison to WeChat's 350 million monthly active users and excitement around Sina Weibo has died down ever since a crackdown on the platform's content.
As mobile internet already exceeds PC use among the Chinese, Tencent's move into mobile e-commerce signals perhaps the most direct challenge to Alibaba's grip on power yet. And the addition of shopping channel JD.com to its platform is also central to this challenge as it establishes an enviable range of services in one ecosystem.
"Some of the people [in the different groups I work with] feel that actually Jingdong is a viable competitor. Because Jingdong (JD.com) has the social media back up of Tencent," says the principal. "If I was Taobao, would I be afraid of Jingdong? Now that Jingdong has access to the users, I think yes, it's a trap," she says.
Teng Bingsheng, Associate Professor of Strategic Management at Cheung Kong Graduate School of Business, thinks that Jack Ma is aware of the danger. "Alibaba has a lot of money and with that money Jack Ma's going to buy even more companies. Anything that's related to e-commerce," he explains. "He even bought a soccer team in China, and many people questioned the logic. But I think it's related to social media, which is a stronghold for Tencent. Jack will cast a wide net."
But for all that, Alibaba has one big strength: plenty of cash. With his pot of post-IPO money, Ma is now in a position to go on a buying spree and capture the rest of that market for Alibaba through strategic acquisitions and product development.
"Part of Alibaba Group's focus is on building upon our strength in mobile commerce to develop a broader spectrum of consumer offerings, including—but not limited to—location-based services and O2O services, in order to fulfill our vision of becoming central to the everyday lives of our customers," explains a spokesperson for Alibaba Group.
The company's $692 million investment in March in Chinese department store operator Intime Retail Group signaled a strong desire to take early control of the market, and this was followed up in July by the establishment of a joint venture between the two companies to develop an O2O business in China. And in October, Alibaba also announced the launch of ePass, a payment method Chinese consumers can use to shop on US retail sites.
It's not the only sign that Ma has his eye on opportunities beyond China's shores—in the past year, his shopping abroad has seen him make investments in Tango, a messaging app, and video game start-up Kabam of $215 million and $120 million, respectively.
The E-commerce Frontier
CKGSB's Teng believes that the Chinese consumer will lead e-commerce innovations, as their tastes become more sophisticated. And this has already started happening in the travel market. While the Chinese customers used to favor group bookings, the younger generation wants to travel independently, or with their family.
"The traditional offline travel agencies can do group bookings only, rather than individualized trips. So these companies are available online to help people design their own itineraries," he says. "It's these kinds of personalized, high-quality customer services that will grow."
June Lin (a pseudonym) is a partner in a Shanghai-based translation company, with a revenue of $52,400 each month. Changing needs of the middle-class consumer have dictated where she concentrates her energies.
"Online shopping is a trend. Almost everyone shops online, so you have to have an online presence. And I have to let customers buy using the most convenient app, which is WeChat, or they will go somewhere else."
For her, the messaging app has been an invaluable tool for building infrastructure, marketing and customer relationship management—precisely because her users feel comfortable and engaged with the tool already. She says the company uses it to maintain business connections and for promotional purposes by sharing advertisements and highlighting the company's recent activities and achievements.
Such social media-based entrepreneurialism happening outside of Alibaba's universe represents a real threat to the industry giant. Yet it's not just Alibaba that needs to be vigilant. The needs of consumers are changing rapidly and could catch out any of the market leaders, particularly as there is still much in store for this already lively sector. At present, the main players in the sector are fighting it out for the future of the market. But their relative success will also rely on winning over traditional retail to join their carefully formed strategic alliances.
"Neither Alibaba nor Tencent are retailers. They're online ʻreal-estate' players. So they set up an online marketplace that other people use to do business," explains Weiwen Han, a Partner at Bain & Co. Shanghai. "For O2O, you will also need brands and traditional offline retailers to come to your platform, and that requires a pretty big transformation. You can't do it alone, you need to build an ecosystem."
The principal agrees, saying that, given Alibaba's dominance of payments and various
forms of e-commerce, "[for] any one company I think it's going to be fairly difficult". But that doesn't mean the challenge is insurmountable. "I think the company that will succeed is the company that will give the consumer the best user experience, or customer experience," she says.
With the battle to offer the Chinese public the richest and most convenient retail experience set to intensify, consumers look likely to benefit regardless of whether Alibaba keeps its treasure.
Enjoying what you're reading?
Sign up to our monthly newsletter to get more China insights delivered to your inbox.