Share

WeWork's Ole Ruch: Collaboration Key to Modern Business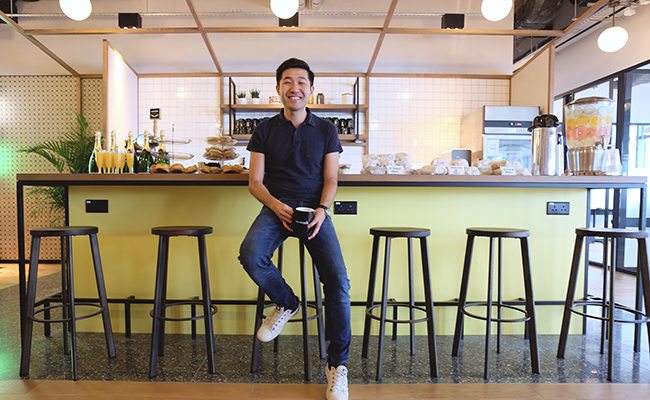 WeWork APAC's Managing Director Ole Ruch says international connections give the firm an edge in China
Since its establishment in 2010, WeWork has capitalized on the rise of shared-office culture to become the number one company worldwide specializing in shared office spaces. But in China it faces stiff competition from Chinese co-working spaces that base their business models on WeWork's approach.
Is it too late for WeWork to carve out a space in China? Can it beat its Chinese competitors who claim to better know the needs of Chinese companies? With Uber China recently throwing in the towel to local rival Didi Chuxing, China is now seen as a tough environment for even the most aggressive foreign tech startups to thrive in. How will WeWork counter these doubts about foreign firms? Aside from free coffee, sleek meeting rooms and spaces to socialize, is there anything that's unique about WeWork which cannot be copied by other Chinese competitors? CKGSB Knowledge sits down with WeWork's APAC Managing Director Ole Ruch to find out.
Q. WeWork started in the US in 2010 and quickly became popular and scaled up, why did you choose this time to come to China? How would you evaluate the Chinese market in terms of WeWork's business prospects?
A. WeWork started in 2010 and we recognized the global shift in the workforce and economy towards more meaning and passion at work, which is creating new demand for work environments all around the world. As for why we came to China, it has to do with our push to create a global and connected platform. We've been looking at some of the largest markets in the world. China became the natural next step after us being in the largest cities in the US and opening in the largest cities of Europe. The next step is to enter Asia and China.
Q. What are you anticipating in the Chinese market?
A. When we came here the first time, we thought of expansions about a year ago, we were blown away by the entrepreneurial spirit and energy and business environment here in China. That really convinced us that we need to enter the Chinese market. We just started here and found the demand is overwhelming. We opened our first office in Shanghai, Yangping Lu in July, and it's had quite a successful result: after two months it's 100% full. There is overwhelming demand and I'm excited and committed to growing in the Chinese market.
We're looking at many major cities such as Beijing, and in the future WeWork wants to be in every major city in the world. Right now our focus is opening more buildings and at the end of this year we will open another building in Shanghai and another one in Hong Kong. So in total we will have four buildings in China. And next year we will probably enter other markets.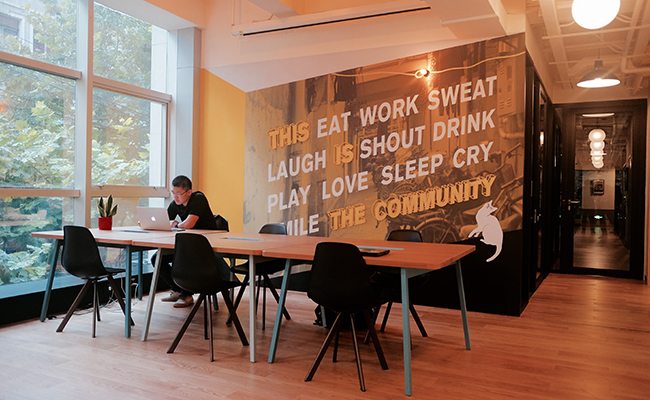 Q. One difference we've noticed between Chinese co-working spaces and those in the US is that the Chinese co-working spaces usually house more startups. How does that affect WeWork China's strategy? Do you worry about startup bubbles?
A. This is a common misconception across the world. Our membership is very diverse. If you look at our members in any given building, yes there are startups and technology businesses but you'll also see companies in traditional businesses such as law firms, accounting, marketing and advertising…and it's not only the small- and medium-size businesses. Actually our membership is very diverse, we also have more and more big companies like Fortune 500 companies choosing to be our members.  We have PR firms, business consulting, financing, fashion design, law firms, advertising companies, technology companies and so on. Almost 40% of our member companies have more than 10 desks. Our corporate members include IBM, KPMG, Delta and Samsung. HSBC just moved into our location in Tower 535 in Hong Kong with more than 300 desks.
Q. Why do you think those companies choose shared spaces instead of offices?
A. What we offer are functional, beautiful and collaborative work spaces, and the way business works today is more collaborative. It's becoming an opportunity for these larger corporations to tap into many different types of companies and to learn from them, to collaborate and also for their employees to have a much better physical environment than they're used to.
Around 70% of companies are collaborating with each other, you know, whether they are doing tourism, education, networking…and that's really why the big companies come to us.
I think in collaborative spaces companies will have access, not only the tech firms, to a broad, diverse group of companies with different products.
The other thing people really care about is the culture, the environment. When you walk into a WeWork building, you feel the energy, you feel the people are engaging and talking with each other, it actually creates an opportunity for these larger corporations to leverage our company culture and bring it to affect their own company culture.
Q. What are other major differences between WeWork China and WeWork US?
A. First of all, I think this global shift that we're talking about is something that's happening everywhere in the world, so whether you're in New York, London or Shanghai, the way people want to work is definitely changing. So we see that this is the same in China as it is with WeWork US. When we came we were more struck by the similarities than the differences.
That being said, China is definitely a unique market, we came here to this market with a humble approach. We want to learn and engage and want to see the best way to shape our strategy. We came with a local team that has broad experience with both the local market and local partners that can help us be successful in China.
For instance, our General Manager of the China area is local, he came from Baidu and he has rich experience with the local market. We believe the best local team can provide the best products and services to our local members. We listen to our members, get feedback from them and keep improving our product and service.
Localization is demonstrated in all aspects, including design. For instance, we cooperate with local designers to design our locations, in Shanghai, we used the "Nongtang" theme and White Rabbit elements to design our space; in Weihai Lu, which is to be opened very soon, we used an "art deco" concept since it has a long history [in the area] of art designs and exhibitions. Basically, each location has its own story and characteristics and you never see two identical locations.
Q. Can you elaborate more on your local partners?
A. We have broad range of partners, from the landlords of the apartments that we use to our financial investors that support us, not only with capital but also with strategic advice when we entered the China market. That's very important for us because they have broad experience supporting companies going into China. At the same time they recognize the value that we have on a global scale and they say you guys will be successful in China and we can help you be successful.
Q. You mentioned you were impressed by the entrepreneurial spirit of young Chinese people, how does this factor affect WeWork China's business model?
A. I think the Chinese economy has been transformed from a traditional economy to a new economy of technology, innovation and service. And I think you have developed some great, large companies that the young generation of entrepreneurs is looking up to, like Alibaba, Tencent and Baidu. I think that's really exciting to see. There are a lot of small- and medium-size companies that are building so many different types of businesses and they're leading the way in changing the workforce. For me that's a leading indicator, that really shows us that something is happening in the Chinese economy and we want to support them through our location and our business in China.
When it comes to how we think about our business in China, I think that (the entrepreneurial spirit) just gives us more confidence in thinking about growth and size.
Q. In China, many local co-working spaces, incubators and accelerators have popped up over the past year. Some of them claimed to be "China's WeWork" and copied WeWork's services and designs. Aside from being a well-known foreign brand, what is WeWork's advantage over them?
A. When we think of "WeWork", we're talking about work in the future. So our competition is really "work" itself. What we are trying to do is focus on the market shift that's happening in the way people work, in the way people collaborate and what they want from their career and businesses. And we've been with the force of this movement since 2010. We've been doing this for a long time. We have a lot of experience, data and knowledge—we look at how we can build, develop, choose the right location, create the best experience, find the right team members, that all come together in a way that we can support our members to do their businesses.
The other thing which is really interesting for us to see is that we have a very global community. The community is effective in the way that the larger the community is, the more valuable the WeWork network becomes. And member companies will not only have a base with us in Shanghai, but also in many other markets around the world. One of the best examples is that a company chose us in Berlin, Germany, because they heard we were opening up in Shanghai. The minute it became a member in Berlin, it also become a member in Shanghai.
Q. Some people doubt WeWork could succeed in China because they don't know how to provide good services to local companies. How would you respond? What kind of services can WeWork provide?
A. Actually about 80% of our membership here in Shanghai are local companies and their collaborations happen here every day.
In terms of services, we have all the things you need to start a business. We have partnerships with insurance companies and software producers like Microsoft.
One challenge for us has been developing local relevant services. That includes everything from benefits, like being near a particular building, so you can have good deal and benefits at businesses such as health clubs and restaurants, things that small individuals cannot negotiate themselves because they don't have the scale and what we're going to do in the next three to six months is really speak with our membership and learn how we can serve them in these larger things. For instance, in the US, we do healthcare, helping our members there buy healthcare … we hope we can provide such services for our members in China as well.
Q. Some foreign tech companies have found it's not easy to do business in China. Google, Facebook and Uber China could not sustain their operations in the Chinese market. What do you think of their withdrawals? Do you think it's because they did not do well in government relations or they failed to localize themselves in Chinese market? What will WeWork China do to avoid those mistakes?
A. What I can tell you is that we have a lot of respect for the Chinese market. We want to keep a humble approach as we grow. As I mentioned, we're lucky to have a partnership model in which we're engaging with local landlords, global partners and investors on a regular basis and have a deep-rooted basis in Chinese culture.
The other thing is we focus on hiring local teams. From our general manager all the way down to our front-line personnel, they are all local team members. For us it's very important that we build a local business here that has global scale.
For WeWork the path is clear that we want to continue growing there and have a local team and continue to get better local projects. We are here to learn as well and get a better understanding of the local community and how we can best serve our members.
Q. You've worked in many big sharing economy firms like Groupon and Airbnb and now WeWork, what would you say about China's sharing economy?
A. I think the sharing economy is exhibited in, again, the global shift that's happening. We see there is more collaboration, more sharing resources and actually we're getting closer to each other in this very big world. If you look at China, there are hundreds of businesses in the sharing economy
The estimate is that by 2020, the share economy is expected to account for 10% of GDP in China. I think this is something will continue to develop. We're just at the very early stages of seeing that the share economy will be powerful force.
As for WeWork, what we focus on is creating a collaborative experience for our members. We want to find a way for them to grow their businesses and for them to exchange experience so they can learn, not only as businesspeople but also at a personal level.
You may also like
The ambiguity of China's carbon reduction goals has resulted in short-term emissions increases, and the targets may not be realistic.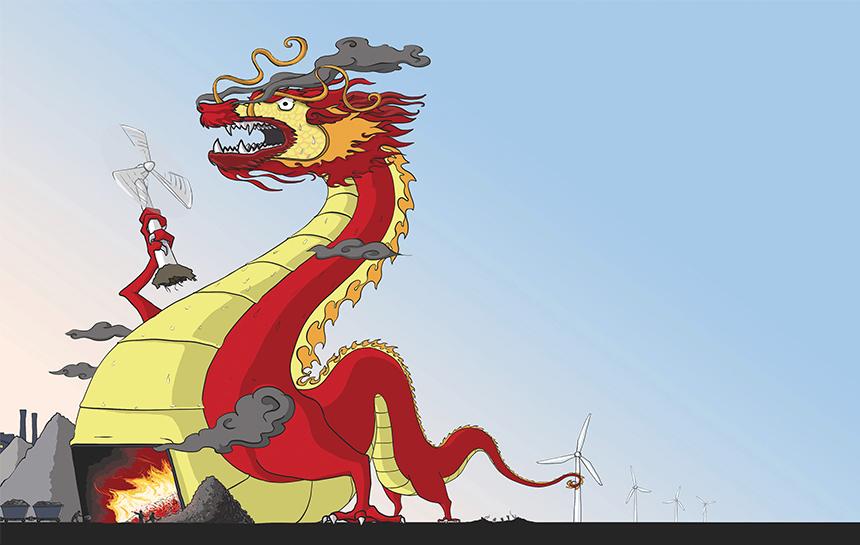 | Mar. 7 2023