Share

Selling With Selfies: How China's Social Media Stars Get Rich?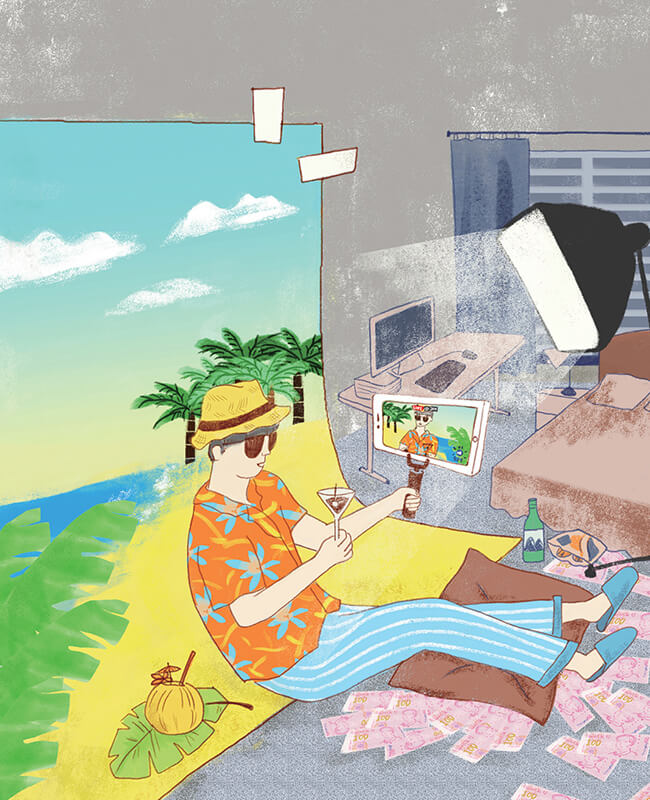 In China, online celebrities now earn even more than A-list movie stars. But is the livestreaming bubble about to pop?
From early morning until she turns in for the night, Melilim Fu is online. Armed with four smartphones, the 27-year-old spends most of her day posting furiously to her social media feeds: live-streams, beauty tips, video tutorials, photos, articles and anything else that will appeal to her followers.
With her striking blue hair, quirky style and bubbly, outspoken manner, Melilim is one of China's most successful online celebrities, or wanghong. She is an idol to her hundreds of thousands of fans, and a darling of brands looking to piggyback on her huge audience.
"In 2017, I was in the top four beauty influencers in China, but that doesn't matter to me—how to care for my fans is most important," she tells CKGSB Knowledge. "I tell them we don't only have one standard for beauty and everybody has a lot of different options."
Forming connections with fans, clients and brands keeps her extremely busy, but it is also extremely lucrative. China's top wanghong are now in the same category as movie stars and A-list celebrities; in fact, the online celebrity economy by some calculations is worth more than the country's domestic film industry. Data company CBNData estimated that the online celebrity economy was worth RMB 58 billion ($9.2 billion) in 2016, while the domestic film industry brought in RMB 45.7 billion in revenues in the same year. Superstar fashion influencer Zhang Dayi reportedly earned over RMB 20 million ($3.2 million) during a recent two-hour livestreaming event.
For many young Chinese, online stardom is the ultimate dream. A survey by qq.com, one of China's most popular news portals, last year found more than half of respondents born after 1995 aspired to make a living through online broadcasting. Another study by China University Media Union found 42% of college students want to become wanghong after graduating.
According to Jonathan Sullivan, Director of the China Policy Institute at the University of Nottingham, the rise of wanghong culture is fueled by the quirks of China's media landscape, where the government exerts strict control over mainstream channels.
"The avenues for regular people to become celebrities are essentially limited to the internet," says Sullivan. "Reality TV is not an avenue to fame in China—despite a few reality shows, the ecology is not there, and the mediasphere that celebrity needs to breathe is too constricted."
Online stars are also able to connect with young Chinese in a way that the TV and movie industries often fail to do. "I think there is enormous appetite for something distinct from the 'ideotainment' [ideological entertainment] and dry fare that dominates mainstream media," adds Sullivan. "An online persona doing something different to the norm can catch fire in a space where information flows are quite concentrated."
Turning Clicks Into Cash
In China, the most profitable types of internet celebrityhood are the fashionistas and beauty experts that broadcast through social media platform Weibo and Alibaba's online marketplace Taobao. Somewhere between brand ambassadors and content providers, they have emerged as a significant force in China's online retail ecosystem.
With a vast potential audience of 750 million internet users, many of these social media stars have established huge followings. Their ability to promote an aspirational lifestyle while fostering a sense of authenticity also makes them ideal partners for brands, who refer to them as Key Opinion Leaders, or KOLs.
The power of KOL marketing was evident recently when Givenchy partnered with leading wanghong Gogoboi for the launch of their Duetto handbag collection. After Gogoboi posted about Duetto to his 7 million Weibo followers and set up his own WeChat boutique platform featuring the range, the bags sold out within 72 hours.
Many brands will pay big money for this kind of influence. A typical fee for one Weibo post is RMB 500 ($79) per 1,000 views, meaning a popular post from a successful KOL can bring in hundreds of thousands of RMB, according to Elijah Whaley, Chief Marketing Officer of influencer agency Parklu, who is also the business partner of Melilim Fu. Once a KOL has around 1.5 million followers, upward of $50,000 per post is common.
According to Jeremy Webb, Vice President at Ogilvy China, brands in China are more willing to pay KOLs than elsewhere because digital marketing is more challenging here.
"As a marketer, I'd say the reason why KOLs earn so much money is because there aren't many alternatives," says Webb. "In the West, advertising tools on Facebook and the like are so much stronger… In China they were crap for so long, which means if you're a brand or a marketer and you wanted to get your message out there, there was no way to achieve it except through so-called KOLs."
KOL marketing has become so big in China that even niche stars can command large fees. One example is Zhang Yumi, a diminutive young woman who found online fame for her ability to eat gigantic amounts of food. Videos of her devouring four kilograms of rice or eight bowls of rice noodles in one sitting have gone viral on Weibo, winning her over 4 million followers. She is now regularly offered six-figure sums by companies to feature their products in her next challenge, Zhang told the South China Morning Post.
Astrology blogger Tong Dao Da Shu, meanwhile, is said to charge about RMB 300,000 ($47,500) per WeChat post.
Selling Out
The real value of the top wanghong is that they are able to form a true emotional connection with their followers, who often think of them almost as friends rather than idols. Stars such as Melilim invest significant amounts of time interacting directly with fans.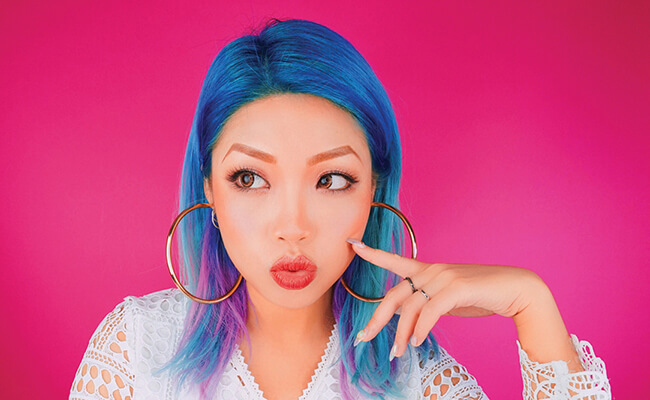 "I wanted to make girls feel pretty who don't look like what Chinese think is pretty," says Melilim, who often discusses personal issues with her fans, such as boyfriend problems or failing tests. "I want to help girls with dark skin or eccentric tastes to feel beautiful and confident."
Some wanghong monetize their fans' devotion directly by tapping their followers for tips. This is easier to do in China because social media apps like WeChat have in-built digital payment services, which allow users to send each other cash gifts with one swipe. For successful stars with millions of fans, earning $15,000 or more from cash gifts in one broadcast is routine.
But when wanghong begin to take money from brands they face a tricky balancing act of pleasing their corporate partners without losing their integrity in the eyes of their fans.
"KOLs need to be true and genuine to their fans. In the case of a KOL, you're very concerned about the audience, and the brand in some ways comes second," says Parklu's Whaley. "This is probably the most complex form of marketing today because you have human factors on both ends."
Striking the right balance is becoming even more challenging as the wanghong economy becomes ever more professionalized. Talent agencies scour the internet to snap up and train budding wanghong, while big businesses have even set up online celebrity "incubators." Tech giant Alibaba, for example, has invested RMB 300 million ($47.5 million) in a center run by venture capital firm Ruhan E-commerce, which grooms young stars with the help of a team of designers, buyers, photographers and assistants.
"Melilim is the only significant KOL that I know of that is completely unsigned and completely home-grown," points out Whaley. "And the only reason we were able to do that is because of good connections at the companies and platforms."
The platforms Whaley refers to are the social media and livestreaming sites that host the wanghong's content. Experts confide that the biggest stars all have connections at these platforms that help push their profiles to prominent positions on homepages and search results.
"If you know the person picking out the featured content on the front page of the video platform, then you have a distinct advantage," says Whaley.
Growing Scrutiny
With influence over so many millions of fans, concerns are rising about the power wanghong exert. Beijing is keeping an eye on the craze and has already cracked down on livestreaming channels at various points, including a recent ban on "sexy banana eating."
Several negative press reports, including from state-owned Beijing News last year, exposed the long hours, poor pay and unfair contracts that many aspiring wanghong get trapped in, presenting the industry as a seemingly get-rich-quick solution. The Beijing News article featured the plight of 19-year-old Er Xuan, a livestreaming host who was portrayed as one of many Chinese girls who dreamed too big.
Er Xuan told reporters that she had signed a contract with a local wanghong training agency in May, and since then had been forced to work exhausting hours as a presenter on livestreaming platform Huya for just RMB 5,000 ($790) per month. "Yesterday, I was online from 3 p.m. till 5 a.m.," she said. "The day before was even longer: I live-streamed till 6 a.m. or 7 a.m."
Studies have also suggested that social media can have a negative impact, with online crazes such as the "A4 waist" challenges putting pressure on women to conform to a particular body image. While these trends have had varying levels of support and derision, some experts have flagged a worrying trend toward beauty ideals.
Others have expressed concerns over the so-called "big stomach" wanghong like Zhang Yumi, with some worrying that this is encouraging eating disorders or that the stars force themselves to throw up after broadcasts. However, Sullivan does not expect the backlash to dampen the enthusiasm of young Chinese for the wanghong lifestyle.
"The previous reticence to solicit notoriety via viral images, video and streaming is gone for large numbers of young people," he says. "This is a really significant change: traditional and socialist values despise showing off, or drawing attention to oneself.
"Given the popularity of wanghong, I see this trend continuing with millennials increasingly embracing online performance themselves and being willing to support others doing so. I think wanghong fits the mood developing in Chinese youth—and the government is going to exert controls to ensure that it develops in a 'politically correct' manner."
An Online Bubble?
Other experts warn that the wanghong industry could be a short-lived phenomenon, as KOLs are increasingly struggling to provide value to brands. According to a survey by China Tech Insights, 41.7% of respondents reported a dislike or disgust of internet celebrities, while 51.1% reported a neutral feeling toward them.
"Wanghong are usually not considered to be an influential factor to change people's viewpoints and favorability toward a brand," says Alina Ma, Associate Director of Lifestyle at Mintel, a global market research company, who has researched the phenomenon. "Consumers may spend more time getting to know a brand better if they like a wanghong… but [wanghong] do not have enough power to drive the majority of consumers to the path of purchasing a brand."
"I think there will be a bit of a bubble bursting, because to me these KOLs are not K, have no O and are not L in any way," adds Webb.
There are worrying signs for KOLs that they are already going out of fashion in China's fast-moving online world. The number of monthly active users on Chinese livestreaming sites, for example, fell significantly during the first half of 2017, from 104 million in January to 91 million in June, according to TechNode.
"I don't think people really care so much about online celebrities promoting products these days," says Shanghai-based entrepreneur Sun Yongqiang. "You know they're just saying they like something because they've been sponsored. I think the whole wanghong thing is a bit stupid, to be frank."
Savvy KOLs are therefore branching into new platforms and media or looking to launch their own brands. Melilim Fu already had a successful career as a professional makeup artist before launching her online brand, and she has ambitious plans now for her own self-branded beauty products.
"My life is all about creativity, meeting people and beauty: all the things I love," she says. "If I could change anything it would be the overwhelming pressure to keep up… Social media never turns off."
You may also like
China is adding new solar capacity at a globally unparalleled rate, but it needs to ramp up even further to meet its.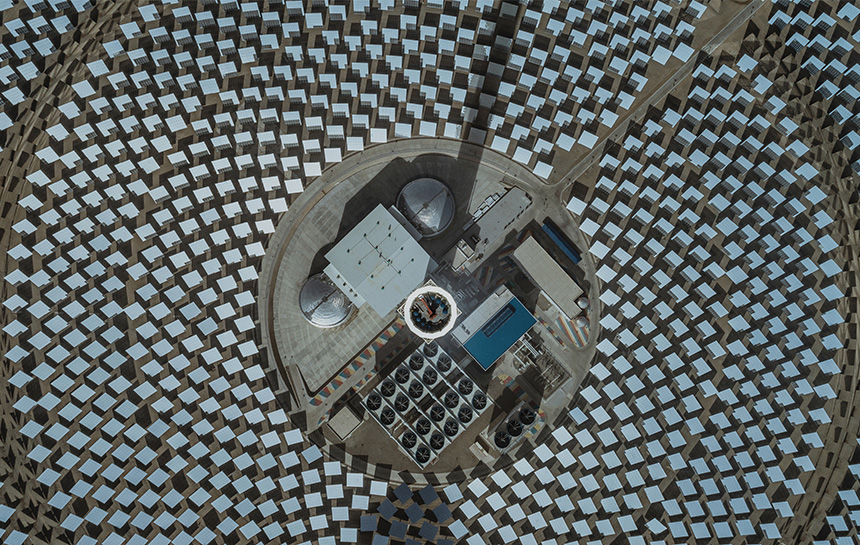 | May. 29 2023