Share

The Race to Vaccinate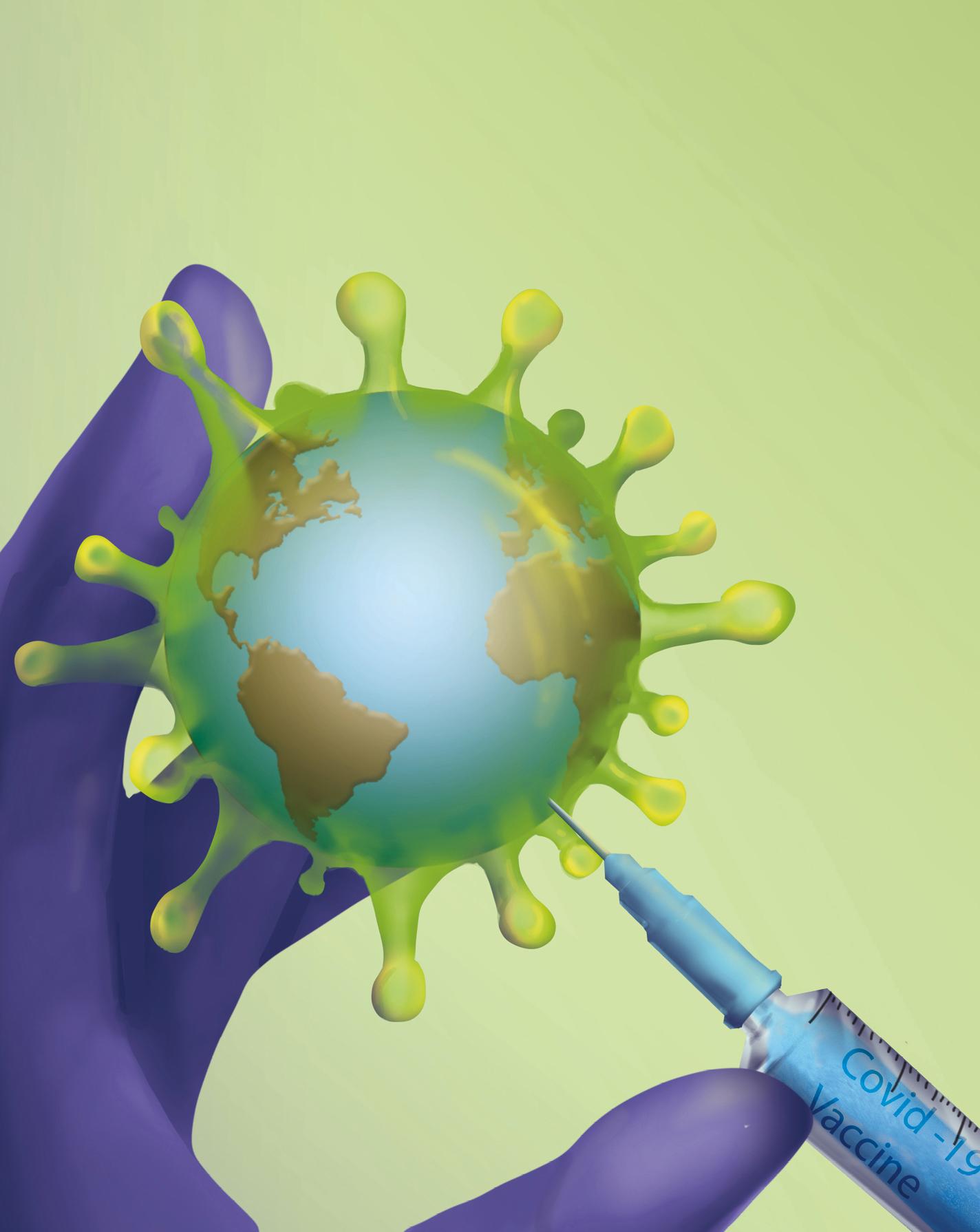 The pandemic has provided the Chinese government with a huge and unexpected PR opportunity—vaccines for the world.
Louis Dee, a medical intern in a major hospital in the Philippine capital of Manila, was initially highly suspi-cious about the Chinese COVID vaccine, but he took the injection anyway, and his opinion flipped to positive.
As a medical worker, he was particularly sensitive to the negative perceptions attached to the Chinese vaccines being rushed to market around the world. "I was very skeptical of the results, and I really didn't trust the judgment of any organization or regulatory body," he says. "I was concerned, and basically felt the vaccine was unlikely to be any more effective than a placebo."
The first Chinese vaccine shipped to the Philippines was CoronaVac, produced by Sinovac, a Beijing-based biotech firm, and Dee says he observed that people taking it had no side effects except initially feeling sleepy. "Now, I am definitely not worried about the side effects of this vaccine. And all vaccines are good in preventing disease and death. So, I am not worried about side effects, I am more worried about infecting my friends and loved ones."
Dee is just one of tens of millions of people around the world who will consider whether to take a Chinese-made COVID-19 vaccine this year. Most are in parts of the world effectively ignored by American and European companies such as BioNTech-Pfizer, AstraZeneca and Moderna, producers with vaccines boasting generally higher efficacy rates than the Chinese vaccines. Pfizer and Moderna report rates above 90%, AstraZeneca reports 76%, and the Chinese vaccine makers, Sinovac and Sinopharm, report an efficacy between 50% to 79%, based on what the companies have said. The Philippines is just one of dozens of developing countries which have received vaccine supplies from China, much of it donated or provided at a low price. The country's President Duterte was present at the airport when the first doses arrived in February—600,000, reported the state-run Global Times.
Vaccine diplomacy
Despite the negativity attached to the fact that the virus originated in China in late 2019 and early 2020 and then spread to the world, China has since been actively playing the geopolitical vaccine game. It has positioned itself as a savior to developing nations at a time when many developed world countries are still mired in virus spikes and lockdowns.
The evidence indicates that as of March, China had already exported more doses to other countries than any other country. Russia's Sputnik V vaccine has been distributed to 20 countries, and production of its vaccine is being ramped up in India for export, but the quantities appear to be small. EU Commission data showed that by mid-March, the EU had granted approvals for the export of 28.7 million doses while at the same point, China had pledged half a billion doses of its vaccines to more than 45 countries, according to a tally by The Associated Press. But ironically it remains far behind in terms of the number of shots it has administered within its own borders.
China began mass vaccinating its citizens in December 2020. But there were signs of reluctance on the part of recipients, partly out of safety concerns, but also due to a widespread sense amongst citizens that there was little need for vaccination given the government's obvious success in controlling the spread of the virus. By mid-March, the government announced that only 64 million out of 1.4 billion citizens had been inoculated.
China has by far beaten any other major country in efforts to control the virus. By April 2021, the country had reported only around 90,000 cases and 4,600 deaths, insignificant numbers compared to Brazil, Europe, India, the United States and many other countries.
Vaccination as a health prevention method was not widely accepted in China, says Yan Rui, a public hospital doctor in Wuxi to the west of Shanghai, adding the COVID crisis changed that. "Everyone's level of acceptance is somewhat different, but in general, people are now willing to be inoculated," he says. "Chinese people have a herd mentality, and when they see relatives and friends have the injection without side effects, they will also ask for it. I'd say by the end of this year, the vaccination rate should be very high. People have been under pandemic restrictions for so long, and everyone wants to be free. They know now that getting a vaccine shot is the only way out."
Feng Duojia, President of the China Vaccine Industry Association, was quoted by the Global Times as saying China, with its strong central control structure, had been effective not only in controlling COVID-19, but also other diseases in the past. "China has a tradition of achieving herd immunity and overcoming epidemics through vaccination," he said. "For example, through vaccination we eliminated smallpox and polio, reduced the incidence and infection rate of hepatitis B and brought measles under control." Success of Chinese vaccines internationally, he added, will depend on "public trust in the Chinese government and its international commitments," along with performance of Chinese vaccines and the supply rate.
The chances of success in China's vaccine diplomacy improved by the approach taken in the early months of 2021 by developed countries. In January, the World Health Organization (WHO) accused rich governments of hogging doses and warned of a "catastrophic moral failure" if more was not done to ensure vaccine parity. "We've seen some countries being quite brash," says Adam Kamradt-Scott, a Global Health Security Network board member. "There's very little veneer in what they're doing to promote their own interests."
Arms race
In May 2020, Chinese leader Xi Jinping declared that China would contribute to ensuring vaccine accessibility and affordability in developing countries. China has followed through on that promise, being much more active than the US and other major countries in providing vaccine supplies to the Third World. "We effec-tively have a vaccine arms race whereby countries are competing, not only for prestige associated with developing the vaccines first, but also in regard to access to those vaccines," says Kamradt-Scott.
Mass exports of vaccine doses began in January. Unlike the main US vaccines, Chinese vaccines can be stored at ordinary refrigeration temperatures, making them attractive in many less-developed places around the world. Sinovac's vaccine can be stored in a standard refrigerator at 2-8 degrees Celsius, like the Oxford-AstraZeneca vaccine, but the Moderna vaccine must be stored at -20℃ and the Pfizer vaccine at -70℃.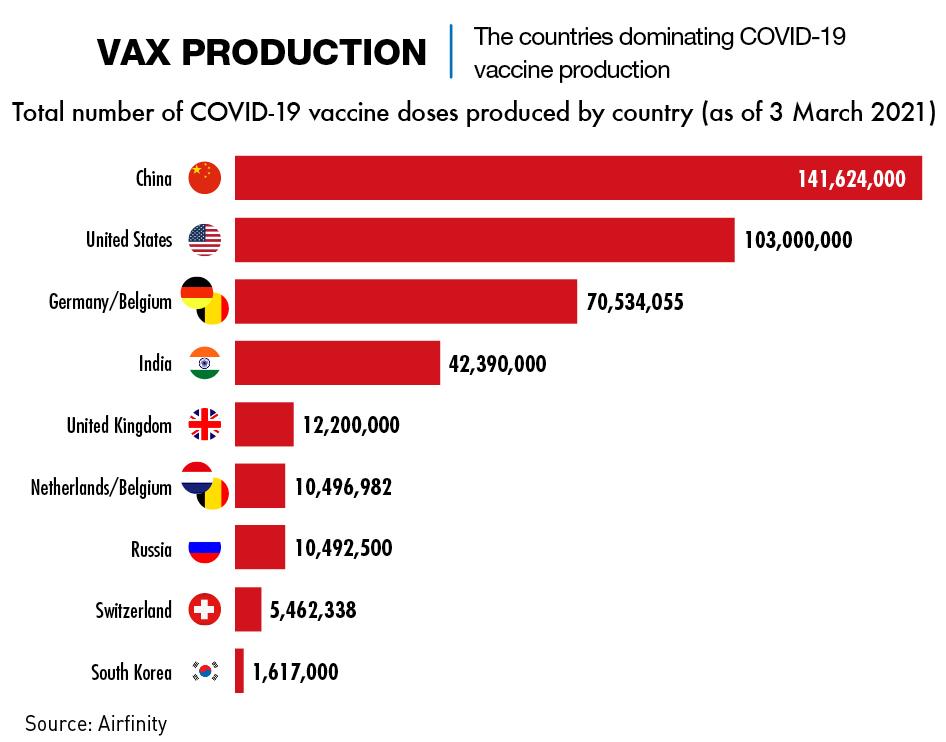 Countries using Chinese vaccines on a mass scale include Brazil, Indonesia, the Philippines, Turkey and UAE. National leaders, including Turkey's President Recep Tayyip Erdogan and President Joko Widodo of Indonesia, have taken the Sinovac vaccine.
For many countries, the choice of vaccine was not an expression of support for China, but one of necessity—there were no other vaccines available. China, a past-master at the mass production of just about everything, is now geared up to be probably the world's largest producer of what will likely be both an essential and lucrative medical product for years to come—COVID vaccines are going to be a long-term requirement globally, just like flu shots.
China has four producers of vaccines approved by both the government and the World Health Organization for public use. The government has said it is aiming for total production capacity of at least 4 billion doses per year. UNICEF is predicting that total global production in 2021 will top 20 billion doses.
China has been an active player in efforts to develop an effective COVID-19 vaccine from the start. Its biotech industry has boomed in recent years, providing a solid foundation for emergency vaccine development work and while China's entrants were not the first approved for international use, they were amongst the first deployed.
The fastest of the vaccine makers was Sinovac Biotech Ltd, a private Beijing-based bio-pharmaceutical company founded in 1999, that specializes in a wide range of vaccines, including ordinary flu shots. Its main COVID product, CoronaVac, was approved for emergency use in China in July 2020.
Like all the Chinese vaccines released so far, CoronaVac is an "inactivated vaccine," which means it exposes the body's immune system to expired viral particles without risking a serious infection. The Moderna and Pfizer vaccines, on the other hand, use a revolutionary technique never employed commercially. Called mRNA, this process injects part of the virus' genetic code into the body to force it to make viral proteins which train the immune system to attack the virus.
Sinovac announced in early April that over 200 million doses of CoronaVac had been delivered to over 20 countries, including China, and that it had started a third production line for its vaccine. This increases production capacity to 2 billion doses a year.
The second prominent producer is Sinopharm, a unit of the state-owned China National Pharma-ceutical Group, listed on the Hong Kong Stock Exchange. One of its vaccines, developed at its Beijing facility, was the first to be approved by the authorities in December last year.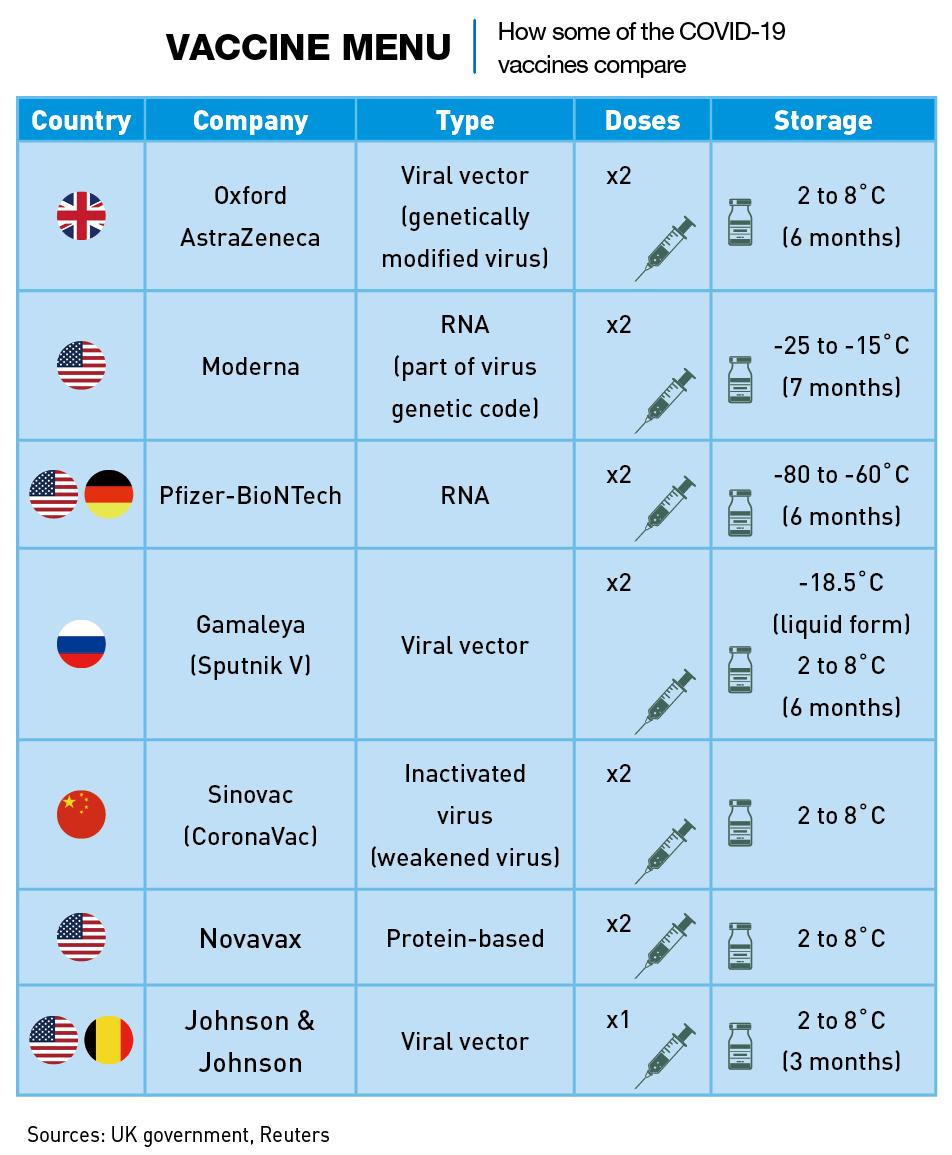 But will it work?
Detailed efficacy information has not been released, but Sinopharm has said that based on interim data, the vaccine is 79.34% effective in preventing people from developing the disease. Reports on the vaccine's efficacy rate from other countries have varied widely, down toward 50%, but doses have been distributed to many countries including Iraq, Morocco and Pakistan. In mid-2020, the WHO set up COVAX, the global vaccine-sharing initiative to coordinate supplies of vaccines to lower-income countries. In early May, the WHO approved the use of vaccine from Sinopharm, the first non-Western country to gain WHO backing inclusion in COVAX. "This signifies that the quality, safety, efficacy and accessibility of Sinopharm's CNBG COVID-19 vaccine meets the requirements of WHO standards, which will contribute more Chinese power to the global fight against the COVID-19 pandemic," Sinopharm said in a statement.
Another player is the private pharmaceutical company CanSino Biologics Inc., founded in the eastern port city of Tianjin in 2009. CanSino announced a planned output of 500 million doses in 2021.
A fourth company was added to the list of approved vaccine manufacturers in March—Anhui Zhifei Longcom Biopharmaceutical Co. Ltd., approved for use in Uzbekistan on March 1.
The development and deployment of mRNA vaccines globally accelerated with the appearance of COVID-19, and there are Chinese biotech firms also in the mRNA race. "China has mRNA as one of its five technology routes to develop COVID-19 vaccines," said China Vaccine Industry Association's Feng. "Two companies' vaccines have entered clinical trials, suggesting they have mastered such technology."
Winning the COVID-19 vaccine race is important because it involves billions of dollars of deals. And whichever provider gains the trust of a certain country or community is likely to have a first-mover advantage as a supplier in the longer-term. "They effectively have a guaranteed market," says Gang Fang, Assistant Professor of Biology at NYU Shanghai. "So as long as they develop a vaccine that's viable, safe and effective, they have a very good chance of making money."
But the risk of further mutations of the COVID-19 virus and the emergence of altogether new epidemics are a real threat and mean that effectively addressing the current COVID virus doesn't necessarily provide security for China or the world.
"Control doesn't mean this virus will be eradicated," cautions Gang Fang. "Considering the nature and current spread of this virus, I don't see an end to this pandemic similar to SARS 2003."
You may also like
CKGSB's Business Conditions Index, reflecting confidence levels in China business, shows big improvements in China's economic outlook.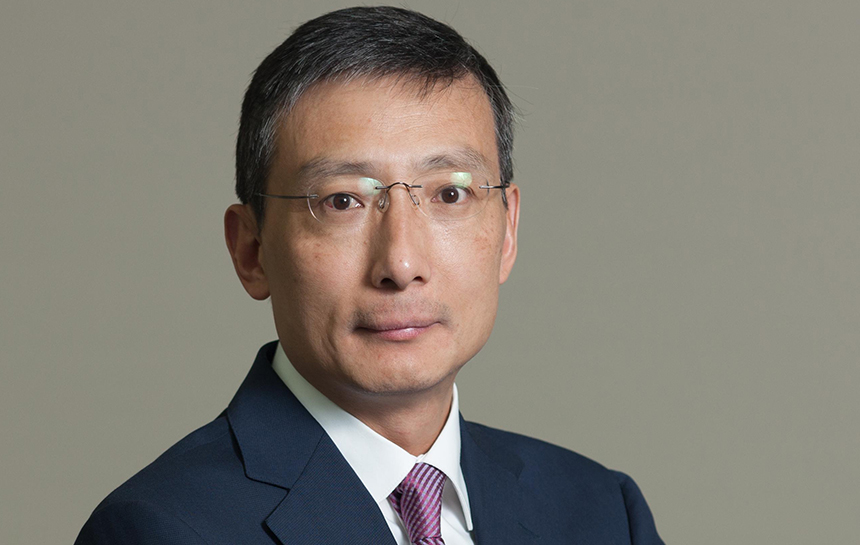 | Jun. 6 2023