Share

Lenovo Business Strategy: Are Smartphones the Path to Success?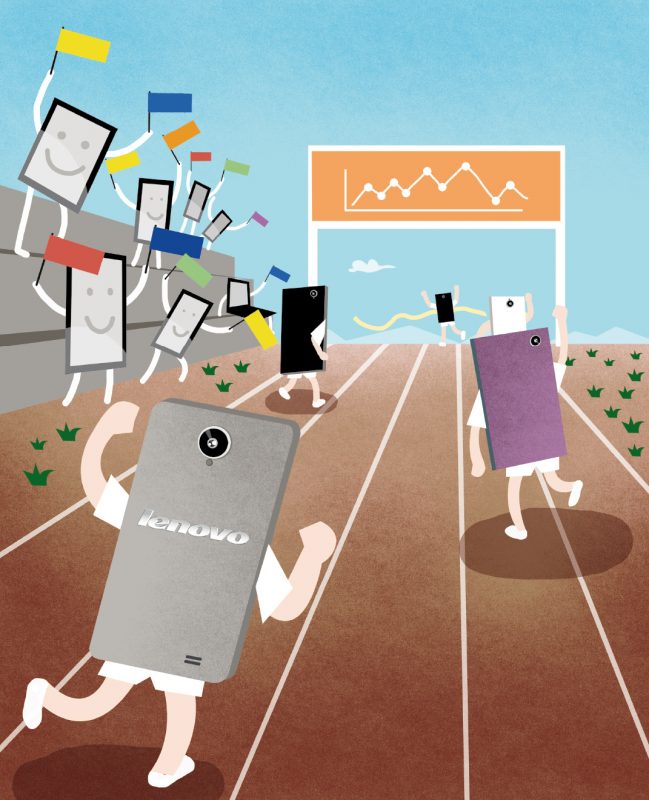 For as long as people have been talking about Chinese brands, Lenovo—one of China's first global tech companies—has been a star brighter than almost any other, and a symbol of national pride. Thanks to the stellar Lenovo business strategy, the company has dominated the domestic PC market since the 90s: It became the first ever Chinese company to take over an American firm with its stunning 2005 IBM acquisition, and became the world's top PC manufacturer in 2013, shipping over 53 million units that year.
When in 2014 Lenovo—according to International Data Corporation (IDC)— ousted longtime champion Samsung to take the seat as China's top smartphone seller, it seemed poised for yet another market hegemony.
But by the end of last year, Lenovo's fortunes in mobile had shifted dramatically as it plunged to number eight in China's fast-changing smartphone rankings, according to Counterpoint Technology Market Research. Younger and nimbler entrants such as Huawei and Xiaomi proved too fast for the giant. Huawei took the top spot with eye-popping annual growth of 70%, and 108 million smartphones sold in China during the year.
Clearly, Lenovo got something wrong, and the proof came in February this year when it reported its first quarterly net loss in more than six years. With the hyper-competitive China smartphone market slated to grow just 1% this year and a global downward trend in PC shipments, the company is going to be hard-pressed to reclaim its glory.
"It's not impossible for Lenovo to regain its market share in China," says Counterpoint Technology Market Research Director, James Yan. "But it faces many challenges, it may take some time and a clear execution strategy before we see it back in the lead."
Going Phones
The company began life as Legend Computers in 1984. Starting off as a distributor of imported computers, it built up a formidable distribution network and close relationships with its suppliers—still a strong suit today. It launched its first PC in 1990 and became China's top PC maker by 1996.
The PC giant became a truly global tech player in 2005, when it bought IBM's legendary PC unit for $1.75 billion. The deal made Lenovo the third-largest PC maker in the world, and marked the first Chinese takeover of an American company.
Lenovo entered the burgeoning smartphone market in 2011, after building its own manufacturing facility in Wuhan with a capacity to make 40 million smartphones. By late 2012, they had captured 14.2% of the China market, with 46 smartphone models covering all price points.
In late 2014, it sent shockwaves again by acquiring Motorola from Google for $2.91 billion, gaining 17,000 patents, 7,500 pending patents and the brand name. While the market reacted badly, sending Lenovo's stock down 2%, chief executive Yang Yuanqing insisted in an interview that "this will be a good start to challenge the big players in smartphones. We want to become a global player."
Indeed, by the second quarter of 2014, Lenovo appeared to have cracked the formula as it overtook Samsung to become the top smartphone maker in China.
Knocked from the Horse
But Lenovo's rosy fortunes wilted in just one year. Its smartphone shipments plunged 53% in China, leaving it with a mere 3% market share by 2015 Q4, according to Canalys. Globally, it ranked a distant fifth in smartphone market share at 5.7%, after Samsung's 25% and Apple's 17.5%.
The domestic market upset was particularly painful for Lenovo even though it wasn't the only one affected. China's smartphone sales fell for the first time in six years last year, and even titans like Samsung tied for fifth place with mid-tier local brand Oppo in the face of stiff competition. As Lenovo's COO Gianfranco Lanci put it, it was an even more bitter pill for Lenovo to swallow because "We are Chinese, and Samsung is not Chinese."
But unexpected as it may have been, Lenovo's poor performance was partially the result of baked-in weaknesses.
Among the biggest of these is Lenovo's reliance on phone operators' subsidies— a factor that Lanci publicly highlighted. In good times, carriers like China Mobile doled out subsidies to the tune of RMB 34 billion a year to attract consumers. But last year when the government ordered state-run carriers to reduce spending, subsidies were cut by at least a third—Lenovo was hit hard, with reports that consumers were paying double what they had paid before.
James Yan agrees that Lenovo has been "overly reliant on operators and operators' subsidies," noting that about 50% to 60% of Lenovo's sales were still made through operators even as the market rapidly switched to no-contract models.
"Traditionally, Lenovo has been very strong in sales channels, but in 2015, it did not have a good strategy at all in working out how to best utilize sales channels," Yan says.
But beyond the sales wallop itself, the operator model also restricted the juggernaut's ability to maneuver, worsening competitive pressure from the likes of Huawei and Xiaomi, who were busy upending the entire marketplace.
"Due to its reliance of selling through operators, Lenovo never paid that much attention to its branding," says Xiaohan Tay, a Singapore-based senior market analyst with IDC. This put the company at great disadvantage to Xiaomi and Huawei's strong branding efforts. Lenovo just could not adapt quickly enough.
The root cause for the rout is not single-source, however. Alberto Moel, an analyst with Sanford C Bernstein in Hong Kong, and Marc Einstein, director of ICT research, Japan at Frost and Sullivan, cite Motorola as a chief cause for the company's poor performance.
"They overestimated how much they would get out of Motorola, and underestimated the competition," Moel says. While Motorola was an entry point into a strategy of better pricing for Lenovo, he says that the company miscalculated the cost structure needed for better revenues.
Einstein believes it was all around poor execution of the acquisition that allowed competitors to upstage them.
"They have not integrated particularly well with Motorola and the longer they wait, the harder it will be," he says. The merger "didn't quite happen the way they hoped it would."
How can Lenovo Dust It Off?
China's economic slowdown is expected to further affect smartphone sales growth, with IDC predicting just 1% sales growth this year, down from 20% last year, making it a saturated, replacement-driven market.
As a result, Lenovo chief executive Yang Yuanqing said in an interview last November that the company is now betting on emerging-market smartphone buyers and enterprise-server clients to help it get out of its current rout. The bet has paid off so far, with 2015 Q4 sales up 70% year on year in India, and 160% in Russia.
Yang also said he plans to focus on the company's strength in traditional smartphone sales channels rather than battling Xiaomi in the fiercely competitive low-cost online selling space.
Analysts say that these strategies are steps in the right direction.
"In the lower-end segment and online space, competition is too fierce and profit margins are too small," says Jessie Ding, a research analyst at Canalys. In contrast, she points out that Lenovo is already a top-3 smartphone seller in India.
Moel agrees that Lenovo is ahead of the curve in venturing into emerging markets.
"They went in early into those markets 2-3 years ago, because they realized that the Chinese market was going to slow down," he said. "They are very competitive in these emerging markets."
But these markets don't match China's size. Yan points out that even despite its poor performance, Lenovo still shipped 16.2 million smartphones in China in the first quarter of 2016. In comparison, Lenovo sold 8 million units in India in all of last year, which was considered outstanding.
Branded a Winner
But regardless of how one views the performance in India so far, future success hinges on brand, and Lenovo hasn't mastered that yet.
Einstein says that Lenovo is currently in a "very grey, very unstable segment of the market" where its product offerings are neither low-end nor high-end. Changing this situation is a priority.
"In emerging markets, the smartphone is going to be one of the consumers' most expensive purchases," says Einstein. "Identity, social status, aspirations are communicated through the device which you own—which makes marketing and branding your product crucial."
To that end, Apple and Samsung are familiar names—Lenovo not so much. Leo Liu, a Chinese civil servant, and smartphone owner says: "It's a little strange since Lenovo is a big Chinese brand but I don't remember any Lenovo smartphone advertisement and by extension, what their phones look like."
Ding of Canalys says that having a "clear brand strategy" would be a key factor for Lenovo to regain market share. The company's recent streamlining of products is a smart move in that direction, she believes.
In China, where profits have been low and experienced consumers are moving upmarket, solid branding is even more crucial. The need to leverage Motorola is obvious, but there is work to do.
"Motorola used to be a good brand in the high-end segment, but it will take some time for Chinese people to gain recognition of it," says Ding.
Lenovo is hedging its bets, though. Last May, it followed in the footsteps of Xiaomi, launching the consumer-driven internet brand Zuk Mobile, also known as ShenQi in Chinese. It was set up as a separate entity from Lenovo, in a bid to help it go head-to-head with nimble local rivals and to allow the company to experiment with internet strategies.
But Bryan Ma, VP of devices research at IDC says that it is "still early days" to determine if Zuk would help with Lenovo's online strategies and brand image. Instead, he highlights the need for the company to focus on branding, particularly outside of the low-end segment.
"Lenovo's phone sales have suffered in China largely because it was focused on the low-end, where heavy price competition from the likes of Xiaomi made it hard for Lenovo to compete. Lenovo will need to rebuild its brand not just to compete with the likes to Huawei, but also players like Oppo, Vivo and LeTV," he says.
A Shrinking Kingdom
Meanwhile, Lenovo appears to be firmly ensconced in its PC throne, but being king isn't what it used to be.
While Lenovo increased its market share in PCs to 21.4% and has enjoyed growth for at least 14 quarters, industry-wide PC shipments fell 10.6% in the fourth quarter of last year, reaching the lowest level since 2008. It is expected to drop another 3.1% this year.
One key reason is the ongoing slow sales in emerging markets, showing that consumers with PCs are not buying new ones, and those without are choosing cheap tablets. PC makers may also be victims of their own success, as they have created better, long-lasting products, pushing back the replacement horizon.
So while Lenovo is likely to maintain its computer dominance, it must wean itself off its reliance on PCs, which comprise about 80% of its total profits. Some analysts have floated the idea of tablets making up for PC decline—but so far, tablets have not proven to be a moneymaking enterprise.
Einstein points out that Apple's iPad shipments have declined every quarter in recent years, and that consumers replace tablets far less frequently than smartphones.
However, he adds that "the tablet market has tons of potential" but it will be tricky for Lenovo, which would not "want to push tablets too hard."
Jean-Louis Lafayeedney, director of equity research at Haitong Securities International Securities says that "Lenovo's tablet sales held up reasonably well in 2016, compared to the overall market" but adds that he did not see much growth in the segment.
He says to do well, Lenovo needed to use the same strategy as it did with PCs over the 2005-09 period.
"Stripping down operating cost, streamlining operations and growing market share by being price competitive will help Lenovo achieve success in China, " he offers, but adds that this would "take some years to get right."
Just a Bump in the Road
But despite the current difficulties, most analysts are optimistic about Lenovo's overall outlook, highlighting Lenovo's emerging market performance and strong business nous. Another consideration is Lenovo's strong intellectual property portfolio, which puts it in good stead to further grow in the West, where its rivals Huawei and Xiaomi are not be able to compete.
But on the homefront, Lenovo will struggle to claw back its market share in the short-term. "The main difficulty is that Lenovo will need a long time to figure out their retail channels, which is its traditional strength. Furthermore, Lenovo is a big company—it will find it hard to compete based on product with players like Xiaomi, who can receive user feedback and adapt quickly," says Yan.
To move into the premium segment of the large China smartphone market, where larger profit margins can be made, analysts highlight the need for Lenovo to integrate well with Motorola, so as to improve on branding—and that is doable.
Despite his skepticism of the Motorola deal, Moel says that he sees Lenovo in the process of stabilizing their market share, and that the company had a good track record of "creating strong synergies."
Lenovo "has what it takes to successfully integrate Motorola," he says, adding that he believes that Lenovo would return to profitability by the end of 2017.
Yan adds that he sees recent management changes as a sign of improving integration with Motorola, ending potential conflicts which usually occur at the beginning of mergers. Rick Osterloh, formerly president of Motorola, resigned from the company on March 18th, and the mobile business is now run by senior vice-president of Lenovo and president of Lenovo China Chen Xudong and former head of Lenovo North America Aymar de Lencquesaing. The company has not provided more information about plans for the Moto, but the management change signals an end to infighting about Motorola's role in the company.
Yan admits that he thinks it would take a fair amount of time for Lenovo to figure out sales channels and develop a strategy, but adds that it was not impossible for the PC titan to head to the top.
"They have likely weathered the management issues, and they can now stabilize and execute their strategy. Given some time, in about two to three years, they should do much better," he says.
You may also like
Robots are the future of warehouse logistics automation with Geek+ leading the pack Operating behind the scenes, Geek+ robots aren't widely.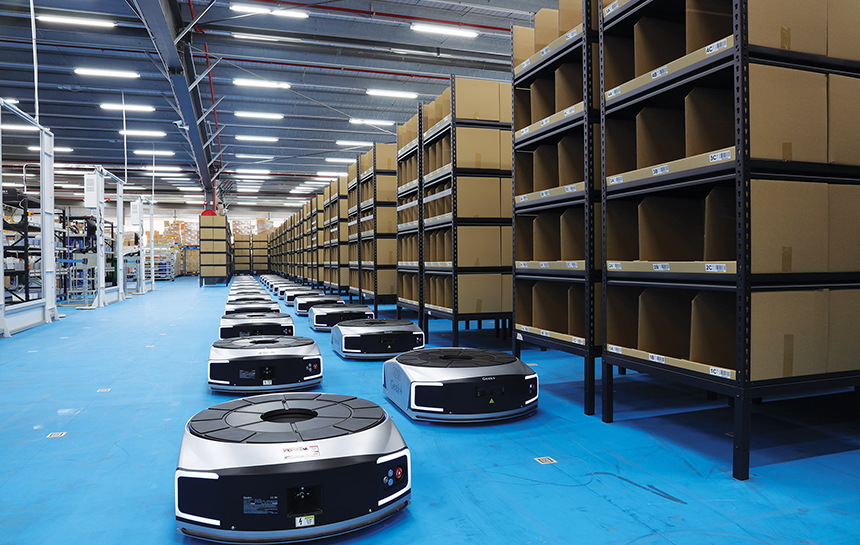 | Jun. 7 2023