Share

Decisions, Decisions, Decisions
Oat drink company OATLY successfully navigated its entry into the China market via three key choices, including who it should partner with and how it can future-proof its business
By Professor Teng Binsheng, Professor of Strategy, CKGSB and Wang Xiaolong, Senior Researcher, CKGSB Case Center
"It's like milk, but made for humans!" is one of the many humorous slogans used by OATLY, a Swedish plant-based protein drink brand that entered the Chinese market in 2017, quickly becoming a major success. The company's oat-based products are now prominently featured in major coffee chains, retail channels and high-end hotels, but the company's success in the China market did not come easy.
Prior to its China entry, OATLY's key markets were Europe and the US, but the company's Asia president David Zhang had grand ambitions for the company in China, aiming to place the brand in the top 1% of the China milk-alternatives market. The company's flagship product, oat milk, uses a unique enzymatic technology that brings about a chemical change when the oats are liquidized, unlike soy milk and walnut milk which feature a physical change through grinding.
But differentiating itself in a market already choc-a-bloc with dairy-alternatives was a challenge. China has also had a vegetarian culture for thousands of years, with many Chinese already growing up drinking soya milk, so purely being a dairy-alternative was not as big a selling point as it was in the West.
Beyond this, the company had problems with product positioning, meaning it had to be instrumental in creating a formal plant-protein product category in shops and online. Early on in 2017, Zhang was not confident of the prospects for OATLY in the China market, but several smart strategic decisions allowed the company to succeed well beyond anyone's expectations.
An illustrious history
The OATLY brand was founded in 2001 by Rickard Öste, a researcher who developed a pioneering "enzymatic technology" that breaks down cereals into a liquid while retaining the main nutrients, providing a dairy-flavored plant-based drink for lactose intolerant people. The proportion of lactose intolerant people varies from region to region and in Asia around 70%-80% of people have some level of lactose intolerance. OATLY decided to focus on this demographic as a unique selling point in its home market of Sweden, and by 2012 the company's revenues reached $29 million a year. But it was still mostly limited to the Scandinavian market, and the company was far from being a world-renowned brand.
In 2012, OATLY appointed Toni Petersson as CEO and his entrepreneurial experience, which spanned a wide range of sectors, was a marked change from the existing company board members' mostly academic background. Petersson launched a radical organizational change to incorporate more creativity into the company's DNA. OATLY differentiated their brand by curating the image of a humorous and sustainably-minded "milk challenger," using slogans such as "WOW! No cow!" And the company continues to challenge the dairy milk industry with its image as the creator of a new generation of protein drinks, with the low cost of its products also helping them gain attention.
OATLY's brand vision is made up of two key elements: 1) helping consumers achieve balance in terms of nutrition and mind; and 2) contributing to a more balanced planet. OATLY's primary Swedish production plant uses 100% renewable energy and the leftover production materials are used as secondary resources. The company has started using electric trucks to transport its goods in Europe, as well as integrating sustainable actions into the company's annual planning to neutralize the company's carbon footprint.
The first key choice
The initial challenge that David Zhang faced in working out how to successfully enter the China market was dealing with the structure of retail channels. Very few aspects of OATLY's success in retail channels in Europe and the US were relevant to the China market and the company basically shifted from retail to what it calls the "café channel." Consumers in the West generally make their coffee at home, and, driven by opinion leaders, retail stores remain the largest channel through which consumers buy OATLY.
But in China, facing initially disappointing retail sales, Zhang decided to target the booming café culture in China's major cities.
In early 2018, Zhang's team, based in Shanghai, saw an opportunity for their top-selling product, the "Barista" oat drink. Boutique café culture had recently taken off in Shanghai and the OATLY product met the requirements of the culture's consumer base in several ways—it was sustainability-minded, it could act as a dairy-alternative and it was in the right price range.
The company approached each of the many cafés individually in search of product placement and brand exposure, leading to the creation of OATLY's "Three One" strategy—one city (Shanghai), one market (boutique cafés) and one product (Barista).
It wasn't a smooth process, but the brand found that the quality of their products played in their favor as professional baristas found OATLY Barista had several advantages over its competitors in the preparation of coffee. The taste and texture of oat milk was preferable to many consumers compared to almond or soy milk, and with time and persistence, more and more cafés around Shanghai were willing to use OATLY products in their drinks.
The Barista product is slightly more expensive than the alternatives, but Zhang used that fact to arouse the curiosity of customers. OATLY encouraged the cafés to display a notice at the counter stating that the traditional latte had been replaced by an oat milk latte, resulting in a slight price increase. Consumers would then inquire and the café assistants could casually introduce them to OATLY's environmental advocacy, the sustainability concept of replacing milk with oat milk, the nutritional benefits of oats, etc. The boutique café consumer demographic was also able to comfortably absorb the slight price increase.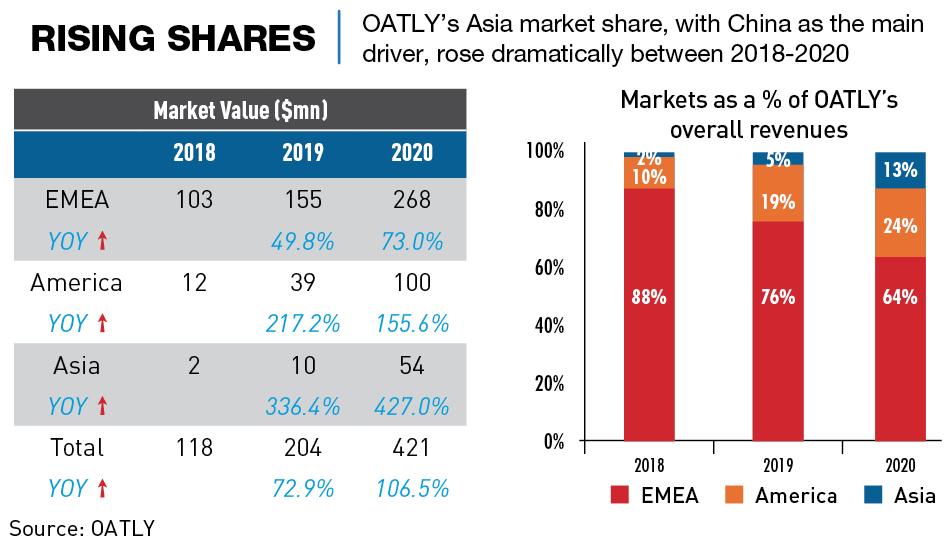 Within just a few months, the company had partnered with hundreds of cafés that were, in turn, recommending others to establish partnerships with OATLY thanks to the additional revenue and brand tone reinforcement that OATLY offered. Then the brand started to take off organically. Cafés without OATLY couldn't stay competitive as OATLY's sustainable and healthy image had become part of the identity of boutique cafés. By the end of 2018, the company had partnered with over a thousand cafés, many of them high-end with prominent OATLY product placements.
In Europe and the US, OATLY was pitted against the milk industry as a "milk challenger," but in China Zhang positioned OATLY alongside dairy in order to cater to consumers' positive perceptions of milk. Its breakthrough in the café channel allowed OATLY to rid itself of the image of being a "foreign soy milk," but it was still unclear which umbrella category it belonged to and this left OATLY unsure about where to place its products in supermarkets or on online e-commerce platforms such as Tmall.
The OATLY China team suggested to Tmall that it develop a new product category, and Tmall created the "Plant Protein" category, and a "Plant Protein" purchase zone during the 2018 "11.11" sales festival, where OATLY sold out its stock of 5,000 cartons in 11 minutes flat.
With the jump in sales, OATLY Asia was consistently in a state of supply shortage, and used online sales channels only when there was enough stock available. OATLY's factories were overseas and shipments were costly and time-consuming. Unable to fully meet the demands of the exploding China market, the company was on shaky ground, particularly with the rise of imitators and non-exclusive café partnerships.
The second key choice
OATLY's next decision was deciding who else to partner with in the China market. In February 2019, OATLY's success in boutique cafés drew the attention of well-known chain café brands, which began to purchase OATLY products for testing. The OATLY Asia team decided that partnering with the leading chain café brand—which cannot be named here for legal reasons—in China was the best option, but initial negotiations failed due to limited supply chain output and the strict requirements from the chain café group.
During the talks, Zhang had to repeatedly remind his head office of how useful such a cooperation would be for opening up the China market for OATLY. He also had to ensure, through various means, the stable arrival of product, brand exposure and "non-exclusivity", three seemingly impossible tasks. Zhang also rejected a number of good offers from other chains in China, because he saw OATLY's best option for its first partnership to be with the top chain brand in the market.
For various reasons, the negotiations related to the café chain's China operations stalled and Zhang shifted to the chain's operations in Hong Kong, quickly reaching an agreement with them. With OATLY milk now available in Hong Kong cafés, he then went on to sign up the chain's outlets in Thailand, Singapore, Malaysia and Indonesia.
Increasing sales in these regions made the café brand's mainland China team realize the potential of partnering with OATLY and, finally, they also agreed to sign an agreement. In 2021, OATLY's total global revenues reached $643.2 million, with Asia—and China as the main market within it—now contributing $126.9 million, a 136.5% year-on-year increase on 2020.
Thanks to this initial deal, OATLY and its products can now be found in Starbucks, KFC, McDonald's, Pizza Hut, Pacific Coffee, Luckin Coffee and other large chain brands across the food and beverage sector in China. With OATLY becoming almost ubiquitous in China, the company decided to build three new factories, two in eastern China and one in Singapore.
The third key choice
The final conundrum revolved around maintaining the company's first-mover advantages and branding successes. OATLY's success in the China market also gave rise to the rapid appearance of a number of imitation brands, including other plant-based and oat drink brands over the last few years. Analysts expect the global plant protein market to grow in value from $4.6 billion today to $85 billion by 2030.
Oat-based products have suddenly become big business and major brands such as Coca-Cola, Nestlé and Unilever are beginning to develop oat milk products, while international plant-based brands such as Califia and Minor Figure are also entering the market. Meanwhile, domestic Chinese brands like OAKIDOKI, Cereal Planet, OATOAT and Daily Box continue to emerge. Traditional brands featuring almond milk, coconut milk, soy milk and walnut milk have also been impacted by the new "plant-based" concepts championed by OATLY. Major drinks players YILI and Nongfu Spring have also recently launched new plant-based products in various forms.
In order to maintain their market position, OATLY now sells a wide variety of products, such as oat milk specialty drinks, oat ice cream, bakery and pastry products. They also now run regular activities to boost both their business and image, including providing professional barista training for young people with hearing impairments and promotion of OATLY's sustainable recycling programs.
OATLY has also joined forces with other brands, and particularly with Tmall, to promote various concepts underlying the company's business and activities. In December 2020, the "Tmall Plant Protein Alliance Summit" was held, launched by Tmall's parent Alibaba and hosted by OATLY, to discuss "more possibilities for the future of plant-based food."
Opportunities and challenges
The product power of a nearly 30-year focus on oats, and the success in the food and beverage chain channel has made OATLY a phenomenon in China. In May 2021, OATLY listed on NASDAQ with a strong group of investors, but it is still not yet a "big company" and its overall operational capabilities have yet to be solidified in the face of global competition. The company may have had first mover advantage, but it is also the product to beat for other brands.
The emergence of different brands can help expand a market, but the competition can also lead to a price war that inevitably brings down profit margins. The market in China is growing spectacularly, and there is the possibility that OATLY, with its relatively limited production capacity, will turn from a high-end brand to an ordinary one, and eventually become marginalized, with many major brands trying to capitalize on the oat milk trend.
But in any case, there is plenty of room for OATLY to grow when seen in the context of the global dairy market that is valued at over $1 trillion. The company has launched a wide range of products in addition to its Barista range of coffee-friendly oat milk, and it is carrying out a number of brand campaigns to enhance the brand's tone and core concepts.
The success of OATLY in China entailed not only the establishment of a brand, but also the creation of a new product category. While the competition is tough in light of China's new carbon neutrality targets, its consumer class becoming more product-conscious, and the increasing importance of doing "business for good," OATLY stands a strong chance of having long-term solid success in the China market.  
You may also like
The potential for foreign businesses in China's vast e-commerce market is huge, but growth can only be attained strategically.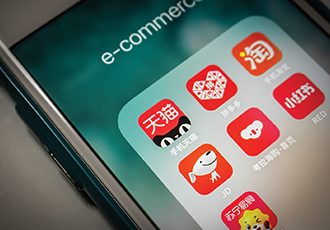 | Feb. 28 2023