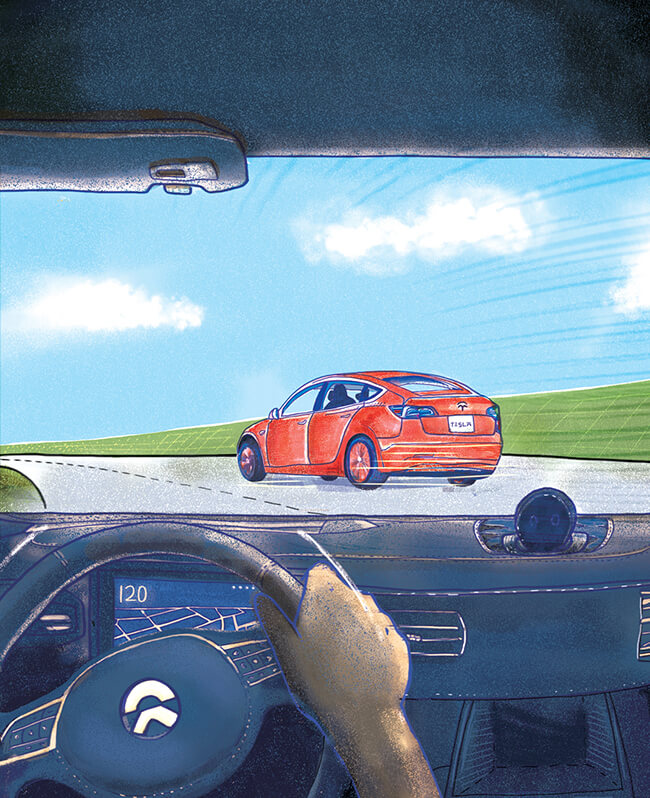 Chinese auto startup Nio has its sights set on one goal: supplanting Tesla as the world's top luxury electric car brand. Can the Shanghai-based upstart give Elon Musk's company a run for their money?
William Li, Founder and Chairman of Chinese electric car startup Nio, is not afraid of using the "T" word: "Tesla is a company founded in the era of the internet, while Nio was born in the era of mobile internet," the young entrepreneur told the South China Morning Post during the launch of his company's first mass-produced road car, the ES8, last December.
That comment was no accident: Nio wants to go toe-to-toe with Tesla for dominance of the luxury electric vehicle (EV) market. The Chinese company is trying to create the same glitzy perception as its California-based rival. Like Tesla, it is targeting high-end consumers and like Tesla, its cars offer sleek, space-age designs. It also has a flair for marketing stunts: in Nio's case, setting the fastest lap ever recorded by an electric car at Germany's Nürburgring.
But Nio is offering cutting-edge technology at jaw-dropping prices. At RMB 448,000 ($70,000), the ES8 will cost only around half as much as a Tesla Model X does in China. This has led many commentators to dub Nio's new SUV the "Tesla killer."
The company also has an even more wildly ambitious vision for its future than Musk has for Tesla. Jack Cheng, one of Nio's co-founders, tells CKGSB Knowledge that the Chinese brand aims to transform the entire auto industry by injecting it with the startup spirit of Silicon Valley or, more to the point, of China's own startup capital, Shenzhen.
"I find that most people in our industry—the traditional, conventional carmakers—are in their comfort zone," says Cheng. "At Nio, we've set a vision that we can clean up the air. We can create a platform to provide a new lifestyle in mobility and safety."
Creating a green future and a new lifestyle sound like marketing platitudes, but Nio takes them extremely seriously. At the company's showroom in Shanghai's Taikoo Hui shopping mall, visitors marvel at the EVE concept car, a fully autonomous vehicle with a living room-like interior. Above, a banner proclaims, "Blue Sky Coming."
The EVE is not likely to be seen on the road any time soon, but anyone dismissing Li's ideas as a pipe dream should think twice. Nio is flush with cash from dozens of heavyweight backers and is one of only a small handful of companies testing self-driving cars on China's streets. It plans to begin selling cars in the United States and Europe within three years. In short, Nio looks poised to become a major player in the electric car market.
Early Lead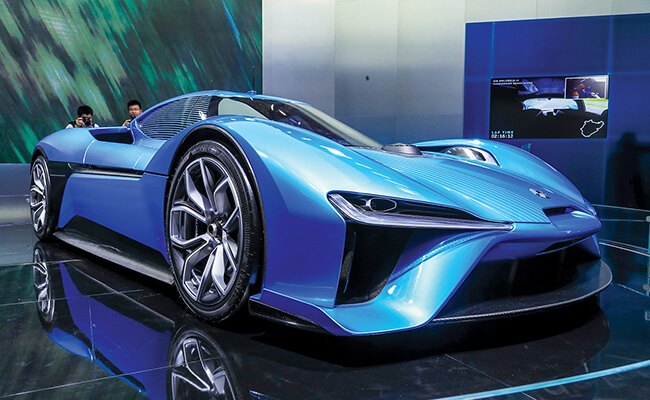 Nio's disruptive ambitions are the product of its founders. The three men are Li, a serial tech entrepreneur who previously created the online auto portal Bitauto; Xiang Li, the founder of rival web hub Autohome; and Cheng. Unlike his partners, Cheng is an auto industry insider with over two decades' experience in senior roles at Ford and Fiat-Chrysler. "I'm the car guy," he laughs.
Cheng provides the industry know-how and experience with production to balance out the blue-sky thinking of his younger co-founders. But he insists that he shares their vision of creating a new kind of car company.
"I'd like to leave a platform for the next generation, including the vision that William has," says Cheng. "It's a great opportunity for me to restructure myself, so I can keep up with the young guys."
The three founders set up NextEV, as Nio was originally called, in 2014, just as China's electric vehicle market was gaining momentum. The market enjoys strong support from the government, which offers generous subsidies and easier registration procedures to encourage drivers to go electric.
Last year, 777,000 electric vehicles were sold in China, up 53% year-on-year, and growth appears to be accelerating further in 2018. Around 2.7% of China's total vehicle sales are now EVs, and China drives well over half of global EV sales.
But Nio faces fierce competition in China's electric car market. There were 174 new energy vehicles showcased at the Beijing Auto Show this spring, with 124 of these made by Chinese companies.
For the moment, Cheng isn't worried about established Chinese players like BYD and Beijing Electric. "We've looked into the other segments and we found that most of the EVs in China are on the lower end," he says. "We're not competing with them. We're competing with Audi, with BMW."
Nio could be competing against these global brands sooner rather than later, as the government plans to impose strict quotas on all auto companies mandating that 10% of their vehicle sales must be electric by 2019. The policy has triggered a scramble among industry heavyweights, including Ford and Nissan, to tie up joint ventures to roll out electric cars. More than 200 firms have plans to launch new battery and hybrid electric vehicles in China, according to Financial Times reports.
If Nio is going to deal with the challenge from foreign players, it first needs to establish a clear lead over a clutch of other local EV upstarts, including Xpeng, WM, Byton and Singulato. According to Alysha Webb, a longtime EV market analyst and Managing Partner at equity research firm Cross Pacific Partners, Nio appears well-placed to do so.
"One thing they've got going for them is a head start," she says. "They've got their car out and they're selling it. And their backing is more diverse—they've got funds from some US venture capital firms."
Nio's list of backers is impressive, ranging from Chinese tech giants like Baidu, Tencent and Xiaomi, to global venture capital players Hillhouse, Sequoia and Temasek. According to Cheng, Li's connections give the company an advantage.
"Raising money for William is a way of life," he jokes. "He's good friends with Pony Ma of Tencent and Richard Liu of JD.com—with all those guys. When he ran Bitauto, he provided services to everybody."
After launching its $1 billion initial public offering (IPO) in the US, the company now has a market value of $12 billion.
Scott Laprise, founder of research firm Research from Beijing, also thinks that Nio is ahead of other Chinese players. "There are a lot of startups," he says. "But what makes Nio interesting to car people is that they set the world record at the Nürburgring. They beat everyone. You can't understand how amazing that is."
Thinking Different
Tesla and the other foreign players are still formidable opponents, especially in the premium segment Nio is targeting. And most foreign brands will also soon be more price-competitive due to the government's decision to lower tariffs on imported cars from 25% to 15%, though American imports will be hit by a 40% tax due to ongoing US-China tensions over trade. Tesla may be able to dodge these tariffs, as it confirmed a deal to set up a majority-owned Gigafactory in Shanghai in July.
But Nio believes that it will outflank its competitors by thinking outside the box. According to Izzy Zhu, Nio's Vice-head of User Development, the company's business model is closer to that of a tech company than that of Mercedes-Benz or Tesla.
"If you look at other companies in other industries—like Airbnb or Starbucks—they all think about user experience rather than the product itself," Zhu told Business Insider in a recent interview. "We believe the car itself is a user touchpoint, one of many touchpoints a company can have with its users."
In particular, Nio thinks that its battery subscription program will help customers avoid the frustration that often comes from owning an electric car. Allowing users to lease, rather than own, the car's battery knocks RMB 100,000 ($16,000) off the purchase price in return for a monthly fee of RMB 1,300. As an added benefit, participants can upgrade the battery when more efficient models become available.
Nio also plans to allow customers to switch batteries on the go, rather than waiting for hours for the car to recharge. The company says swap stations will be able to remove and replace the battery in just three minutes, making the process similar to refueling the tank in a conventional car.
"The battery swap will be a unique selling point to resolve the anxiety over the mileage," says Cheng. "You get the latest technology in batteries and energy, so the residual value of the platform stays high."
Rolling out this service is a challenge, but Nio is making progress. One station has been set up in Shenzhen, according to Cheng, and others are on the way.
Nio also hopes that its other main user "touchpoint"—its growing network of Nio Houses—can become a key differentiator for the company. These urban spaces are far more than customer support centers, they are social hubs where Nio owners can network, relax and play with their children.
"The lifestyle of blue sky, health, safety: all that goes into the Nio House, which is the face of the company," explains Cheng. "Nio is not just about high-tech, it's also about home. Nio House has a library, a conference room, a playground for the kids—the whole nine yards."
Such amenities may seem superfluous in the West, but in China they are an important part of car ownership. "If you look at luxury brands in China—BMW, Mercedes and so on—they organize events for their owners and have specialty items," explains Webb. "Nio's taken a page from the luxury brands' book. I think it's about making Nio the brand that Chinese millennials want to own to show how cool they are."
The company originally planned 12 centers, but quickly realized that demand was much wider than expected. According to Cheng, Nio is looking at opening 40 houses in cities across China. But before any innovative services come into play, Nio first needs to get its cars on the road.
Nio has launched just one model in China so far: the ES8, a seven-seat SUV, which was unveiled in December. Demand for the car has been robust. The company received more than 10,000 orders in the two weeks following the launch event.
Yet, six months on, the car is still hard to spot on the roads, even in Beijing and Shanghai. Laprise, who has already signed up to purchase an ES8, believes that Nio may be suffering from the same production issues that bedevil Tesla. "I have a license plate; I can buy a car tomorrow," he says. "I'm not seeing them on the streets and I'm supposedly on the list to buy one."
Cheng is adamant that his company can avoid Model 3-style delays. "Elon's problems started many years ago, because he couldn't find a supply chain near California," he says. "So, he had to outsource to remote areas. His parts are floating on the Pacific Ocean for 45 days. That's a handicap. I avoid that by putting 95% of my supply chain within a radius of 600 kilometers."
Mobile Future
Nio also has its sights set on the blue skies beyond China. The company already has a foot in Europe, with offices in London and Munich, and in the United States, with an office in San José. If Nio succeeds in expanding abroad, then Tesla may find that it "sells less" outside of China, too.
Looking further ahead, Nio's priority is turning its vision of vehicles as a "mobile living space" into reality. The race to develop self-driving cars is hotly contested, but Nio is holding its own. It was among the first two companies to receive a license to road-test autonomous vehicles in Shanghai in March.
Laprise thinks that the company is right to focus on concepts like the EVE. "The car currently is a way to get to a destination," he says. "In the future, the car will be the destination. The battle will be over the entertainment and other services."
According to Bill Russo, Managing Director of auto consultancy Gao Feng Advisory, this technological leap will totally transform the auto industry. "Nio and other automakers are on-ramps to the digital companies that have invested in them," he says. "Nio's engineering a networked vehicle, an internet-connected vehicle. And that means revenue streams outside the car."
Those revenue streams will not just come from in-car entertainment options, but also other services linked to Nio through investors, such as Tencent. These will include services that seem antithetical to car ownership—ride-sharing apps like Didi Chuxing, for example, in which Tencent also invests. In fact, many analysts believe that automation will cause car ownership to plummet. If robo-taxis are cheap and ubiquitous, why bother maintaining a private vehicle?
"More than four-hundred-and-fifty million people have downloaded and used the Didi app," Russo points out. "The addressable market size for mobility services is 10 times as big as the number of cars that are going to be sold."
How automation will affect driving and shopping habits is still an open question, but it is possible that individually-owned cars will play only a small role in the future of mobility. If this happens, Nio, with close ties to China's tech giants, is perhaps better placed to thrive than its US competitor.
"Tesla wants to sell electric cars to individuals. Nio wants to do that and also to put people into the digital ecosystem of Tencent," says Russo. "I'm bullish on China's path. The electrification and automation of transportation is going to be a revolution. When it happens, the rest of the world will be left scratching its head."
Enjoying what you're reading?
Sign up to our monthly newsletter to get more China insights delivered to your inbox.