Tourism both in China and internationally has struggled due to the pandemic, but strong demand for travel remains
By James Liang, Executive Chairman and Co-Founder of Trip.com Group
The challenges brought about by the COVID-19 pandemic have significantly altered the tourism landscape, both in China and internationally. For the first time in recent history, worldwide travel came to a virtual standstill in early 2020 and since then, the implementation of various travel restrictions across the globe have greatly affected people's ability and willingness to travel. But with challenges come new opportunities, and the tourism industry has risen to the challenge.
In late 2021, we at Trip.com Group, alongside the World Travel & Tourism Council (WTTC), released a "Trending in Travel" report which looks at the shift in traveler behavior and future booking trends in the wake of COVID-19. It also shows how severe and inconsistent travel restrictions worldwide have resulted in a significant rise in domestic tourism.
Although the impact of the pandemic has now waned internationally, there still remains the specter of lockdowns across China, and border restrictions look set to stay in place for the meantime. Despite these setbacks, there has already been a shift in the tourism industry, and this shift provides a variety of different new and interesting opportunities.
Mentality changes
Inevitably, due to the pandemic, we've seen a change in tourists' mentality around the types of trips they are looking for, with people paying more attention to safety measures and demonstrating a preference for travel in smaller groups. But, despite these potential barriers to travel, the general population still feels relatively safe traveling domestically.
Perhaps also due to the pandemic, travelers of all ages and demographics are searching for something meaningful from their trips away, whether that be experiencing nature or culture through rural travel. Or, for younger travelers, through new experiences with friends, exemplified by the recent winter sports boom and thriving nighttime economy experiences.
These younger travelers are increasingly becoming an important global market, with their interest in themed and experiential travel driving them to forgo the traditional family holiday—only 7% of Gen Z travelers were planning to go on holidays with their parents this year. The popularity of summer graduation travel for high school and college students increased by 28% year-on-year in 2022, and their travel spending increased by 21%.
There is a pent-up demand for travel among Gen Zers, and their appetite for new experiences is robust—many are willing to dedicate a significant portion of their income to travel experiences.
For many other travelers, sustainability is also a key focus. People are paying closer attention to their impact on the environment and are seeking more sustainable options in how they travel, reflecting a similar value change in their daily lives. One of the results of this new thought process has been the desire to travel for longer, which results in them taking fewer trips, and therefore flights, overall. It does, however, also mean that these trips need to be more impactful for the travelers.
In the mainland China market, it is important to stimulate supply chains to enrich the number and type of products on offer to meet this new demand, while utilizing a content strategy aimed at attracting younger people. For example, during the pandemic, I unveiled our "Local Focus, Global Vision" strategy, which involves launching innovative products to engage with customers and the industry. This included a trends report, new partnerships and pivoting our content marketing strategy. We had to provide travel inspiration to people while they couldn't travel, so they would be ready to book once restrictions were lifted.
I can see the demand for sustainable travel and meaningful experiences continuing for the foreseeable future, especially in the domestic China market, but only time will tell if there will be a shift in general trends in cross-border movements. It will be interesting to see if people revert to old habits once borders open up, or if the trend we currently see will continue beyond 2022.
Domestic recovery
Despite sporadic outbreaks, domestic travel has rebounded well. Driving holidays have proven popular, meeting the increasing demand for short-haul, rural destinations. This has also provided benefits to the local economy in the destination areas and helped local Chinese tourism companies thrive in the face of pandemic-related issues.
Also, since high-end customers haven't been able to travel overseas, the money they would usually have spent on international trips has been turned inwards, towards more diverse and personalized tours. Over the last few years, customers have had more disposable income to spend on luxury staycations, which has meant an increase in high-end travel in areas of China including the northwest and Hainan Island.
Business travel is also growing fast. In 2021, our Corporate Travel business unit found a V-shaped recovery to 2019 pre-pandemic levels, prompting us to start exclusive partnerships with multiple group hotels and high-end hotels for business travelers.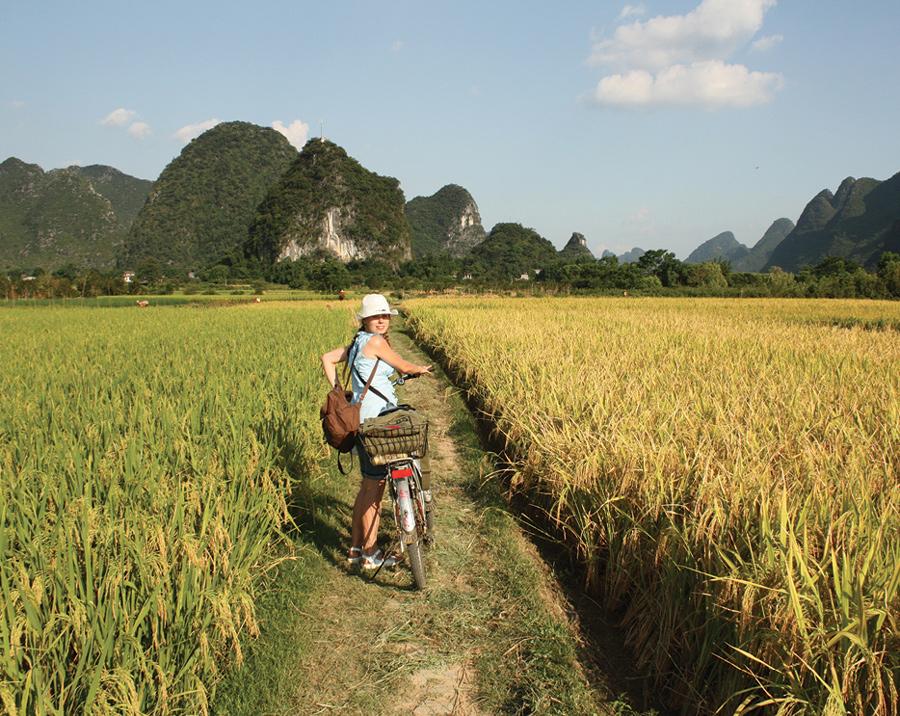 International recovery
While it is hard to predict precisely when and how international travel will return to pre-pandemic levels, the "Trending in Travel" report reveals that the global recovery of the travel and tourism sector is picking up pace with the sector's contribution to global GDP projected to rise by 31.7% in 2022, which is very promising. Therefore, it's reasonable to be optimistic about the return of global international travel to pre-pandemic levels. For the China market, there is pent-up travel demand, but until COVID-related travel restrictions are lifted it is difficult to know how things will change.  
A good example of this pent-up demand has been the massive increase in bookings for trips to Macao. The recent signing of a memorandum of understanding with the Macao Government Tourism Office has been fruitful in driving outbound tourism to Macao. In H1 2021, total bookings for Macao travel products saw 244% year-on-year growth and Macao travel product trip bookings grew by 150% compared to the same period in 2020.
In general, the global market continues to make major strides towards recovery. Overall, air ticket bookings on our global brand, Trip.com, have seen an increase of approximately 400% year-over-year. In overseas markets, domestic air ticket bookings have surpassed 2019 levels, growing over 150% and outpacing the industry average across all of our key markets.
Hotel bookings have also shown a solid rebound. Globally, we have seen them increase by more than 25% above 2019 levels in the first quarter of 2022, and domestic hotel bookings in non-China markets on Trip.com increased over 200% when compared to the same period in 2019, especially in markets such as Hong Kong, South Korea, Singapore, Malaysia, the US and the UK.
Innovation and aspirations
China has seen a rapid expansion of its economy over the last few decades and that growth is linked to the country's rapid infrastructure development. For travel purposes, a striking example is the 1 million kilometer-long expansion of China's road system over the last decade.  From a business perspective, this development means that changes in strategy and focus are necessary for continued success.
In line with this ethos of infrastructure development and China's dual circulation policy, and the increased demand from consumers for meaningful holidays, it was clear that there was an opportunity for rural revitalization in China. Improving the accommodation experience in rural destinations and providing local people with a level of training that facilitates a greater amount of autonomy became a key strategic priority for us: not only for our benefit, but also for the benefit of communities around the country. To this end, we created an RMB 1 billion investment fund for the rural tourism industry, large-scale empowerment of 100 villages, and training of 10,000 people with rural tourism revitalization in mind.
The digital world has also become essential to the global economy and people's personal lives during the pandemic, and the travel sector has been quick to grasp this. A pivot towards the optimization of domestic travel through creative marketing strategies and content marketing was, and still is, necessary.
One such opportunity, and one that we opted to use, is live streaming to drive purchases and generate revenue for industry partners, building out marketing products, tools and channels to help them increase traffic and drive sales. In the China market, our live streaming platform has hosted over 3,000 such partners, who have presented over 10,000 live stream sessions showcasing their products and promotions, this resulted in the transaction volume of Ctrip's live streaming platform increasing by nearly 20% in Q1 2022.
A key issue to bear in mind with these technological tools is the customers' ease of use. When the pandemic was causing much disruption to travel and customers were having to change or cancel their bookings, the introduction of chatbots improved the response to special service requests. This was followed by the implementation of a social media management tool with sentiment analysis built in to improve the overall customer experience. Trip.com now also has Automated Speech Recognition (ASR) AI capability and operation application enhancement, making the interactions between customers and the customer services team easy and efficient.
We do know that Chinese tourism is ready and waiting to receive inbound travelers as tourism partners have excelled in accommodating Chinese travelers and adapting their products to the domestic market while international borders have been closed.  
We have also worked closely with Chinese local governments to find new and attractive ways to bring foreign tourists to the country. At the 2021 Global Travel Agents Conference hosted by the Hubei Provincial Department of Culture and Tourism, we released an action plan to actively position Hubei as a world-class tourism destination.
The focus is on creating new marketing platform innovations, tourism projects, industry innovation research and in-depth cooperation with key enterprises to attract domestic and international customers to Hubei. The aforementioned pivot to content marketing will play an essential part in promoting Chinese destinations. By providing engaging content and live stream promotions, we can increase awareness of Chinese destinations to international travelers.
The world is preparing to welcome the return of Chinese tourists, and while there doesn't seem to be a specific date confirmed for the reopening of China to foreign travel, we've been doubling our efforts to ensure we are ready.
What's next?
China is essentially a world of its own in one destination, and Chinese travel brands can offer travelers a spectrum of exciting experiences. Despite the current travel limitations due to COVID, there are advantages to being a China travel brand, including enhanced digitalization, broad product offerings for international travelers, and the rapidly increasing accessibility of iconic tourist sites and rich cultural experiences from bustling city adventures to winter sports.
The country has quality tourism resources with technical and policy support. Because of this, players who allocate resources wisely and insist on innovation will become the industry leaders in the post-pandemic era.
China and the rest of the world are waiting for tourists to return to their embrace. While the effects of the pandemic are unlikely to go away any time soon, and we may still experience travel restrictions, I believe that tourism has a bright future.
Enjoying what you're reading?
Sign up to our monthly newsletter to get more China insights delivered to your inbox.