Reid Hoffman, co-founder of LinkedIn, looks at how companies can achieve rapid growth and the best way to manage the process
For most of the world, the terms "Silicon Valley" and "startup" have long been synonymous. But Silicon Valley's dominance as the "home of the startup" is being challenged across the world, and none more so than by China, which has more "unicorns" (startups valued over $1 billion) than any other country.
What is the secret to these startups' extraordinary success? Contrary to the popular narrative, it's not their superhuman founders or savvy venture capitalists. According to a new idea it's because they have learned how to "blitzscale."
Reid Hoffman is an American venture capitalist, author and entrepreneur, and is best known for being the co-creator of LinkedIn and former chief operating officer of PayPal. He is currently a partner at the leading Silicon Valley venture capital firm Greylock Partners.
Hoffman has written several books, with his most recent being Blitzscaling: The Lightning-Fast Path to Building Massively Valuable Companies, which he co-authored with Chris Yeh. It argues that the secret to starting and scaling massively valuable companies is blitzscaling, a set of techniques for "scaling up at a dizzying pace that blows competitors out of the water."
In this interview, Hoffman explores blitzscaling in the Chinese context as well as the main factors that determine which startups are set for success and which will crash and burn.
You came up with the term 'blitzscaling.' What does it mean?
Blitzscaling is the pursuit of rapid growth by prioritizing speed over efficiency in the face of uncertainty. This approach is the unsung reason that Silicon Valley has created the majority of the world's most valuable technology companies over the past 25 years, despite a minuscule population of around 4 million people.
What was it that inspired you to write Blitzscaling?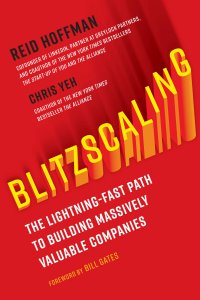 Enjoying what you're reading?
Sign up to our monthly newsletter to get more China insights delivered to your inbox.