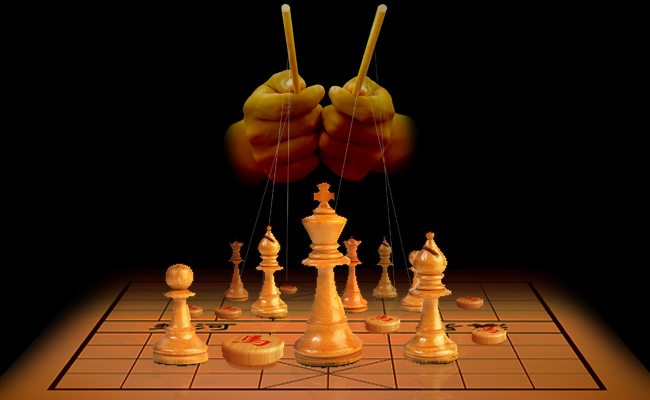 A proposed change to China's foreign investment law could have big implications for foreign investors.
On the 19th of January, a seemingly normal Monday much like any other, the Ministry of Commerce (MOFCOM) heralded a possible new era for foreign investment into China when it issued a new draft law for comments from the public. A speech by a ministry spokesperson accompanying the release of the draft may have been thick with high-flying rhetoric, but it made immediately clear that the draft was more than a mere repackaging of existing laws; instead, it would change the fundamental rules for foreign firms in the country, both relaxing and tightening government oversight. And media coverage quickly homed in on the hypothetical impact of the draft on variable-interest entities (VIEs), a controversial foreign investment legal structure used by mainland tech firms and some major multinationals.
Exactly how those changes shake out for foreign firms, despite some of the grave predictions that have been made since January, is still shrouded in at least some uncertainty. But given China's status as the world's top destination for foreign direct investment—last year it overtook the US, according to figures from the United Nations Conference of Trade and Development—any developments in this area will be felt around the world and will be of particular interest to the many major multinationals who have pumped funds into China over the last few decades.
The Rule Book
Current rules on foreign investment in China are a complicated web of laws and regulations that have evolved since the 1990s as the economy opened up and became more market-oriented, as well as in response to China's preparations for accession to the World Trade Organization. These include foreign-investment-specific laws, such as those on the various company structures that can be used by foreign investors, as well as more general rules like company and contract laws.
Of particular note to foreign investors is China's investment catalog, which has been in use since 1995 and is updated roughly every three years. The catalog serves to guide investment into and away from certain areas by dividing different sectors into those that are 'encouraged', 'restricted' and 'prohibited'—while those not specifically listed are considered permitted.
The catalog was most recently updated in April, following a draft version circulated in November last year. That draft was arguably less restrictive, but the European Union Chamber of Commerce nonetheless said in a press release that, although a "positive and incremental development", it "falls short of the European Chamber's expectations—and, in fact, is only a small step for the Chinese Government's own stated ambitions of giving full play to the market". The chamber argued that moves should be made instead towards a so-called negative list, as was used initially in the Shanghai free-trade zone (FTZ) and which has since expanded to the other FTZs that have emerged across China.
Existing regulations have also given rise to VIEs, which are used to circumvent restrictions on certain sectors, most notably technology. Employed by Alibaba for its listing on the New York Stock Exchange, and also used by companies such as Baidu and Tencent, a VIE allows for foreign investment through a chain of overseas-listed companies, onshore foreign-owned subsidiaries and service contracts with domestic firms wholly owned by Chinese citizens.
But with the new draft foreign investment law, all this may soon change.
Rolling the Dice
The age of these regulations and their need for consolidation and updating has made a new law a more pressing concern. "The current foreign investment laws were published quite a while ago… and the government feels it's an appropriate time to do a general overhaul," says Terence Foo, a partner at Clifford Chance. Kenneth Zhou, a partner at WilmerHale, notes that the draft law would represent China's first unified foreign investment law.
Steve Dickinson, a partner at Harris & Moure, also feels that current rules are well overdue for an update. "[Existing regulations are] completely out of touch with the reality of foreign business operations in China now," he says. "They've really become completely dysfunctional, and so a change is certainly needed."
To that end, the draft law first and foremost streamlines existing regulations, specifically those concerning the formation and operation of foreign-owned enterprises. Dickinson points out that the draft is actually better understood as a companies law. "It's not about foreign investment, it's about the vehicles, the corporate and business vehicles used for foreign investment," he says. "Really it's the foreign companies law, the foreign-owned companies law."
At the moment, the rules for foreign-owned companies and domestic companies are unequal, and another key point of the draft is to put both on a more equal footing. "The current status quo is that there are two sets of regulations that apply to two types of companies, so there's one set of regulations that apply to foreign investment enterprises and one set of regulations that apply to domestic companies," says Foo. "Another reason driving this is the wish to harmonize the regulatory framework."
Presently, formation of a company can be a lengthy, laborious process. Dickinson notes that currently this can take at least four to five months—even for the simplest form of foreign-owned enterprise—and costs significant sums of money, whereas domestic companies not operating in a sensitive area can finish forming within two weeks.
"When you do a company formation in China that's got a foreign ownership element, you're not just simply being approved to set up the company," Dickinson says. "Your entire investment project is being reviewed and approved." He adds that this is not an area where government officials have expertise, and that decisions are made with reference to the investment catalog—whether the investment is desired or not.
Now, at last, the call of the European Union Chamber of Commerce is being heeded, with the negative list pioneered in the Shanghai FTZ incorporated into the draft law. With this in place, company formation would be reduced to a simple filing procedure in cases where the company's sector was not specifically listed, a "radical departure" in the words of Foo.
Another important development relates to China's national security review, an equivalent to the Committee on Foreign Investment in the US. This was introduced by MOFCOM in 2011 and scrutinizes investments that may have implications for national security. The draft suggests that the review will be applied more broadly to foreign investments that "would have or possibly have national security concerns", although it does not specify what industries it would apply to. Moreover, national security review decisions would not be subject to any administrative or judicial review.
"The fact that this draft, the new draft law [has] an entire section on this national security review, I would expect that China is going to be more active in the future in terms of actually enforcing the national security review legal regime," says Kenneth Zhou. So far there have been no notable cases since the rules were introduced, he points out.
Game Over?
But perhaps the most contentious change in the draft law relates to VIEs, even though no specific mention is made of them in the draft. Nonetheless, Zhou says some clauses have the potential to impact VIEs, while a consultation note accompanying and explaining the draft raised the issue of VIEs along with proposals of how to deal with them. Dickinson is much more blunt in his view on the aims of the law and what it means for VIEs: "Just by floating the law, they've made it clear… that VIEs are illegal under Chinese law and have to be stopped," he says.
The implications for VIEs result from how the draft interprets control of a company. VIEs have always served to facilitate foreign investment in restricted areas, as the domestic company in play was fully Chinese-owned and thus able to obtain the necessary licenses. The new draft now defines domestic enterprises as foreign enterprises if the latter can be said to control the former. The same idea is also applied in reverse, and a foreign company can be considered to be a Chinese company if it can be demonstrated to be controlled by Chinese investors.
"The definition of control is quite broad," says Foo. "It's not just owning 50% of the shares or having the right to appoint the majority of the board… it [includes] the ability to influence the decisions of the board or the shareholders meeting, or the ability to exercise decisive influence over a company through contractual arrangements."
In the case of public (as opposed to private) VIEs like those used by Alibaba and Baidu, the influence of shareholders puts the parties involved in a tricky position. "Every VIE by law is controlled by foreign individuals because every VIE is a public company and foreigners are the shareholders, and by law foreigners are the actual control force in any public company," says Dickinson.
As a result, Dickinson describes the arrangement as "good on paper", but "completely unworkable in practice", even with attempts to allow for Chinese control of foreign companies. Such a condition is seemingly meant to allow for a situation where the Chinese executives of a company could point to a covenant where the shareholders agree to forego their rights to influence the company, but such an arrangement would be unacceptable to many as this would go against standard practice.
Moreover, Dickinson points out that the government has no expertise in determining who controls a company, and Foo notes that the situation is further complicated by Chinese people who have taken overseas citizenship since it is unclear how they would be regarded.
Although those in unrestricted sectors will not be affected, what the draft law means for VIEs in sensitive sectors like tech or communications is not yet clear. For one thing, Foo says the draft doesn't contemplate an automatic grandfathering system (meaning the new rules would not apply, at least in some instances, to existing cases)—instead, the explanatory note proposes three possible approaches whereby a VIE company would report that it is controlled by Chinese investors, apply for certification of that control or apply for foreign investment approval.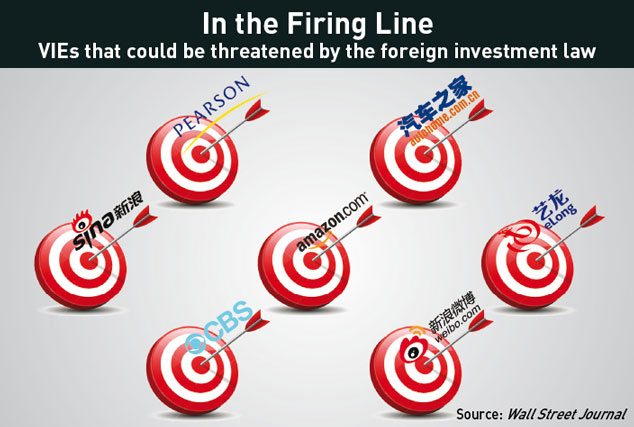 Given the sensitivities involved, it is unlikely any rash action will be taken. "I think the Chinese authorities also will probably take a practical view considering how widely used the VIE structure is, so the question mark is to what extent and how they will grandfather existing structures," says Foo.
The authorities themselves may be uncertain how to proceed. "From MOFCOM's press release and the explanation on the background of the law, you can tell they have not yet made up their mind," says Zhou. He also points out the practical difficulties involved in cracking down on existing VIEs, not only on account of their prevalence and the influence of the companies that use them, but also because the VIE is a set of contractual arrangements that are not subject to approval by or filing with MOFCOM or other government authorities. Many are still implementing the VIE structure, he says, despite recognizing that the outlook isn't entirely clear.
Questions remain then as to how VIEs will be dealt with, but what is clear is that authorities are well aware of them and they will face growing scrutiny going forward.
Back Three Spaces
Aside from VIE questions, foreign firms consider the draft law a positive development, not least because of how the negative list streamlines and unifies many regulations. That said, other concerns remain.
"It does appear to impose more onerous information reporting requirements on foreign-invested enterprises, which are not the same as domestic enterprises," says Foo. "On the one hand [the government] is opening up and relaxing the approval requirements for foreign investment generally across the board, particularly in areas that are not considered sensitive, but on the other hand they are strengthening their ability to intervene, for example through the national security review, where foreign investment is made in certain sensitive areas."
Concerns center on how that intervention might be used. "I would say the national security review is one of the key things the Chinese government can use in terms of enforcing its industrial policies," says Zhou, who is also General Counsel of the American Chamber of Commerce in China. He likens the review to the authorities' recent use of the Anti-Monopoly Law.
There may also be some technical difficulties with the law. "Some of the clauses are not likely to be able to be enforced because they create unnecessary difficulties in terms of provision of information, in terms of information disclosure—it's just difficult to actually be implemented," says Zhou. He also points out that the "devil is in the details," many of which are still waiting in the wings. "There will be detailed implementing regulations after the law is promulgated, that's always the case… [the law] is not going to be the end of the story."
Square One
For all the positive and negative implications of the draft, the law-making process in China is often a lengthy one, and it may still be some time before a finalized foreign investment law comes into being. As has happened with other drafts, it could also be subject to radical changes along the way as different government bodies have their say. Dickinson notes that China's tort law took several years to pass, and "the document that was adopted was nothing like any of the drafts that were published."
Zhou is more certain there won't be substantial revisions, saying, "I would think the main structure of the draft is not going to be changed, so all the key stuff is still going to be there."
In terms of timeframe, the draft still needs to go to the State Council, China's top decision making body; the National People's Congress (NPC), the country's legislature; and various regulatory bodies. The NPC's yearly legislative plan does not give the law first priority, nor has the State Council prioritized the law. But some experts think that the law is more likely to be passed in 2017.
Further indications of when the law might finally be promulgated will likely come later in the year. "If this law has any hope at all, then there will be another draft out in August" ready for the political meetings in the fall, says Dickinson.
But whenever it is finally passed and implemented, the proposed foreign investment law—at least as it currently stands—looks set to be a mostly welcome and overdue update consolidating and clarifying China's many fragmented and uneven regulations. Provided the draft's main thrust remains in its final form, foreign investors will likely welcome its implementation, in spite of some potential headaches it may cause.
Enjoying what you're reading?
Sign up to our monthly newsletter to get more China insights delivered to your inbox.