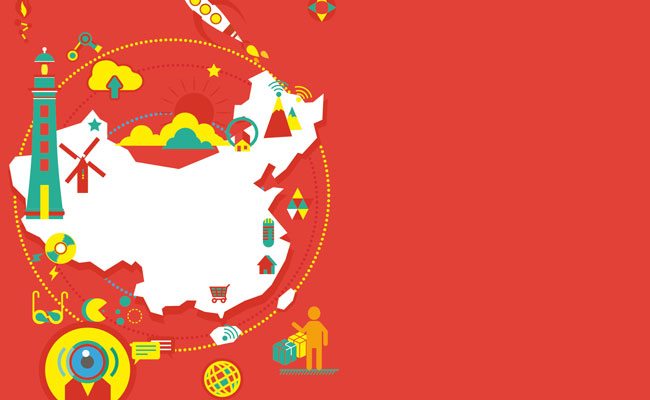 Can China become a global leader in the Internet of Things?
China has ambitious plans for the Internet of Things. After playing catch-up in the first two stages of internet development, the world's second-largest economy is poised to take a leading role in its third wave, which will bring billions of everyday devices online in a vast ecosystem merging the physical and cyber worlds.
The Internet of Things (IoT) is "a network of networks of uniquely identifiable endpoints (or 'things') that communicate without human interaction using IP (internet protocol) connectivity," according to research firm IDC. That network today is highly fragmented and largely consists of smartphones, wearable devices and homeware, although work towards the development of "smart cities"—cities with digital technology embedded across all of their functions—continues apace.
The IoT is currently in a nascent stage, but China's huge internet user base—the world's largest—provides a strong foundation for the sector to develop, says Milly Xiang, the head of IDC's telecom practice in Beijing.
Of equal importance are China's strengths in both hardware and software, says Dave Friedman, Chief Executive Officer of Ayla Networks, an IoT solutions provider with offices in Silicon Valley and Shenzhen. "China is the manufacturing center of the world, so if you want to make a hardware product, the supply chain is right there," he says. "China's software developers are also heavily invested in mobile, the gateway for IoT. Smartphones are going to become a universal remote control for managing everything in our lives."
IDC forecasts the IoT will grow from $655.8 billion in 2014 to $1.7 trillion in 2020 as more devices come online and a stable of platforms and services develop to support them. The research firm predicts China will dominate the Asia-Pacific (excluding Japan) IoT market, accounting for 59% of "market opportunity" and one out of every five connected devices globally.
Early Bird
The Chinese central government identified the IoT as a key sector to be developed early on. In August 2010, then Premier Wen Jiabao said the IoT was pivotal for China's development, and called for the rapid deployment of IoT technologies. The same year, a national IoT center was established in Shanghai.
In June 2012, the Ministry of Industry and Information Technology (MIIT) announced the key sectors in which it would promote IoT development with pilot projects. They encompassed a huge swath of the Chinese economy: industrial control, agriculture, financial services, smart grid, intelligent transportation systems, logistics, healthcare and public safety.
Beijing is backing up its sweeping IoT vision with generous funding. In 2013, the Ministry of Housing and Urban and Rural Development (MOHURD) chose 193 local governments and economic development zones as official smart city pilot project sites, according to the US-China Business Council. That nomination made them eligible for funding from an RMB 100 billion ($16 billion) investment fund sponsored by the state-run China Development Bank. Last year, the MIIT announced an RMB 50 billion ($8 billion) fund of its own for investment in smart city research and projects.
The massive funding opportunities are turning heads in local governments, who are eager to use smart city applications to address congestion and pollution. Over 90% of China's provinces and municipalities "have listed the IoT as a pillar industry in their development plans," MIIT Vice Minister Xi Guohua said in September 2014.
The government's efforts look to be bearing fruit—by 2013, China had become the global leader in the adoption of machine-to-machine (M2M) technology, which allows networked devices to exchange information and execute tasks without human assistance. Last year China's 74 million connections comprised almost one-third of the total M2M market, according to the Groupe Speciale Mobile Association (GSMA), a London-based organization representing the interests of mobile operators.
China's IoT market has grown expeditiously as well. It surged from RMB 170 billion ($27 billion) in 2009 to more than RMB 500 billion ($82.6 billion) in 2013, with annual compound growth above 30%, according to the China Academy of Telecommunication Research.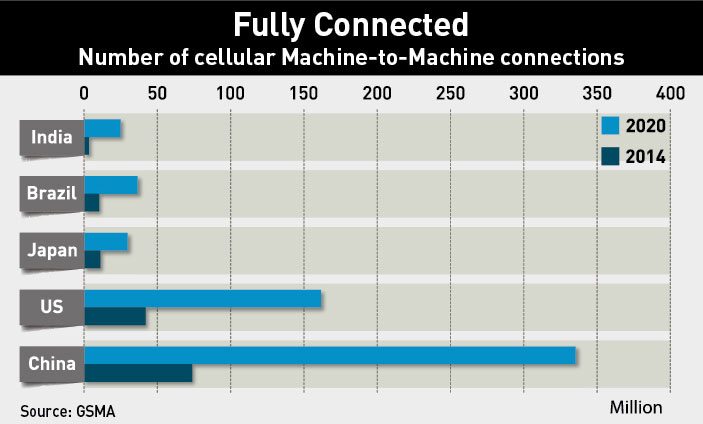 "Clearly, China's size offers economies of scale unavailable to other countries, but it's been the government's focused strategy, emphasis on common specifications and cross-sector collaboration that has allowed the Internet of Things to scale…putting China at the forefront of IoT deployment," GSMA Chief Technology Officer Alex Sinclair said in a statement.
Gaining a Foothold
China's IoT market is growing fast but remains fragmented, with no market leader in either the consumer or commercial segment. "No company—in China or the world—can yet provide a full solution," says Xiang of IDC.
With that in mind, Xiang credits telecom giant Huawei for developing open-source IoT technology, rather than focusing on building hardware. Launched in March, Huawei's Agile IoT platform offers its Lite OS operating system to developers free of charge. The software connects devices such as wearables, smart homeware and smart cars to the IoT.
"The Huawei approach is smart," Xiang says. "By providing a platform on which devices can connect to the IoT, they will be able to work with different partners to develop IoT solutions."
With its massive telecom resources, Huawei is poised to become a leader in smart cities too. Its 'Safe City Solution' provides a fixed and mobile broadband network that supports CCTV cameras. That technology has already been deployed in 100 cities in 30 countries, according to Huawei.
The telecom giant rolled out three additional IoT technologies in March: a collaborative cloud service, which integrates apps, networks and terminals to make the operation of branch offices more efficient, a smart transport system that provides connectivity to trains and buses and an M2M energy management solution that facilitates the remote management of energy use.
Huawei says its energy management solution helped the University of Melbourne reduce energy use by more than 60%.
"Huawei can win smart cities," says Friedman of Ayla Networks. As a big telecom equipment provider, "they can expand within their existing accounts," he adds.
Beijing-based smartphone vendor Xiaomi is also moving to gain IoT market share, but is focusing on building an ecosystem of connected devices controlled by its smartphones, experts say. In recent months, the handset maker has acquired 20 tech start-ups and launched a number of smart home products, including a blood pressure monitor, air filter, security camera, scale, power strip and light bulb.
"Xiaomi's massive base of smartphone users (it was the world's No. 5 handset vendor by shipments in 2014) gives it a solid foundation to expand into smart home," says Jessica Hsu, a senior analyst the Taipei-based Market Intelligence & Consulting Institute (MIC).
"Xiaomi is showing considerable ambition in its smart home strategy," says Chiang Chia-wei, a research analyst specializing in the IoT at MIC. If Xiaomi is able to establish a strong base for its smart home products in its huge home market, international expansion may follow, he adds.
In an interview with Guangdong-based Southern Daily, Xiaomi CEO Lei Jun said the company plans to acquire 100 more tech start-ups to bulwark its ecosystem and "establish its supremacy in the IoT."
Xiaomi's IoT strategy has already attracted the interest of global investors. In April, VC firm GGV Capital announced it had made two new investments into Chinese IoT companies in the Xiaomi ecosystem. GGV, which focuses on multi-stage investments in both the US and China, led a $15 million series B funding for Zimi, a maker of portable battery chargers, and headphone manufacturer 1more.
"We believe Xiaomi will become a very impactful force in IoT in China," says Hans Tung, Managing Partner of GGV Capital. "Zimi and 1More are both strong companies in a robust ecosystem, with the potential to grow internationally," he adds, noting the Taiwanese leadership of both start-ups have experience manufacturing smartphones for Xiaomi.
Internet giant Baidu is taking a different approach to the IoT than Huawei or Xiaomi. Firstly, it aims to outdo search rival Google with its Baidu Eye wearable device. Finished as a prototype in September 2014, the head-mounted device attaches to a smartphone, recognizes voice and gesture commands, and includes an earpiece and camera.
Gu Jiawei, head of the Human Computer Interaction team at Baidu's Institute of Deep Learning, has high hopes for Baidu Eye, despite inevitable comparisons to the ill-fated Google Glass. "Google Glass has been a failure. We won't fall into that trap," Gu says.
To enable hands-free search, the camera on the right side of Baidu Eye can take photos and recognize objects in them, a feature that can facilitate shopping either online or offline. That enhances the shopping experience for customers and brings value to retailers by providing them with data on customer purchases, Gu says.
Baidu will go head to head with Google in the smart auto sector as well. The Chinese internet giant is partnering with BMW on a highly automated car that it says will be launched before the end of the year. The vehicle will assist rather than completely replace a human driver, as Google's does.
The car will be based on BMW's semi-autonomous driving technology and supported by Baidu's knowledge of Chinese roads. A self-driving vehicle is a logical step for Baidu, given its strong search and mapping capabilities as well as ample R&D investment in deep learning, analysts say.
Connectivity Challenges
While enthusiasm is high for the IoT in China, there are a number of problems that may hinder its development if left unchecked. Many of these issues are not specific to the Chinese market, but affect the IoT globally.
One of the major obstacles is market fragmentation, which has occurred because vendors have not adopted universal IoT standards. Technologies currently used for M2M communication include Wi-Fi and Bluetooth variations, mobile networks, white space radio (a frequency allocation process that assigns white space between used radio bands or channels to avoid interference) and different proprietary wireless standards. Any of these technologies could eventually become dominant, analysts say. For now, the abundance of competing technologies limits the ability of connected devices to interact with each other.
"Market fragmentation is a major hindrance," said Bernard Shung, head of business development at Taiwanese chipmaker MediaTek, in a presentation at Taipei's Computex electronics show in June. "If it's not addressed, the market will not grow."
Yet fragmentation offers an opportunity for China, which is eager to develop IoT standards that could go global. In September 2014, China came a step closer to achieving that goal: a joint committee of the International Organization for Standardization (IOS) approved Beijing's "Reference Architecture for IoT" proposal.
"This is the latest example of international adoption of China national standards, and is seen as a breakthrough for China's Internet-of-Things (IoT) standardization efforts," according to a statement from the United States Information Technology Office (USITO), a trade association representing the US ICT sector in China.
The US, South Korea, Canada and Australia are working together with China to develop IoT standards, the USITO said.
Maintaining the security of the IoT's supporting cloud services presents another challenge to the sector's development. A security breach in a smartphone results in a personal loss of identity and assets, but with the IoT the stakes are higher, Shung said, adding that compromised IoT systems could lead to "'disabled hospitals', flooded fields and other disasters."
Meanwhile, in China, excessive state-led investment is distorting the IoT market, says an analyst with a research firm in Taipei, who requested anonymity because of the sensitivity of the subject. Chinese vendors receive generous government funding to produce IoT hardware for state-owned institutions, she observes. As a result, manufacturers focus on reaching shipment targets set by the government rather than meeting market demand. "The government is acting as a locomotive, pulling the IoT ahead in China, but it's moving too fast," she explains.
The IoT is about more than hardware manufacturing, the analyst says, adding that the real value of connected devices lies in the troves of data they provide for analysis.
In her view, educating Chinese citizens about how and why to use IoT devices should be a priority for Beijing. Otherwise, the products will go to waste. The analyst recalls visiting a public hospital in China where elderly patients were given smart wristbands used to alert hospital staff if the patient falls down, or faces another kind of emergency. She was surprised to find that the patients refused to wear the wristbands.
"They said, 'This thing is putting a curse on me,'" she says. "They think wearing it will bring them bad luck."
In a visit to a different Chinese city, the analyst found the local police force failing to put their body cameras to good use. "They emphasized the cameras had an ultra-fast 4G connection to the cloud, but they missed the point: the point is the data the cameras collect can be used as evidence of a crime, or to provide clues about a crime."
Thinking Big
If China seems hurried to develop an ecosystem of connected devices, the IoT's many practical applications will ultimately justify the hype, market insiders say.
In hospitals, the IoT is already helping to improve China's "unbalanced healthcare service," says Xiang. For instance, in some hospitals, tablets linked to a database of patient information are being distributed to doctors, she says. This allows doctors to access information about a patient's condition instantly and share it with colleagues.
As a developing country, China needs IoT to improve living standards for its citizens, says Friedman. He believes smart technology that can help Chinese citizens save energy will be adopted rapidly, and sensor networks in streetlights and smartphone apps that provide traffic updates will help alleviate the gridlock that paralyzes China's roads.
Friedman has good reason to be optimistic about China and the IoT. In 2014, Ayla became the first US IoT platform company to obtain a license to serve as an internet content provider (ICP) in China. That license allows Ayla to collaborate with manufacturers, websites and social networks to build a national framework for the IoT in China. Earlier this year, Ayla Networks and the World Bank's venture arm IFC launched an effort to create a cloud for IoT in China.
In June, Ayla launched an IoT portal for WeChat, China's top messaging app. The portal's technology helps smart home vendors integrate their products with WeChat, turning the app into a remote control for their devices.
In the view of Jack Huang, CEO of Guangzhou-based GizWits, creator of a platform that brings home appliances and consumer electronics products online, China is "uniquely positioned" to become a global leader in the manufacturing of IoT products.
"It comes down to huge market size, high smartphone penetration and manufacturing strength," says Huang. "China manufactures 2.5 billion home appliances per year; 700-800 million of them are used domestically. All of those appliances used in China are going to eventually become connected."