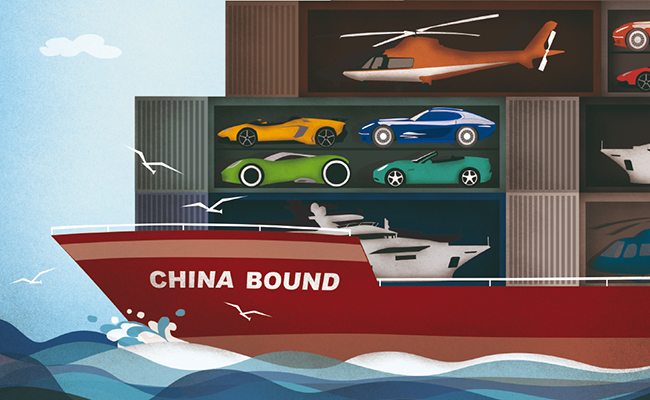 The ascent of luxury in China means that luxury pastimes from the West are making their way into the country, and they're taking on Chinese characteristics as they do so.
On a sunny, clear day in October, a few dozen smartly dressed people mill around the lawn of a huge villa at the north end of Shanghai's Bund, peering at a ring of vintage cars parked on the grass, mainly American imports like Ford and Cadillac.
Inside the Waitanyuan villa—the former British Consulate-General building erected in the Renaissance Revival style in 1871—lies a hodgepodge of luxury branding and promotion which, in addition to the concours d'elegance outside, makes up the third installment of Bund Classic, an annual luxury lifestyle event. There are Vacheron Constantin watches in glass cases, a booth for Silver Cross vintage-inspired baby carriages and a workshop conducted in Mandarin on "Heritage Investment and Family Offices".
The main exhibit on the villa's ornate second floor is a preview for the autumn season at the Hong Kong branch of renowned British auction house Bonhams. A print from Damien Hirst's infamous "Kaleidoscope" butterfly series ($7,100-8,400), a signed Mario Testino photograph of Kate Moss ($6,500-7,700) and calligraphy on satin by Wang Duo dated 1641 ($130,000-190,000) are on offer.
In the "rare and precious jewels" section of the auction room, a middle-aged couple wearing matching Panama hats inquires about a large jadeite Buddha pendant inlaid with diamonds, speaking in perfectly American-accented English with the Bonhams attendant, then turning toward one another to discuss further in Mandarin. Bidding for the piece opens at $46,000; it's decided that the couple will fly to Hong Kong to see Bonhams' full jadeite selection before making a bid.
Fresh Off the Boat
Bund Classic is organized by China Rendez-Vous, a company founded by French expatriate Delphine Lignieres to promote the adoption of Western luxury pastimes—car shows, auctions, yachting, polo, finishing school—by Chinese High Net Worth Individuals (HNWI), a demographic that grows each year at an unprecedented rate.
According to Capgemini's Asia-Pacific Wealth Report 2015, China had 890,000 HNWI as of 2014 with a combined wealth of $4.5 trillion, a 17.5% rise from 2013. China is also currently ranked second in the world in dollar millionaires, trailing only behind the US. In October 2015, The Hurun Report, a magazine known for its annual "China Rich List", released a survey revealing that the number of dollar billionaires in mainland China surpassed that of the US for the first time, with 596 to the US's 537. With these numbers in mind, it's no surprise that "the China market is the most important market for most luxury brands," says Liz Flora, Editor at Chinese luxury business publication Jing Daily.
One of the first pastimes to make headway in China was polo, with the launch of Beijing Sunny Time Polo Club in 2004 and Nine Dragons Hill Polo Club in Shanghai in 2005. At Nine Dragons Hill, Chinese polo aficionados can purchase a "Whole Life Polo and Riding Membership" for three people—ideal for a wealthy family with one child—for RMB 500,000 ($78,000), while a "Zero to Hero" 10-week course is RMB 10,000 ($1,600) for members.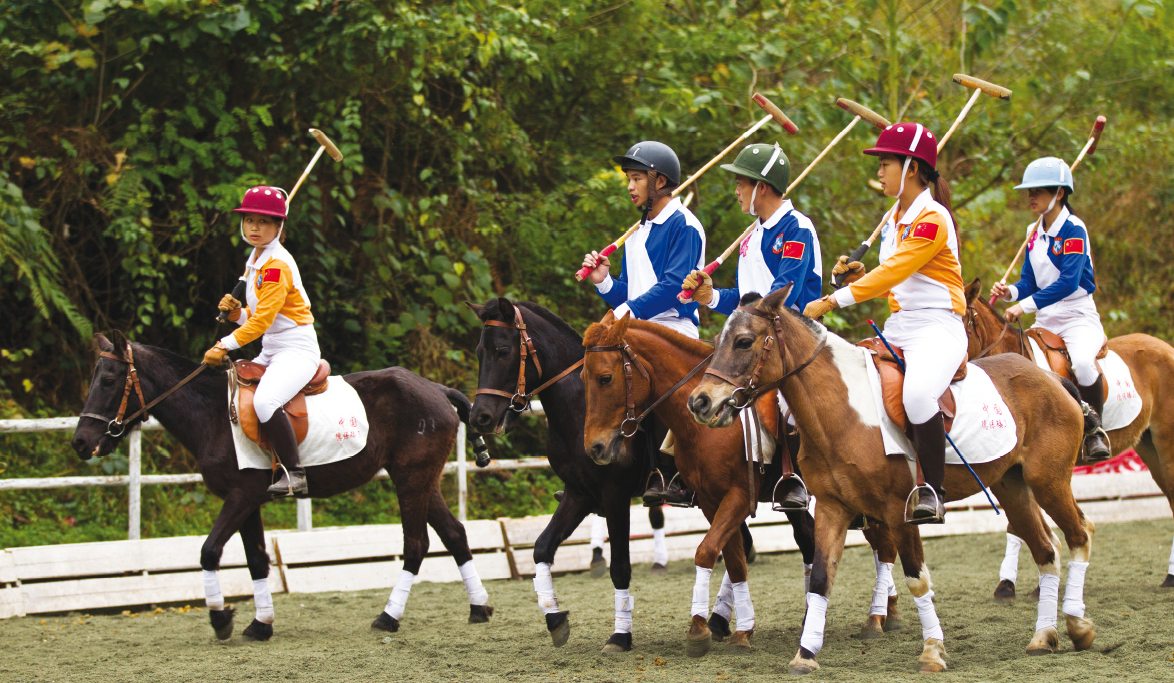 In terms of luxury finishing schools, the first successful venture on the Mainland was Institute Sarita, founded in March 2013 by Hong Kong-native Sara Jane Ho, a Harvard Business School grad who speaks five languages. Ho has made a point of distinguishing Institute Sarita from the stigma associated with the Chinese equivalent of finishing schools, which are mainly working class vocational schools for bank telling or waitressing. "My students are the ones sitting front row at couture for Dior," says Ho. "They're the ones flying over [to have] VIP dinner at Versailles."
The most popular (and most expensive, at RMB 100,000 for 12 days) course at Institute Sarita is Hostessing, in which wealthy married women learn to use a salad fork, greet foreign dignitaries and pronounce French designer brands. There's also a debutante course for unmarried women, and several entrepreneurship courses.
HNWI in China have learned about yachting culture and subsequently purchased yachts mainly from boats shows like SO! Dalian and SO! Hainan ("SO!" is a rather twee acronym standing for "superyacht owner") organized by the aforementioned China Rendez-Vous. Yacht prices vary, but the more troublesome expenses for Chinese yacht owners are marina membership fees, which fall between RMB 1.5 and 2 million annually, plus a tax mark-up of approximately 43%. Owning and maintaining a yacht is significantly more expensive in China than in other parts of the world.
"From Baijiu to Balenciaga"
Jing Daily's coverage of high-end culture in China reveals that Chinese HNWI look for a luxury lifestyle that's a hybrid of Chinese and Western pastimes, rather than the wholesale import of Western luxury—as evidenced by their tagline, "…from baijiu to Balenciaga." Despite the appeal of these pastimes as status symbols—something undeniably important to wealthy Chinese—the fact remains that such hobbies by definition require effort, time and avid interest.
"While demand for a status symbol may be a good reason to buy a Birkin bag, it's not really enough of a reason to adopt a time-and training-intensive hobby like polo or yachting," says Flora. "China's rich don't adopt Western luxury pastimes simply for the sake of copying the West; they find certain values in these types of activities that are informed by their own culture and background."
For example, polo has origins in the East and was played by wealthy horse owners during the Tang Dynasty, a tidbit often emphasized in the marketing campaigns of Chinese polo clubs like Nine Dragon Hills and annual events like Beijing's British Polo Day. Even so, polo enthusiasts are still a small, niche group in China; Tang Polo Club in Beijing, one of the clubs associated with British Polo Day, had 60 members as of September 2015.
"The polo clubs right now are mainly working on getting wealthy Chinese parents to sign up their kids for polo in order to make it popular with the next generation," says Flora. "A big part of this marketing is convincing parents that it will help the kids get into top foreign schools."
Similarly, finishing school appeals to wealthy Chinese because it offers the tangible benefit of facilitating work, study and travel abroad. "All my clients have been in a situation where something happened where they didn't feel very comfortable," Ho of Institute Sarita says, recalling an anecdote in which a female Shanghainese entrepreneur was unsure of whether to shake hands or simply nod at an Indian business contact because of the culture's lack of cross-gender touching. "What we provide is the knowledge of what to do in any situation, which then gives one power and confidence to focus on the larger issues at hand."
Meanwhile, luxury pastimes with fewer practical benefits have been slow to take off. Yacht companies have taken great pains to make headway in the China market, and have perhaps done more than any other sector to tailor their products to Chinese clientele. Prompted by the drop in Chinese yacht sales over the past few years due to the country's on-going anti-corruption campaign, most major yacht companies have created specific China models with larger indoor living spaces for entertaining guests, no sunbathing platforms and smaller bedrooms.
As of June 2015, only 500 Chinese HNWI could be described as yacht owners who have "embraced the lifestyle," according to Thibault de Montvalon, Managing Director of French yacht company Beneteau.
What little growth the Chinese yacht market has seen is due in large part to China Rendez-Vous and their pioneering yacht shows. The company's promotional material emphasizes the glamorous allure of yachting, but also the opportunities it offers for business networking. This is a savvy approach, according to Flora, because "you don't see a lot of leisure activities purely for the sake of enjoyment or status right now. There often needs to be a more tangible benefit."
While China may have offered the West's luxury goods companies a huge opportunity thanks to its unprecedented growth, this growth is now slowing and will continue to do so as its economy matures. "The luxury market has to adjust to the fact that the massive double-digit growth rates of the past decade are over as the market normalizes," says Flora. "But China is still their most important source of customers."
Even if growth continues at a less dramatic rate, trends indicate that wealthy Chinese consumers will have more and more impact on the luxury market, and the high-end companies that are most attuned to Chinese culture will likely fare the best. Eventually, Chinese consumers might even become the tastemakers as new luxury pastimes develop. In that case, Westerners may end up scrambling to adopt pastimes from China.