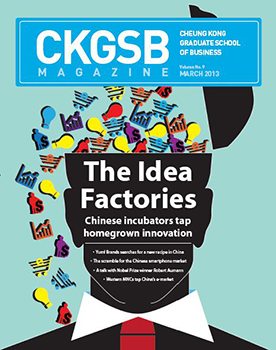 You are invited to download the March issue of CKGSB Magazine. You'll enjoy articles and interviews like:
COVER STORY:
Innovation: Incubators tap homegrown innovation in China.
With close similarities to incubators in Silicon Valley and an arsenal of China-specific tactics for start-up success, Chinese incubators are moving beyond the traditional role of incubators. They are creating an environment in which start-up companies can survive and thrive.
SNAPSHOT:
CHINA INSIGHT:
Back to School: Some Chinese companies like Huawei and Haier are taking training to a whole new level by setting up in-house universities.
Banking Abroad: The globalization strategies of China's banks.
The Web Wise-Up: Sophisticated consumers are forcing China's e-commerce companies to raise standards of quality and service.
Smartphones for All: Domestic smartphone companies like Lenovo and Huawei are set to give global companies like Apple and Nokia a run for their money in China, the world's largest smartphone market.
Money Squeeze: The first signs of light emerge amidst the dark prospects for private enterprises in China's ever-tightening credit market
Yum! Brands: The parent company of KFC and Pizza Hut is facing a tough time in China. What went wrong?
Breaking into Digital China: Multinational retail brands like Best Buy and The Home Depot are ditching the brick and mortar model and trying to make a play in China via e-commerce.
Greentech: After record smog and a leadership change, what's in store for energy policy and green investment in China?
The US SEC versus accounting firms in China: CKGSB's Qi Daqing and Peking University's Paul Gillis share their views on the regulatory battle.
CONVERSATIONS:
The Robert Aumann Interview: Nobel Prize winner Robert Aumann in conversation with CKGSB professor Mei Jianping.
The Thinker Interview: Organizational behavior expert Jeffrey Pfeffer of Stanford on the human sustainability of organizations.
C-Suite Interview: Baidu CFO Jennifer Li on navigating a rapidly evolving market, and Baidu's globalization strategy.
Q&A: Scottish billionaire Sir Tom Hunter on his idea of 'Venture Philanthropy'.
DOWNTIME:
Business on the Battlefield: Sun Tzu's Art of War has made numerous contributions to the world of business and strategy.
To read the March 2013 issue, simply click on the magazine cover.
After it loads, you can save it to your computer.
Keep in touch
To stay informed about new articles on the CKGSB Knowledge website, please follow us: