Tao Zhigang, Professor of Strategy and Economics, CKGSB, and Qiao Yiyuan, Senior Researcher at the Case Center, CKGSB
In 2020, Yili Group became the fifth-largest dairy business globally, thanks to a solid foundation in the Chinese market and a robust internationalization strategy. The worldwide dairy market is expected to reach a value of $1.03 trillion by 2024, and Yili aims to become the largest player in the market within the next decade.
Yili, based in the northern-Chinese grassland-heavy province of Inner Mongolia, began its overseas development efforts in 2010 and it is now the fastest-growing of the top 20 dairy companies worldwide, according to Rabobank, surpassing ¥100 billion in revenue for the first time in 2021. The company's product line currently includes a wide range of dairy products, such as regular milk, milk powder, yogurt, cold drinks and cheese. Yili is now expanding into other beverage markets outside the dairy industry.
Yili traces its origins back to 1956, and in 1996 it was listed on the Shanghai Stock Exchange, raising ¥96.9 million. The company has grown rapidly ever since, but it has not been without challenges.
The Chinese dairy market faced several systemic issues in its early development. Firstly, milk production used to be based on small-scale highly-diverse production, because of its short shelf life. But Yili was the first to introduce ultra-high temperature (UHT) milk to the China market, extending the shelf life of the product to between 6-8 months, allowing the company to develop a single large-scale production site in Inner Mongolia.
Yili also invested heavily in R&D to improve the formulation and processing of dairy products to address the symptoms of lactose intolerance suffered by most Chinese people. Third, Yili had to address the low daily dairy consumption across China, partly caused by lactose intolerance issues. In response, the company ran a multi-platform advertising campaign, positioning its products as "healthy foods" and itself as a quality producer.
Thanks to these efforts, by 2005 Yili had become one of the top two dairy companies in China. But in late 2008, a scandal involving milk producer Sanlu Group raised product safety concerns nationally. This, combined with the Global Financial Crisis around the same time, forced many companies, including Yili, to rethink their plans.
Yili recognized that after stressing rapid development within the China market for a decade, the company had to look outward and develop its brand globally, integrating the world's best resources, technology and talent into its processes.
Eyeing internationalization
In 2015, Yili officially laid out its goal to "become the world's most trusted health food provider." In an interview with Harvard Business School, Yili's chairman Pan Gang explained how the company was approaching this mammoth project. He stated that Yili was pursuing a global networking strategy to concentrate top-tier dairy resources worldwide. This would see Yili build the world's largest integrated dairy production base in New Zealand, rally research initiatives with prestigious universities in the US and food R&D centers in Europe, and reach out into the vast markets covering Asia, Europe, Oceania and the Americas.
Yili's approach to internationalization focused on three strategic areas: raw materials, technology and markets.
'Moo'ving forward
Raw materials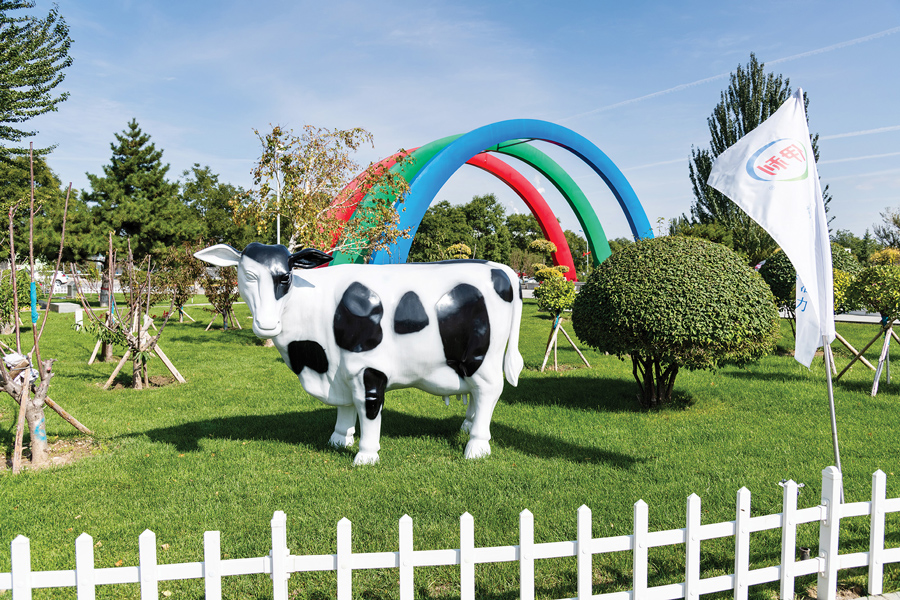 Most of the world's best grazing areas, and therefore primary dairy production regions, are located between 40°-50° north and south of the equator. This means that while demand for dairy products continues to expand globally, production is limited in a physical sense. Therefore, for Yili, it is imperative to acquire as much access to these natural resource areas as possible to be globally competitive.
Yili's efforts to secure high-quality raw materials overseas have led to cooperation with enterprises such as Fonterra, New Zealand's largest dairy company, and Conaprole, the largest in Uruguay. The company has also established partnerships with the Netherlands and Denmark to produce dairy products using local milk sources.
The company has also made several major business acquisitions including two New Zealand firms, Oceania Dairy Limited and Westland Dairy. The latter accounts for around 3% of the country's annual milk harvest. Through cooperation and acquisition, Yili now has 14 overseas production bases.
Milk supply across Yili's home territory of Inner Mongolia has also been improved, and now serves to fill gaps during the off-peak seasons in the Northern and Southern hemispheres, as well as mitigating the risk posed by regional disasters. The growing strategic synergy of Yili's production layout has further enhanced the company's ability to respond to market demand, control costs and guarantee the supply of raw materials.
R&Dairy
Yili championed R&D throughout its early years of domestic expansion, but upon entering the international market, the company found that competitors, particularly Western-based firms, were well ahead. They had benefited from years of strong economic growth coupled with a long tradition of dairy consumption.
Yili also understood that many of the mature international markets were highly saturated, and therefore not suitable targets for entry. However, it still saw an opportunity for increasing product competitiveness through high-quality R&D, so the company undertook projects with leading dairy research institutions on dairy cow rearing, product nutrition and taste, and food safety.
In 2014, Yili established a European R&D Center in cooperation with Wageningen University & Research in the Netherlands, which is renowned for its expertise in agricultural and forestry sciences, focusing on dairy farming, dairy research and food safety. It also signed a cooperation agreement with Lincoln University in New Zealand to establish the Oceania Innovation Center, which focuses on dairy farming and farm management technologies.
During a state visit to the US by Chinese leader Xi Jinping in 2015, Yili led the implementation of the "China-US Food Wisdom Valley" program, connecting a number of leading universities in the US and Canada. As reported, the program covers "nutrition and health, product development, food safety, agricultural science and technology, animal husbandry, veterinary medicine, ecology and environmental protection and business management."
According to the company's annual report, it also has plans to set up innovation centers in Tokyo and Bekasi, Indonesia.
Emerging Markets
Building on its success in China, Yili sees growth potential in emerging markets. And it believes that instead of entering mature developed markets and competing with established multinational dairy companies, it is more advantageous to target emerging markets with large populations and promising economic development. The company considered many of the BRICS countries, but it settled on the Southeast Asia region, because of its large population base, young demographic, deep market development potential and greater cultural similarities.
The company has already set up wholly-owned manufacturing and trading subsidiaries in Indonesia, Malaysia, Vietnam and Myanmar. It has also acquired companies such as Thai ice-cream maker Chomthana, improving their operational efficiency, while benefiting from their cultural expertise and domestic reach.
A cash cow?
Since the launch of its internationalization strategy in 2010, Yili's overseas network has come to make up 14.60% of the company's total assets, and supply around 15% of the total raw materials used. In 2018, the company set up an International Business Department to develop overseas markets, which has been growing at a compound annual growth rate of 56% since. The company also saw a 58% year-on-year increase in international business revenue in H1 2022.
Doing it properly
To efficiently internationalize operations, three major issues need to be considered.
Finding pragmatic M&A targets
When entering a new market, the two common options are starting from scratch or acquiring an established entity. The acquisition model is often preferred because of the speed with which results are reflected in a company's financial statements. But this speed also drives buyers to chase after higher-value targets, which can make it more difficult to integrate production and management after the completion of the transaction, meaning the deal may not yield the desired results, despite the higher price tag.
For this reason, Yili conducts a multifaceted review when looking for M&A targets and has established a database to track potential acquisition targets and their valuation, business size, synergistic fit and alignment of strategic objectives. To make the cut, a company needs to meet several criteria: fill a gap in Yili's ecosystem or supplement an existing business area, provide core competitiveness and good development prospects in its home market and be of a size that can be easily absorbed into the ecosystem.
Overseas localization
Overseas operating entities are often far from company headquarters, and geographical distance can make management more difficult. Therefore, a certain degree of carefully implemented localization in overseas branches is required.
The core concept behind successful localization is problem-specific analysis, i.e. successful management experience in the home country will not necessarily lead to overseas success. The degree of localization is also important—too much or too little localization has proven to be problematic. In the case of personnel systems, for example, the right balance of employees must be found to avoid hindering day-to-day operations.
For Yili, the Muslim customs of Indonesia and Malaysia, the Buddhist beliefs of Thailand, the non-English speaking environment and introverted workplace cultures of Japan, and the increasingly delicate bilateral relationships between Australia, New Zealand and China in recent years are all issues that require careful case-by-case consideration.
Overall, Yili's overseas operations methodology can be summarized as "focus on the big and let go of the small." The Chinese headquarters is positioned to manage financial targets, approve and allocate resources, communicate and implement high-level strategies, and coordinate collaboration between business units; the day-to-day management and operations are largely left to the overseas entities, which also have most of the financial and personnel autonomy. For example, the New Zealand operating entity has retained or locally recruited most of its personnel after the acquisition, with the exception of the resident director and a few other core positions.
Choosing a market
Deciding on a suitable overseas market is a two-stage process, the first of which is choosing the specific area of a market to enter. To do so requires evaluation of the industry size and growth rate, country risks—such as political stability and openness to foreign investment—market competition, and a host of extra-business factors such as language, culture and religion.
The second stage is the development of a tailored sales strategy according to the specific market's demands. For example, despite the complementary nature of Southeast Asian markets, they have their own peculiarities, which require market research, brand positioning and product design considerations prior to entry.
Yili has said that in the future when conditions are ripe, it will consider developing the African market, which has many similar environmental conditions to Southeast Asia.
An international future
Yili's approach to internationalization shows the requirement for a long-term approach, with high-level strategies, both practical and localized tactics, and reliable execution to turn said strategy into tangible, positive results.
Yili's philosophy of specifically tailoring solutions to individual issues is reflected across the company's approach to internationalization. In market selection, the similarity to the domestic market is considered, so Southeast Asia was chosen; in entry methods, the degree of local economic development, infrastructure completeness, and even bilateral relations with China are considered, so Yili trades in Vietnam, executes M&As in Thailand, and builds capacity in Indonesia; in brand selection, the maturity of the local market and consumer acceptance were considered; in terms of product design, Yili also had to take into account the preferences of local consumers, so it focused on developing chocolate flavors available in smaller-sized portions; and so on.
To do business across borders, you cannot rely entirely on past domestic experience, nor can you stick to the same set of strategies. Different tactics should be developed according to the actual situation to be successful in a new market, and this is something that Yili has shown itself to be good at.