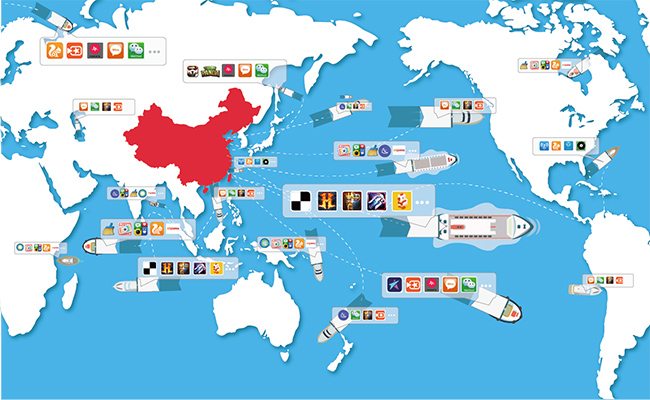 Have Chinese tech firms found an easier route into Western markets than their manufacturing predecessors?
Melinda Li, 21, a sophomore student in Maryland, is a fan of Roman Atwood, an online celebrity best known for his comedian "prank" video on his Youtube channel, which has over 8 million subscribers. Recently, Melinda discovered she could support Atwood through a novel new method: sending him gifts on Live.me, a live streaming and social networking app.
Of course, Melinda isn't the only one sending gifts, so Melinda tried to stand out by sending messages and virtual gifts like teddy bears and sports cars. Hopefully, by the end of the day, her name will appear on Atwood's list of the most devoted fans.
Those gifts appearing on Atwood's smartphone screen are not free; Melinda bought them on the Live.me app with real money. The virtual gifts themselves are merely the coin of the realm and the recipient can convert them into cold hard cash.
Live.me is becoming increasingly popular, and Atwood is far from the only celebrity cashing in. Other online celebrities like Jennifer Veal, Lohanthony and Markipliergram are also registered on Live.me. With nearly all the users based in the US, Live.me looks nothing like a Chinese-developed app.
"This 'reward' mechanism of Live.me, although very common in China, is a new business model for the live-streaming business in the US. It was not even utilized by the popular Twitter-owned Periscope," says Zhou Ting, chief editor at Cheetah Global Lab, a research institute of Cheetah Mobile, the company that developed Live.me.
The app skyrocketed to a position among the top social apps in the iOS store in just three months. In July alone, the app was downloaded over 1.4 million times in the iOS store.
It is merely one of thousands of apps developed by Chinese tech firms that are reaching out to foreign internet users. According to an industrial report by Beijing-based consulting firm iResearch released in August 2016, over 6,000 Chinese tech firms have overseas businesses and 10,000 different Chinese tech products are available on overseas markets. And 70% of them, the report says, are small- and medium-sized companies with fewer than 100 employees.
Seeking opportunities outside China
The competition in the domestic tech market is intense. New tech startups are being founded every day, yet approximately half of China's internet traffic is occupied by the three giants—Baidu, Alibaba and Tencent—and their subsidiaries.
Meanwhile, the growth rate of the mobile internet is slowing down. The compound annual growth rate for internet users between 2011 and 2015 fell to 8.5% (from 32%) between 2005 and 2010.
According to the iResearch report, China's 620 million mobile internet users represent 90% of the country's internet users. Globally, the penetration rate of mobile internet is only 69%. The good news for the rest of the world is that this indicates strong potential for growth in mobile internet services.
Given this reduced penetration of mobile internet, overseas markets are looking very attractive to Chinese tech startups. Manufacturers may have struggled to establish their own presence in foreign markets, but tech firms have found it much easier.
Founded in Beijing in June 2014, the Apus Group developed an Android-based platform that allows users to customize their phone screens and features, organize apps and reduce battery consumption.
Li Tao, the founder of Apus, directly targeted markets outside China despite not speaking much English himself. He points out that most internet companies do not need production lines, logistic networks, supply chains or after-sales services, which are all needed in traditional industries. Thus, it's much easier for them to go global.
Apus is an example of this. Li says the company managed a million users within a week without significant investment in marketing or advertising. Now it has accumulated 920 million users globally.
Apus users are distributed mainly in emerging economies in Southeast Asia, India, Brazil, the US and Russia. With over 45 million Indian users, Apus attached strategic importance to this market.
Emerging markets like India, Brazil and Southeast Asian countries are often preferred due to their large number of young smartphone users who are willing to try new things and are underserved by local mobile internet services.
According to Zhou's study, these markets differ in terms of basic infrastructure and people's needs. For example, in Russia where locals have to walk a long way to grocery stores, e-commerce businesses like Ali-express have become quite popular. In regions like India, where the internet is not stable and often runs at slow speeds, people need tools that can optimize the speed of phones.
SHAREit, an app with over 500 million users, is file transfer tool that allows users to transfer files quickly between smartphones without requiring a stable online connection. It ranks at the third place on Google Play's most downloaded free apps.
"The Indian market is very similar to what the Chinese market was like five years ago when there were still many opportunities and customer needs had not been met, because many people had just started to use smartphones. So the Chinese firms have foresight. They are experienced in this and can see what's going to happen next," says Yan Fei, CEO of SHAREit.
As a product incubated by Lenovo Technology, SHAREit also has the natural advantage of being pre-installed in every Lenovo smartphone sold in India.
Zhang Xintian, an analyst with iResearch points out that the cheap, Chinese-made smartphones that have made inroads in India, South America and Southeast Asia have contributed to the popularity of the smartphone utility apps developed by Chinese tech firms. "This is because for some poorly-equipped phones, apps can make an obvious difference to their performance," she says.
Localization
Establishing a solid base of users is a key early step for these tech firms. In order to make their products known to foreign users, the Chinese companies have to use marketing tools and platforms they're not familiar with. In China, tech firms advertise themselves on Baidu, WeChat and Weibo. But outside China, they have to market themselves through local and international platforms like Google, Facebook and Twitter.
Beijing-based Cheetah Mobile (CM), a company with 623 million monthly active users, is one of the first Chinese tech firms to gain ground in overseas markets. Its financial reports in the second quarter of 2016 showed that 80% of its users are foreigners and over 53% of revenue is generated from business operations outside China.
One of CM's key strategic moves was to set up an office of nearly 100 staff in Taiwan in 2014, employing mostly locals with a natural understanding of Facebook, Twitter and Youtube. "Taiwan served as a bridge for us across the Pacific to the United States," the New York Times quoted Charles Fan, Cheetah's chief technology officer, as saying.
"Most of our overseas office employees are also local people. We're going to become a 'local' company rather than keep saying 'we're from China' and 'we're a Chinese company'," says Zhou of CM's research institute.
Offline connections with local communities are also important. Local employees of the apps gather users and hold themed events regularly, Zhou says. Last year, CM sponsored cricket tournament in India because it is the most popular game there. And the operators of Live.me also regularly invite popular bloggers and their fans to gatherings.
Meanwhile, there are also companies that specialize in familiarizing Chinese tech firms with foreign markets. PandaMobo is one of such companies.
Li Lei, PandaMobo's CEO, who formerly worked in Cheetah Mobile, says that they provide solutions combining the features of different platforms.
She says that Facebook is effective for showcasing products, Twitter can be used for embedded advertisements and Google is a good platform for those who want a large amount of traffic.
Apus's experience showed that localization can also ease the pressure of hiring sufficient talent, with the requisite technology and management skills and international background—a key task during periods of rapid expansion.
Finding local employees can help to ease the communication issues between the company management team, thus bridging the gap between headquarters and overseas departments, according to the Apus India Office representative. It is also important to be aware that user behavior is quite different between developed countries and developing countries. "However, we believe that building trust is essential for a long partnership. It is very important to respect the different opinions of both sides and abide by local laws," says the representative.
No Chinese label
For Chinese traditional manufacturers, one difficulty when doing international trade is that local people can be skeptical of the originality and quality of their products. The "made in China" label sometimes affects buying decisions and many companies fail due to a lack of understanding of the local market and culture.
But in cyberspace, "made in China" isn't necessarily a key element. The origin points of products are not necessarily prominent or relevant, and with all kinds of information and instant communication, understanding people's needs is easier and cultural gaps aren't as large as some imagine.
According to Zhou's research, in terms of the expectations for smartphone apps, Chinese and American users have many commonalities.
Musical.ly, an app that CM has invested in, has approximately 100 million users, most of whom are under 20 years old. It allows users to create short videos in which they can lip-sync, dance or perform alongside music videos or other short clips. They can then share them on social networking sites like Instagram and Facebook.
"Young people, be they in the US or China, have the desire to showcase themselves. A challenge for Chinese tech firms in overseas markets is that you have to get users quickly once you have found an untouched area," says Zhou, adding that Chinese tech firms today have some more advanced business models due to the rapid growth of smartphone users in the past several years. The intensely competitive strategies used in these models can often be applied to other markets as well, as evidenced by the popularity of Live.me's virtual-gifts-as-currency model among Chinese live-streaming apps.
From tool maker to content provider
Live streaming and video sharing apps are different from tools like SHAREit.
"Garnering users through tools and games is easier because it's less likely to be affected by culture or regional factors, but e-commerce or social networking sites need a deeper understanding of local culture and are more likely to be limited by local policies and laws," says Zhang with iResearch.
CM also grew from a successful tool maker. Founded in 2010, it was listed on the New York Stock Exchange in 2014. Its growth was initially thanks to its internet security software. When developing an overseas market, it started by launching Clean Master, which help users delete junk files and protect smartphones from viruses, and soon attracted millions of users in the US, India and other Southeast Asian countries.
The company now has three lines of smartphone-based products: smartphone utility apps like Battery Doctor, mobile games like Piano Tiles and Rolling Sky, and social and content related products like News Republic, Live.me and Musical.ly.
The company's latest focus, says Zhou, is to be a good content provider. This summer, CM acquired Paris-based news app News Republic and it plans to enhance it by utilizing big data technology to calculate and tweet stories to users based on their reading habits and interests, says Zhou.
In fact, the changing direction reflects the latest trend of Chinese tech firms operating overseas.
Currently, most of the tech firms operating overseas are developing mobile games and tools, accounting for 58% and 23% respectively, across all 6,254 firms included in the iResearch report. E-commerce firms represent around 10%, while there are even fewer social networking firms.
"E-commerce requires more investment in human resources and higher management costs, along with more focus on logistics and inventories while social networking apps are also hard because this market is mostly dominated by Facebook," says analyst Zhang.
Tools like SHAREit, when promoted through media and social networking sites, have proved to be an effective way to gain overseas market share, but the next step is finding ways to monetize the apps. A common solution has been to rely on advertising income.
"This is a familiar method of monetization for most Chinese tech firms. But the competition is getting intense, so these firms should think about how to diversify their monetization strategies, by considering methods such as 'native advertising', a type of online advertisement that matches the platform and looks like natural content so users don't sense an interruption," Zhang adds.
But for those types of ads, an app needs more diverse content. When it comes to tools with simple utility functions, having "native ads" is hard. But news apps such as News Republic, assisted by big data, can help advertisers match their ads with a certain group of people based on the contents they like to read.
Thus, monetization can be diversified.
Moreover, the market for smartphone tool apps has been very competitive and newcomers will find it hard to grab market share, according to Zhang, who thinks that more firms will move on to develop more social networking and content-related apps.
"The latest trend for Chinese tech firms overseas is going from developing simple tools to more complicated social networking apps and e-ecommerce and from emerging markets to developed markets," she adds. "And that's when and where their ability to understand local culture and develop products of real value will be tested."