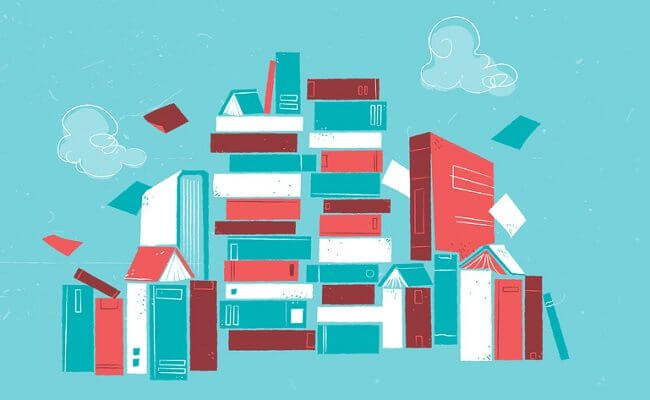 Over the past decade, publishing has undergone a revolution, perhaps the most profound since Gutenberg. In this series, we'll look at how digitalization has changed book consumption, book production, book marketing—and how it may ultimately even change the nature of books. In Part 1 and Part 2 we talked about the Rise of E-books and Writers and Self-Publishing. In this section, we look at what digitalization has changed in the way books are edited, designed, and marketed. You can also find E-Publishing with Chinese Characteristics in Part 4 of this series.
Part 3: Production
1. Editing
As publishing houses have grown increasingly lean, staff editors spend more of their time acquiring books, and less time working on manuscripts, according to Natasa Lekic, president of NY Book Editors.
"In-house editors don't actually have as much time to dedicate towards each book as they used to. They're really overburdened, and so they're looking for material that's more polished. Whereas in the past they might have taken on something that they see potential in but they realize that it's going to take a lot of work on their part to help that book reach the point at which it can be published, now they're less likely to take those on at all," she says.
Further downstream, agents are responding to editors' demands for more polished manuscripts, creating opportunities for the kind of editors who can be found at NY Book Editors and Reedsy.
When she founded her agency four years ago after 10 years as an in-house editor, Lekic intended to serve self-published writers. She still does, but a slight majority of her agency's work today is helping authors prepare their manuscript for submission to a traditional publisher. The remainders are mostly writers who've already published e-books but have suffered some criticism in the market and decided to go back and fix their books.
For Lekic, the decision to work as a staff or freelance editor comes down to personal preference, as the jobs have evolved along different lines. "It's really a matter of lifestyle choices. The big draw for editors who want to go freelance is that they actually spend more time editing. When you're in-house, you have so many other commitments…they're constantly in meetings and doing other things and then they edit in the evening or on weekends," she says. "They feel like editing is almost on the margins of their job."
2. Design
Designers say the e-book revolution has and has not changed book design.
"In a way, not much has changed for designers—it's another way of thinking, another way of problem-solving," says Rachel Lawston, a former staffer for Penguin-Random House in London, who began freelancing two years ago.
There are differences, however. "Text is much more a concern for me now when designing, if the book will be read on a mobile device. (Long titles and subtitles can be especially challenging!) How cover and body text will be viewed on different devices needs to be carefully considered when designing for e-books. This can sometimes compromise a concept, from the designer's perspective, so the designer needs to be at least as flexible as the design," writes Susan Olinsky, a freelance book designer based in New York, in an email.
Scale matters too. "You have to ensure it really works as a thumbnail because if it gets lost, that's it, really. It will never get noticed on Amazon," says Lawston.
Another difference is the level of interaction with the writer, which tends to be much more extensive for a designer working freelance than one working in-house. "I've worked very collaboratively with my independents, which is really lovely," Lawston says, "I really enjoy that part of the role."
Economically, e-books have been a mixed blessing for designers. "One plus is that with the increase in self-publishing ventures, there are more opportunities to work on a larger variety of projects for more diverse clients, which translates into more exposure. The down side is that competition is stiff, with more studios targeting only self publishing clientele and willing to accept lower fees for their design services," writes Olinsky.
Not only can budgets be smaller, they may include more tasks that would traditionally have been considered separately billable, such as composing the cover of an author's review copy of a book, preparing files for the printer, or doing intensive retouching of images, Olinsky adds.
3. Marketing and sales
In the end, marketing may be the segment of the business that's changed most with digitalization. The growing mass of self-published authors, e-books, print on demand, online book sales, the rise of social media, and the decline of print media have all made book marketing more challenging than ever.
"Independent publishing opportunities and access to freelance publishing specialists have created an open market for the creation and marketing of content and this has absolutely made the marketplace more egalitarian than it used to be," writes Adrienne Sparks, a Harvard, Mass.-based book marketing consultant, in an email. "However, with the opportunities of a more open market come pitfalls as well and the marketplace has been flooded with content from anyone and everyone that has something to say."
That flood means it's getting harder all the time for self-published writers to attract attention. "I think when e-books first started in 2008-2010, it was wide open for an indie author to really make a name for himself and now there are so many, it's a lot harder to break through," says Mike Shatzkin, a digital publishing consultant in New York, and CEO of the Idea Logical Company.
For marketers, digitalization has changed the job in profound ways. Where in earlier periods, book marketing focused on reviews and bookstore placement, book sales depend more today on search engine optimization and generating reviews from ordinary readers, according to Sparks.
Amazon customer reviews and other online venues such as BookBub, an email service offering personalized discount e-book recommendations, and Goodreads, a social media site that reaches 55 million readers, all hold an increasing sway over sales.
David Kudler, the owner of , believes that the key differentiator on these sites is not how positive the reviews are but their total number. "A book that has three reviews or five reviews, my assumption when I look at that is oh, that's mom, dad, a neighbor, a cousin, and an English teacher," he says. Having a large number gives browsers some social proof that the book is worth reading.
Professional reviews are still possible, but the self-published often have to pay for the privilege. Kirkus, Booklist, and Publishers Weekly, the three largest trade review outlets, will all review self-published work for a fee, according to Kudler. "They don't charge Random House, they don't charge Simon & Schuster, but they do charge me $400 if I want a book reviewed."
Sometimes as part of his marketing strategy, he needs to do that, he says, but he doesn't like the system. "Ethically speaking, I have a real problem with that. First of all, it distinguishes between me and Penguin Random House, but also it creates a relationship between me and the reviewer that I don't like. I don't like the fact that I'm in a position where if he gives me a bad review I feel ripped off. I don't like the fact that they're feeling like, oh they paid for this review, if it doesn't get a good review, I'm going to get yelled at, so I'll give a good review. I don't like that [either].
Online crowdfunding is also creating new opportunities for self-published writers. Kudler says that while trying to raise money to publish the memoir of a friend's father's experiences as a sailor in the Merchant Marine in the Second World War, he realized that Kickstarter was more than an alternative funding source. "What I figured out about halfway in was, oh, I see—this isn't about raising money, it's marketing the book,'" he says.
In a way, Kudler argues, crowdfunding is not a new idea. In the 19th century, Mark Twain and other popular writers would sell their books by subscription long before they were printed. "All of these guys would say, if you want to have my book on the day it comes out—I'll sign it for you, and it'll be ultra-special—you give me the money six months before or a year before and you'll get the book when it comes out," he says.
"And essentially that's what Kickstarter is—it's a way to get people to commit to buying before there's a product to sell them. At the same time it's also a way of creating an excited group of people …who will turn to their friends and say 'Hey have you heard about this book? I backed it on Kickstarter. Wow, it's really great, you should read it.'"
Self-published authors also have another weapon that gives them a huge advantage in the market: extraordinarily competitive pricing. Most e-books sell for less than $2.99, compared to the $10 or $15 a conventional publisher charges for a book, according to AuthorEarnings.
Authors will even give e-books away, either to get themselves known and encourage positive reader-reviews or to get readers hooked on a series. Kudler has used the latter strategy for a series of young adult historical novels he wrote. "It's a classic loss-leader," he says. "Basically, you're throwing away these e-books at the beginning of the series in order to get people to come into the work."
Not only does aggressive pricing spur sales, but Sparks says it makes people more favorably disposed to recommend the book. "If a customer downloads an e-book because it is free or almost free and enjoys the book they are more likely to recommend it to a friend," she writes. "Word-of-mouth recommendations and readers' reviews are a major consumer influencer so offering free books or down-priced books for a limited time is a great way to grow your audience," she notes.
Kudler says marketing is the hardest part of publishing. "The marketing thing is the challenge," he says. "Having a partner, whether that's a publisher or, if you are self-publishing, having somebody that you hire or that is your best friend… contacting media and contacting potential reviewers and contacting your mailing list and doing all the things that are unbelievably mind- and time-consuming and take you away from all of the things that make you want to write, that is invaluable."
Over the long haul, Kudler thinks the marketing challenge will keep the major publishers relevant. Although the wild democratization of the marketplace has been very hard for large publishers, Kudler says, "I think the big result in the long term is that it will in fact lead to a stronger industry," he says.
Kudler envisions the industry evolving into a structure kind of like that of certain professional sports, such as American baseball, which is divided between minor league teams and major league teams.
Enjoying what you're reading?
Sign up to our monthly newsletter to get more China insights delivered to your inbox.