Share

Your Trade Move
How does China fit into the world's complex web of trade agreements?
In April 2021, China ratified one of the biggest multinational trade deals ever reached—the Regional Comprehensive Economic Partnership (RCEP), which encompasses 15 countries in East Asia and slightly beyond, setting the groundwork for the launch of a grouping that could further boost China's already dominant role in global trade. Japan and Singapore are the only other signatories to join China in the ratification of the partnership, but six more countries are required to ratify the agreement for it to take effect.
The RCEP agreement, signed in November last year after eight years of negotiations, is the largest regional trade grouping ever created, encompassing 30% of the world's population and 30% of global GDP. But notably absent from the list of RCEP member countries are India and the United States, increasing the likelihood that China will be the core player in the organization.
India was part of the initial RCEP discussions, but decided in 2019 not to take part, basically for fear of the Indian market being overwhelmed by Chinese imports. And the US has for several years followed its own path on trade groupings—in the Obama years, the US promoted the Trans-Pacific Partnership (TPP) which was expected to not include China, but Donald Trump canceled that plan right at the start of his presidency in 2017 and followed the path of bilateral trade wars and tariffs in an effort to influence China's trade and economic practices.
Then came Joe Biden's win in the US presidential election in November, raising the possibility of a new direction in US policy, and China was eager to get the RCEP signed, sealed and delivered ahead of his inauguration in January.
"I think they felt this was their opportunity to get an upper hand over the US," says Jayant Menon, a visiting senior fellow with the ISEAS Yusof Ishak Institute's Regional Economic Studies Program in Singapore.
"RCEP is seen as China's victory against Trump's anti-China policy and Biden's China-containment coalition," adds Yun Sun, East Asia Program senior associate with the Stimson Center in Washington. "It is regarded as China continuing to emerge and gain regional momentum despite US hostility, a sign of regional support for China's leadership."
An intricate game
The jigsaw puzzle of global trade arrangements, generally aimed at reducing tariffs and other obstacles to trade between member countries, has become increasingly complicated in recent years as disillusionment has grown with the World Trade Organization. A growing list of disputes and problems, along with stalemate on reforms of the organization, have led to a plethora of bilateral and regional trade agreements designed to streamline trade between partners.
"The reform of the WTO is seen as a challenge for the long term, with little expected in the short or medium term," says Menon. "This is why there is a sustained interest in the pursuit of bilateral and regional trade deals."
Immediately after the RCEP signing, Chinese leader Xi Jinping announced that China was also considering joining the Comprehensive and Progressive Agreement for Trans-Pacific Partnership (CPTPP), a trade grouping of 11 countries including Japan, Peru, Vietnam and Australia created in 2017 to replace the US-backed and then abandoned TPP. The irony is that the TPP was originally envisioned as an organization that would exclude China. "The TPP would let America, not China, lead the way on global trade," former US president Barack Obama said in May 2016.
"China's interest in the CPTPP is to demonstrate their commitment to participating in trade agreements and to show they have support from within the group," says Derek Scissors, resident scholar at the public policy think tank American Enterprise Institute (AEI).
The right pawns
China is easily the world's biggest trading player by volume and value of exports and imports. Through the matrix of trade deals, China is looking to expand its influence while securing the sources of raw materials it needs and the markets for its products. Creating stable long-term trading relationships with countries that supply essential ingredients for manufacturing and growth is a major priority in light of Beijing's perception that the US and others are looking to constrain China's development.
"When you're that big with such a large industrial base, concern about raw materials is natural," said Song Seng Wun, an economist in the private banking unit of Malaysian bank CIMB.
Data from the Asian Development Bank shows that China has signed or is in negotiation on 47 separate free trade agreements (FTA), most of them bilateral. Eighteen are signed and in effect, and four others are signed but pending a formal launch. In most cases, China is the biggest trading partner within these partnerships.
An FTA with New Zealand signed in 2008 was among the earliest of such agreements, and has created a structure the Chinese government felt comfortable with. Under the New Zealand agreement, tariffs on 97% of the country's exports to China were eliminated, thus giving China greater access to the New Zealand market. Red tape was reduced, and trade dispute settlement procedures were simplified. Between 2008 and 2018, New Zealand's annual two-way trade with China quadrupled to $20 billion.
All the trade deals involve cuts in import tariffs for each side and a degree of opening of one another's markets to trade in both goods and services. Market liberalization is meant to be reciprocal. The RCEP calls for pass-through imports, the smoothing of e-commerce procedures and easier procedures for factories outsourcing across borders, says Frederick Burke, partner with the law firm Baker McKenzie in Ho Chi Minh City. "For instance, a Vietnamese product for which most of the materials are sourced from China that make it ineligible for tariff preference when exporting to Australia, Japan or Korea now can enjoy a tariff lower than the most-favored nation rate thanks to the RCEP," Burke says.
China's commerce vice minister Wang Shouwen has said that the RCEP will remove tariffs on nearly 30% of China's exports.
Adrian Lorentz, chief operating officer with Teleport, a logistics venture under Malaysia-based airline AirAsia, says China's entry to the RCEP opens up opportunities for business expansion. "This partnership is expected to further simplify the barriers we still face today," he says.
Between 2017 and 2021, the Trump administration canceled, ignored or undercut many multilateral agreements, including the North American Free Trade Area (NAFTA) linking the US with Canada and Mexico. In 2018, the US under Trump launched a trade dispute with China that resulted in the addition of tariffs to $550 billion worth of Chinese shipments to the US and $185 billion in US goods headed the other way. The Biden administration has so far not removed those tariffs.
The dispute prompted China to steer exports towards markets other than the US, including Southeast Asia, which form the core of the RCEP. "China was able to compensate [for the US-China trade war] by ramping up sales to nearly everyone else," the Carnegie Endowment for International Peace report said in 2020.
In 2019, the 10-country Association of Southeast Asian Nations (ASEAN) overtook the US as China's second-largest trading partner after the European Union, the report said, and trade between China and the ASEAN countries has in most cases continued to grow, partly as a result of the Belt and Road Initiative, the Chinese strategy for extending economic and transport links through Central Asia, Africa and elsewhere.
The Ministry of Commerce says it is working on a three-way pact with Japan and South Korea, and an agreement under discussion with the Cooperation Council for the Arab States would be important in helping to ensure supplies of raw materials, according to Zhao Xijun, Associate Dean of the School of Finance at the Renmin University of China. "The Middle East is a major energy producer and it is key for China to build better relations with them as energy supply stability is very important," Zhao says. "This agreement will be quite effective for the production chain."
Grandmaster moves
Trade deals which open up other markets matter to China because they can help companies break out of the domestic market, which is saturated in sectors such as consumer electronics, and give its manufacturing sector—accounting for 40% of GDP—a lift through lower tariffs on exports. "It just creates opportunities for your businesses," says Song. "These deals are more important to China itself than what the US is up to or not up to."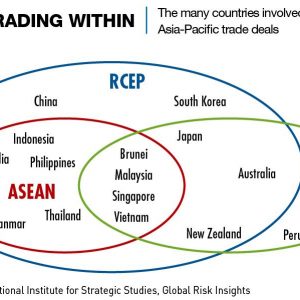 But the Chinese government tends to prefer bilateral deals over regional ones because they give China as the larger nation more negotiating power, says Menon. "Chinese negotiators may push countries to open markets without opening its own [to the same extent."
"Two-way deals compared to wider ones stress 'flexibility' for each side to drop barriers on shipments from the other," adds Zhao.
Existing Chinese trade deals are basically aimed at protecting domestic market access, says AEI's Derek Scissors, while benefitting the "highly competitive" export sectors such as consumer electronics. "China is entirely willing to drop its tariffs," Scissors says. "It's not at all willing to curb the privileges of its state-owned enterprises. As a result, there is no such thing as a free trade agreement with China."
China stands out, too, for the diversity of countries with which it has concluded free trade agreements, from tiny Costa Rica in the Americas and the former Soviet republic of Georgia to its political ally Pakistan in west Asia. China finalized its first free trade pact with an African nation in January this year by signing a deal with Mauritius after three years of talks, the state-owned Global Times newspaper reported.
Checkmate!
China became what it is today, the factory of the world and the number one trading nation, thanks largely to the agreement which allowed it to accede to the World Trade Organization in 2001. The deal was to a large extent based on the premise that China would change many of its economic policies within 15 years of joining to match those of the other major trading nations of the world, but the premise turned out to be flawed.
China did not completely conform as the US and other countries had hoped, said the Council on Foreign Relations think tank in a recent study. Instead, the report said, China was "taking advantage of provisions that suit its interests while skirting less convenient restrictions." It says some among the WTO's 164 members have accused China of "market-distorting practices" and "cheating the system in various ways". China riles some peers by taking actions to subsidize or provide extra support to certain domestic companies, an approach that arguably goes against WTO principles.
"WTO membership allowed China both access to global markets and continued abuse of WTO principles with regard to subsidizing its state sector," Scissors says.
China, for its part, denies any wrongdoing, and the WTO in 2018 ruled that the additional tariffs levied on Chinese goods by the US violated international trading rules.
In any case, the WTO has lost much of its global clout because the Trump administration sidelined it, blocked its dispute resolution system, and "effectively dismembered it, by refusing to reappoint members to the appellate body, and thereby deny it a quorum," says Menon.
But the WTO may still provide a solid basis for organizing international trade, and as Burke says, "Biden represents a course correction, re-committing the US to the rules-based global trading system." China said in a 2018 position paper that it supported reform of the WTO "to enhance its authority and efficacy, to build an open world economy" by addressing an "imbalance of trade rules" and called for "safeguards" for developing countries.
The Nigerian-American economist Ngozi Okonjo-Iweala took over as WTO Director-General in March 2021 and quickly said that China would be central to any changes to the organization's rules and procedures.
The WTO's dispute settlement system is a major problem, and China and the US are the countries most frequently either accusing others, or being accused by others, of inappropriate trade practices. In total, the US is involved in more than five times as many WTO trade disputes as China, according to the World Economic Forum.
In the absence of progress on resolving WTO issues, countries in Asia will increasingly look to alternative ways of managing trade relationships, says Liang Kuo-yuan, president of the Taipei-based economic think tank Polaris Research Institute.
"The WTO has a lot of problems and one is the number of member countries is too big, the levels of economic development are too varied," Liang says. "So, everyone is thinking, what are the alternatives? They have the RCEP—the number of countries won't be so large, plus they've got closer ties in terms of economy, politics and culture."
This could in fact be China's strategy in dealing with the WTO impasse.
"I'd think mainland China's intention is, if regional agreements can replace the WTO, then it will take that direction," Liang adds. "It can be the top player—its economy is massive."
You may also like
The last few years have not been kind to Huawei and questions remain about how the company moves forward.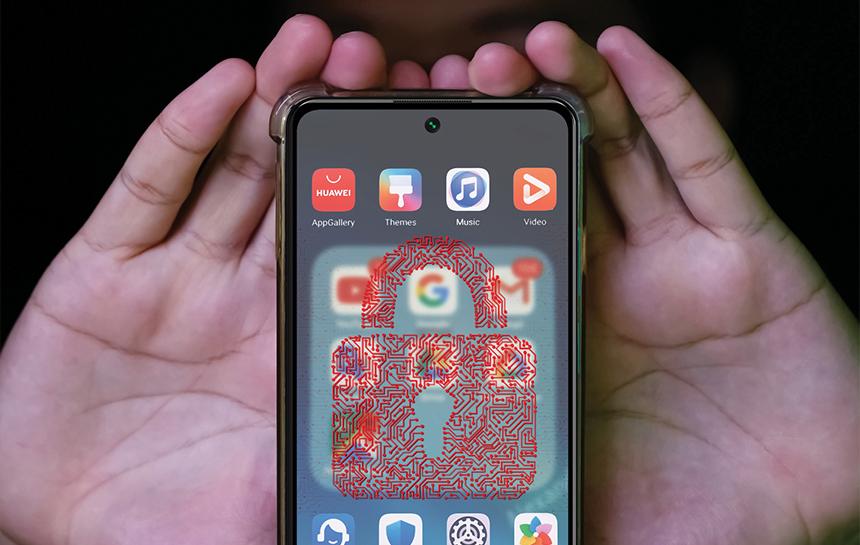 | Mar. 3 2023