Share

Learning from the Rust Belt: How to Revive Northeast China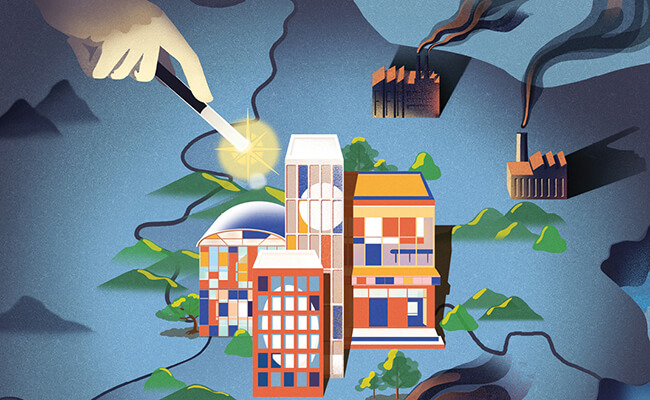 China's once-mighty industrial heartland in the Northeast has fallen on hard times in recent years. Could the key to its revival lie in the American Rust Belt experience?
When Li Junwen left her hometown of ebtalian in China's Northeast and flew to Detroit to begin her master's degree at Michigan State University in 2016, she felt oddly at home. The vacant lots and abandoned factories her taxi cruised past in the center of Detroit reminded her of rundown districts in northeastern China.
"You can tell both are not as prosperous as they were before," says Li. "They're really similar."
Though separated by more than 10,000 kilometers, Li's home region does share much in common with the Rust Belt states of the United States. Like Michigan, Indiana and Pennsylvania, the Chinese provinces of Liaoning, Heilongjiang and Jilin, once known as Manchuria and now collectively referred to as Dongbei (which means "the Northeast" in Mandarin Chinese), used to be the engine room of the economy, but in recent years have fallen on hard times.
"After 1949, the Northeast was important because of the steel industry and the coal industry," says Li. "But after the industry went, the glory faded."
As happened in the US Rust Belt, Dongbei's once-mighty industrial firms—almost all of them state-owned—started to struggle in the 1980s. They have been in decline ever since, leaving local governments with a cluster of problems that would be instantly recognizable to policymakers in Gary, Indiana, or Pittsburgh, Pennsylvania.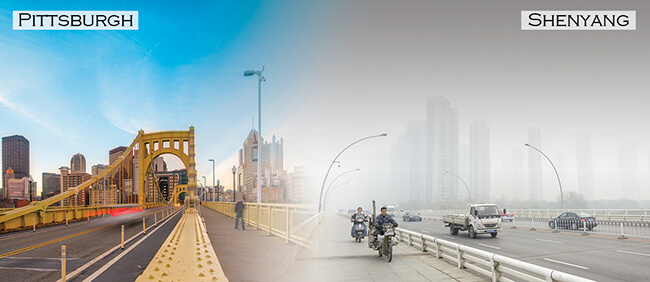 "You've got similar concentrations of heavy industry and debt levels, you've got similar environmental problems because of the heavy industry concentrations and you have difficulties in attracting newer industries," says Andy Rothman, Investment Strategist at Matthews Asia.
But unlike its counterparts in the West, which have now largely transcended the phase, the decline of heavy industry in China's northeast Rust Belt is still taking place. "Over the last three years, we've seen the number of steel workers go down by more than a million and the number of coal workers fall by more than a million," says Rothman. "Add in about half a million ship workers, and you're talking about job cuts that are equal to sacking the entire population of Chicago."
What's more, it remains unclear what will happen once the layoffs finally run their course. "There's actually a big national debate around what the best path forward is," notes Andrew Polk, Co-founder of advisory firm Trivium/China. "How to fix Dongbei is still a wide-open question."
In August, Justin Lin, the World Bank's former Chief Economist, sparked a heated debate in Chinese policy circles when he published a landmark report on Dongbei. He argued that the region's best shot at recovery lay in replicating the model that turned coastal provinces such as Guangdong into thriving economic centers—a strategy based on low-wage light manufacturing.
Some analysts have questioned Lin's logic. They point out that there are geographical problems associated with manufacturing in the relatively remote Northeast with its freezing winters. The relatively high wages and job security generally provided by China's state-owned factories also make it difficult for private manufacturers to compete.
"You can't compare it to Guangdong. For people from the rural areas, a job in a factory in Guangdong was a step up," argues Paul Armstrong-Taylor, a professor at the Hopkins-Nanjing Center, Nanjing University. "It's very easy to get people to take a step up, quite hard to get them to take a step down."
Instead, Dongbei may be better off looking West, and learning from the experience of the United States and its former industrial heartland.
Decline and Fall
For proud locals such as Mr. Qu, a municipal official in Fushun, Liaoning province, the Northeast's current problems are even harder to take because of the status his region used to enjoy within China.
For most of the 20th century, Dongbei was the most modern and wealthiest region in China. Japan annexed the resource-rich area in the 1930s and turned it into China's first industrial center, building the railways and modern factories they needed to fuel their imperial ambitions. After the Communist Party took over the mainland in 1949, Dongbei's heavy industry became the driving force of the economy.
"After the founding of the People's Republic of China, the Communist Party made use of the industrial foundation left by Japan and vigorously developed the state-owned economy," says Qu. "For a long time after the founding of New China, Dongbei's economy was the strongest in China and the level of urbanization was also the highest, because at that time most other regions in China were mostly agricultural."
But things changed following the death of Mao Zedong in 1976 and the rise of Deng Xiaoping in 1978, as China gradually began to reform its overwhelmingly state-run economy. The Northeast could not compete in a more market-driven, export-led economy, since the provinces on China's southern and eastern coastline had easier access to global markets and cheap labor.
Slowly but surely, Dongbei began its descent from economic dynamism to dependency. In 1978, Liaoning, Heilongjiang and Jilin were the fourth, fifth and eighth richest provinces in China, respectively. By 2016, they had slipped to 12th, 14th and 22nd.
Even these statistics do not reflect the depth of the region's problems. "The national trends that worry people in China tend to be concentrated in the Northeast," observes Rothman.
The region's economy remains dominated by old state-run industrial groups that, despite decades of reforms and layoffs, are still hemorrhaging money. They remain open mainly due to massive government subsidies. "The situation of state-owned enterprises has slightly improved, but the underlying economic problems remain prominent," says Qu.
State factories and mines are continuing to shed millions of jobs. The Chinese Academy of Social Sciences has predicted that China's coal industry alone will cut its workforce by a further 2 million by 2020. And with growth almost non-existent, the region is also suffering from a severe brain drain as people seek their fortunes elsewhere. More than 2 million people left the region between 2000 and 2010, and the young and educated are ever more likely to leave.
"Two-thirds of my classmates have gone to another city to find jobs," comments Cui Mengmeng, who grew up in Heilongjiang, but has since moved to Shanghai. "There are not enough opportunities for the young to stay. That's [Dongbei's] biggest problem."
Faced with crippling debt, mounting job losses, terrible levels of pollution and a shrinking population, the region's situation appears almost hopeless. Yet, the US Rust Belt states faced a similar set of challenges toward the end of the last century. How they dealt with these problems could provide a useful reference for Dongbei as it searches for a road to revival.
Putting the Lid Back on Hell
Jim Biancotti still remembers the crash of the early 1980s as if it was yesterday. At the time, he was just a few years into his career as a manager at the United States Steel Corporation facility in Gary, Indiana, one of the biggest steel mills in the country.
For decades, companies like US Steel had made enormous profits and provided jobs for millions of Americans, thanks to the global dominance of US industry. At its height in 1950, 43% of the US workforce lived in what is now known as the Rust Belt.
But by the late 1970s, all was not well at US Steel. "In addition to foreign competition, we also had internal competition, called mini-mills, which were non-union but had more modern equipment," Biancotti recalls. "We needed 30 per shift, they needed 10. And they made more—they were running at three, four, five times the production."
In an echo of today's China, the Rust Belt's lumbering giants had been left behind by more agile, modern competitors in the US South. In 1982, the managers at the Gary plant came to a grim realization. "We cut back, or we close down," Biancotti summarizes. "We took a 40% cut in the manpower—four out of every 10 were just let go."
Over the following years, the cutbacks at Gary were replicated at manufacturers all through the Rust Belt as jobs moved south or overseas. By 2000, the Rust Belt accounted for only 27% of the US workforce.
The subsequent history of the US Midwest shows just how great a challenge China will face rejuvenating the Dongbei economy. Many parts of the Rust Belt
never fully recovered from the closures of the 1980s. Detroit is the most notable example. It lost 29% of its population between 2000 and 2016 and was forced to declare bankruptcy in 2013—the largest US city ever to do so.
The Detroit bankruptcy highlights a clear difference between the US and China. In China, the government has never allowed any local government to go bankrupt, and only a handful of state-owned enterprises have ever done so—and then only in highly-controlled circumstances.
A "Revitalization" plan for the Northeast in 2003 largely became a means of pumping funds into the region's debt-laden state-owned firms to keep them afloat. The problem was that, until recently, the companies and officials in the Northeast knew that the central government would not allow them to go bankrupt, so there was little incentive for them to fix the underlying problems.
This is not to say that shock therapy would cure all of Dongbei's ills. Even today, the US Rust Belt region has an unemployment rate of 15%, far higher than the national average of 6%. As many analysts have noted, it was precisely these left-behind Midwestern communities that propelled Donald Trump to the White House in 2016.
Yet, there are examples of cities that have managed to turn their fortunes around, not least the home of US Steel. The people of Pittsburgh suffered terribly after Steel City's famous mills stopped belching smoke, with unemployment hitting 17% in 1983. Today, the city that writer James Parton once described as "hell with the lid taken off" is almost unrecognizable, according to John Mauro, a local business owner.
Turning Pittsburgh into a pleasant place to live was at the heart of Mayor Richard Caliguiri's Renaissance II program, which has been widely credited with transforming the city into a burgeoning tech hub. "It was about rejuvenating the city—tearing down the old dilapidated buildings, putting up new buildings, resurfacing the streets, bringing new businesses to the city," says Mauro.
When Mauro was a child in the 1960s, he remembers barely being able to see Pittsburgh from the top of Mount Washington on the city's outskirts due to all the smoke rising from the steel mills. "But now, you look at the city and it's fantastic, beautiful buildings," he enthuses. "We have parks, recreation centers—it's a wonderful city to look at."
This improvement of the city's urban environment helped it take advantage of its traditional strengths in areas such as research, where Carnegie Mellon University's robotics institute was world famous. "University of Pittsburgh, Duquesne, Carnegie Mellon, they… brought in a lot of the technology and things like that that really have ramped up the city over time," recalls Mauro.
Among the Fortune 500 companies to set up shop in Steel City were Google, FedEx Ground, Heinz, PNC Financial Services and Westinghouse, while the University of Pittsburgh Medical Center now employs 40,000 people. The influx of high-paying jobs also helped revive the city's downtown area, where the population has increased 40% between 2000 and 2014.
The question is whether the model that worked for a city of 300,000 in the US Midwest could be applied in a region of over 100 million people on the other side of the world.
East Meets West
Whether Dongbei can transform into a modern high-tech hub remains to be seen. The region does have one major advantage over the US Rust Belt, Matthews Asia's Rothman points out. "Fortunately, one of the main differences is that the Chinese government has more resources at its
disposal to throw at the problem," he says.
In 2016, Beijing announced that it planned to invest RMB 1.6 trillion ($232 billion) in the Northeastern provinces over the next three years. Unlike previous cash injections, which were usually used for little more than propping up struggling state-owned companies, the government has stressed that this latest tranche will be used to promote reform and investment in the private sector.
But if this money is to be put to good use, Dongbei first needs to fix a problem that the US Rust Belt cities never faced—the corruption, inefficiency and unfairness caused by its overbearing state sector. "Unlike the Rust Belt region, the decline of the economy in northeast China is… mainly because of the planned economy," observes Jason Lee, analyst at China Market Research Group. "The planned economy assigned too much power to government, causing corruption between government and enterprises."
Even Qu, the Fushun official, blames Dongbei's local governments for the region's problems. "The governments' work style is poor. As a result, many businesspeople do not trust the local governments in northeast China," he says.
The region also urgently needs to develop a clear strategy for how it plans to replace the millions of jobs being lost in the primary sector. Pittsburgh prospered by identifying five industries it wished to target and rallying government, business and community groups around a common goal, but this kind of planning appears absent in Dongbei.
"Although they are talking about promoting new industries, the plans are still very vague," says Sabrina Wei, Head of North China Research at real estate services firm Cushman & Wakefield.
According to Wei, Dongbei's provincial governments are currently focusing on linking up with two national strategies—the Belt and Road Initiative and the integration of Beijing, Tianjin and Hebei province. "But, so far, we haven't seen any major initiatives happen regarding those two strategies," she adds.
Polk is also skeptical about the potential benefits of the two strategies, particularly the idea of creating an economic belt linking Dongbei, Mongolia and Russia. "The Belt and Road is not a macroeconomic panacea, whether for China or Dongbei," he says. "They can't invest enough in eastern Russia to make a difference for the Dongbei economy. The macro numbers don't make sense."
Another lingering question is how to stop the region's brightest young talents from fleeing south in search of opportunities. Andrew Batson, Research Director at consulting firm Gavekal Dragonomics, has suggested encouraging China's top universities to set up schools in the Northeast, though others have pointed out that the region is already home to three of the country's top 25 colleges and it has not stopped the brain drain.
Alternatively, Dongbei could take inspiration from Pittsburgh, and focus simply on making itself a more pleasant place to spend time. "The only real way I can see things growing again is by making the cities into really cool places to live," says Jacob Gunter, a policy coordinator at the European Union Chamber of Commerce in China, who stressed that he was speaking in a personal capacity. "As the middle class rises in China, young people might value quality of life and creativity over higher salaries in the overworked south."
Polk makes a similar point. "One untapped potential in the Northeast is tourism," he observes. "It's a beautiful area."
Fortunately, the region is likely to become a nicer place naturally as industry recedes. "Shutting down excess capacity means that you can deal with the debt issue and the pollution issue at the same time," points out Rothman.
If Dongbei can solve its governance and environmental problems, it may just stand a chance of convincing more companies and talent to give the Northeast a try. As Rothman observes, "That's not necessarily going to create an opportunity for a 50-year-old laid-off steel worker, but it may be an opportunity for his kid."
You may also like
China's progress on the UN's Sustainable Development Goals is mostly limited to existing national priorities.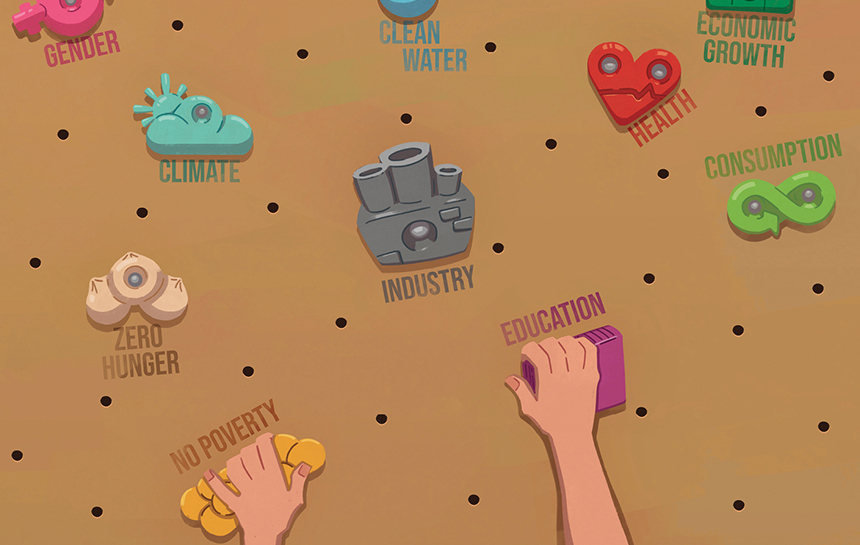 | Jun. 9 2023