Share

One Virus, Two Systems
China was the first major economy to recover from the COVID-19 pandemic. How did its economy bounce back so quickly?
In early 2020, as China went into military-style lockdown to combat the virus, Jasmine Xiao suffered sleepless nights worrying about her only child and her husband whose job as a supply chain manager for a state-run car factory in Shanghai was suddenly on hold.
"He did not share much in order to keep me calm, but I could tell from reading online that the situation was bad," says Xiao. The teacher-turned-housewife fretted as pressure from her husband's lost work and diminished wages mounted—their weekly household budget was trimmed by one-fifth, forcing the family to pause repayments on their car loan. Friends also suffered—Xiao recalls consoling a neighbor who lost a seven-figure investment in a restaurant after it closed in May 2020, less than six months after opening.
As the lockdowns ravaged demand for everything from autos and consumer goods to electricity and metals, China's economy in the first quarter of 2020 contracted for the first time in more than 40 years. No one knew where the bottom was. "It really did feel like wartime around February and March when the lockdowns were in full swing," says Bo Zhuang, Chief China Economist at research firm TS Lombard.
But those days are now just a distant memory for Xiao. Even as most of the world is still mired in pandemic-related crises, things are looking up again in China. Production at Xiao's husband's car factory has returned to peak capacity as optimistic consumers have resumed spending. "I feel relatively confident about the future again," says Xiao.
China has weathered the economic fallout from COVID-19 better than any other major country, eking out reported gross domestic product (GDP) growth of 2.3% last year amid a shattered global economy. After the disastrous first quarter, with borders firmly closed and everyone sheltering in place, the economy quickly recovered in the second and third quarters. By the fourth quarter, life had returned to normal, exports were booming, and the economy was surging more than enough to offset the negative first quarter.
By comparison, the European Union's economy shrank by 6.4% last year, the United States was not far behind with a 3.5% contraction. In India, the impact of lockdowns and other efforts to control the COVID outbreak downsized the economy by an estimated 9.6%.
China's growth was boosted by big state-backed infrastructure spending and real estate investment, plus a windfall surge in exports—including medical and personal protective equipment (PPE), such as respirators, masks and gloves, as well as work-from-home-related electronics. Then came a quick recovery in individual consumption as confidence returned.
The export surge was best reflected by the hottest commodity globally for the past year—the face mask. More than 224 billion masks were exported from March to December 2020, equivalent to nearly 40 masks for every person outside the country, according to China Customs data. The shipments were worth RMB 340 billion ($52 billion), accounting for 2% of exports for the year.
Maintaining control
With China back to normal and much of the rest of the world still deep in crisis, the question is, what did the government do right? The first answer is that after an initially slow response to the virus outbreak in the central city of Wuhan, the authorities took decisive action in January 2020, locking down Wuhan and effectively putting Hubei province's 60 million people under house arrest. The rest of the country followed suit, with the sudden imposition of social controls previously unheard of, even by China's standards. It was total, rigorous and authoritarian, and it worked.
"The cultural factor was pretty crucial because Chinese people respect authority," says Dan Wang, Chief Economist at Hang Seng Bank China. "This is common throughout Asia, but it is on another level in China. People put the collective interest ahead of their own automatically."
The civil obedience paid off spectacularly. China has officially reported a total of 89,564 COVID cases and just 4,636 deaths up to the end of February 2021, with just two fatalities since May 2020. By contrast, the US topped 10 million infections in November 2020 and passed 500,000 deaths in March. Europe was similarly hard hit.
From an economic perspective, the strict control initially looked like a mistake, but it turned out to be the smartest response in terms of fast economic recovery.
"Being first in and first out of the COVID crisis was a big help," says David Hoffman, Senior Vice President for Asia and Managing Director of The Conference Board China Center for Economics & Business. "It's quite impossible to have a stable recovery in an unstable public health environment. There's no question that China has done an exceptionally good job in containing the virus and that has led to good economic performance vis-a-vis other economies."
"Virus control was perhaps the most important factor," agrees TS Lombard's Zhuang. "The country was able to stamp out the virus and that helped insulate the economy to keep it growing."
Mask wearing was mandatory from the start, and social distancing and temperature testing remain rigorous everywhere. Inoculation rates are low, but it doesn't matter because the virus was allowed to gain a foothold after the initial surge.
China's fight against the virus also made full use of high-tech as the authorities leveraged the country's sophisticated surveillance systems, ubiquitous mobile apps, facial recognition and drones to enforce lockdowns and quarantines. As these tools were already in place at scale, authorities were able to hit the ground running in using them to contain outbreaks.
"Things like track and trace sound simple but they're really not," says Zhuang. "China was able to lock down an individual district or neighborhood while keeping the rest of the city open."
Much of the white-collar work shifted online in the initial weeks of the pandemic, and the well-oiled machinery of delivery services, honed by years of e-commerce growth well ahead of the rest of the world, allowed large parts of the economy to keep moving with hardly a hitch. The strict implementation of controls initially helped to restore confidence and economic activity quickly once controls eased.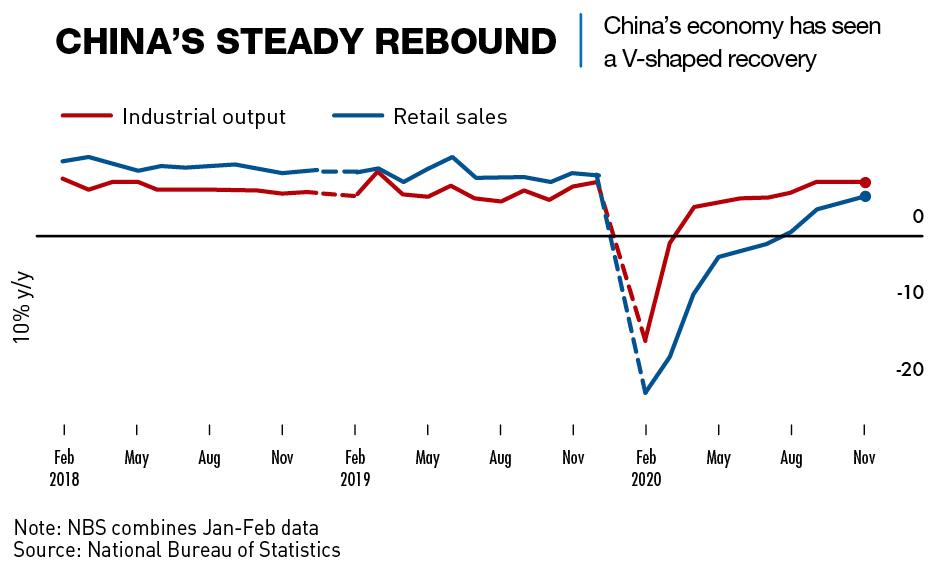 A shot in the arm
Factories restarted before the rest of the world and were running at more than 90% of normal levels by the end of May 2020, according to a production activity tracker compiled by China International Capital Corp. "Manufacturing capacity filled up with orders in China because capacity elsewhere was offline due to COVID-related shutdowns. That was a surprise and a positive for China," says Hoffman.
There was another important factor in fast recovery: the deployment of stimulus measures by the authorities. Among other measures, they targeted the country's 50 million small and medium-sized enterprises (SMEs), which account for 80% of urban jobs, 60% of GDP and about half of national tax revenue. SMEs were particularly vulnerable to the economic downturn, and Beijing freed up funds for the state banks to boost lending to SMEs, especially in mid-2020 when many companies were wondering if they would have to close for good and fire all staff.
But large flows of stimulus funds also went through state-owned enterprise channels, even though the authorities tried to avoid the massive injections of funds seen in many countries. They feared adding to the already high debt levels dating from stimulus splurges after the Global Financial Crisis a decade and more ago.
"I suspect we will see that there's been considerable overproduction and overcapacity, and building capacity. But producing ahead of demand is never healthy," says Hoffman. "Beijing had been doing quite a decent job of reducing government-directed infrastructure spending, through bond financing as a primary financing vehicle, getting more transparency and public-private partnerships into infrastructure, which would make it more commercially rational. And then it stopped doing that in response to COVID."
Private businesses, which were already struggling from the fallout of the China-US trade war, still suffered from the effects of the pandemic. "Last year was a reinforcement of a [pre-pandemic] trend—the state sector got stronger," says Wang. The strengthening of state-owned enterprises (SOEs) has been a clear goal of the leadership for years, especially in cutting-edge technologies and capturing a larger share of the global market, according to Wang.
"But after the pandemic, they took on additional social responsibilities, such as employment—many SOEs were required to take in additional headcounts, especially fresh graduates. And then they may also have to invest in large projects that are definitely not profitable," she says.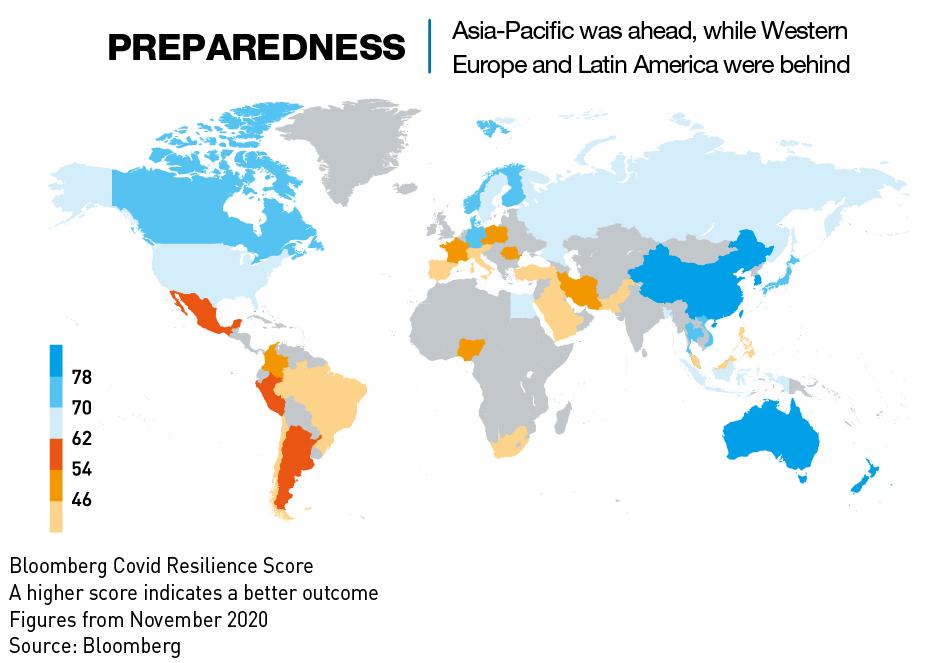 Caveats remain
The way China powered its way out of the economic crisis was impressive, but the rebound comes with caveats. Hoffman says last year's growth exposed the famous four "Uns" listed by then Premier Wen Jiabao in 2007, who said the economy was increasingly "unbalanced, unstable, uncoordinated and unsustainable." The challenge is sustaining the recovery.
The heavy reliance on infrastructure spending and exports of manufactured goods meant economic growth in 2020 was highly unbalanced. This set back longstanding efforts by Beijing to tilt the economy toward more domestic consumption and away from investment and exports.
"Third and fourth-tier cities usually account for more than half of the total retail market but their share dropped by nearly six percentage points last year," says Wang. "That's significant given how many of these cities there are, and the below-average spending compared with first- and second-tier, and it signals many people have been affected."
That has been reflected in consumption data, which has lagged the robust export and industrial output performances. Retail sales shrunk by 3.9% in 2020 while demand for imported goods fell slightly, indicating a round of belt-tightening by consumers.
Consumption concerns
Jasmine Xiao, the Shanghai housewife, is one of the many consumers wary about spending too much, and she has scaled back on discretionary spending to buttress her household's rainy-day funds. "The uncertainty and anxiety a year ago was a wake-up call," she says. "My family needs to build up our resilience so that an even bigger crisis does not overwhelm us."
Indeed, the latest survey of urban savings by China's central bank found that 51.4% of households in Q4 2020 planned to save more, up from 45.7% a year earlier. TS Lombard's Zhuang says this reflects how COVID-19 exacerbated structural problems that have long curbed consumers' spending power, such as a widening wealth gap, a heavy reliance on inefficient state-owned enterprises and the lack of a comprehensive social safety net.
Such longer-term issues pose a problem for Beijing's "Dual Circulation" economic strategy, first announced in May 2020. The plan, which proposes focusing on the domestic economy to drive future growth, requires a larger contribution from small businesses in creating consumer demand through secure jobs and income—precisely the two areas currently facing problems.
"I just can't see consumption rebounding anytime soon—even in this year—because the unemployment rate is high outside big cities and wage growth has slowed," says Hang Seng Bank's Wang.
China's official unemployment rate stood at 5.2% in December, on par with the 2019 average and down from February 2020's historic high of 6.2%. But there is longstanding skepticism over the reported jobless numbers.
The economy will likely continue to rely on the same drivers that helped propel it to growth last year. "The traditional drivers are still housing, infrastructure and finance. They contributed a lot of 2020s growth and continue to be the most important drivers," says Wang. "I don't think this year will be that different."
But the speed with which the rest of the world recovers also has a significant impact on China's economic outlook. "The longer there are lockdowns elsewhere, the better for China," says Zhuang. "China is being protected right now by how bad it is everywhere else. But in the post-COVID world, there could be a very harsh payback period both economically and politically."
You may also like
CKGSB's Business Conditions Index, reflecting confidence levels in China business, shows big improvements in China's economic outlook.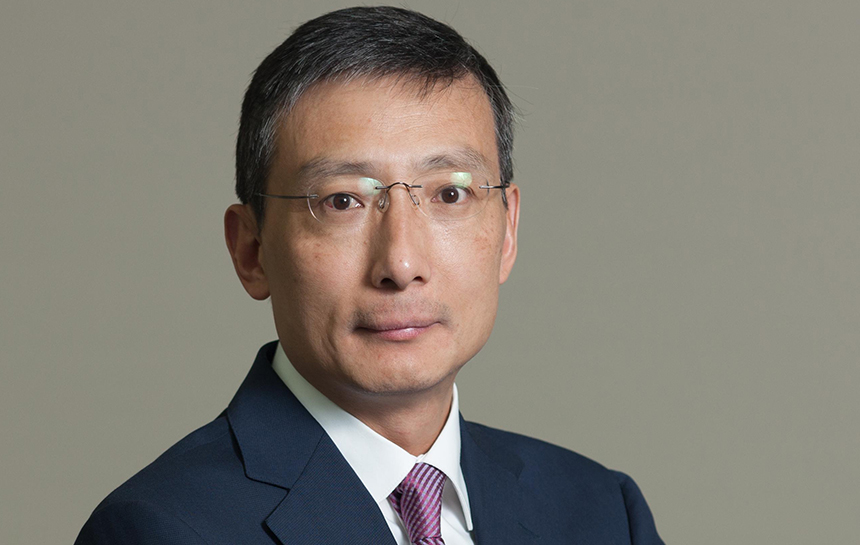 | Jun. 6 2023