Share

See in the Darkness: Cai Shiyin Discusses How Dialogue in the Dark Develops in China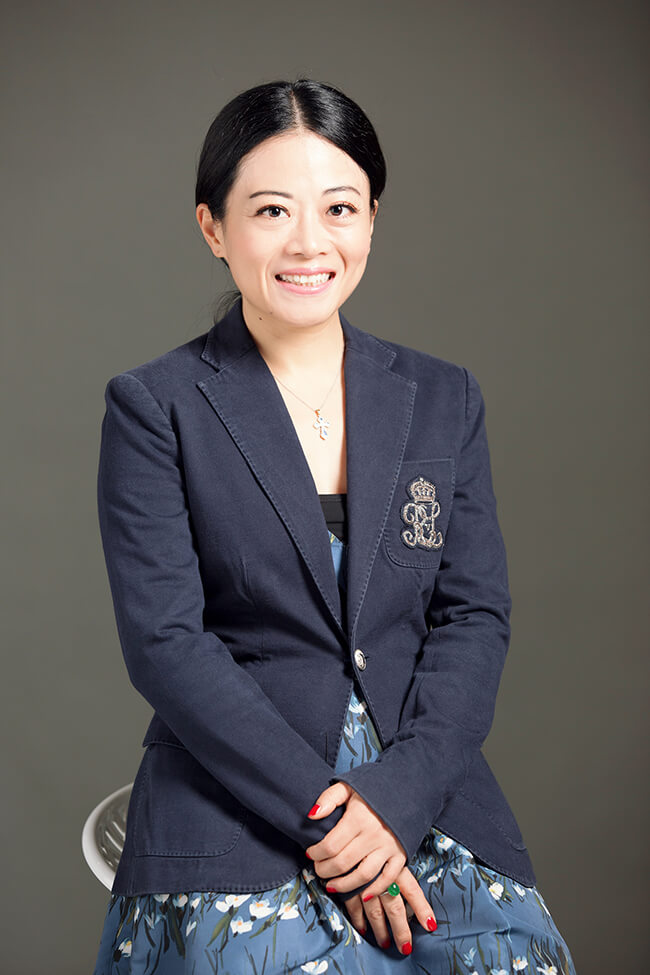 "Human beings cannot see with their eyes in absolute darkness, but they can see with their mind," says Cai Shiyin, an entrepreneur who started the social enterprise Dialogue in the Dark in China.
Cai's work and life was once "perfect" to many—she grew up in a wealthy family, received good grades in school and entered top academies in China and in the US, before working at General Electric and becoming GE's CTO in the Asia-Pacific region. She also had the chance to realize her childhood dream of starting her own fashion brand.
However, Cai's life path took a different path after she had her first experience with Dialogue in the Dark, a social enterprise started in Germany in 1988 that puts people into complete darkness and then guides them through different kinds of activities with the help of visually impaired people.
In absolute darkness, Cai drank coffee, wandered in "parks" and sat down in "bars"—all simulating real city venues—just with no light at all.
She said the 75 minutes in the darkness was a complete "eye opener." She soon started working at Dialogue in the Dark's headquarters in Germany in 2009 and brought it to China two years later.
Currently operating in three venues in Shanghai, Shenzhen and Chengdu, respectively, Dialogue in the Dark China offers customized training to companies and also sells tickets to individuals. Over 70% of its employees are blind people. Cai thinks such darkness training not only gives people a chance to find their own problems in life and work, but will also gradually change stereotypes of blind people: They can do just as much as normal people.
What was your first experience with Dialogue in the Dark like?
That was in 2009. At that time, I'd already been a volunteer for a blind school in Tibet for almost half a year. A friend of mine in Atlanta knew that I was doing work with blind people, so she suggested visiting to the Dialogue in the Dark exhibition in Atlanta.
I still remember that that day there was a thunderstorm, so we were the only two people in the exhibition. We bought a ticket and we just went in, and had a tour of 75 minutes in the dark. For me that was my first experience in pure darkness and it was very exciting. I am one of those people that is not really scared of the dark. And it is completely an eye opener.
You close your eyes, but actually they are opened in a way. To me, that was the first experience I realized that even if your sight is blocked, you're still capable of doing most things. But that realization wouldn't occur to me unless I experienced it myself, no matter how other people tell you about it.
In the dark, all my other senses were completely magnified and became a lot more sensitive, sensing everything else. And what's interesting is you still see things, because I realized that we don't see by our eyes. We actually see by the reflection in your brain. So you actually absorb information through your senses and which shapes a picture in your mind. And that's what you see. So actually each person, we see completely different things, even if we're looking at the same things. It's based on each person's experience. So when you are in the dark, you realize you still absorb information and still observe not just by your eyes, ears, touch, and smell … all that shapes another picture in your mind.
What kind of themes did you experience?
In Atlanta we were put in different "environments". You're in nature, on the street and other different settings. They basically imitate a world without sight.
Although its indoors, Dialogue in the Dark tries its best to make it feel like you're outside in the real world, just you are not able to see with your eyes. So that experience was really important because it solved one of the questions I always had. While I was working as volunteer with the Tibetan blind school, we always had the biggest challenge: No matter how we educate the blind children, the only job they can find when they graduate is giving massages, because society doesn't accept the fact that they are able to do other things.
How can we change society and that mindset? Once I had that experience in the dark, I realized that when you experience it, people don't even need to explain it to you anymore, you realize it naturally: Even if I'm blind, I can still do most other things.
Why did you decide to leave your fashion business to start Dialogue in the Dark China?
I had this fashion dream since childhood. The year 2009 was really the year for me to think about more about what I'm destined to do. Fashion is really glamorous. I think most girls have the dream of doing fashion. But after two years, I realized that's really not something for me.
It's a lot of glamour and spotlight, but it's superficial in a way. While I was working with the blind school, I realized that the price of one jacket that we made could buy winter clothes for the entire blind school. And that's something very difficult to justify, it's a very different lifestyle. The kids at the blind school really taught me—life is really not about what you achieve in your life. It's neither about how much money you make nor the material things that you can grasp. It's really about how many people's lives you can change through your own effort. So that was my turning point. I was looking for something that I could make more of a difference with in this world. And I think the Dialogue in the Dark experience really gave me a solution. Also I'm very interested in the social enterprise model. This is a more sustainable model.
Looking back at your time at GE and in the fashion industry, what is your biggest take away and how does it help you do business with Dialogue in the Dark?
I would say GE really shaped the way I am and my leadership styles. I think it really gave me the platform to build my self-confidence.
I started in GE through its leadership program right out of school, and I was given the opportunity of working at different divisions and teams. I didn't have to have much experience at all when I joined, but I had an opportunity to fail. I think this was really brilliant of GE, as they give young leaders a lot of exposure and a lot of responsibilities. I was in a rotational program every six months. I was in a different location, a different business unit, so I learned so much. And GE is really the cradle for business leaders. You work with probably the most talented people in the world and that gives you a very high standard. The eight years at GE built the foundation of everything I was able to do afterward. And the fashion business was my first entrepreneurial experience. It was not that successful and I lost a lot of money.
But it was very interesting because the transition from being a senior leader from a big corporation to a startup entrepreneur was a huge change. It's something that I didn't expect. Because when you work for big corporations, you get a lot of attention, but it's not because of you, it's the company behind you. And a lot of the time you don't realize it. Without that experience, I wouldn't be able to do start the Dialogue in the Dark business here in China.
Back to Dialogue in the Dark, which offers leadership training to companies. How is such an experience different from other leadership training?
We have a section where we're focusing on leadership training and team building activities, social relations, and a major part is the leadership training. 70% the cash flow comes from leadership training.
Darkness is really powerful, and it really humbles you within seconds, because most of us actually in our life would never experience something like that. And once you step into the dark, no matter how powerful you are outside, we share the same disability and we are immediately disabled. And we immediately feel vulnerable. And that forces you to depend on each other and to trust each other.
That kind of environment really brings out the very fragile self, which is covered by all kinds of things that we normally build up in our work environment and our life. And I think all of us, no matter how successful we are, 99% of us have a fragile self underneath. Darkness really brings that out. And what's interesting is for human beings, once you feel your own vulnerability, you're more willing to learn and you're more willing to embrace the new things. So this is really like the best and most effective icebreaker that you can ever find for all training forms.
And of course, we do a lot of simulation games in the dark, which really shows all the problems that staff normally experience in the work environment. It's different from all the other training; normally the trainer is trying to tell you what to do, and most of us already have a way of doing business. Especially if you're at a senior level, it's very difficult for you to listen and change the way you are. And so the first most important step is to break all that, and darkness can do that.
And of course another very essential element is that because all the training is conducted by impaired trainers, when participants see that the people that are leading them, helping them, guiding them are the ones that they always thought were a lot weaker than them, it really overturns their mind and then they would really start to listen. So I think that's also another reason that makes it very, very effective.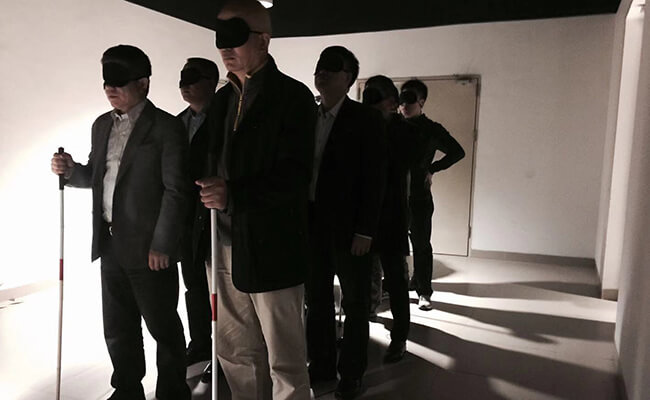 Do you offer the same kind of experience or do you customize?
Most of the sessions are customized. It's really based on their need. This is experiential learning based on how people behave in the dark. And we cannot predict how people will behave. And based on the problems they show in the dark, we customize the way we facilitate the entire session.
We have a lot of simulation games we designed in the dark, and most of the games you have to complete as a team. So we normally assign leaders and the team members to work together. Because it's in the dark, all the communication is done verbally. One mistake that most people make is they tend to talk a lot more than they listen. Each person normally only has a fragmented piece of information, so you need to put all the information together in order to work as a team. And this is exactly like how we are in our daily work. But when people talk more, they don't perceive information from other people.
So at the end of the day they're still not a real team. Then when we do the reflection and we talk to them and show them what really happened in the darkness, then they will realize, "Oh, you know, I should have listened more." It seems to be a very simple problem. But there is a distance between your mind and heart. You know you know it, but you don't realize it. So it's really the self-awareness.
I think what we do is really to raise the self-awareness and give every person a willingness to change. And then the next step they could, you know, find a more solid training to teach them what to do and how to make the change.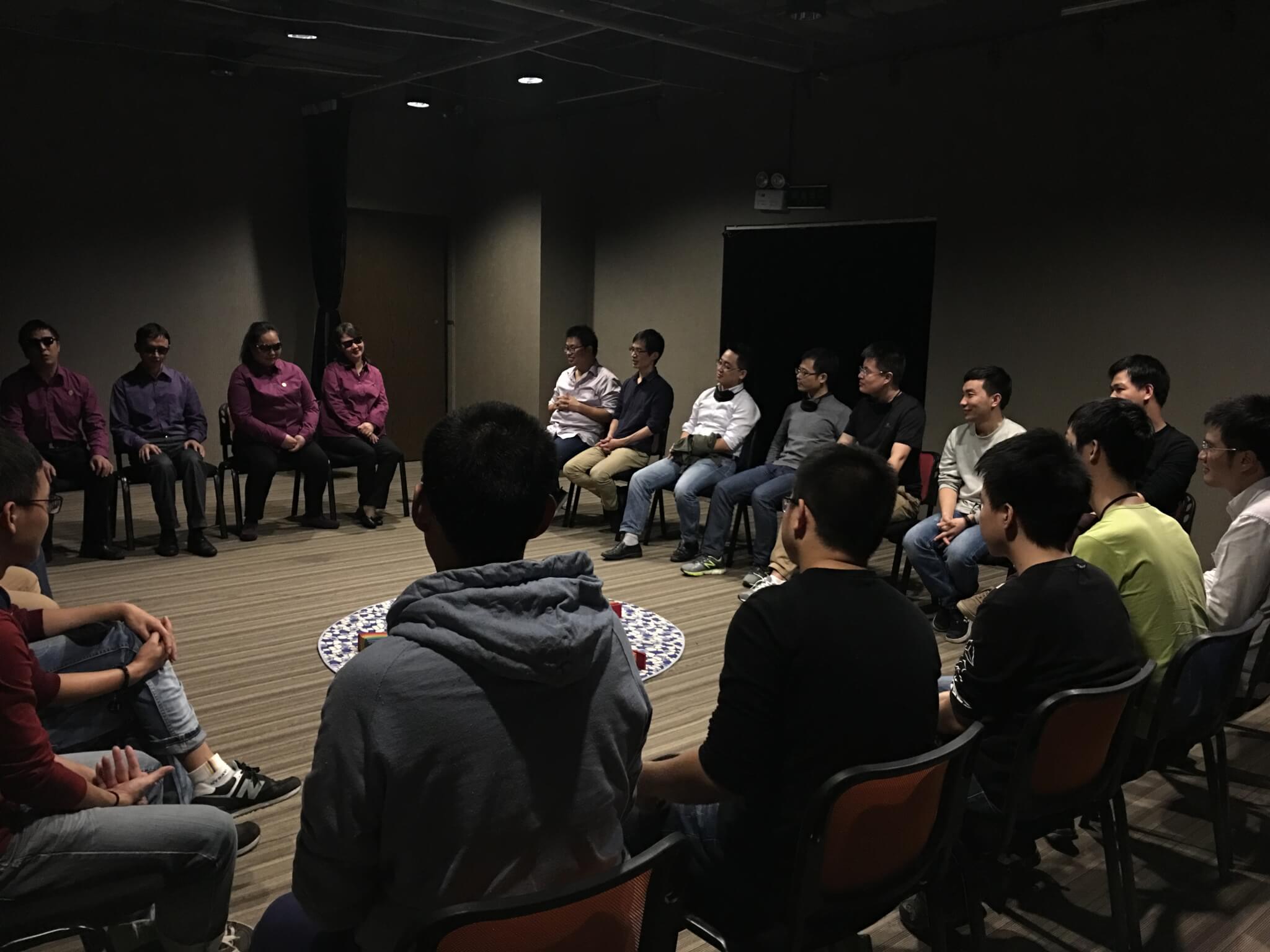 Dialogue in the Dark is a social enterprise you managed to sustain by yourself. What is the business model like?
Our revenue comes from different sources. One big part is the corporate leadership training and another part is coming from the tickets, because we have the exhibition that we sell tickets for so people can have a tour in the dark. Over 70% of our employees are visually impaired people. They work as trainers or guides in the dark. We are basically a business, but what differentiates us from commercial businesses is our mission—change the stereotypes and discrimination coming from society toward marginalized people. That comes first. And then secondly, as with all other businesses, we want to be able to maximize the shareholders' value.
You know, to make money is always important, but it's not the most important thing for us. It's more of a necessity in order to make more impact. We need to be bigger and have more influence. We need to survive. What differentiates us from non-profit organizations is one is a revenue-generating model. We almost don't take donations, especially not on the business side.
We have some not-for-profit projects, like our Dialogue in the Dark Academy and Running in the Dark programs, which we take donations for, but for the business side, we don't take donations. It's purely coming from sales income. We do have shareholders and we want to give a dividend if possible. Because all investors are impact investors, they expect a return. Our goal is really to do good and to make money.
I see two different kinds of characters in you. You are kind and empathetic toward visually impaired people, and you also know what to do and are a strong businesswoman.
Well, first of all, I don't think of these two aspects as conflicting with each other. You can be a businessperson and at the same time be extremely compassionate. Yes I think my (Christian faith) affects me and my belief is really always my number one priority. I was raised in a very traditional family. I think people who grew up in mainland China, especially girls, are always taught to be independent.
My mom always tells me, you have to be strong, you have to be independent and there's nobody else you can depend on. And that's our generation. And you start to see more women become very strong in our generation in China. But once I got to know God, I think what he taught me more is that strength does not necessarily come from power. It's a lot of times coming from love. And that's the real strength.
You may also like
Sir Vince Cable, former UK Secretary of State for Business, Innovation and Skills, discusses how China's relationship with the UK has.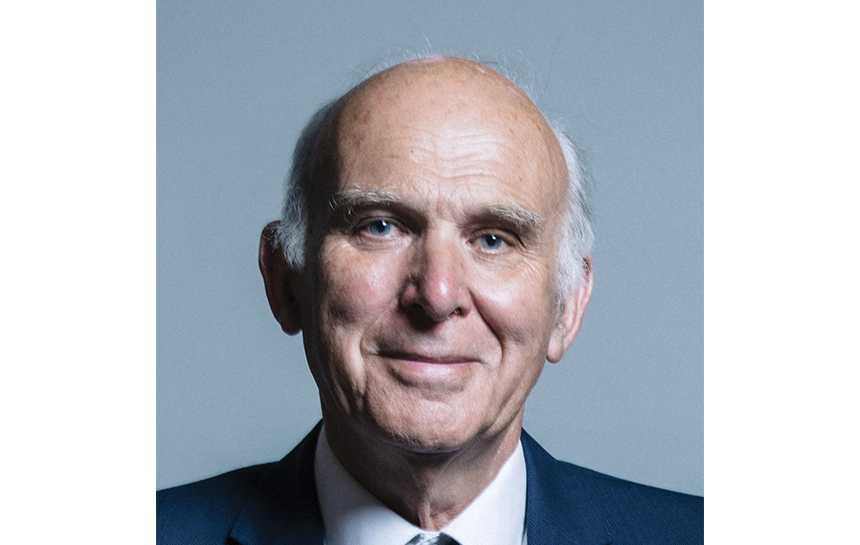 | Mar. 6 2023