Share

A Nation of Provinces
In March 2011, Jiuquan's Municipal Energy Bureau issued a set of regulations imposing "construction requirements" on wind energy firms. Companies that failed to buy local equipment, the notice said, would no longer be able to do business in the area. In response, China's National Energy Board (NEB) issued a statement banning Jiuquan officials from "requiring companies to buy locally-produced resources or creating other restrictions that protect local manufacturing industries." Jiuquan ignored the notice.
The NEB finally gave Jiuquan an ultimatum: If Jiuquan continued to build the wind farm without state approval, the NEB would cut off the city's access to the power grid and revoke its renewable energy subsidies. Jiuquan eventually received NEB approval in July, after promising that it would regulate wind turbines and other equipment with NEB guidance.
Local protectionism is a common phenomenon in the wind industry, says Shi Pengfei, deputy director of the China Renewable Energy Association: "[Since] local government resources mostly come from infrastructure, wind developers have no choice but to conform to their needs."
Logistical Hurdles
China's shift to a consumption-based economy is also threatened by the high logistical costs of delivering products between producers and customers, Cai said. Last year, Xinhua News Agency reported that it costs 1.5 yuan to move every kilogram of freight across the Pacific Ocean from Shanghai to New York, but between six and eight yuan to transport the same amount from Guizhou to Shanghai, two provinces away.
Local policies help drive up costs. For example, many local governments collect revenue through illegal and legal highway tolls. And they raise a lot. Since 1997, its first year of operation, the Guangzhou-Shenzhen Expressway has raised 35 billion yuan in toll fees, far exceeding the 12.9 billion yuan it took to construct the highway. A 2008 National Audit Office report found that up to 2005, 16 provinces had collected 14.9 billion yuan from 158 illegal tollbooths.
For companies that ship products across provinces, the tolls add up: "It's local politics and local finance," says CKGSB Professor of Finance Chen Fangruo.
As a result, Chinese companies have some of the highest logistical costs in the world. In 2010, logistical costs comprised 17.8 percent of Chinese GDP, compared to 8.3 percent in the United States. Tolls account for about a third of operational costs for Chinese logistics companies, according the China Federation of Logistics and Purchasing. And the numbers are only going up, with logistics costs in China rising by 18.7 percent year-on-year to 6.4 trillion yuan in 2011.
A warehousing shortage is also aggravating the logistics bottleneck. In the last few years, local governments helped inflate China's recent property bubble by selling massive amounts of land–in 2010 alone, land sales and leases provided 2.7 trillion yuan, or 83 percent, of their budgetary tax revenues. Local governments have thus become highly reliant on land revenues as a tax base.
On the flip side, this means they're shutting out certain types of land occupants. Zoning a plot for commercial use– as opposed to industrial purposes–is far more attractive for government officials, says Andrew Hatherly, the industrial and logistics division executive director of the real estate services firm CB Richard Ellis. But even if land does become slated for industrial use, logistics companies are not prioritized.
"The problem is, local governments are extremely interested in how many new jobs and how many new taxes come from the zones and districts," Hatherly says. "So they would rather sell the limited amount of land that's available to manufacturers or research and development centers where it's very labor-intensive, and therefore [results in] a lot of people employed and a lot of tax revenue."
By contrast, warehouses are exactly what governments don't want taking up space: They're not labor-intensive, they occupy large buildings and they don't redistribute much business to their surroundings.
CBRE reports that starting in 2011, suppliers in China began to suffer a warehousing shortage, resulting in rent increases that can push up costs and hinder consumption. According to their figures, there are 0.41 square meters of warehouse stock per person in China, compared to 4.46 in Hong Kong, 3.78 in Japan and 5.16 in the United States.
Chinese officials have begun to address soaring logistics costs. In June, five central government departments launched a new campaign targeting illegal tollbooths, and in August, the State Council announced general measures for restructuring and revitalizing China's logistics industry. The guidelines pledge to prioritize logistics in future government land plans.
Hatherly says incorporating logistics should go in tandem with China's turn towards consumption. "These products have got to be warehoused somewhere, and it needs to be reasonably close to the markets," he says.
GDP-ism
Protectionism isn't the fault of money-hungry local officials– at least not entirely. The incentives to be protectionist are deeply entrenched in China's current GDP-worshipping political system, where job promotions depend on growth and revenue targets.
"Local protectionism, more precisely, should be called 'GDP-ism,'" says Liu Fuyuan, the former vice-director of the National Development and Reform Commission's Macroeconomic Research Academy.
Every year, central government leaders set growth targets that include tax revenues, investments, employment rates and GDP growth, in addition to non-economic indicators such as social stability and enforcement of the one-child policy. Local officials sign performance contracts with the next highest jurisdiction, promising to deliver.
"If the central leaders decided on an 8 percent growth rate, then this percentage will be allocated to local officials," says City University of Hong Kong Assistant Professor Jie Gao, who studies civil service reform in China. Local officials must then develop their own detailed indicators, like how many trees to plant and how many pigs to raise in order to meet the central government's goals. Failure to meet certain goals can result in dismissal, salary reduction, or demotion.
"Local authorities, in order to get promoted, have a strong incentive to strengthen their revenue base," says University of Chicago Professor of Political Science Dali Yang, an expert on Chinese governance.
Liu compares this arrangement to a feudal system "with more than 4,000 fiefdoms, and every county-level office is its own little fiefdom."
"It's irrational for administrative subdivisions to also be economic subdivisions," he says. "Without governance and tax system reforms, local protectionism will never be resolved."
Unwritten Rules
Even Nie admits that local protectionism has both helped and hurt his company, Xiangtan Fenli. In his home province of Hunan, he says, there is an "unwritten rule" that car manufacturers must source their auto parts locally. Local companies also pay less in taxes.
There are even explicit rules helping companies like Nie's. For instance, guidelines released in 2009–the same year
the company failed to break into the Chongqing market– mandate all public officials to "actively purchase province- produced cars" and other local products including fuel, raw materials, equipment, machinery and medicines.
Nie's story is only one example of a larger trend. Local protectionism abounds in China, whether it is provincial committees that favor local drug companies for hospital medicines, complicated licensing procedures that keep car rental companies out of cities like Shanghai, or government- backed regional steel monopolies that are too big for others to compete with.
Because local overreach takes many forms, experts say, resolutions may require case-by-case troubleshooting. In an industry like wind energy, the central government could reconfigure the VAT to give local governments more revenue, Li suggested. Greater transparency in government procurement bids would also help prevent local favoritism, he said.There are signs that "GDP-ism" is waning. Compared to past Five Year Plans, the latest one focuses more on quality of life and less on GDP growth. It has scaled back China's target GDP growth rate to 7 percent (compared to the 11th Five Year Plan's 11 percent average GDP rate), and seeks to encourage household spending by increasing wages and bolstering the social safety net. This change in emphasis may reduce the pressure on local governments to chase after fiscal targets.In addition, Gao says, some local governments have already reconfigured their performance targets to give more weight to social goals like stability, production safety and handling of complaints. But revenue will always be the clearest indicator of success, which means officials won't abandon it anytime soon, says Yang: "It's the only hard number that they can get their hands on."
You may also like
The ambiguity of China's carbon reduction goals has resulted in short-term emissions increases, and the targets may not be realistic.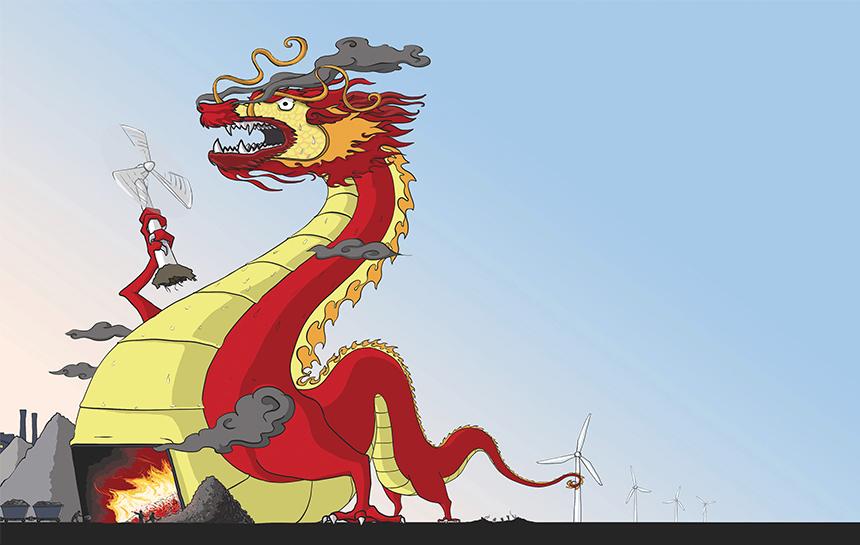 | Mar. 7 2023