By Li Wei (Professor of Economics and Associate Dean, CKGSB) and Zhu Yunhai (Researcher, CKGSB)
Li Wei is Professor of Economics, Associate Dean for Asia and Europe, Director of the Case Center, and Director of China Economy and Sustainable Development Center at CKGSB.
Zhu Yunhai is a researcher at the CKGSB Case Centre.
One of China's most popular brands, NIO, has become a rising force in the electrical vehicle (EV) sector. In 2021, it delivered 91,429 vehicles, an increase of 109.1% from 2020. NIO has doubled its sales figures for two consecutive years, selling a total of 135,157 vehicles in 2020 and 2021.
As a late comer to the sector, NIO has had to overcome many hurdles. Although industry insiders initially doubted whether NIO would be able to succeed in the EV market, the company has proven to be an important player. NIO has achieved high levels of growth and a business model which stands out from its competitors. But is NIO just another Chinese EV car brand? Or will it be able to carve out its own path to success on the global stage? This article will analyze the successes of NIO's growth model, before going on to consider the challenges it faces in a highly competitive market.
Reduction of Costs through its OEM Model
NIO's original equipment manufacturer (OEM) model has been highly innovative. Automobile production is typically asset heavy: large investments in the factory, land, facilities, capital, and labor are required for the construction of a production plant. When NIO launched in 2014 it could not afford to take on these costs. NIO observed many companies in the internal combustion automobile industry, which had empty production lines, and were taking on unnecessary production costs. NIO subsequently devised a cost-efficient solution of outsourcing its manufacturing to JAC Motors, an established OEM.
In comparison to other companies who also operate an OEM model, NIO's model has the advantage of greater oversight over automobile production. JAC motors owns the plant, equipment, assembly line and personnel, however NIO oversees automotive production, quality control and inspection standards to ensure the quality of NIO's vehicles. NIO also work with JAC Motors on research and testing of its automobiles.
This production model has been ideal for NIO as a start-up. By remaining in charge of research and development (R&D) and outsourcing the manufacturing to JAC motors, NIO has been able to produce top-of-the-range automobiles, whilst at the same time maintaining high levels of production. NIO's investment in R&D can be seen with its first SUV in 2016 – the EP9 – which won China's first Formula E title in the 2014-2015 season. The EP9 also set the record for the fastest lap ever recorded by an electric car.
Investment in Technology
NIO has recognized the importance of investing in technology in order to maintain its brand image as a producer of 'smart cars'. It has built its NOMI AI system – a built-in artificial intelligence system which became one of the first in-car AI operating systems used in production vehicles. Based on cloud computing, NOMI creates a personalized and immersive passenger experience. With its speech recognition software, passengers can also monitor facilities in the car, such as phone calls, vehicle navigation, air conditioning, windows, seating and media facilities.
Furthermore, NIO is equipped with its AQUILA Super Sensing system. This has an ultra-long-range Light Detection and Ranging (LiDAR) which can detect up to 500 meters, as well as 11-megapixel high-resolution cameras. An advantage of the environmental sensing technology which NIO has developed is that it uses a combination of laser-based LiDAR technology as well as radar-based camera technologies. Most EV producers only install one of these technologies in their automobiles, such as Tesla with its camera technology, and Huawei with its LiDAR system. By investing in both, NIO has the accuracy of LiDAR technology and the advantages of depth-sensing associated with cameras.
NIOs Marketing and Customer Service
NIO marketed itself as a manufacturer of high-end luxury SUV's by selling its automobiles to several high net-worth individuals. In 2016, NIO's EP9 was sold at USD $1.48 million to high-profile individuals, such as Ma Huateng, the CEO of Tencent, Liu Qiangdong, the CEO of JD.com, and the billionaire investor, Zhang Lei. The reputation NIO developed with the EP9 meant that the mid-to-high range ES8 were very popular when it was released on the open market in 2018 in a price range of USD $70,000 to USD $86,000.
In comparison to many automobile companies, NIO's sales model is a combination of online and offline. Via its online website and app, users can gain information about its products such as services and prices. Once customers have gained an understanding of NIO's products, they can attend a store for a test-drive, to set up the vehicle configuration, apply for financial services and make the final purchase.
NIO's online marketing and offline sales team removed the need for dealership franchises, who traditionally would have acted as the intermediary. This helps to reduce costs and most importantly, establishes direct contact between NIO and its clients. Removing the dealer also means that all follow-up services are provided by NIO as the manufacturer rather than the dealer.
NIO's Global Network
NIO also brands itself through its 'NIO Houses'. These are located in 256 cities around the world, some as large as several thousand square meters. Not only are these centers a place to display NIO's automobiles, they also serve as a place for NIO to hold events such as lectures, forums and even children's birthday parties. NIO has branded itself very effectively through its network of NIO Houses.
NIO also has more than 260 battery swap stations, 180 supercharging stations, 300 destination charging stations and 1000 emergency electric charging vehicles – all of which cover several thousand kilometers of expressways in China. These charging facilities are provided to NIO car holders, either free of charge or at a reduced rate.
Can NIO's Success Continue?
NIO has performed well on Chinese and U.S. equity markets. According to public reports, the company's total revenue in 2020 was USD $2.56 billion – a year-on-year increase of 107.8%. At the beginning of 2021, NIO was valued at over USD $100 billion – a tenfold increase from 2020. Despite a growing market value and increasing revenue, there are still concerns surrounding NIO's future development from those inside and outside the EV sector. Bloomberg, for example, wrote an article titled, "Shame, Tesla-Alike NIO Could Have Used the Extra Cash," relating to NIO's IPO valuation coming in lower than expected.
These doubts are often centered around whether NIO will be able to operate at a profit in the short-term, while also increasing its production capacity and reducing costs. Although NIO's revenue growth has been substantial in previous years, the company has not operated at a profit. From 2016-2019, NIO's net losses increased each year from USD $409 million to USD $1.8 billion. For investors, there is a limit to the losses which a company can take, hence NIO will need to increase its profit margin soon.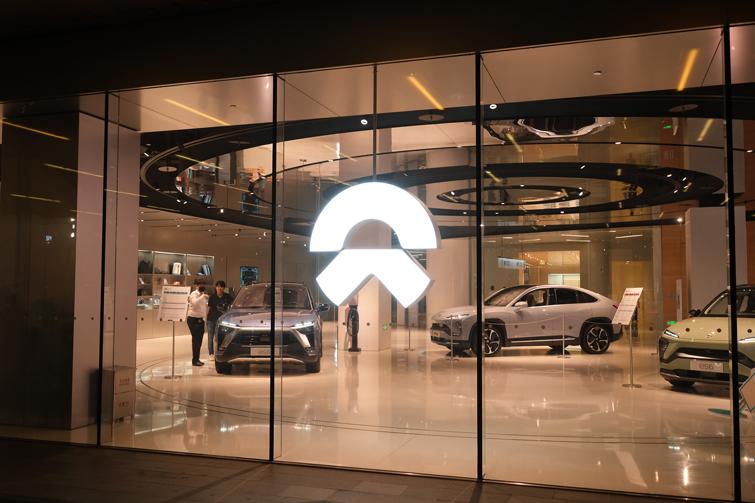 Will NIO Be Able to Maintain a Competitive Advantage?
As discussed, NIO has provided excellent customer service in a competitive market, particularly with its personalized customer service which has enhanced its brand loyalty. However, its services come with high levels of investment. The NIO Houses in first-tier Chinese cities such as Beijing and Shanghai have rental costs reaching tens of millions (RMB), and annual operating costs of around 100 million RMB. As the number of its car ownership increases, NIO will not be able to operate its personalized model of customer service in the way it has previously. Therefore, balancing costs with high-quality customer service will be a challenge which NIO will need to overcome. Another challenge NIO will face is maintaining the premium brand it initially set out to establish, while also launching into the EV mass market.
NIO's supply chain management and production capacity have recently received a lot of attention. In October 2021, NIO hit a crisis point, when only 3,667 automobiles were delivered. This was a 65% reduction – 6,961 compared to the 10,628 automobiles delivered in September. This shows the weaknesses in NIO's production capacity and supply chain limitation. Although NIO president Qin Lihong said that this was due to restructuring and upgrading of production lines, October has traditionally been a peak season in the EV market.
Moreover, due to NIO's model of outsourcing its hardware to an OEM, it does not own its core components, such as motors and batteries. NIO has invested heavily in its technology and R&D team, as well as improving it through various acquisitions, however, there have been many well-documented automobile accidents. Therefore, NIO will have to improve the safety of its vehicles. NIO's OEM model has allowed it to rapidly increase its production capacity at low costs. However, as NIO expands, these deep-seated flaws will become increasingly exposed. Whether this model fits NIO's long-term development will be something to watch.
NIO's Competitors
There is also the challenge of competing with NIO's domestic and foreign competitors in the EV sector. The electric vehicle industry is developing very quickly, and NIO will have to adapt if it wants to compete. Since 2014, NIO has delivered a total of 109,514 automobiles, an amount which is undoubtably an achievement, especially in the luxury SUV market. From this perspective, it could be argued that NIO is quite successful given its current stage of development.
However, NIO is by no means the leading EV producer in China. In 2020, Tesla produced and delivered 500,000 automobiles, compared to the 91,420 delivered by NIO. Unlike NIO, Tesla does not need to outsource its manufacturing – it owns its factories and production line in China. Tesla's business model has enabled it to successfully sell its mass-market automobile, the Model 3, which in 2020 sold 137,459 units. Tesla's Model-Y, launched in January 2021, also set a benchmark for affordability on the EV mass market. Its price ranges from RMB 339,900 (USD $53,435) to RMB 369,900 (USD $58,151).
Tesla, like NIO, initially launched itself as a luxury SUV company with its first-generation sports car the Roadster, in 2008. Tesla subsequently moved into the mass market after launching the Model 3 in 2017. NIO's market positioning has always been different from Tesla as it has mainly focused on SUV vehicles. However, there are signs that NIO is competing with Tesla and other EV companies in the mass market. NIO launched the ET7 in January 2021 as a family car and priced at RMB 448,000 (USD $69,200). Interestingly, NIO's corporate strategy and product roadmap report outlined its core competitors as the top German manufacturers, Mercedes-Benz, BMW and Audi. NIO regards its ET7 to be an alternative to the BMW 7 series and the Mercedes S-Class.
As NIO develops further into global markets, its challenge will be that it does not have the local advantages which companies such as Mercedes-Benz, BMW and Audi possess in the EU. Nonetheless, NIO is starting to build more of a presence outside China. NIO's ES8 model has now obtained European Community Whole Vehicle Type Approval (EWVTA), which means that it can officially be sold in the European market. It has also established offices abroad in countries like the United States, United Kingdom, and Germany. Although NIO will need to do a lot more to penetrate markets outside of China, it will no doubt play an important role in the global EV market.