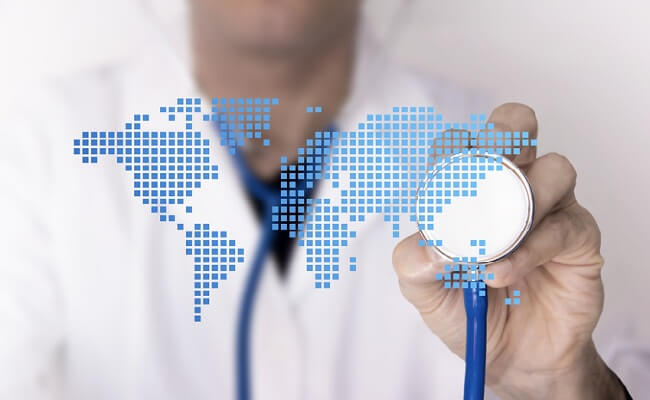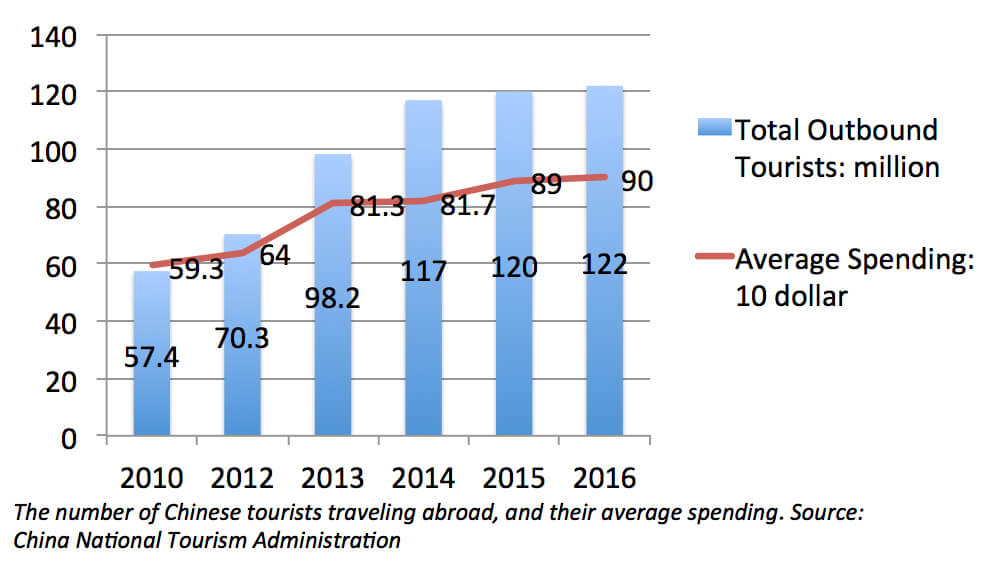 Longing for Longevity
Health tours have quietly been diversifying, with different countries possessing their own advantage: do physical checkups in Japan, receive anti-aging injections in Switzerland, treat optical or bone problems in Germany, undergo plastic surgery in Korea or Thailand, and have gene testing or assisted reproduction operations in the US.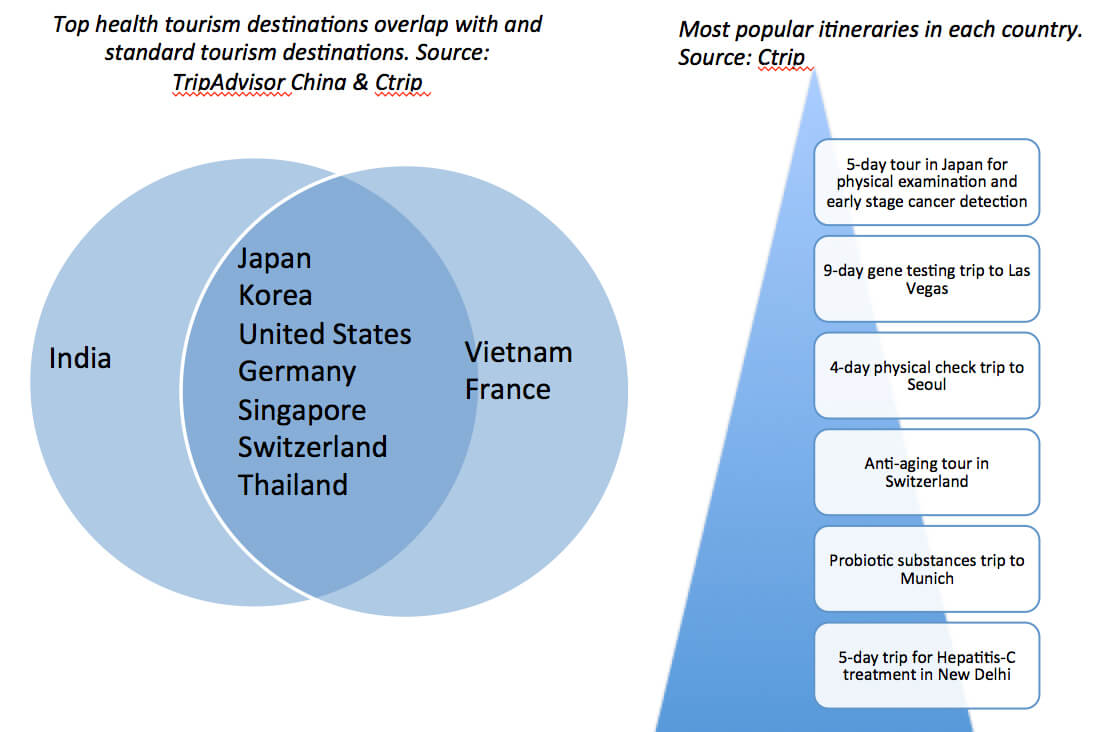 On Ctrip, there are thousands of different overseas health tours, and the company has found that among all deals done in 2016, health checkups in Japan and the US were most popular, accounting for over 50% of bookings. Health checkups can be tailored to everyone and added to many different destinations, says Zhang Hao, a managing director at Ctrip.
The company also found that most people who choose physical checkups are in their 40s, while young women aged between 20 and 30 form the largest consumer group for plastic surgery trips to Korea, Thailand and Japan.
Another rising trend is that more businesswomen, typically those between 35 and 40, are traveling to the US for egg freezing operations. Very few Chinese medical organizations offer this service and unmarried women are forbidden from such operations. Meanwhile, married women need to present medical proof to show that they cannot give birth naturally, as egg freezing is considered a method of assisted reproduction in China.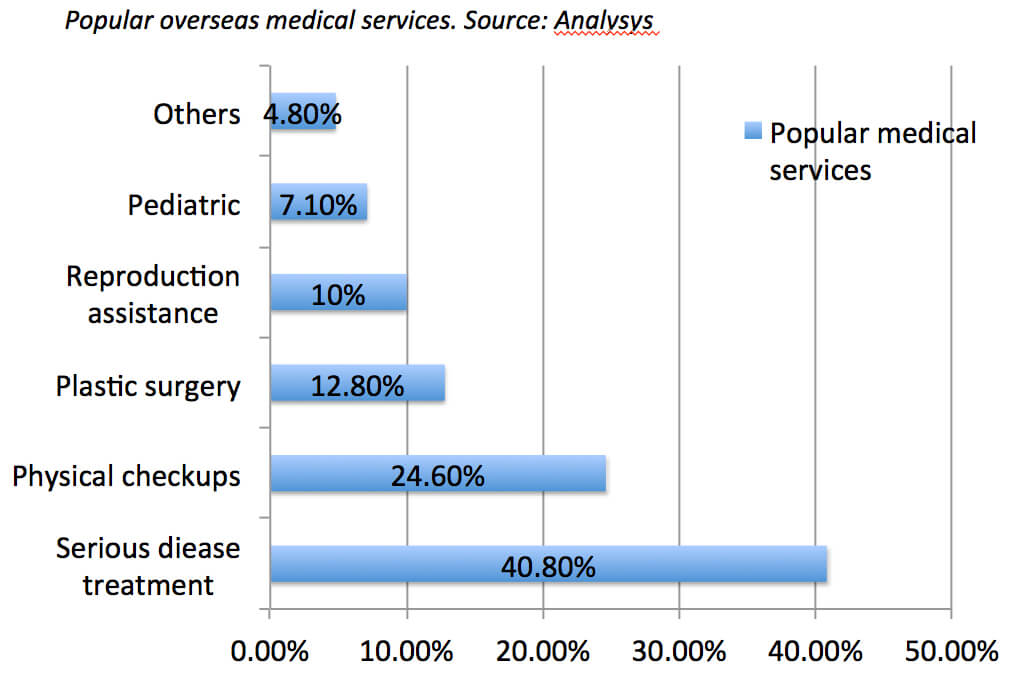 Anti-aging is always popular, according to L'avion, a firm started 10 years ago that specializes in overseas medical trips. "High-net-worth individuals care mostly about anti-aging … the starting price of anti-aging projects in Europe is RMB 400,000, but it's our best-seller," says Zhong Yan, the company's CEO.
Zhong says 90% of high-net-worth individuals seek long term anti-aging and disease prevention solutions, and they are sensitive about physical changes. "But they cannot find reliable organizations in the domestic market. Some resort to Traditional Chinese Medicine (TCM) and end up drinking bitter herbal tea … That's not the kind of service they expect."
In addition to the lack of professional primary care, the inadequate and uneven distribution of medical resources is an important reason pushing affluent families to seek better treatment outside China.
A survey by the Ministry of Health in 2015 showed that half of China's six million medical workers had received a bachelors degree or lower, and that the best doctors are concentrated in East China, resulting in crowded hospitals in first-tier cities. In Beijing, the average time spent by a doctor per patient in a general hospital is about 3 minutes, for which one has to register online seven days in advance and wait in the hospital for several hours.
"That's why for new companies there is a great market potential in second- and third-tier cities, where medical and healthcare needs are not properly taken care of," Jiang says.
Seemingly small health problems might not be given serious attention. And in terms of critical illness such as cancer, the five-year survival rate of Chinese patients is about 30%, compared to 60% in the US and 62% in Japan. In addition, it takes an extra three to five years for new medicine to be approved in China than it does in other countries like India.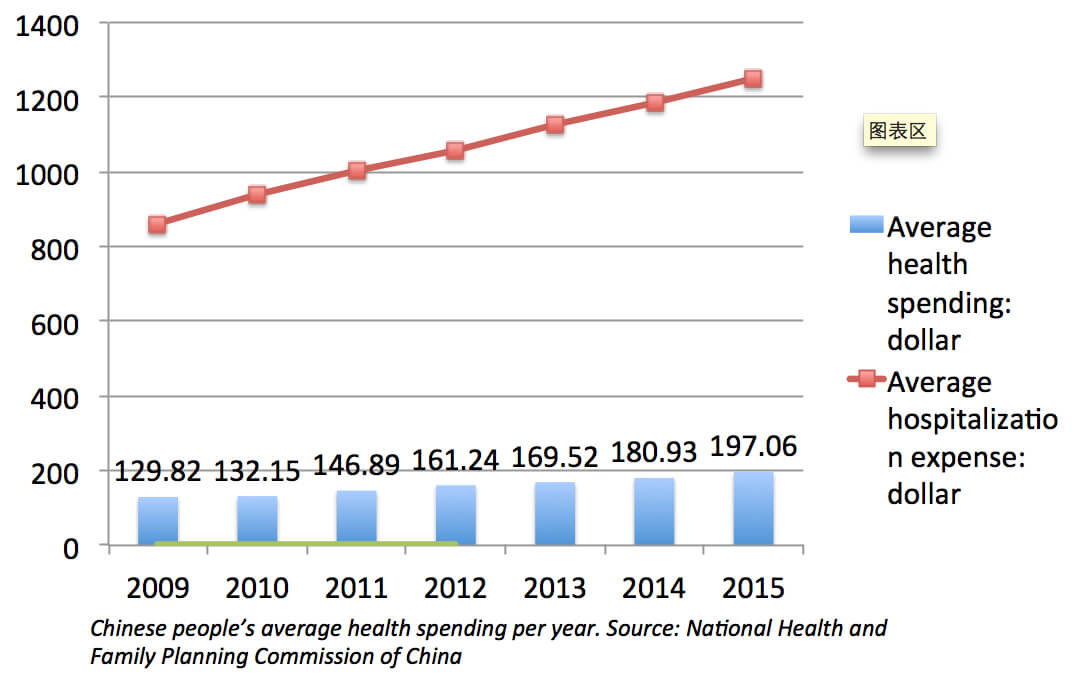 "Rich people are getting old, and they long for longevity and expect quality services," says Chen Yao, a business director with the Beijing branch of Himawari Land & Building Investment, a Japanese firm specializing in immigration and property investment.
As opposed to Ctrip or L'avion, Chen's firm takes overseas medical trip as a supplementary business as it deems "those who are able and willing to invest in Japan are just those who are interested in such trips," says Chen.
Pass it around
As the trend keeps growing, various organizations have entered into the business. A rough calculation by China Business Weekly found that no less than 300 new agencies claiming to serve clients with "high- and medium-level medical service needs" had been formed in 2016.
A large number of players are general tourism agencies like Ctrip or are agencies providing just medical trips, but there are also investment institutions, insurance companies and immigration agencies that take medical travel bookings as a supplement to their main business.
But the business models are similar: build partnership with medical organizations overseas, hire professional medical translators and equip their domestic team with at least some degree of medical knowledge.
"Overseas medical resources are important products of this industry, but they aren't scarce nor hard to cooperate with. The hardest part is finding valuable consumers in domestic market," says Jiang of Analysys.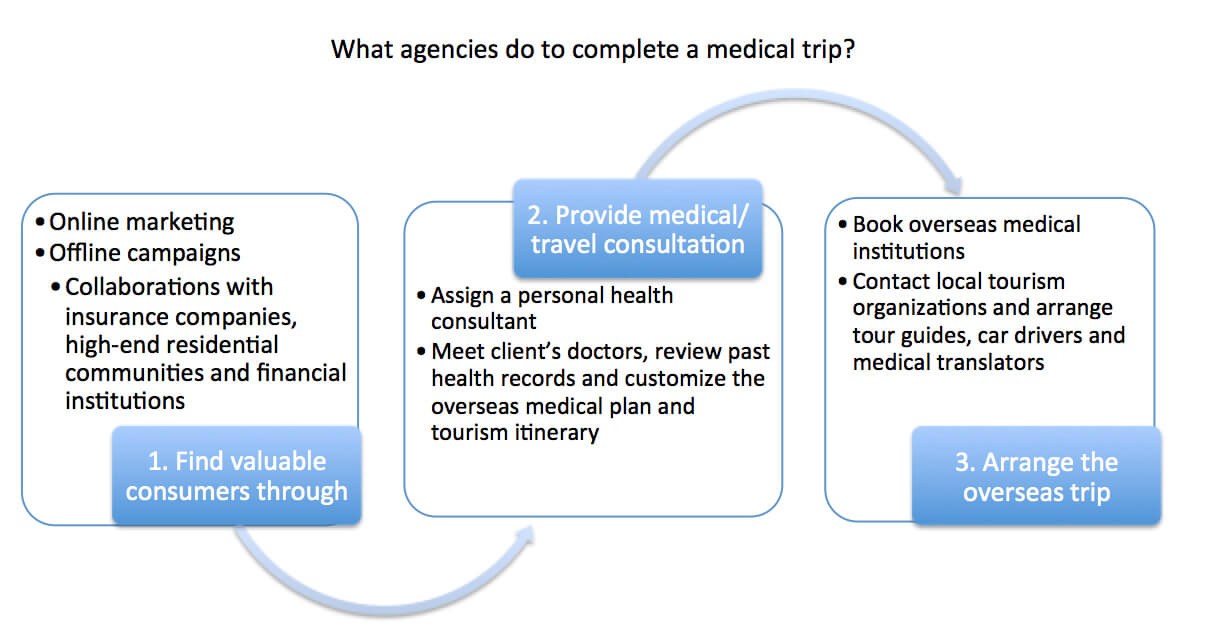 Jiang's research shows that some of these high-net-worth consumers, usually younger ones, can be reached through online marketing and advertising on social networking sites with the assistance of data analytics, but many can only be found through offline channels such as high-end clubs or events held by real estate developers, insurance companies and private banks.
Online marketing has been adopted by internet companies such as Ctrip, which controls a majority of Chinese tourists' online traffic. But for smaller companies such as L'avion, offline channels work better.
"Such companies usually garner fewer consumers, and they are older and with more complex medical demands, and take more time to persuade and tailor personal trips for," says Jiang.
But a long-term approach can reap rewards.
"When we just started, we tried online ads and offline events and spent nearly RMB 15,000 to get one customer," says Zhong of L'avion. The company waited several years to build a good reputation, and now it relies mostly on word of mouth among the "rich circle".
Xiong Juan, CEO of CY Cares, a sub-branch of Chunyu Doctor, the largest digital medical service platform in China, found that consumers accessed through offline channels are usually more loyal.
Founded two years ago and positioned as a medical consultancy, CY Cares has accumulated 4,000 users with an annual family income above RMB 1 million aged between 35 and 50. Eighty percent of CY Cares' bookings are worth is about RMB 50,000—the amount is paid directly to the company as a service and consultation fee and does not cover the medical treatment in overseas hospitals.
"This year we started to develop more offline channels by partnering with high-end communities and insurers where such 'medical trips' are presented as value-added services for their clients, and for us it's a good opportunity to 'awaken' their awareness of healthcare [options]," Xiong says.
As the company taps into offline channels, its business is expanding from only offering serious medical trips and consultations to including more general healthcare options.
"The demand for critical illness and reproductive treatments is strong, but have low frequency. To enlarge our consumer basis, we launched basic healthcare and disease prevention schemes, and to our surprise this part has grown very well and it reflects the mainstream market need at this current time," says Xiong.
Starting small
"Seeking medical care abroad is a global trend, but the motive is more about advanced medical technology or saving money. For example, Americans go to Thailand or India to access cheaper medicine and operations. But in China, the trend is mostly driven by rich people who want a premium service—that says this industry in China is still at its early stage and the market is limited," says Xiong.
Offering high-end and customized services can mean long supply chains, high costs and the sacrifice of sales.
Zhong with L'avion admits that the maximum number of clients they can take care of in a year is 300.
For Chen Yao, who takes care of four to five "boutique tourism groups" every month, these luxury trips are not as profitable as some might think. The profit margin, he says, is about 7 to 10%. "Such tours charge a much higher price than normal ones, but they are highly customized. We need to arrange everything including pickups, meals, [etc.] for only a few clients. Not only is the supply chain long and costs are high, but there will never be quick turnover like normal group tours."
Meanwhile for CY Cares, the supply chain is even longer. According to Xiong, when they receive a client they have to arrange a health manager, who will help the client set up a profile with CY Cares. Together they will work out whether the client needs to go overseas, what country and which hospital they should go to, how long the trip will take, the expenditure and what other care will be need abroad. When it's a serious condition, they have to arrange a group consultation between domestic doctors and their overseas counterparts.
So far, it remains a up-scale business, but Xiong believes in the longer term—the next 5 to 10 years—more people in the middle class will join in the hunt for overseas medical trips and the market will be enlarged from offering just high-end services to helping patients get more cost-effective deals.