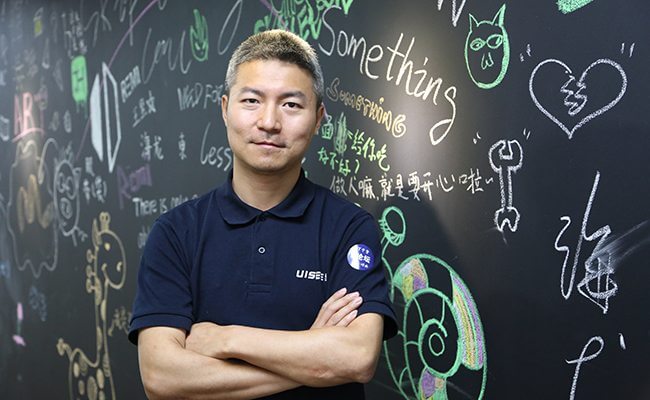 By focusing on semi-open environments like airports, UISEE hopes to beat bigger competitors to the driverless car market
It's difficult to overstate the expectations of the heralded autonomous car revolution. Technological giants are already speaking of a future in which well-organized traffic reduces traffic jams, create more leisure time and dramatically increase road safety. It's easy to overlook the fact that this technology is still in the experimental phase and it's too soon to make hard-and-fast prediction.
Tech giants like Google, Baidu, electric car manufacturer Tesla and traditional automaker Toyota are all dipping their feet in the water with prototypes, yet none have formally launched entirely autonomous vehicles for public consumption. There are still many questions to ask, not just at the level of personal safety. How will transportation networks adapt? What about laws and regulations? What will be the impacts on logistics and employment?
Wu Gansha, a veteran engineer and former director of Intel Labs China, has suggested a rapid way to commercialize driverless cars. The company Wu started, UISEE, an acronym for Utilization, Indiscriminate, Safety, Efficiency and Environment, has developed models which are designed to operate in a close environment, with fixed roads and countable circumstances such as parks, an airport, or a tourism spot.
Such models, as Wu said in an interview with CKGSB Knowledge, could make it onto roads more quickly because a semi-open environment poses far fewer hazards than an entirely open space. The question then becomes: Has UISEE found a shortcut to the driverless car market?
Q. UISEE is a young company and has already launched several products (driverless cars) within just two years. When will they be commercialized? In the future, what's UISEE's plan in terms of developing driverless cars?
A. Currently we have only developed several product prototypes and they have not been put into mass production. After all, developing smart cars or driverless cars is different from developing other hardware. When you put a smart car or a driverless car in people's daily lives, you must ensure it's safe to use. A large number of tests are needed before actually launching. Currently we are in the stage of "live verification testing". In the second half of 2017, we will enter trial operations and in 2018 we might be able to put the cars into mass production.
Q. What will the trial operation be like?
A. First, we will sign a contract with our partners and second, during trials, we will monitor, observe and collect data, making sure every module performs properly. The prototypes we will run in trials include shuttles, or sightseeing buses, which will be used for short-distance commutes in relatively closed environments. We have tested the shuttles at Guangzhou Baiyun International Airport. In the future, we will test them in large commercial complexes and industrial parks.
Another type is the model designed for semi-open environments and it bridges certain points like metro stations and the community you live in. It can also be used in small towns and villages. Of course, that will require us to be involved in the early infrastructure planning of new towns and villages.
Q. What is your plan to put UISEE cars on the real market?
A. We have several types of partners: Government, city-planning companies, and city commercial places like airports and commercial complexes. As for the business model, we're still in an exploratory phase. Selling our cars could be one option. Renting our cars and selling related services including car operations and maintenance could be another. Also, if we partner with new towns and villages, we could participate in city planning and see if we can embed our operation system in planning, so that the road design could work with our smart cars better. So, we'll try all these models, since there is no predecessor in this field.
Q. Why did you choose low-speed cars and focus on using them in a closed or semi-open environment?
A. I think in a closed or or semi-open environment, self-driving cars with low speed can reach the market much faster.
The reason is related to today's AI development progress, which is still in the early stages. It is relatively weak. Anything you have taught an AI machine, it will complete perfectly. But for activities it has never "learned" or "seen", it cannot possibly know. It cannot comprehend a certain thing by learning an analogy, nor can it draw inferences about other cases from one instance. It cannot reason or judge. So if you put, say a driverless car, in a real life environment where new circumstances could pop up at any time, machines may react incorrectly and cause an accident. But if we could put the car in a fixed environment that is not subject to changes, the rate of accidents will be lowered greatly because we will be able to test all possible conditions.
Another reason is that when traffic accidents occur, you must make sure the accidents don't spiral out of control. For example, you need to stop a car when it hits another one. Yet in an open environment, you cannot control that. That car may be programmed to keep driving and cause further damage. So if the car drives at a relatively low speed in a known environment, the situation could be controlled.
A third reason is that driverless car needs certain infrastructure and network support: special road signs, charging stations and WIFI cover…these requirements, currently, cannot be met even in big cities like Beijing, where you sometimes still find weak 4G signals.
So either you don't rush to commercialize, like Google, or, you choose to commercialize soon with the conditions I said.
Q. Compared to big companies like Baidu, which is also making self-driving cars, what is UISEE's advantage?
A. UISEE, as a small startup, differs from big companies in many areas. Our advantage is that we can apply the latest AI technologies to our products in a very short time, much shorter than big firms. Because we are small and have a very low cost of making mistakes, we move faster. So that is also the difference between any big firms and small ones when they both are in a fresh industry. Of course small companies need to raise capital and find ways to attract talent. But they have some advantages big companies can't achieve. For example, when you are exploring an unknown sea, what kind of boat will you use? A steamboat or a large cruise ship? Small firms will use a steamboat, which is cheaper and faster, as they are not afraid of capsizing. Yet a large company might send, carefully, a large cruise ship. It will be slow and once it is wrecked, the losses could be huge.
Q. Big firms like Baidu boast about the immense data they can collect. For example, Baidu not only has search data, but also the traffic data collected via its Baidu Maps app and GPS navigator. How can you collect data—a very important part of developing AI and driverless cars?
A. We have several sources of data. First we try to collect data by ourselves. We have a fleet of cars driving around to collect data. Second, through our partners, especially car factories and rental companies that have access to a large number of cars, we can get large quantities of data, in a similar manner to big firms. Third, in simulators we set up different situations and let computers, or AI, drive in it. With random conditions, we will also be able to collect data of our products. This is also the most promising method of collecting data. It is a method first used by Alpha Go. It studied hundreds and thousands human games and then started to play with itself in a simulated game environment and numerous game results came out. So we believe even in simulators we can collect meaningful data and make our products better.
Q. What's the future for driverless cars?
A. Assume 50% of transportation is achieved through driverless cars, the efficiency of commuting will be greatly improved and the traffic jams will disappear. McKinsey's report has concluded that by taking human emotions and errors out of fatal traffic accidents, the deaths on the road could be reduced by 90%. That means you can save lives and also millions of dollars of medical expenses. Also, another benefit driverless cars can bring is saving drivers' time. And from that point, new businesses can grow. In the future, a car might take the function of a moving cinema, office or cafe house. It could be many things, and only a "transportation tool".
Enjoying what you're reading?
Sign up to our monthly newsletter to get more China insights delivered to your inbox.