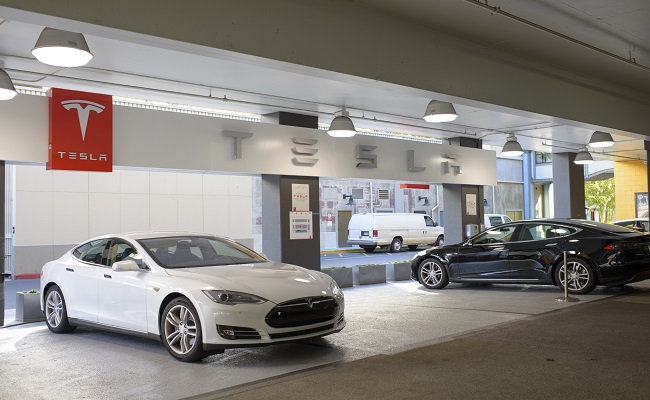 Will the 'fair price' strategy help electric car manufacturer Tesla in China?
Elon Musk, the maverick founder and CEO of the Silicon Valley-headquartered electric car maker Tesla Motors, has had his eyes on China for a while now. Last year, he called the China market a "wild card" in the company's future.
In January this year, Musk finally decided to put that wild card to test. A week before Chinese New Year, Tesla published a blog titled 'A Fair Price', finally announcing the launch of its Model S online design studio in China. The studio will allow customers to design, save and share their Model S, before the actual cars debut in China.
Hidden in the announcement was also a trump card: the company said that the Model S would retail at RMB 734,000. At this price point, Tesla is retailing the Model S at pretty much the same price it charges its US customers, plus taxes, customs duties and transportation costs. This, the company claimed, is a departure from "standard industry practice", wherein foreign companies make double the profit per car when they sell in China.
Analysts were surprised. In an interview with Bloomberg, Musk said, "They're basically calling us huge idiots for not ripping off customers in China. I don't think ripping off customers is a good long-term strategy."
The blog set Chinese social media abuzz. Of the 80,000 votes received in a reader survey on QQ.com, a popular microblogging site, 90% supported Tesla's move. According to a Reuters report, a day after the blog was published, social media posts mentioning the Chinese name for "Tesla" jumped over seven-fold to 3,502, most in favor of its pricing strategy.
Tesla is betting big on China. The auto maker plans to open 10-12 stores in China this year, including its flagship store in Beijing. Tesla is hoping that China would account for one-third of its growth this year, with Model S sales coming at par with that of US next year itself. As Musk said in the Bloomberg interview, "It's not my firm prediction—it's more like a low-fidelity guess."
Low-fidelity guess or not, it does seem like a formidable target considering that Tesla is hoping to sell about 48,000 cars globally this year, with the US accounting for 40% of it.
Tesla in China: All Charged Up?
So, has Tesla managed to hit the right chord in China? Will Tesla's Model S strategy break the mold of high-priced imported cars in China? And above all, for Tesla, is the "risk" worth it?
Opinion is divided over whether Tesla's China pricing is realistic or not. Andreas Graef, a Principal at A.T. Kearney Management Consulting Co. in Shanghai, believes that the current price does not factor in distribution and marketing-related costs, which a foreign brand direly needs while trying to establish a foothold in China. "Has Tesla factored in the higher cost of advertising or higher tactical MSRP [manufacturer's suggested retail price] discounts?" he asks. (Tesla did not respond to interview requests.)
Beijing-based Jack Perkowski, Managing Partner of JFP Holdings, a consultancy that helps global companies crack the China market, believes that the price is not all that low as Tesla claims it is. Tesla is entering China in the electric vehicle (EV) segment, which is anyway pricier than conventional vehicles. "They are much more expensive than conventional cars and while Tesla's price may be 'fair' in some sense, it's also high. Why pay much more for a car, unless it has a strong, luxury brand image," says Perkowski.
He feels, to be successful in China, Tesla will have to compete as a luxury sports car. In a blog for Forbes, Perkowski contends that Tesla's 'fair price' is still well above the prices of most of the other luxury car models sold in China. Nearly 20% of the luxury cars manufactured in China, he says, are priced under RMB 300,000. Even an Audi can be bought for RMB 300,000-400,000.
A comparison with other EVs is more telling. Chinese automaker BYD's all-electric e-6 car, for example, can be bought for under RMB 400,000, and its model Qin for even less!
Perkowski doubts that Tesla's assertion of being 'fair' to Chinese consumers by not ripping them off is its only consideration. If Tesla had priced the Model S like other foreign car makers do in China, the price would have simply been too high for China, and too big of a risk for the company. Doing a quick back-of-the-envelope calculation, he points out: "The price tag in China is already high at RMB 734,000." If Tesla tried to double its profit, the price would be too high, even for China's luxury car market.
But in the end, he believes that "Tesla's pricing structure is well worth the risk". "It didn't have any other choice but to price the car as competitively as possible. That was the only way it could hope of getting reasonable unit sales out of China," he says. "As an obvious side benefit, it has been able to tell its Chinese customers that they are not making any more on a car sold in China than one sold in the States. I believe that is worth something."
Considering that the concept of 'luxury' holds a lot of notional value in China, will the 'fair price' tag dent Tesla's image as a premium brand? Shanghai-based Oceanne Zhang, Leader of Market Insights at Kantar Retail, doesn't think so. Being smart and price sensitive is part of the Chinese shopper's DNA, so they are always on the lookout for the best deals in the market, she says.
Is China Ready for Tesla?
Having said that, Tesla's goal of getting a third of its growth from China this year seems a little over-ambitious. The biggest reason, of course, is that so far EVs haven't taken off in China. While sales of locally-produced passenger 'new energy vehicles' (pure-battery electric vehicles, plug-in hybrid vehicles and fuel cell vehicles) rose by 20.42% year on year in 2013 according to a recent report by IHS Automotive, the picture is not all that rosy. "Despite the double-digit growth,… the volume of new energy vehicles (NEVs) is low compared to the overall passenger vehicles market in China. The volume is also far lower than the targets set out by the government," says Shanghai-based Namrita Chow, Principal Analyst, World Markets Automotive, IHS Automotive.
According to targets set out in March 2013, the overall number of NEVs must reach 0.5 million in 2015 and 2 million by 2020. This revised target is less than half of the target of 5 million set earlier for 2020. According to IHS data, at the end of 2012 there were only 27,800 such vehicles on the road, of which 80% were electric buses. Last year China sold a total of 17,642 NEVs including the 11,963 passenger NEVs (refer to the graph). This brings the total number of NEVs in operation to 45,442 units, says Chow, a mere fraction of the targets set out by the government. "China still needs to add 454,578 NEVs by the end of 2015." (See New Electronic Vehicle Sales in China below)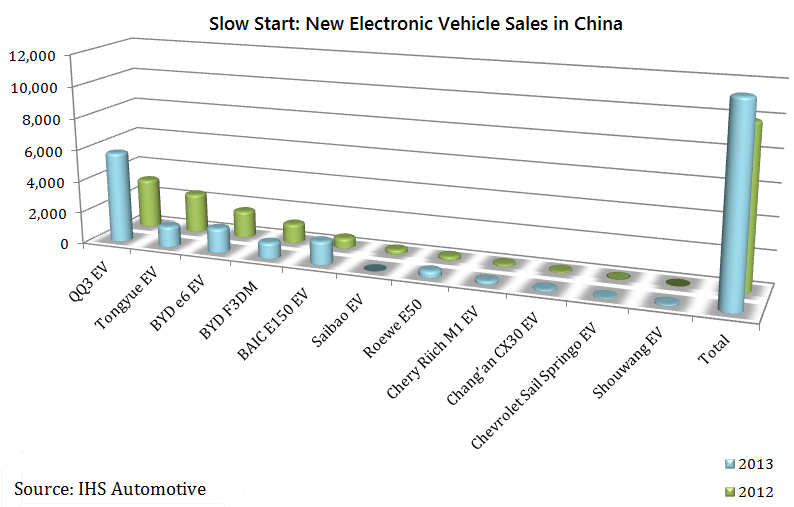 Despite subsidies, the EV market in the world's largest automobile market, has failed to take off. In fact, the government recently eased its policy on subsidies on locally-produced EVs, prompted perhaps by the lukewarm response of the Chinese consumers. According to a joint statement released by the finance ministry, the National Development and Reform Commission, technology and industry ministries, subsidies for 2014 will be cut by 5%, instead of the previously announced 10%; and by 10% instead of 20% for year 2015.
"Subsidies and tax reduction benefits provided for EVs are certainly attractive in China, even when compared with other countries such as Denmark where buyers benefit significantly from government tax exemptions for electric cars," says Graef. "However, the dismal charging infrastructure in the country acts as the key barrier to EV sales. It is also difficult to install the charging stations in large urban residential compounds where majority of the potential premium car buyers live."
Adds Chow, "The problems for the private consumer and the NEV manufacturer relate to charging infrastructure and protectionist policies that currently do not easily allow sales of NEVs produced in one province to be sold in another. Protectionist policies encouraging sales of only locally-produced NEVs and components will not only increase inter-state rivalry, but also limit the overall growth of NEVs across China as consumer choice gets limited to models produced locally." BYD, for instance, just got an approval to sell its EVs in Beijing and Shanghai.
Besides the subsidies, the Chinese government is providing other incentives to encourage EV sales. For instance, the Beijing municipal government recently enforced a quota of about 13% for hybrid electric and full-electric vehicles in the license plate registration lottery. And this share will keep increasing through 2017 to about 40%.
"It might be a powerful incentive for the millions of aspiring applicants who hope to increase their chances in this lottery if sales prices of new energy vehicles get close to prices of conventional vehicles," says Graef with a hint of skepticism. The incentive has not been appealing enough for many in China. At the latest draw, while each permit for conventional gasoline autos received more than 90 bids, only 1,428 people applied for the 1,666 NEV plates on offer.
Understanding the Chinese Consumer
Perkowski, also the author of Managing the Dragon: How I'm Building a Billion Dollar Business in China, provides another interesting insight which may help understand why despite the subsidies and other incentives the EV market in China continues to be sluggish: "If Tesla is making a miscalculation, it is that they believe that Chinese consumers have the same values as US consumers. In the US, it is fashionable to be seen as being 'green,' so at least some consumers are willing to pay much more for a car simply because it's an EV. It's not that the Chinese are not concerned about the environment; it's just that they are more practical." Chow adds that it is unlikely that private consumers will "choose to use their hard-earned cash on an NEV, which may not offer the same satisfaction as a regular gasoline vehicle, which is also substantially cheaper".
Zhang believes that despite the high price tag, the Chinese consumer will bite. "The wealthy Chinese have spent loads of money on luxury cars in the past because they did not really have too much of a choice—all the car manufacturers had been charging them a premium," she reasons. "Tesla not only provides the Chinese shoppers an option, but also transparency, honesty and respect—something which the Chinese shoppers have been requesting for a very long time."
Tesla CEO Musk has time and again reiterated his commitment to help realize a future where EVs are the norm and not the exception. In a blog dating back to 2006, he wrote, "Tesla needs to be profitable to be viable and grow, but this is about much more than making money. The electric vehicle revolution is critically important to the world and is way overdue."
Tesla recently announced that in another three years it should reach its goal of "producing a mass-market electric car". Plans are afoot to build a large-scale factory that will allow it "to achieve economies of scale and minimize costs through innovative manufacturing, reduction of logistics waste, optimization of co-located processes and reduced overhead".
With the Model S at the premium end and a possible mass-market car at the other, Tesla may have a whole portfolio to bank on. Playing in volumes can have a huge positive impact on a company's bottom line. And there's perhaps no place better than China to prove this theory true. How far Tesla succeeds in fueling its China ambitions is only a matter of time. China truly could be Tesla's ultimate litmus test.
Enjoying what you're reading?
Sign up to our monthly newsletter to get more China insights delivered to your inbox.