You may not recognize the name SenseTime. But if you have spent time in China recently, SenseTime will almost certainly recognize you.
Founded just five years ago by a group of data researchers at the Chinese University of Hong Kong, the startup has rapidly established itself as China's leading provider of facial recognition technology. Its face-scanning software is used everywhere from smartphones to office blocks and police stations.
China has embraced the brave new world of biometric identification. The government is aggressively promoting the development of domestic companies in this field as part of its plan to make China a world leader in artificial intelligence (AI) by 2030.
SenseTime has been a major beneficiary of support from Beijing. In 2018, the firm was named China's fifth national AI champion, alongside Alibaba, Baidu, Tencent and voice recognition player iFlytek.
The same year, the company raised a staggering $1.2 billion from investors including Chinese e-commerce giant Alibaba Group, US chipmaker Qualcomm and international fund Temasek Holdings. It is now worth an estimated $4.5 billion, making it the most valuable AI startup globally.
As with its rival Megvii, SenseTime is generating much of its revenue through lucrative government contracts. Local authorities across China are using the company's face-scanning software to track down suspects. But the firm's influence already stretches far beyond surveillance, as Jeff Shi, Vice President at SenseTime, makes clear.
"We are trying to service more industries," says Shi. "The philosophy of our founder, Professor Tang Xiao'ou, is to empower as many industries as possible to make people's lives richer, healthier and more secure."
Though around 40% of SenseTime's income comes from the Chinese government, the company's revenue from corporate clients grew more than tenfold in the 12 months up to May, according to the firm.
The company's software is already deeply embedded into the daily lives of Chinese citizens. Bank customers verify their identities with SenseTime-powered face scanners. Live-streamers alter their appearance on camera in real time using SenseTime's technology. Similar features help Oppo and Vivo smartphone users unlock their handsets and touch up their selfies.
But the sector in which SenseTime may be driving the deepest changes is retail. In this space, the company's technology has the potential to be a game-changer.
Know Your Customer
For retailers, the key attraction of facial recognition is that it promises to recreate in-store many of the efficiencies offered by e-commerce, according to Gabriel Bianconi, founder of AI consultancy Scalar Research.
"When a customer comes onto a brand's online store, the company can see everything they do while they are browsing, while advertisers and other sources also provide a huge amount of data about who that person is," explains Bianconi.
E-commerce stores like Amazon and Taobao, run by Alibaba Group, have been able to use this data to boost sales dramatically. They can accurately target product recommendations based on a customer's age, gender, purchase history and other metrics, as well as streamline payment processes based on past user behavior.
In physical stores, however, most brands have nothing approaching this level of insight. Until recently, the best customer-monitoring solution on the market for brick-and-mortar stores was heat map technology, which tracks the number of customers and their movements inside a store.
Facial recognition allows stores to supplement this tracking data with more detailed information about each individual, according to Shi. He says the company's technology can add up to 10 data points for each face, such as age, gender, whether the person is a repeat customer and even "whether you are happy or not."
Brands can use this information to improve performance in a number of different ways—from designing stores to make it easier for customers to find items they need, to positioning promotions in areas frequented by the kind of customers they are targeting. "It's like a website—you guide the traffic to the right place," observes Shi.
Over time, these changes can boost efficiency significantly. Research firm Business Insider Intelligence forecasts that integrating AI technology will increase profitability in the retail and wholesale industry by 60% by 2035.
According to Bianconi, several leading retailers in the United States have integrated facial recognition technology into their stores for analytics purposes. SenseTime began exploring opportunities in China's retail sector in late-2017, and the company quickly found that local companies were equally keen on the technology.
"We have very limited bandwidth," says Shi. "We have nearly 200 Ph.Ds. working for us but meeting the demand for our services would probably require 2,000."
The company has had to pick and choose clients for this reason. "If you look at retail in China, there are mall owners, convenience stores, luxury brands and then large chain stores," says Shi. "For each category, I would say that at least two of the top three players are our customers.
Collecting Faces
SenseTime aims to go far beyond simply providing retailers with demographic information on in-store customers. The goal is to identify each customer's specific identity.
"With our technology, we can help retailers to connect their offline data to their online database," says Shi.
This would allow brands to see each customer's entire purchase and browsing history both online and offline, giving them new levels of insight. It would also allow staff instantly to identify VIP customers or known shoplifters when they enter a store.
Creating a face ID for customers remains controversial, particularly in Europe and the United States, where privacy concerns run especially high.
According to Bianconi, the only Western retailer that is applying facial recognition in this way is Amazon, through its Amazon Go stores. The sheer convenience of its automatic payment system appears to have convinced consumers to hand over their face data, though Amazon only operates nine Go outlets as of 2018.
Alibaba Group sees huge potential for this model in China, which is why it led a $600 million Series C funding round in SenseTime in April.
"We're working very closely with Alibaba," explains Shi. "We're providing all the computer vision engines to their retail solutions. And through Alibaba, we're also servicing a lot of retail clients."
SenseTime's technology is likely to be rolled out on a large scale by Alibaba due to the way it is expanding into brick-and-mortar retail.
"In the US, brick-and-mortar retailers are mostly trying to catch up and compete with Amazon in e-commerce," says Charlie Poon, an analyst at global retail think tank Coresight Research. "The situation is different in China, where Alibaba and the other top tech giants are using a more cooperative approach."
Alibaba's strategy, dubbed "New Retail," focuses on integrating online and offline retail into one ecosystem, making both more efficient. The e-commerce company has invested enormous sums to realize this vision.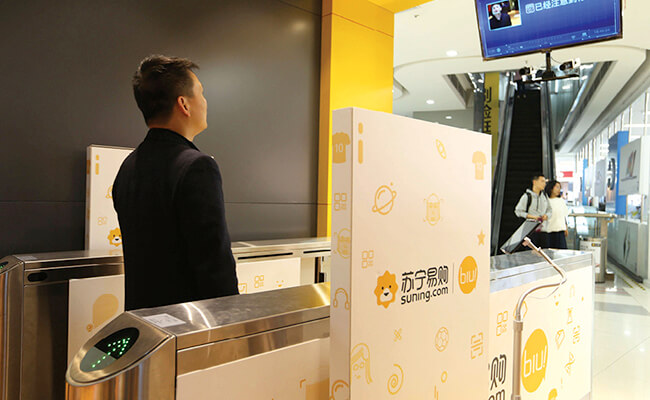 TechNode, the system identifies items using RFID tags rather than image recognition software, but the entire process takes just a few seconds.
The Biu stores show the potential benefits facial recognition could bring to Alibaba. Once a customer has created a Biu account, as they move around the store they receive targeted advertisements recommending products they might like to buy based on their browsing habits and past purchase history. If the items are not in stock, the customer can pay in-store and have the product delivered.
According to Shi, SenseTime is working on a similar Amazon Go-style store with a multinational client, which will use service robots that will offer customers coupons based on their previous purchases.
Changing the Culture
How successful these concepts prove to be will depend on how willing consumers are to sign up for an account with each store and hand over their face data. This may prove a hard sell in some markets in the short term at least, as Shi acknowledges.
"Many customers, especially in Europe, think we're creating a large database of face photos," he says. "But that's not the truth. Actually, we only store a map of 240 dots showing the contours of a person's face. We don't have access to the photos on our clients' databases."
The company is confident that these doubts will subside as the technology becomes normalized.
"[The resistance to facial recognition] is probably just a perception," says Shi. "Our personal credit card information, address and payment history are all stored somewhere. But some people are still saying no to storing face data."
In China, this process of acculturation appears to be moving much faster than elsewhere. This is partly due to government support, but also the result of consumers' general willingness to try new things and sign up for any service that makes life more convenient in the country's ultra-crowded urban spaces.
Ant Financial, an affiliate company of Alibaba, launched a facial recognition payment system called "Smile to Pay" in 2017. This service is now used by tens of thousands of merchants in 300 Chinese cities.
This system will become widely available in 2019, as Ant Financial recently released a major upgrade called Dragonfly. The technology is now installed in a small hand-held device rather than a large point-of-sale terminal, reducing the cost for merchants by 80%, according to China Daily.
Commuters in Guangzhou already have the option of entering the subway through facial recognition scanners, though some social media users have complained about potential privacy concerns. SenseTime is developing a similar system for the Shanghai metro.
There is even the possibility that China may create a national "face ID" database. Singapore announced it was creating a National Digital Identity system in October, which is designed to make it quick and easy for users to enroll in facial recognition-enabled systems. United Arab Emirates is reportedly considering a similar initiative.
Scanning the Market
These projects suggest that China will not be the only country pushing forward with facial recognition. SenseTime is already exploring opportunities in several overseas markets. In 2018, it partnered with Japanese automaker Honda on self-driving vehicle technology and jointly set up several research institutes with partners in Singapore.
According to Shi, the company has been well received in these new markets. "Surprisingly, the demand for our solutions in countries like Japan and Singapore is as high as in China," says Shi. "The concept of face ID is getting a lot of traction in Asia."
The company sees the international market as becoming an important source of revenue growth.
"Traditionally, software has been undervalued in the Chinese market," says Shi. "Although people recognize the value we provide, I have found that we could probably sell the same product for four or five times the price in Japan or Singapore."
In these markets, SenseTime must compete directly against large Silicon Valley players and retail technology incumbents like Johnson Controls. But the company feels that it already has an edge over its Western rivals.
"In terms of software, we feel that we are ahead in a number of areas," says Shi. "We have the confidence to say that because our clients overseas are free to select technology from us or the US players."
Recent contests indicate that the Chinese players' technology rivals that of US firms. In 2017, global AI companies took part in the Face Recognition Prize Challenge organized by the US National Institute of Standards and Technology. The face search competition was won by Shanghai-based startup Yitu Tech, which was able to identify one person from a database of a million images 80% of the time.
According to Shi, SenseTime's algorithms now have that capability, and the technology is evolving rapidly. By the end of 2019, the company forecasts it will be able to pick one face out of a database containing 100 million people.
Barring a black swan event, SenseTime's rise appears unstoppable. Despite a recent downturn in China's AI venture capital market, SenseTime plans to raise another $2 billion in 2019, according to Bloomberg.
"The decline in funding is hitting startups that weren't able to prove a business model to VCs, but those with a clearer future like SenseTime are not much affected," says Poon of Coresight Research.
The greatest risk to SenseTime appears political, rather than economic. In November, the United States Department of Commerce released a proposal to restrict exports of strategic technologies, including artificial intelligence-enabled microchips.
The move is far from confirmed and would be sure to receive pushback from American businesses. But SenseTime would be vulnerable to any restrictions, given its reliance on hardware from US technology firm Nvidia to drive its supercomputers.
Shi prefers to remain sanguine about the situation, pointing to the Chinese firms, including Alibaba and smart chip startup Cambricon, that are attempting to develop their own AI-powered hardware.
"I don't think it would be a smart move by the US—you're just forcing your potential competitors to move faster," he says.