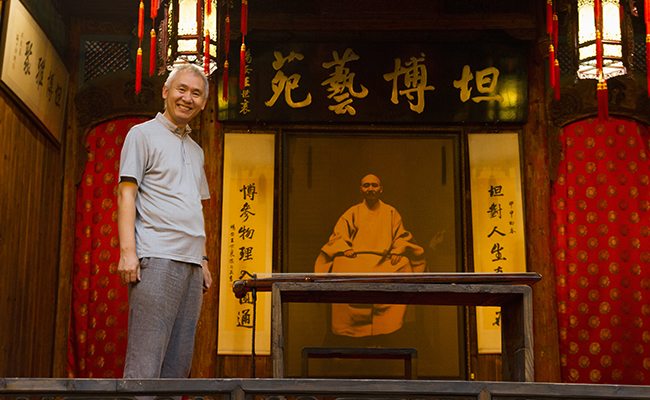 Bai Shiyuan and his curious collection
Enter any of the countless, brown-brick factory warehouses of Haidian district, on Beijing's northwesterly outskirts, and you're likely to be greeted by sweaty workers, hoards of crates and scowling overseers. Pass the threshold of entrepreneur and compulsive collector Bai Shiyuan's warehouse, however, and you'll walk straight into a breathtaking imperial gateway, flanked by restored wooden pillars, ornate carvings and huge gold embossed characters on every surface.
Surrounded by construction work and dilapidated pathways the monochrome building looks like any other in the area. But inside is a cavernous temple to wealth and decadence, akin to the Ming Dynasty which ruled between 1368 and 1644. Stepped gray brickwork adorned with wooden carving trim rises up to the ceiling, in the center, the Chinese-style slanted slate roofs give way to the courtyard's trademark skylight encased in glass, the only reminder that this is a building within a building, a ship in a bottle.
Collecting is Bai's greatest passion, and for the last 30 years, he's obsessively hunted down and restored the merchant houses of Huizhou, assembly halls built several centuries ago by wealthy southern Chinese traders to mimic the emperor's affluence. The soft-spoken 50-year-old businessman painstakingly moved his latest find, an old Huizhou courtyard, into his factory block-by-block and pillar-by-pillar, reconstructing the relic within a warehouse in northern Beijing.
The Huizhou Style
Huizhou's ornate and extravagant traditional dwellings–with their southern Chinese architectural stylings such as upturned eaves, elaborate woodcarvings and pillars–were built in the Ming and Qing dynasties (1644–1911). The houses were constructed in the Huizhou region of Anhui province by ambitious merchants of the time who had made small fortunes trading in commodities such as bamboo, wood, lacquer, tea and salt.
The Huizhou mansions are renowned for fabulously ornate pillars, corbels and doors carved with intricate details, often incorporating local or family fables from the time. Antique window screens from traditional Huizhou homes which have already been demolished have, in some cases, been salvaged and sold as decorative items to luxurious restaurants, business clubs and homes in China and worldwide.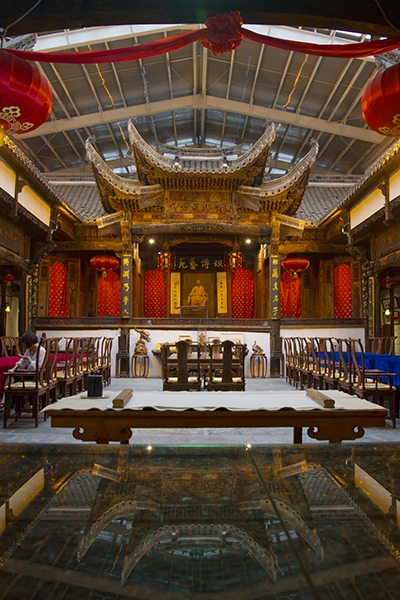 Bai believes by collecting he preserves rather than disrupts Chinese cultural relics. He acquired his warehouse-bound dwelling from the Jixi area of Anhui province. "I believe it belonged to the family of a high-ranking noble heiress and was used as a temple by the family. My priority was to preserve the building before it was torn down," he says.
In a rush to preserve the structure from demolition, the businessman paid RMB 2 million for the 300 square meter property, and went to work on the relocation. Starting with the roof, Bai hired a team of technicians to take each slate off and wrap it carefully for transportation to Beijing. Damaged or rotten wood was replaced using the same material from the local area. Carvings were even restored by the few remaining Huizhou experts of the craft, who Bai encourages to pass on their expertise to other members of his team.
Bai is not alone in his passion for the old houses. More recently, modern day Chinese tycoons have begun to buy whole antique wooden homes in Anhui to be dismantled and rebuilt for display in villa gardens. The trend has prompted worries among conservationists that a unique form of Chinese culture is being lost forever.
The trend prompted Chen Rongjun, director of Dongyang Relic Protection Office, in Anhui province, to tell local media that while the houses are not listed as protected buildings, they lose their unique cultural value once removed from their original sites. His concerns focused on wealthy businessmen in Yiwu, a wealthy city in Zhejiang province, who had developed a penchant for buying up the old homes from Anhui and reestablishing them in their home city.
But not all collectors are cashed up businessmen looking for a new garden ornament. There are some in the Yiwu area, who share Bai's vision of preserving the antique structures for future generations. Yang Handong, a textile tycoon in Yiwu, has turned his collection of antique Huizhou-style antique houses into a public exhibition. Yiwu locals can view seven exquisitely restored structures in a park next to the headquarters of Yang's Hujiang Group, China's biggest thread producer. Likewise, Zhu Youfu, a retired local official in the city, has created a dining and tourist complex around his collection of Anhui houses, with guests paying to feast in some of the restored buildings.
Bai won't confirm if he'll invest his own funds in a similar open-doors museum for the public appreciation of a unique form of Chinese cultural heritage. For now, it appears, Bai's exquisite Huizhou homes are for private viewing only.
Long Time Collector
Since the 1980s, Bai has bought around 200 similarly exquisite decorated courtyards. When he first purchased one of the properties, at around 300 square meters, it cost him between RMB 7,000 and RMB 8,000, he recalls. In the 1990s, just before he stopped buying the houses, his last property cost RMB 7 million. By this time an awareness of cultural heritage had driven the prices so high that he had to stop.
"The living standards and education of people in the Huizhou area was on the rise," said Bai. "Their understanding about the nature of cultural heritage and relics had increased, and while they were still looking to move, the price of the buildings had increased."
The traditional houses are now Bai's proudest possessions and have a history of decadence. In imitation of the imperial style, the merchants became lavish in the design of their own homes, temples and assembly halls, utilizing the unique talents and materials of the local area for stonecutting, wood carving and brickwork. It was this excessive attention to quality and decoration that first attracted Bai, who still believes that the Huizhou houses are the very best in Chinese civil architecture. Originally, he had begun collecting inspired by the Ming Dynasty paintings which appreciated rapidly in value, but later found himself driven by a desire to preserve China's cultural heritage.
The buildings had just about weathered the test of time, and somehow managed to survive China's Cultural Revolution. By the 1980s however, the original occupants of the old buildings were keen to move into more modern buildings with better amenities and had been tearing down the structures in favor of China's passion for faceless apartment complexes. Bai, struck by the beauty of the buildings, and well aware of the potential value of collectibles, rescued them.
"I actually didn't start this with the idea of cultural heritage preservation in mind," he remarks. "My collection of art has undergone three phases. Firstly as an investment for my future, then collecting, organizing and appreciating, but finally I realized that we were taking these things out of society's grasp. They are still precious to society, and it's about giving them back for people to appreciate them as well."
In future, he hopes, there will be 10 Huizhou-style villages around the world, reconstructed as they were as a testament to and an avenue for spreading Chinese culture. With no concrete plans yet, Bai hopes to start in China, but is waiting for the right time to contact the Chinese government to approve a property or piece of land for his planned museum, before he moves further afield.
His true vision is to recreate entire villages in the same state that he found them in various locations around the world, as a place for tourists or locals to appreciate Chinese culture and learn about China's history. Meanwhile, the relics are sitting in a 100 acre warehouse on land belonging to Bai in Beijing, waiting for their rebirth.
The urge to preserve China's ancient culture now appears to drive Bai as much as the thrill of collecting. "I think this can only happen in China," he says, referring to the Cultural Revolution. Between 1966 and 1977, the Red Guard, a militant youth group established by Chairman Mao Zedong, was encouraged to root out bourgeoisie elements within society. Artworks associated with imperial China were targeted and destroyed across the country and many artists were subject to public criticism or at worst, torture.
"At that time, families who owned great calligraphy and paintings didn't even burn them, in case it attracted the attention of informers or the authorities. Instead, they would submerse them in water until they just turned to pulp. So many great works were lost," he says sadly.
Appreciating in Value
Bai's hobby for collecting old works of art soon became his main occupation, and he has now accumulated not only a healthy collection of ancient courtyards, but also stacks of carefully archived boxes, kept in an air-conditioned storeroom, each of which contains pieces of Chinese calligraphy by different artists along with ink wash paintings, sculptures and historical relics.
Bai says that his wife and four-year-old son have given their somewhat tacit approval of his compulsive collecting, making space in the family apartment in Yayuncun, near Beijing's Olympic stadiums, for Huizhou carvings and other relics.
Pointing to a Qing Dynasty (1644-1911) bed, he casually mentions that it's worth somewhere in the region of RMB 30 million, a scroll that was once in the care of the Manchu Emperor Qianlong (1711-1799), is thought to be priceless. Paintings hanging on the walls of his warehouse by younger contemporary artists, still working in traditional styles, are valued in the thousands. He insists he is not collecting with a view to profit, but rather out of his own desire to possess elegant things.
Bai spends much of his time with promising traditionalist artists, collecting their work before it appreciates in value. "Chinese collectors who go to the auctions don't buy a collection; they focus solely on a single expensive piece. I'm not like that at all," says Bai. "I never compete in the auctions. I always collect things that other people overlook. I'm looking for things that will appreciate in value over the next 20 years."
Certainly China's fine arts market doesn't want for eager buyers. The European Fine Art Foundation (TEFAF), based in Maastricht, the Netherlands, has calculated that China now accounts for 30% of the world's arts and antique sales, surpassing more stagnant markets in the UK and US, which now account for 22% (unchanged) and 29% (down five percentage points from last year) respectively. The country's fine arts market was estimated at $3 billion in 2010 according to the TEFAF.
Wealthy Chinese buyers have turned the global arts market on its head, with former top sellers like Spanish artist Pablo Picasso and American pop-culture icon Andy Warhol being eclipsed by Zhang Daqian and Qi Baishi, both Chinese traditionalist painters born in the late 19th century.
Chinese collectors have opted for local artifacts. A single scroll by ancient calligrapher Huang Tingjian sold for RMB 436 million on June 23, 2010, at Beijing's Poly auction house, smashing the previous record of RMB 169 million held by Handscroll of the Eighteen Arhats by Wu Bin from the year before, according to a press release from the auction house.
In for the Long Haul
As a lowly radio mechanic in Beijing in the late 1970s, a young Bai bought three vases from a street side antiques market for RMB 15, two months-worth of wages at the time. Raised in an educated family, Bai could see that the vases were of some value, but it was only when he sold two of them to pay outstanding debts in the late 1990s for RMB 1 million, that he realized what he had on his hands. Eleven years later, he sold the remaining vase for nearly RMB 20 million.
"My businesses have never done very well," he chuckles. "I've always spent all my money on collecting, I had hoped to gather as much of value as I possibly could by the time I was 50. Afterwards I can stand back and work on other things."
Despite accumulating an Aladdin's Cave in a grubby Beijing suburb, Bai says he has no intention of selling it all off for a quick buck. Participating in the Olympic Fine Arts project – an event established alongside the Beijing 2008 Olympics to promote culture with sports – Bai took a series of paintings and scrolls to London this year, to show off Chinese antiques to a wider audience. While keeping his Huizhou dreams alive, he's waiting for government support to allow him to share the structures with the public. In the meantime, he's doing what he does best — watching, waiting and collecting.