Trade tariffs, rising labor costs, COVID-19 and other factors have caused manufacturers in China to consider diversifying their supply chains. To what extent will Southeast Asia benefit from this shift?
Over the past three decades, China has carved out a dominant position in producing the world's goods at a low cost, with high output and efficiency. But businesses around the world are increasingly concerned about diversifying supply chains to offset being too reliant on any one producer for their products. The top beneficiary of the diversification now taking place appears to be South-East Asia.
The irony is that before China's massive rise from the 1990s onwards to become the manufacturing juggernaut it is today, it was these very same countries in South-East Asia that provided the bulk of offshored manufacturing for the developed world. Malaysia, the Philippines, Thailand and Singapore were all major players in international supply chains.
"Many manufacturing companies have planned to relocate, or have already relocated at least part of their production, from China to other Asian countries as labor costs have been rising in recent years and environmental regulations have become more stringent," says Tommy Wu, the leading economist at Oxford Economics in Hong Kong. "The China-US tensions over trade and technology, and more recently, the COVID-19 outbreak, are pushing companies to be more decisive."
The split
More than 50 multinational companies, from Apple to Nintendo, shifted production out of China in 2019 to avoid the 25% trade tariffs that have been placed on over $200 billion worth of Chinese goods by the United States since 2017, according to the Nikkei Asian Review.
The Review said that Apple called on major suppliers to consider moving 15 to 30% of iPhone production out of China, and trial production of its popular AirPods has already started in Vietnam. American PC makers HP and Dell are also thinking of moving up to 30% of their notebook production in China to South-East Asia and elsewhere, and Amazon, Google, Microsoft, Nintendo and Sony all have plans to move some of their productions out of China. In the results of a survey released by the American Chamber of Commerce in May 2019, around 40% of the 250 surveyed firms said they were "considering or have relocated manufacturing facilities outside of China."
But it is not just foreign companies that are reconsidering their manufacturing bases—Chinese manufacturers are also part of this trend. Chinese electronics company TCL is moving its TV production to Vietnam, while tire manufacturer Sailun Tires is transitioning its production line to Thailand.
The effects of this trend as well as of the China-US trade war are already visible. In the first five months of 2019, exports to the US fell 12% on the year in value terms, while those from India, Taiwan and Vietnam logged double-digit gains. India, Malaysia and Vietnam have all recorded big increases in exports to the US as new supply chains are built. Vietnam's trade surplus with the US jumped 29% last year.
Many companies, alarmed at the prospect of a prolonged dispute between China and the US, have opted for the "China plus one" strategy, keeping factories operating in China for the domestic market and opening others elsewhere to service the international market.
"The coronavirus and trade war shocks have exposed the riskiness of this over-dependence [on China]; as a result, we could see China's de-facto monopoly in these areas start to erode, as multinationals try and set up alternative production bases in other parts of Asia," says Nick Marro, Global Trade Lead at The Economist Intelligence Unit.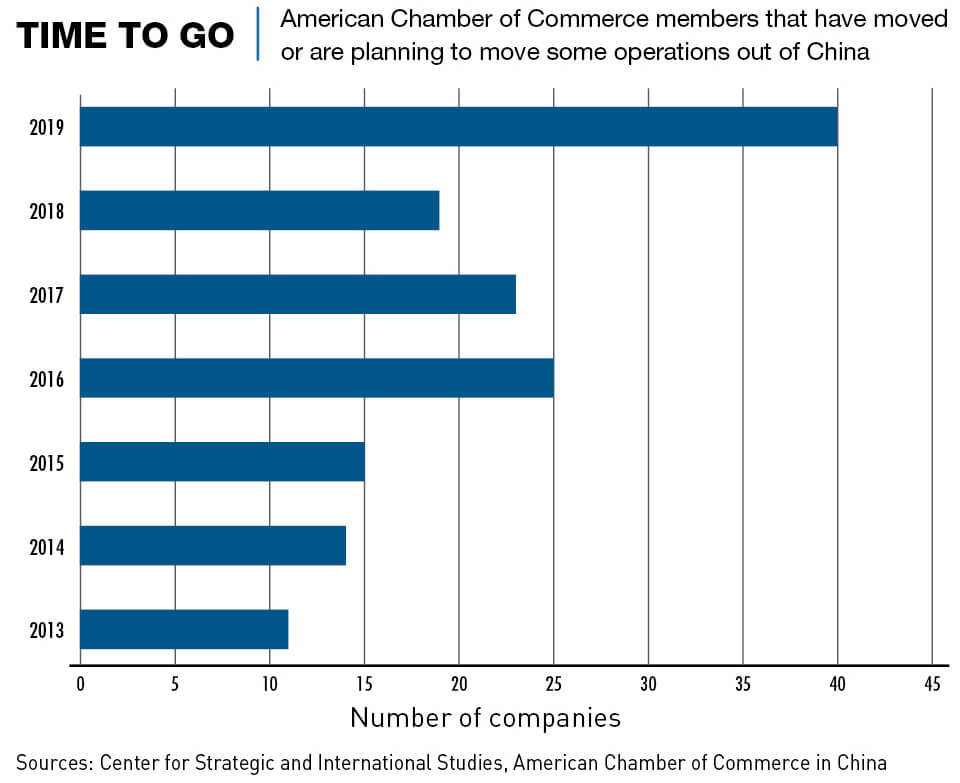 Why not China?
Companies are looking to shift production for a number of reasons, including rising labor costs, US tariffs and what is widely viewed as a restrictive business environment. The COVID-19 crisis revealed the dangers of overdependence on a single manufacturing base.
Marro says that growing labor costs are the main reason. Chinese factory workers are now getting paid more than ever, reported CNBC with average wages now being five times those of India, putting China on a similar labor cost level as Portugal and South Africa.
"With the trade tension between the US and China, most economies in the region could grab huge opportunities to boost their economic development," says Marro. "This looks to have been concentrated primarily in areas of lower-end manufacturing, such as consumer electronics and in ready-made garments."
Fraser Howie, co-author of Red Capitalism: The Fragile Financial Foundations of China's Extraordinary Rise, highlights how an overdependence on China is now seen as a risk for businesses.
"There is a clear trend, only exacerbated by the virus outbreak, that dependency on China can become a liability," says Howie. "The trade war and US decoupling is part of that, but China as a sole or dominant source in a range of strategic industries is now understood to be a security concern."
For businesses looking to diversify their supply chains, there are several options available, including moving production to Mexico and Eastern Europe or even onshoring back to the home market. But with South-East Asia right next door, offering cheaper labor, less interference in commerce, and with similar cultures, it appears to be the most popular choice so far.
The winners
While South-East Asia overall will benefit from this shift, Vietnam is in the lead and is becoming home to many manufacturers of electrical and electronic equipment. It offers logistic advantages because it shares a land border with China, 64% lower manufacturing labor costs and the expertise to produce similar products to China.
Malaysia and Thailand are also likely contenders for production relocation. Thailand exports similar products, wages are 25% lower than in China and the country has investor-friendly policies, according to research by Rabobank, a financial services provider based in the Netherlands. Thailand's main caveat though is political stability, even after recent elections.
Malaysia, on the other hand, has a relatively stable legal and policy structure, which is attractive to foreign investors.
"By contrast, places like Indonesia and India—where regulations are fragmented, domestic interests are entrenched, and levels of red tape are high—have seen their potential relatively constrained," Marro says.
Analysts say that it is a long-term story and that these countries will ride the wave to varying degrees and South-East Asia itself is a mixed bag.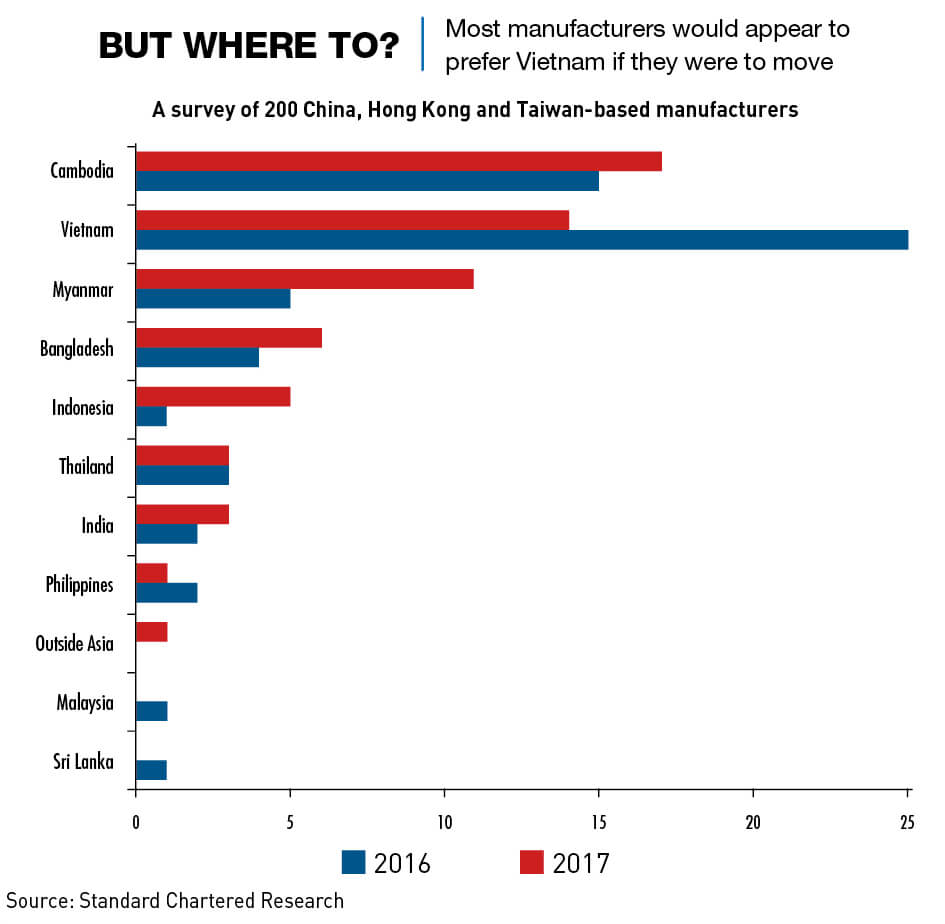 The have nots
Foreign investors have been encountering difficulties in particularly Cambodia and Indonesia. In recent years, Cambodia's worker protests and labor strikes have become prevalent, with productivity only reaching about 60% of China's, according to industrial analysts. Labor costs in Cambodia have also been on the rise, with minimum wages now higher than Bangladesh, India, Laos or Myanmar.
Indonesia—with the largest economy in South-East Asia—is also problematic. Its restrictive foreign investment policies, high taxation levels and geographic spread across a vast archipelago have not counted in its favor.
Overall, Marro speaks about the positives of supply chain diversification for South-East Asia, with the capital and technology transfers that inevitably come with foreign investment. But he also emphasizes possible problems.
"This has not always come without risks, however; in addition to concerns around a growing competition between foreign and local companies, we've seen some diplomatic developments in certain cases, too," he says. "The US, for example, is now paying a lot more attention to its trade relationship with Vietnam, based on the fact that many shipments from China have likely been illegally re-routed through Vietnam to avoid US tariffs. That's brought an unwanted degree of scrutiny to the US-Vietnam trade relationship."
No utopia
Not only does South-East Asia have its own challenges but China has strengths that are irreplaceable, at least for now. With its highly developed logistics network, superior supply chain ecosystem, skilled workforce and high efficiency, China has definitely earned its position as the "Factory of the World."
Wu from Oxford Economics says that many South-East Asian countries simply lack the infrastructure and bandwidth to compete with an established China that is already rebounding from problems presented by the COVID-19 outbreak.
"China has the size of labor, the number of process engineers, the infrastructure, as well as sophisticated and complete domestic supply chains unmatched by other countries in emerging markets," says Wu.
A rebalancing
Beijing was under pressure to keep the economic growth rate up even before the virus hit, and in the past year has offered special benefits and preferential policies to foreign enterprises in the hopes that the new advantages outweigh the reasons for wanting to leave. China announced in June 2019 that it would ease restrictions on foreign investment, with direct investment into China increasing 3.5% year-on-year to about $70.7 billion for the January-June half as a result, according to the Commerce Ministry.
Rabobank has also reported that there is concern that the movement of production capacity from China will increase unemployment and lower the capacity for domestic consumption. Ironically, if China wants to move up the value chain and produce more high-tech goods, it needs foreign investment and more open trade.
But even though the disadvantages for China of a production shift are clear, experts say that the impact will not be too severe as many companies will still produce in China for the domestic market.
"Foreign direct investment (FDI) interest will persist in the market," says Marro. "The bigger risk is whether reforms to China's own FDI policy framework stall and discourage this investment from continuing."
He adds China will still remain the economic heavyweight in the region. Menghour Lim, deputy director of the Mekong Centre for Strategic Studies at the Asian Vision Institute, agrees with Marro in that a manufacturing shift will not have a significant impact on China.
"Even though companies are planning to move, it does not affect most of the economy due to the interconnection of world economics today," he says. At the same time, China and other ASEAN states are promoting their bilateral economic cooperation, for example, through Free Trade agreements, in order to boost their trade and investment."
The longer-term supply-chain relationship between ASEAN and China is likely to be a symbiotic one, both Lim and Howie say.
"China and South-East Asian countries will be relying on each other to boost their economic development," says Lim. "China, the biggest economy in the region, will lead the supply chain to South-East Asia. The evidence suggests that while there is an outbreak of COVID-19, the supply chain from China to South-East Asia has been affected and slowed down, but that won't last forever."
"The supply chain relationship between China and South-East Asia is probably going to become more balanced," says Howie. "China will remain a large and import economy, but manufacturing will move from China. Manufacturing in China will become more for the local market."
The issues involved in shifting manufacturing are huge in terms of financing, logistics and construction, and cannot happen overnight.
"We may see the relocation of less sophisticated products or production processes in the near future, but it will take much longer for the sophisticated ones to happen," says Wu. "Also, we may see production in China gear toward domestic sales, whereas production elsewhere towards the international market."
Enjoying what you're reading?
Sign up to our monthly newsletter to get more China insights delivered to your inbox.