China has set itself some very ambitious environmental targets. Is a circular economy the tool to help them get there?
A new sight greets delivery workers when opening the delivery trucks at the Guangzhou Huadu Worldwide Transmission factory in southern China, the country's largest aftermarket supplier of automatic transmissions. What would previously have been raw materials arriving for production are now old gearboxes in various states of disrepair, ready for remanufacture.
The company was one of the first to take part in a national "Trade Old for Remanufactured" scheme, encouraging the shift away from raw materials through a 10% discount for customers who trade in their old equipment for remanufactured items. It is one of the many incremental changes in the shift from a linear to circular economic mindset.
As China's mentality changes, companies like Guangzhou Huadu are reconfiguring their processes to help the "factory of the world" reuse old goods instead of using fresh raw materials. The company's entire production is now almost 35,000 gearboxes and automotive transmission systems that it remanufactures each year. To do that, the company specifically trains its technicians to undertake the often complicated repairs that make the gearboxes usable again.
Remanufacturing is just a small part of how China is adapting to the circular economy, a concept covering the production and consumption of goods to allow for more reuse and reduced waste. The environmental, social and economic pressures have been building for years and are now breaking to the surface in terms of government regulations and business and consumer interest. But there is still a rough road ahead in terms of changing the fundamental habits of over-consumption that underlie life, both in China and most of the rest of the world.
"Circular economy policies are incredibly important for several reasons," says Cecilia Han Springer, senior researcher for the Global China Initiative at the Boston University Global Development Policy Center. "Air, water and soil pollution have taken a heavy toll on health and the environment in China, and the waste reduction aspects of circular economy policy can reduce future pollution burdens. In addition, China is facing resource constraints in some areas—like water—and promoting a circular economy can lead to more economical and equitable use of scarce resources."
Closing the loop
Excessive consumption has had a massive environmental impact, with landfills filling up much faster than is sustainable. China's largest dump, established in 1994 in northwestern Shaanxi province's Jiangcungou, spans an area of almost 700,000 square meters and is already full—25 years ahead of schedule.
Given this backdrop, circular economy strategies seem heaven-sent. They aim to maintain economic growth and standards of living, but remove the negative side-effects. As defined by the Ellen MacArthur Foundation, a circular economy is a systemic approach to economic development designed to benefit businesses, society and the environment based on three principles: removing waste and pollution from the design process, keeping products and materials in use for longer, and regenerating the earth's natural systems.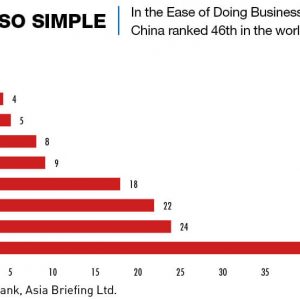 Enjoying what you're reading?
Sign up to our monthly newsletter to get more China insights delivered to your inbox.