After becoming the second-largest sportswear brand in the US, Under Armour has set its sights on China.
Under Armour, the second-largest sportswear brand in the US, is accelerating its expansion into China. The company is adding roughly one store per day between September and October, which will boost their store numbers in China up to 125 by the end of the year, according to the company's CEO Kevin Blank.
"This market is incredibly hungry for the Under Armour brand," Blank told Bloomberg during a TV interview in Beijing in early September. "China is a massive, explosive opportunity for us."
An underdog in an industry dominated by giants, Under Armour pulled off a growth miracle by increasing their quarterly revenues more than 20% in 21 consecutive quarters. The 19-year-old Baltimore, MD-based company surpassed its German competitor Adidas last year in sales in the US ($2.6 billion vs $1.6 billion), only trailing Nike ($11.8 billion) in the world's largest sportswear market.
Now Under Armour is trying to replicate its success in global markets, which account for about 11% of its revenue today. Although Japan is its biggest market outside the US, the company expects China to lead the way of overseas growth in the future, Blank said during the same Bloomberg interview.
And the Chinese market does offer tremendous potential. Since the second half of 2014, the sportswear sector has been steadily recovering from the slump it was experiencing. According to a white paper published by China Sporting Goods Federation in May, the industry's added value reached RMB 241.8 billion last year (roughly $39 billion with last year's exchange rate), a 16% increase from 2013.
The market is also blessed with government support, as China's State Council made a formal announcement last October to promote the sporting industry, which was given an expansion target of RMB 5 trillion by 2025. It also called for the Chinese to exercise more often, setting up an ambitious goal of turning 500 million people in the next decade to jogging enthusiasts and gym rats.
And as China's middle class grows, their fitness and health spending is going up. One example is the fitness club industry—although still at a nascent age, its pace of growth has started to pick up in recent years. According to Zero Power Intelligence Group, an industry research firm in Shenzhen, the number of fitness club members in China will reach 19 million by the end of 2015, and that number is expected to reach 28 million by 2018, creating a market worth RMB 67.4 billion.
Luckily, Under Armour has already made a name for itself in Chinese gyms and enjoys a good reputation with those serious about exercise. And instead of spending big bucks on big advertising campaigns, Under Armour has opted for a word-of-mouth marketing strategy.
"Under Armour has great recognition because they cultivated very good relationships with fitness trainers, or KOL (key opinion leaders) in gyms," says Jason Huang, Senior Research Executive at the Shanghai office of Flamingo, a global insight and brand consultancy. "What the trainers eat and wear have a great influence on club members."
"The anecdote is that you would be too embarrassed to go to the gym if you don't own an Under Armour compression shirt," says Zhao Yu, a consultant with Key-Solution, a sports marketing agency in Beijing. Zhao says that the other factor of Under Armour's successful penetration of the segment is because of its focus on promoting the functionalities of fitness apparel, a space where giants like Nike and Adidas are playing catch-up.
The brand's running shoes are also getting quite a few positive reviews from runners. Although it hasn't joined the ranks of the "big four" (usually known as Brooks, Saucony, Mizuno and Asics), Under Armour has received an equal number of mentions as Nike in the most recent shoe guide by Runner's World. And for some Chinese runners, Under Armour's running shoes are even superior.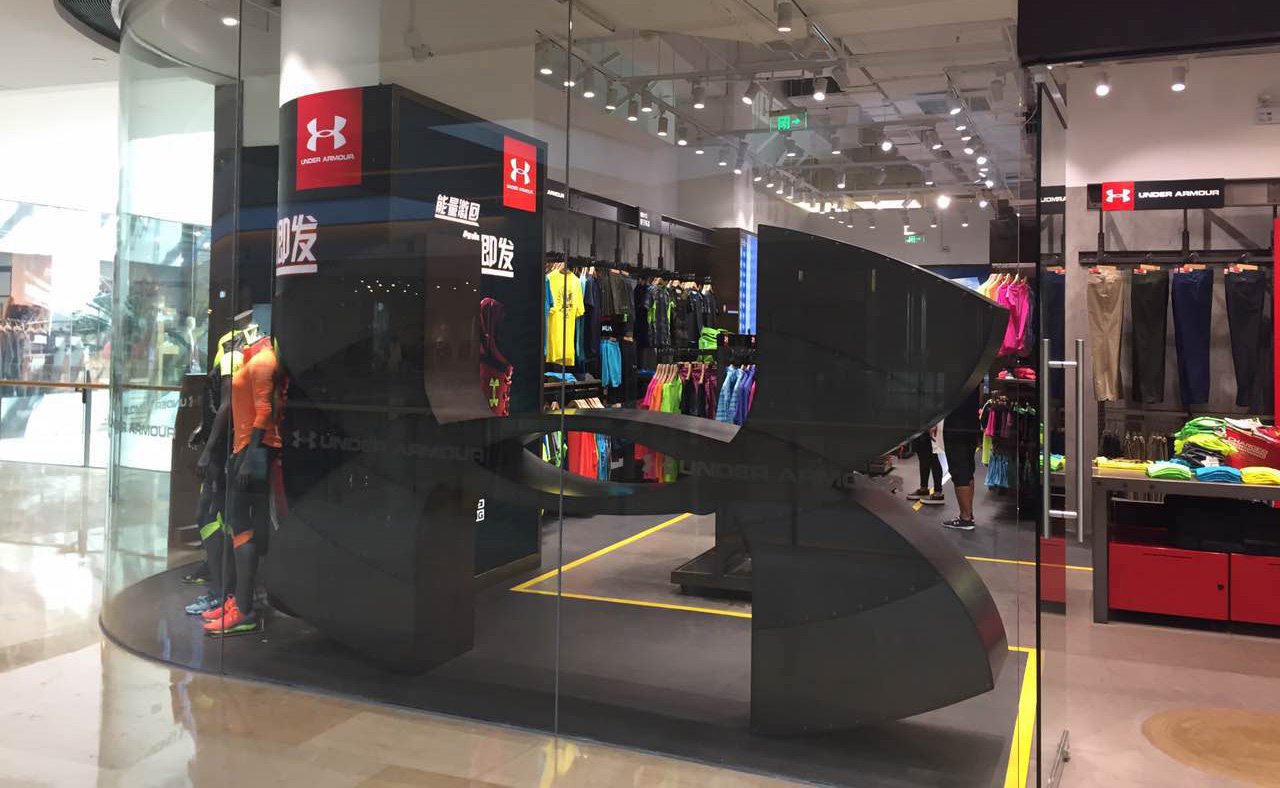 "I feel its shoes are lighter than Nike's, and they support my feet very well. That's very helpful when it comes to the second half of a marathon," says Shi Yun, an apparel shop owner in Wuxi, Jiangsu Province, who participated in the Beijing International Marathon this month, wearing a pair of Under Armour's Speedform Gemini shoes.
"I prefer Under Armour shoes over Nike's because of their design and comfort," says Erica Chan, a jogger who works in human resources in Shanghai.
Another category that Under Armour is trying to expand in is basketball footwear. Earlier this month, the company sent NBA point guard Stephen Curry, most valuable player of the 2014-2015 season, to a three-city promotional tour in China. The company also chose to roll out its second Curry signature shoe during the China trip, currying favors with local fans and consumers.
While Under Armour is making headway in multiple product categories, analysts warn that the company shouldn't overlook its focus on the fitness segment, where its brand has the biggest advantage. It may be a niche segment, but it has a lot of potential.
The company should also be aware of the risks of over-expanding physically in third and fourth-tier cities, where consumption level is considerably lower. This market is largely dominated by domestic brands with much cheaper prices, although international brands, which control the major cities, are trying to squeeze in with factory stores that offer lower-priced goods. Under Armour's prices are on average comparable to those of Nike and Adidias, if not higher, Zhao says, which raises the bar for consumers in smaller cities wanting to try lesser-known brands.
And in terms of closing in the gap with Nike and Adidas in China, observers say that Under Armour still has a long way to go. According to Euromonitor International, the two giants accounted for about 30% of market share in China in 2014, way beyond Under Armour's 0.4%.
"Under Armour has to learn a lot from brands like Nike in terms of mass-market advertising and managing events," says Zhang Jing, who was in the audience at one of Curry's stops in Beijing. "The event seemed a bit rushed, they could have fine-tuned it more." Zhang, who runs a basketball shoes commentary blog called SneakerMuster, says that Under Armour's shoes are solid in terms of quality, but their designs are too unadorned to be comparable with Nike in the basketball world.
Flamingo's Huang agrees that Under Armour isn't replacing Nike and Adidas in China anytime soon. Instead, he says that as Under Armour goes more mainstream in China, the sense of novelty it brings for consumers could also wane; to grow beyond its comfort zone, the brand needs to go the extra mile to differentiate and nurture a more localized brand culture. "The challenge is to keep up with the fast-changing consumers in China and stay relevant," Huang says.
But Under Armour CEO Kevin Blank is uber upbeat about the company's future in China. "We coined a term called 'no loser talk'," he told Bloomberg in Beijing. "We really see ourselves building new markets, and when we are not, we have no problems taking our share from market competitors."
Enjoying what you're reading?
Sign up to our monthly newsletter to get more China insights delivered to your inbox.