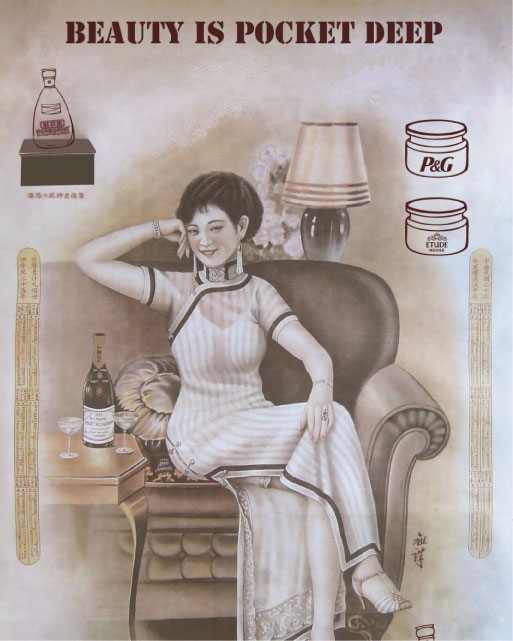 In China's increasingly competitive cosmetics market who will come out ahead and who should re-evaluate?
Stepping into the cosmetics section of any Shanghai-based department store means entering a brightly lit wonderland of shiny displays, impossi­bly beautiful faces plastered on the wall, and a barrage of demonstrations. Groups of young, fashionable girls cluster around the stands, trying out the latest lipsticks and lotions that promise a shot at perfec­tion and the imagined lifestyle that beauty brings.
The news that L'Oreal would stop selling its Garnier brand and Revlon was pulling out of China completely provoked a flurry of media attention in 2013, with many predicting the gradual demise of Western personal care brands in China. While such a scenario looks unlikely—L'Oreal and Procter & Gamble still lead the field—Western beauty brands are be­ing forced to adapt their offerings and marketing strategies to maintain their leadership in an increasingly cluttered, and increasingly digital, environment.
"L'Oreal built its brand in China based upon it being French, fashionable and fi­nessed. It achieved a higher-end position, and selling Garnier products via supermar­kets both distracted from this higher-end focus, and was increasingly unsustainable in such a competitive environment," says Matthew Crabbe, Director of Research, Mintel Asia-Pacific. He adds that the Gar­nier brand "became swamped in an in­creasingly crowded skincare market".
Revlon had been in China since 1996, but the mainland accounted for only 2% of its total global sales by the time it decided to pull the plug. According to Crabbe, it was focused only on color cosmetics, a crowded sector with low brand loyalty. Mintel's latest consumer survey data found that Chinese women tend not to wear color cosmetics every day either, as they worry about the side effects on their skin, making Revlon's challenge even tougher.
Analysts agree that the company did not prosper due to a lack of investment in marketing, advertising, and the devel­opment of products for the local market. Selling though a single channel—big de­partment stores—meant it suffered from low visibility, and low brand recognition.
Foreign Does Not Equal Brand
Both Procter & Gamble and L'Oreal re­fused to be interviewed on how they are adapting to the realities of the Chinese market. According to data published in 2013 by market research firm Research In China, overall gross sales in the per­sonal care industry fell from $24 billion in 2012 to $21.9 billion in 2013, due to economic sputter in China and slow global economic recovery. The key for­eign players by market share are Procter & Gamble, L'Oreal and Shiseido. Euro­monitor figures show that thanks to the company's expansion into second and third-tier cities, and intensive marketing, L'Oreal led 2012 with a 22% value share in men's 'grooming' and a 41% value share in men's 'skincare'.
"Chinese men are more open to use products these days," says Cindy Yang, Senior Director of Nielsen China. "Male skincare products have expanded from hydration and oil control segments to new categories like facial masks. In male personal care categories, lots of purchas­ers are actually women, as men trust their girlfriends or wives to select products for them," something to keep in mind when marketing men's cosmetics.
Reportedly, foreign cosmetics brands jointly grabbed 57.9% of the mainland Chinese market as of May 2009, but their market share fell to 44.5% as of May 2012. Procter & Gamble and Avon both lost market share in the six years through 2012, according to Euromonitor.
Foreign brands are also subject to ad­ditional pressure back home around the thorny issue of mandatory animal testing in China. L'Oreal brands Body Shop and Pangea Organics for example reject ani­mal testing as part of their core principles and as such are barred from market entry. It's a tortured compromise for multi-brand companies like L'Oreal and Procter & Gamble, but one that so far seems to be worth overriding their principles for.
There is talk of China abandoning man­datory animal testing, but it won't happen overnight, according to Xu Jingquan, Sec­retary General at the All-China Federation of Industry and Commerce, Beauty Cul­ture & Cosmetics Chamber. "Our R&D isn't as sophisticated, and the consumer here doesn't think as much about ideals such as animal testing," he said last June. "They care about the price, the brand, and the product."
The Traditional & the Trendy
While operational costs and longer time­frames of getting a product on the market affect all big cosmetic multinationals, it is the rise of confident Chinese and South Korean brands, such as China's Herborist, Chinfie, CMM, Houdy, Caisy and Lon­grich brands, and South Korean brands AmorePacific, Sulwhasoo and Missha, that pose the long-term threat to their prof­its.
Shanghai Jahwa United Co., Ltd, which made Forbes Asia's "Best Under a Billion" list in 2013, has emerged as a major competitor to established Western brands. The company now has 10 brands on the domestic market, including the very successful Liushen and Herborist, and an­nounced last August that they were look­ing into acquiring foreign brands to help them break into the international market. Jahwa declined to be interviewed, stating that they were in the middle of implement­ing a new strategy and were not granting interviews until in the final stages of that strategy shift.
Herborist, which also has a chain of spas, positions its skincare products as a combination of traditional Chinese medi­cine (TCM) ingredients and modern cos­metic technology, tapping into a growing trend in the demand for contemporary bo­tanical products in China, a long-standing cultural respect for TCM and a general awareness of environmental impact.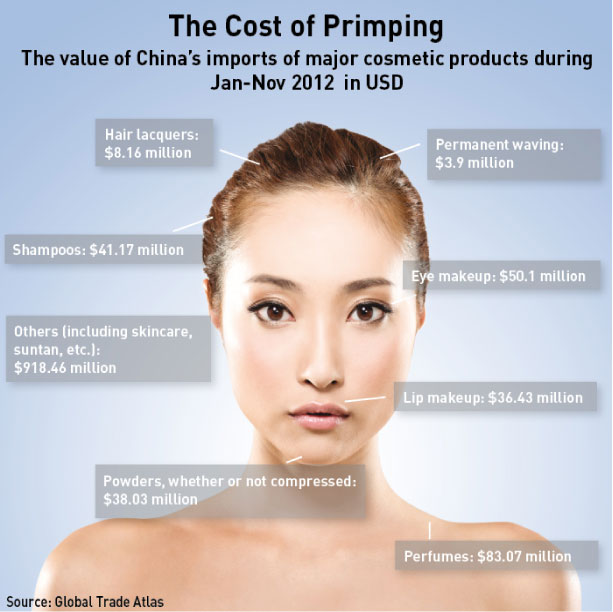 "Both Chinese and Western compa­nies have good understanding of Chinese women, but local brands are comparative­ly more flexible and faster in execution," says Yang. "Western brands are not neces­sarily regarded as better quality. Some lo­cal brands are preferred among consumers because they have leveraged traditional Asian ingredients well and made their products very convincing."
On cue, Estee Lauder, which already sells many of its popular brands in China, like Clinique, announced in 2012 that it was developing a completely new brand, Osiao, purely for the Asian market, supposedly containing ingredients derived from Chinese plants, such as gin­seng. L'Oreal has had a huge research cen­ter in Shanghai since 2005, where several hundred scientists develop products that incorporate Chinese herbs in an attempt to win customers, and fight off their Western rivals.
Meanwhile, South Korean brands are taking the punk-rock approach to making their brands stand out, especially among younger, hipper consumers. With Asian skin suitability well handled, they're also seen as highly innovative, with funky packaging and reasonable price points. South Korea's largest personal care brand is AmorePacific, which produces the pop­ular brands Laneige, Mamonde and Etude House. According to Euromonitor data, AmorePacific's market share increased from 1.2% in 2007 to 2.6% in 2012.
Keeping up with fast-changing China is perhaps harder for larger MNCs fixated on their core brands, according to Mintel's Crabbe. "Companies need to get less pre­cious about flagship brands, and would perhaps do better to research emerging trends and acquire trending local brands to ride the wave.
"Brands exiting from China has noth­ing to do with lack of market growth, but rather their failure to beat the competition in making their brands relevant to the no­toriously fickle local consumers."
L'Oreal's certainly taking no prisoners in its blitzkrieg to rule the Chinese mar­ket and cater to the myriad local tastes and trends. Case in point, the Paris-based com­pany bought Chinese brand Yue-Sai in 2004, and the hugely successful Chinese face-mask company Magic Holdings for $840 million last year, all in the name of securing their hold over their target con­sumer.
Who's That Girl?
Yang says that Chinese consumers look for real value in products, paying attention to the ingredients, how they function and how effective they are. They are happy to switch brands frequently and tend to use different skincare products for different seasons. They layer products more than their Western counterparts, and look for the best products to lighten the skin and provide luminosity.
"Consumers are not as loyal as before, especially younger consumers from the post 80s and 90s," says Yang. "The market share of the top 10 skin moisturizing brands dropped by 5% from 2011 to 2013. This is partially because consumers have more choices, plus e-commerce's and cosmetic store channels' fast development has made products more available to consumers."
One of Shanghai's most popular beau­ty bloggers, Kristi Wang, whose blog, Little K's Diary, gets between 15,000 and 20,000 hits daily, cites Lush, Eve Lom, Albion, John Master Organic and La Prairie amongst her favorite brands. For makeup, she says it always has to be Cha­nel. She believes that biotech and natural, organic products will be the main trends in the next few years.
"I like both the Western and Eastern skincare brands," she says. "In my opin­ion Western brands do well on anti-ageing products, and Eastern brands are good in the whitening and moisture category."
May Yang, a 31-year-old digital mar­keter living in Beijing, says that while her favorite skincare brand is Esteé Lauder, she makes her choice based on what is best for her skin.
"Some Western products may be too rich for Chinese people due to different skin types," she says. "You need to choose wisely according to your skin condition."
Skin nourishing treatments take pri­ority in the beauty routine of many Chi­nese women, including Yang, who hardly wears any makeup. "I believe skincare is more important than makeup because without a good skin base, makeup doesn't make sense and cannot help much with your facial beauty, or it can sometimes make your skin even worse."
Beautiful Bargains
Interestingly, despite the enormous growth in online shopping, both beauty blogger Wang and mother-to-be May Yang prefer not to do their cosmetic shopping online. Yang prefers to buy her products in the mall as she enjoys trying before she buys. Wang, on the other hand, has trust issues with online purchasing.
"Before, I bought a lot of cosmetics on Taobao," she says. "But, in recent years more and more fake products are appear­ing on Taobao, so I only buy products at the counter when I travel around."
While shopping on Taobao can be a minefield in terms of ensuring the prod­ucts you buy are bona-fide, the official Tmall stores of brands such as L'Oreal can usually offer the consumer peace of mind that they are getting the real thing.
According to Euromonitor figures, online sales of personal care products in­creased from 4% in 2010 to 9% in 2011, while sales in the actual retail stores dropped from 83% to 74% in the same timeframe. They're leaner, with lower overheads, and have no need to employ armies of beauty consultants, something that is increasingly significant as wages rise throughout the country. These sav­ings can be passed on as discounts to the customer, with sometimes up to 20% off premium beauty products.
Leo Chen, founder and Chief Execu­tive of huge online beauty discount e-tailer Jumei.com told local media that Jumei claimed revenue of $400 million in 2012, up from $100 million a year earlier, de­claring boldly that direct department store sales were a thing of the past. Jumei's front page now boasts brands like Esteé Lauder, Clinique, Lancôme and Dior. Whether Ju­mei is hurting the profit margins of major cosmetics brands is a topic most are un­willing to discuss. Jumei did not respond to request for comment.
Outlets and department stores have be­come a testing ground for consumers be­fore they go online and purchase the same products frequently at a cheaper price from a multi-brand platform like Tmall, not unlike what typically happens in the consumer electronic market.
But online retailing can also boost sales, especially in lower-tier cities. Es­teé Lauder, for example, saw their online sales rising by 40% in the year-ending June 2012, and CEO Fabrizio Freda told state media last year that the majority of online sales are from cities in China where they don't have retail outlets.
Mintel's Crabbe says effective brands constantly interact with customers via so­cial media and online retail sites, always offering added value, be that promotions or 'must-know' beauty tips.
In addition, cosmetic companies best not skimp on the samples if seeking de­manding consumers like May Yang. "The brand needs to improve the quality and of­fering of its trial samples," she says. "It must have a promotional campaign with an attractive theme online and offline, to get my attention, and then I might stop by and check out what's going on."
Enjoying what you're reading?
Sign up to our monthly newsletter to get more China insights delivered to your inbox.