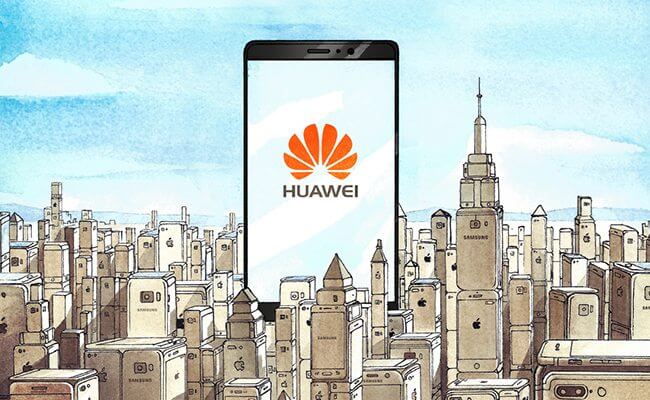 Huawei is one of only a few Chinese companies that has become truly global, deriving more revenue abroad than at home. But it will not be satisfied until every consumer knows its name, and the US market is cracked
In January, the Chinese telecommunications giant Huawei made a grab for the world's attention at the Consumer Electronics Show 2017 in Las Vegas when it announced that its global flagship smartphone, the Huawei Mate 9 Pro, would be available in the US for the first time, and become the first phone in the world to have Amazon's Alexa voice service preinstalled.
In his keynote speech, Richard Yu, the chief of the 29-year-old Chinese company's consumer division, laid out an ambitious agenda for the global market and announced that the company had shipped 139 million smartphones in 2016, an amazing number, although still far less than Samsung and Apple. The company took in revenue of $26.5 billion on smartphone sales, a 40% increase over the previous year.
"Five years ago, we were nothing," said Yu, managing to both brag and sound humble at the same time.
Long a telecom equipment provider, Huawei shifted its focus to consumer devices around 2012, launching headfirst into the competitive handset arena. It quickly got a grip on the fast-growing industry, becoming a contender for top spot in terms of market share in China's cutthroat marketplace. It took the third spot globally last year with just over 9% of the world market, with smartphones making up about one-third of Huawei's total revenue.
But that's not good enough for Huawei. According to Yu, the company is aiming to be the world's No. 2 smartphone maker within two years and No. 1 in five years. Research firm Strategy Analytics showed that Huawei overtook Samsung as the world's most profitable Android smartphone maker in December 2016, controlling 2.4% of the global smartphone operating profit share, or $200 million, in Q3 2016.
"Entering the smartphone market is a natural step in Huawei's global expansion," said Yang Du, professor at the Business School of Renmin University, who also served as a senior management consultant for Huawei. "It's based on their longstanding industry and core technology, which is the right move for the company."
Smartphones are the highest-profile part of what is a sprawling telecom giant, which sells communications equipment in 170 countries—they are also the focus of the future. According to the company's own reports (Huawei is not public), in 2016, 44% growth in its smartphone business helped push total revenue growth up 32% to RMB 522 billion ($75.66 billion). Profit, however, was up just 0.4% on the year to RMB 37 billion ($5.36 billion), the company's worst performance in five years. Stiff competition saw the operating margin down to 9.1%, from 11.6% in 2015.
More than half of Huawei's revenue comes from outside China, making it one of only a few Chinese companies to have so far made the transition from a local business to a global brand—something that even Alibaba has arguably not yet managed. But in addition to powerful rivals, Huawei's overseas expansion has also been hampered by the company's origins and perceived close ties with the Chinese government. And it is this problem that is at the core of its next big challenge: Cracking the US market.
"There is still a very big gap for Huawei to achieve the same success in the US market," said Roger Sheng, a Shanghai-based analyst with American IT research firm Gartner. "It needs to find its feet before thinking about expanding."
Who is Huawei?
Huawei was founded in Shenzhen in 1987, a critical year in the early phase of China's economic reform process, by Ren Zhengfei, a former civil engineer in the Chinese army. Coming from the military, Ren had deeply-embedded ideas about self-discipline and hierarchy, which he used to create Huawei's well-known "wolf culture" of success through hard work, sacrifice and a spirit of innovation.
In the first years of the company, every new employee was given a blanket and a mattress, as many would sleep in the office. Today, after one year of work, employees are able to sign a "dedicated employee agreement," voluntarily forgoing some paid vacation days and overtime pay.
Despite his advanced age of 73, Ren is still a big personality and continues to exert huge personal influence on Huawei's daily operations in his role as company president. His culture of self-sacrifice endures.
"I always work overtime, but the pay is okay," says Su Qi, a 22-year-old engineer, who works for Huawei in its Istanbul office, despite the greater sense of personal danger there. But that's nothing to the selflessness shown by Su's colleagues in West African countries who stayed at their posts during the 2014 ebola outbreak as other international companies evacuated their staff. Those employees later were rewarded with special bonuses.
Huawei revels in this kind of devotion. Its 2015 annual report declared: "When a crisis occurs, you will find Huawei employees heading toward it."
Huawei also encourages loyalty with its unique employee ownership structure. Ren Zhengfei has only a 1.4% share in the company, with the rest spread among more than 80,000 employees who have earned a share. There are very strict performance appraisal systems inside the company, and only those who perform well enough qualify to be awarded with company shares—Su has not yet got a share.
The idea underlying this scheme is to share both responsibilities and benefits with his colleagues—"I want everyone to act like the boss," Ren has said. However, according to the Harvard Business Review, the plan also originated from Ren's trepidation of owning a private company at a time when private ownership was new in China. He thought the safest thing to do would be to spread out the ownership.
The scheme has enormous impact in how profits are allocated. Employees are eligible to receive not only salaries, but also bonuses and dividends if they are in the right posts. The company is private, so the full details are not available, but in 2015, about 1,000 employees were reported to have each made more than RMB 5 million ($726,000) for the year. This largesse no doubt benefits the company overall, but it also creates at least some tension among junior employees who are not part of the dividend scheme.
"Those people are not working as hard as us," said an engineer who has worked at Huawei for three years. "Sometimes they just sit there and kill time at work."
The employee-ownership arrangement has also raised difficulties in governance.
"Normally, company owners give equity shares to executives to make sure their benefits are aligned," says Mark Greeven, Associate Professor of the School of Management at Zhejiang University. "But in Huawei, many employees have equity shares. How can you govern them?"
Greeven says he believes it's an ongoing experiment inside the company.
Another management experiment inside the company is the CEO rotating system, which was adopted in 2011. Initiated by Ren, the mechanism consists of three senior executives, currently Guo Ping (finance), Ken Hu (human resources) and Eric Xu (business strategy), who take turns acting as CEO for six months each. The three rotating CEOs have more influence in decision making during board meetings than the other 10 directors on Huawei's board. At the same time, Ren maintains his role, mainly coaching and mentoring the three CEO's, as well as exercising a veto right over major decisions.
It is believed that the system was part of Ren's plan to cultivate a successor for his business empire. In Asian culture, the search for a company successor usually starts from the family. Ren's daughter, Sabrina Meng, is now Huawei's Hong Kong CFO. His son, Ren Ping, works for a subsidiary that provides hotel and ticket reservations and trade show support, but shows little interest in leading the company. The system of rotating CEOs, meanwhile, is seen by many as having helped Huawei to develop a more democratic decision-making process, and the question of the succession is still, at least publicly, unresolved.
R&D Obsession
Huawei's business history of bootstrapping its way to the top is to a large extent the result of Ren's fiercely hardworking, don't-take-no-for-an-answer personality. The company had a modest start as a sales agent for a Hong Kong company producing switching equipment, but it was not long before higher goals were set.
China was just opening up to the West when Huawei got its start in the late 1980s and manufacturing was still in its infancy. At the time, many Chinese companies were entering joint ventures with foreign enterprises to learn from them, but Ren instead decided to reverse engineer foreign technology to allow Huawei to compete rather than cooperate.
The strategy worked out well, helping the company achieve dominance in the domestic telecom market, including as a key supplier to the government. Huawei has been pushing its own limits ever since.
"There is a strong obsession with R&D in Huawei," says Zhejiang University's Greeven. As a professor in management, he has worked closely with Chinese companies and is impressed by Huawei's strategy. The R&D capability he says has "allowed them to internationalize because they can stay closer with customers."
Huawei quickly moved on to selling infrastructure equipment for mobile networks, mobile services and enterprise services internationally. By 2012 it had become the world's largest telecommunications equipment maker.
But the journey was not without bumps. In February 2003, Cisco Systems sued Huawei for allegedly infringing on its patents and stealing source code used in its routers and switches.
"It's very normal in the telecom industry," says Doug Clark, an intellectual property lawyer based in Hong Kong. "If companies have their own patents, they can say what others need to pay to take a license from their patent. If they get sued, they can also sue back."
Cisco dropped the lawsuit 20 months later in exchange for a promise from its rival to modify its product lineup. But Huawei learned its lesson and began aggressively shoring up its intellectual property position. In 2015 Huawei filed almost 4,000 patents, making it the biggest patent-filer in the world for the second year in a row.
"Huawei made a specific strategy of filing a lot of patents," Clark says. "This is an industry where having a lot of patents is very useful, so people file as many as they can."
The change in strategy helped facilitate the company's global expansion, and at the same time become a powerhouse of innovation. The company's R&D budget, $9.2 billion last year, placed it ninth among all companies in the world in terms of such investment. About 60% of its employees are engineers, while the number at Google is 40%.
Move to Mobile
But the company's biggest move in recent years has been its effort to become a household name. For many years, Huawei made white label smartphones, meaning it manufactured devices that carried the brands of other companies. But in 2011, Huawei decided to produce mobile phones under its own name.
"As an equipment provider, Huawei built the tunnel for carriers," says Roger Sheng, the Gartner analyst, referring the infrastructure that powers phone networks. "Then it saw opportunities in the rise of the smartphone business."
Sheng says that the history of Huawei as an equipment manufacturer before its foray into mobile phones gives the company a unique edge. For example, Huawei is one of a limited number of phone makers that can produce its own integrated circuit chips, which helps lower the cost.
But whatever the combination of factors, Huawei's success is undeniable. According to research firm IDC, in 2016 Huawei shipped over 130 million phones, ranking third worldwide at about 9.4% market share. Apple and Samsung had around 14% and 20% respectively. It is currently No. 2 in China's hyper-competitive market, with 16.4% market share. In Europe, it is now the top-selling smartphone maker in Portugal and the Netherlands and the second biggest in Italy, Poland, Hungary, and Spain. In Latin America, the company sold 12 million smartphones in 2016, a year-on-year increase of 39% for the region.
Enjoying what you're reading?
Sign up to our monthly newsletter to get more China insights delivered to your inbox.