Chinese brands have historically been seen as producing cheap, low-quality products, but both quality and global perceptions are changing
With a shift from 'Made in China' to 'Created in China,' Chinese brands are finding increasing success in non-domestic markets
When the OnePlus 6T smartphone was launched in mid-2019, it sent out waves of excitement among fans of the brand. Long queues stretched outside the T-Mobile store in New York's Times Square, even during peak working hours. OnePlus, a Chinese brand, has gathered an almost cult-like following in the West due to its innovative and high-quality hardware, a sentiment almost unheard of for Chinese technology not too long ago.
While OnePlus only represented 0.5% of the smartphone market in the US at the start of 2021, the company experienced 286% growth there over the year, and it has gone from strength to strength globally. The company experienced 388% year-on-year sales growth in Europe in the first quarter of 2021 alone, and it now constitutes 34% of the Indian premium smartphone market.
OnePlus is just one of a number of Chinese brands that have emerged as significant players on the global scene in the past few years. Together they are changing global perceptions of Chinese products from being cheap and low-quality to cutting-edge and aspirational.
Other Chinese companies making waves internationally include ByteDance with its app TikTok, Huawei, Oppo and Xiaomi, and also brands that many people would not necessarily recognize as Chinese, such as Lenovo. For Chinese brands, it is all part of a major shift upmarket resulting from an improvement in quality due to China's ultracompetitive domestic market and Chinese brands' increasing standards of competition in foreign markets.
"As competition grows domestically, more brands are looking to expand internationally to elevate their image and diversify sales channels," says Charlie (Xiaofeng) Gu, founder of Kollective Influence, a cross-border marketing consultancy. "And markets are increasingly accepting their products as good quality and desirable."
Outward bound
In terms of global brand power, Chinese companies now have a strong presence on the list of the world's most valuable brands. According to the 2021 Global BrandZ survey produced by Kantar, a data analytics and brand consulting company and part of the WPP group, 17 of the top 100 global brands are Chinese, with Tencent and Alibaba ranking in the top 10.
The survey includes data from seven developed markets—the US, the UK, France, Germany, Spain, Australia and Japan—and since 2021 also four emerging markets—India, Indonesia, Mexico and Brazil—where Chinese brands are pushing to find opportunities and expand market interest with some success.
Technology and internet companies make up the bulk of China's top brand exports, followed by banking and insurance companies. But there are some outliers, such as alcohol brand Moutai, which ranked eleventh in the list, while online real estate platform KE Holdings just made it into the top 100 at 96.
According to the BrandZ Brand Builders survey, Chinese brands that are doing well in developed markets include online fashion brand SHEIN, game creators Lilith and im30 and electronics companies Anker and TCL. Other successful brands include ByteDance, developer of social media app TikTok, which has overtaken Facebook as the world's most downloaded app, and Chinese home appliances and consumer electronics brand Haier, which has a considerable presence in over 100 countries.
Created in China
For decades, China built its manufacturing capability on the back of the original equipment manufacturing (OEM) business—whereby local manufacturers make branded goods for other companies. That is still a major part of China's export industries but these manufacturing companies now have the technology and skills to make products to an international standard and many have started to produce goods under their own brands that are at least as good as those that they have produced as OEMs.
Historically, Chinese brands offered lower quality products and sold primarily on the basis of lower price compared to their Western counterparts. Brands like Huawei and Xiaomi used to be widely regarded as a good option only for cheap, basic phones but would not be considered by buyers seeking top-level performance. But that mindset is changing. "Huawei and Xiaomi are no longer considered low-quality, but rather, on the contrary, a serious competitor to Apple and Samsung," says Gu.
In order to eliminate preconceptions arising from decades of low-cost manufacturing, the Chinese government is pushing manufacturers to transition faster to high-quality goods and leadership in robotics, information technology and clean energy. Another important factor is that China's manufacturers across the board are realizing that they need to move upmarket to survive. And that means producing the kind of quality products which are needed to create the aura of acceptability and coolness for a brand in a non-domestic market.
"The quality perception is changing just as it did for Japanese, Korean and Taiwanese products in the past. In the UK in the 1970s, people used to refer to Japanese products negatively," says Joe Studwell, author of The China Dream. "They don't do that anymore."
According to the BrandZ survey, growth for the top Chinese brands has been driven in part by the increasing emphasis on factors other than price, including superior quality and the exclusivity of the products they sell, which they are able to do at very competitive prices because of the efficiency of the manufacturing ecosystems in South and East China. "Chinese manufacturers have gotten rid of the stereotype of poor-quality products and earned trust," says Sofya Bakhta, China Market Analyst at Daxue Consulting. "Now, they reflect rapid growth, technology, affordable prices and prospects."
The opportunities provided by the shift in perception of Chinese brands offer a springboard for continued expansion of brand power. "Chinese brands continue to push into fast-growing emerging markets, bringing to them the same level of insight and innovation that they have [brought] to the developed world," says Doreen Wang, CEO of Kantar China and Global Head of BrandZ.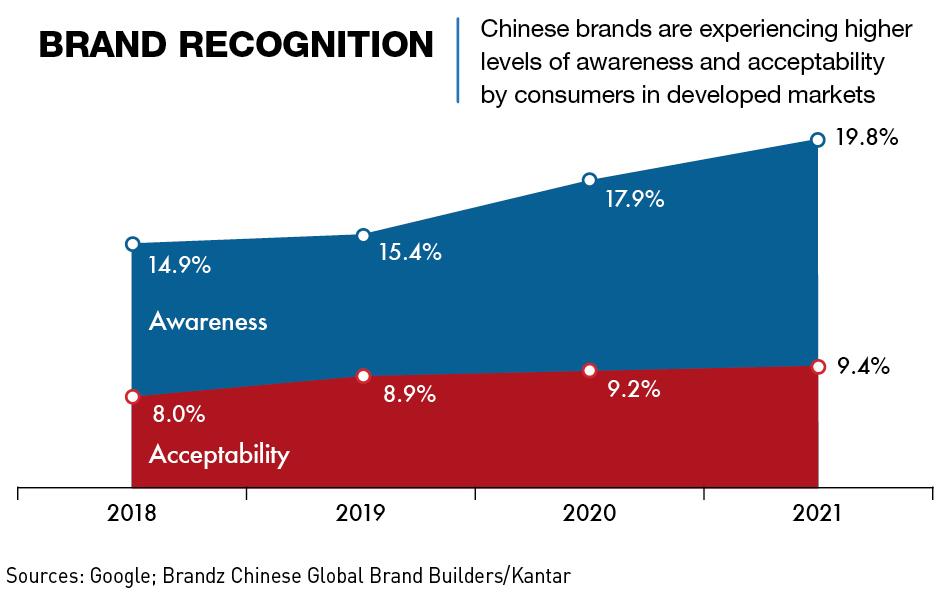 The Belt and Road fast track
China has also worked to create a new perception of itself as an international power in terms of Belt and Road Initiative (BRI), the China-funded infrastructure development program. Chinese companies are faring particularly well in countries linked to the BRI, with Hisense now the number one TV brand in South Africa while automakers BYD and Great Wall are selling increasingly well in a number of countries including Ecuador, where Chinese cars now rank third in sales volume in the country.
"Through the Belt and Road Initiative, we will see Chinese brands expand rapidly into the associated markets along the new Silk Road and into Africa," says Wang. "It will be more challenging for Chinese brands to bridge prejudice and governmental barriers to enter and to grow their presence in the US."
Chinese tech giant Huawei fell afoul of these barriers, being blacklisted in the US and banned from working on 5G infrastructure projects in a number of countries including the UK and Sweden due to data security concerns. In response, Huawei has shifted to a focus on developing core independent technical frameworks and ecosystems, while at the same time utilizing the opportunities in BRI countries by securing infrastructure deals in Africa and South America. The company installed most of the equipment for 70% of Africa's 4G network.
In general, the electronic goods companies fare well in developing markets. "Chinese cell phone makers like Huawei, Xiaomi and Tecno Mobile are all developing loyal followings in many emerging markets," says Gu. Xiaomi has a market share of 40% of smartphones in Myanmar and around 20% in Indonesia and Bangladesh, Huawei has around a 15% market share in Sri Lanka and Malaysia, and Oppo has around a 20% market share in Cambodia, Indonesia and the Philippines.
"Chinese brands are being increasingly welcomed into developing countries in Asia, Africa and South America," says Teng Bingsheng, Professor of Strategic Management at CKGSB. "Chuanyi (Tecno Mobile) became the number one in the African market in 2020. Interestingly, it does not have much presence at all in China, so the lesson is to be as much a local firm as possible."
Brand expansion tactics
The change in global perceptions of Chinese brands has not happened overnight and companies have had to adapt to different markets over the years, and in some cases they have had to build from within.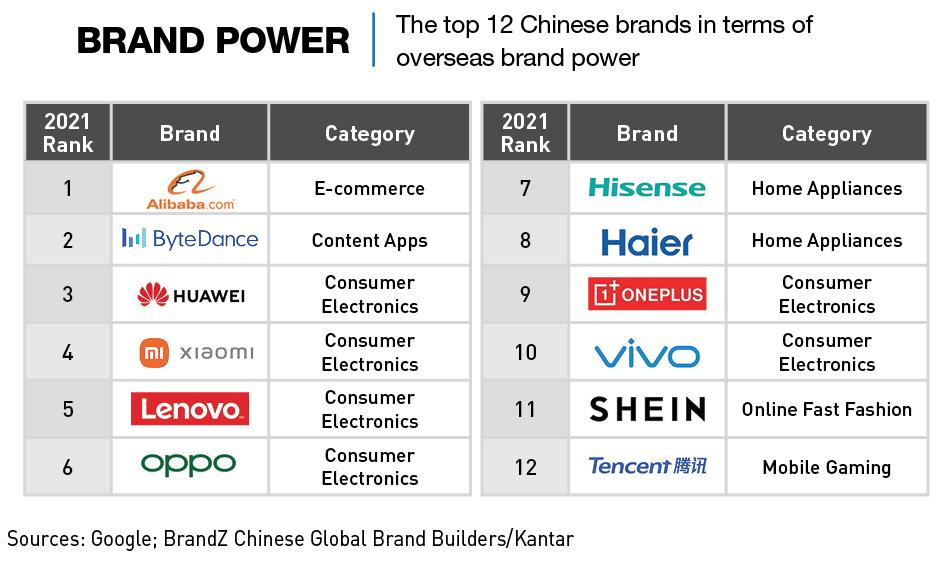 Price is still a factor in the success of Chinese brands in different parts of the world, but it is no longer the only factor. After sales service, technical capabilities and smart design are also among the things that make Chinese products appealing. And in some markets and some cases, there is a growing sense of coolness about Chinese products. The more successful overseas Chinese brands understand this and are finding benefits in creating their own ecosystems to provide consumers with each of these features and services.
"They are delivering their own products directly to consumers and, in some cases, serving as commerce platforms in their own right," says Wang. "Succeeding in building ecosystems overseas often means partnering with local giants and sometimes multinational corporations, co-creating commerce platforms that are much greater than the sum of their parts."
These ecosystems and Chinese brands' mastery of logistics and e-commerce have also proved to be the cornerstones of their resilience throughout the pandemic, and Chinese brands have often outperformed their foreign counterparts during a tough two years. Despite the total global trade in goods decreasing significantly in 2020, the export growth rate of China's cross-border e-commerce increased by 40%, resulting in companies like fast-fashion label SHEIN dominating the US market—which is predicted to reach $1.1 billion in value by 2025—with a 28% share of fashion sales
In other cases, Chinese brands, despite many facing headwinds upon entering a market, have seen successes in global markets thanks to their increasing focus on localization, whether this be through the acquisition of local companies already familiar to consumers, tailored branding campaigns or the setting up of separate company entities in target markets. "Successful examples of branding campaigns include Haier and Hisense, while Huawei sponsoring local football teams is also another great method," says David Thomas, CEO of Think Global Consulting, which facilitates business in various emerging markets including China. "Plus, hiring locals, acquiring local brands—like Haier's acquisition of Fisher & Paykel in New Zealand—and paying closer attention to the needs and cultures of local markets [helps]," he adds.
Chinese brands' deep understanding of e-commerce has also helped with this localization and maintaining success through the pandemic, for example cosmetics brand Florasis utilized TikTok in the US to launch a new product line in 2020 to great success by giving the product a faux-domestic appeal to US consumers. Despite the company only starting out with 45,000 followers on TikTok, collaborations with local influencers led to associated videos being viewed over half a million times, as well as the hashtag #florasis, having over 7 million views.
"The increasing global success of Chinese brands is notably due to the role of live streaming, key opinion leaders (KOLs), artificial intelligence (AI), social media, etc., which has led to rapid advances in retail marketing," says Thomas. "It's likely that Chinese brands that expand globally pay closer attention to the needs and views of Western customers, particularly the younger consumer segments that are highly engaged in new technology."
Some brands are also using innovative one-off advertising events to grab global attention. In 2019, DJI, the world's leading drone maker, lit up the Shanghai sky with an incredible fleet of 1,500 drones in the form of a QR code. When scanned, the code would take them to a page where the user could download a game, and the incredible stunt drew worldwide interest raking in nearly 2 million views on YouTube.
In terms of the consumer-centricity of products, which many Chinese brands have correctly identified as an important part of localization, brands are  closely tracking customer satisfaction and after-sales service in order to get it right. The goal is not merely to build a great reputation for current products and services, but to lay the foundation for an enduring presence and long-term success. "TikTok, for example, leveraged a proprietary AI-powered algorithm developed by its parent company ByteDance to adapt its look, feel and user experience for the Western consumer," says Gu.
Despite many successes, gaining global credibility is a trial-and-error process. SHEIN, which is now one of the world's largest fast fashion e-commerce companies, required several shifts in marketing strategy before it found its footing around the globe. And it had its share of missteps along the way, such as referring to Muslim prayer mats as "rugs" and selling the Hindu and Buddhist swastika on jewellery in countries where the symbol is associated with anti-Semitism. SHEIN required a shift away from the Chinese understanding of "political correctness" towards a different, more localized view of what is and isn't okay to use.
Its overuse of ads and notifications were also criticized in global, especially Western, markets. But it has now found a strategy that works. "Micro-influencer marketing, fast delivery and competitive prices, a discount policy and socially responsible positioning, were all required to get the brand to the position it is in now," says Sofya Bakhta.
Data jams
Besides branding and marketing strategies, a key issue for Chinese brands to bear in mind when entering foreign markets is standards of regulation of data.
"Chinese brands have to encounter fears around data security, IP theft and foreign interference which was not a concern before," says Thomas. "Once it was pointed out that TikTok was owned by a Chinese company—ByteDance—and might even be banned due to foreign surveillance issues and data security issues, they lost favor among US consumers."
Huawei's issues in various countries mostly stem from data security concerns, particularly in the US, and other data-driven tech companies are also being hit hard by increasing regulations around the world. At home in China, recent crackdowns on the tech sector and data storage and usage have led to many companies having to restructure their business and, in some cases, split their China and international products.
"A flexible operation model is required," says Joy Ng, Business Director Asia, at AnalogFolk, a global strategy and consulting agency. "Take WeChat and TikTok as examples. Both apps have two versions—a China version and an international version. This gives them the flexibility to deal with different regulations and censor requirements."
India, the world's sixth-largest economy, has proven a difficult market for Chinese companies to penetrate due to considerable regulatory hurdles. The country has recently banned 54 more Chinese apps from online stores due to security concerns, having already banned over 320 apps since 2020. Despite the issues, there are still opportunities for Chinese brands in India, especially where the country has a weak manufacturing base. In 2020, 77% of smartphone shipments to India were from Chinese manufacturers, and Chinese brands made up four of the top five smartphone vendors. Across Southeast Asia, Chinese brands only lag behind Samsung and Apple in terms of market share, with Xiaomi, Oppo and Vivo making up the top five. While Samsung is ahead with 23.6% of the market, Apple and Xiaomi have been battling it out for second place, with the former sitting on 18% as of April 2022, and the latter on 16.78%. Xiaomi held the second spot between August and Novermber 2021.
The future of brand expansion
Despite regulatory uncertainties, pandemic-related restrictions and problems in the political climate, Chinese brands can look to continue expanding into BRI countries and are especially eyeing continued success in Southeast Asian markets over the West. The dominance of Huawei and Tecno Mobile, among other Chinese brands, in the African market has proved that these regions are valuable targets for future expansion.
More and more Chinese enterprises have been actively exploring overseas markets, cultivating new growth points and satisfying the preferences of consumers from different regions and cultures with more diversified products and services. They've done so by making their companies stronger through a mixture of technological innovation, merging and acquiring overseas brands, fulfilling social responsibilities and shifting consumer perceptions.
"The recognition of Chinese brands in overseas markets is [rising], and the influence of brands continues to rise, with some enterprises that have built up strong market competitiveness in the world and are able to adapt to the various needs of the new stage of international development," says a Haier representative.
For these successes to continue, long-term strategies are key. Doreen Wang says, "thanks to a commitment to continuing their momentum, a willingness to implement Chinese best practices abroad, and an expansion of their ambitions to ecosystems of value, we are seeing them gaining not merely market share, but also the loyalty and admiration of global consumers."
Enjoying what you're reading?
Sign up to our monthly newsletter to get more China insights delivered to your inbox.