Businesses across China, from large state-owned enterprises to small-to-medium enterprises are pursuing some level of digitalization
In early 2020, as China's economy stalled to quell the spread of COVID-19, the country's biggest retailer, JD.com, built a digital replica of its entire supply chain to forecast and thereby avoid problems arising from the lockdowns and closures.
Detailed, real-time analysis of over 8,000 individual transportation routes allowed the company to keep business moving when much of the country had ground to a halt. And it worked. The tool decreased response times to disruptions by an average of 50% and shortened the time it took to reconfigure supply chains to less than an hour, down from several days.
The use of digital twins and other advanced tools, such as AI, data analytics and visualization software is not yet ubiquitous, but China is at the forefront of such digital business technology. Digital twins can now be found in a range of industries across China. They are widely used to increase efficiency in the manufacturing sector by simulating processes, to develop and improve autonomous driving technology, and to monitor and predict patient health in medical settings, among many other applications.
Once derided as little more than a technological copycat, China is now rapidly rising through the ranks of tech-capable nations. While the US still remains on top of IMD's global Digital Competitiveness Ranking, China rose 15 places to 15th in 2021, from 30th just four years previously. In Dell's Digital Transformation Index (DTI) China has 7% more companies classed as "digital practitioners" than the global average.
"If you talk about digitalization of operations, China is more pragmatic in employing technologies," says Thomas Mooser, CEO of management and IT consultancy MHP's Shanghai office. "China is simply implementing things and learning on its way there. They take pride in being at the cutting edge of all things digital."
Beyond analog
The pandemic reinforced the importance of digital transformation, which has very often provided dramatic improvements in efficiency, productivity, return on investment and a competitive advantage. According to a McKinsey report, the global average acceleration of business digitalization brought about by the pandemic was a 7-year advance in technology adoption. But the Asia-Pacific region far out-paced that number, with an over 10-year acceleration of adoption. And it is clear that companies that have embraced digitalization are better able to maximize efficiency and competitiveness at scale.
"It is actually a fully online, fully collaborative and comprehensive shift based on an enterprise's original competitive advantage and strategy," says Zhou Chunsheng, Professor of Finance at CKGSB. "They can utilize digital technology to improve operational efficiency, solve an enterprise's pain points and optimize its strategic positioning."
A survey of Chinese businesses in early 2022 by CPA Australia found that 47% of respondents regarded "digital transformation, technology development and innovation" as a key strategic focus this year, the highest among all options.
"Mainland China has been the leading performer within the Asia-Pacific region over the past few years when it comes to business technology adoption," says Tony Chan, deputy president of CPA Australia's South China Committee.
Corporate executives' attitudes toward digital transformations have shifted to be much more open to a top-to-bottom approach when it comes to digitalizing business.
"Executives used to only talk about digitalization of marketing or customer engagement," says Tom Zhang, a Shanghai-based partner at business transformation consultants Prophet. "It is much broader now, extending to how they digitize their entire operations using digital tools and data, and how they make efficient, smarter decisions based on data."
It is also clear that small and medium-sized enterprises (SMEs)—which provide 80% of urban jobs and 60% of GDP—are fast digitalizing their business processes. More than 70% of 1,200 SME managers surveyed by research firm IDC plan to ramp up IT spending in 2022 to buttress digital resiliency, compared to 63% in Western Europe, and expenditure is forecast to grow by nearly 50% among the Chinese businesses polled by 2025.
"It is important that businesses remember that the development of new technologies and business models will disrupt certain industries," says Zhou. "Traditional enterprises must actively respond to the challenges brought by new technologies and new business models."
The toolkit
The list of business-enabling digital tools is long, but several are beginning to stand out in China. Artificial intelligence (AI), business intelligence (BI) software, customer relationship management (CRM) software, data analytics and visualization software, and enterprise resource planning (ERP) software are all used across the country—with high-growth businesses particularly likely to utilize the tools.
For BI solutions, local company FanRuan is China's leading provider with a 19.1% share of the market in the first half of 2021, followed by Microsoft on 9.3%, according to IDC.
Another company, DataHunter, worked with Xiaomi to improve the smartphone maker's data analysis capabilities. Using the data analytics software provided by DataHunter, Xiaomi employees were able to see visualizations of up-to-date business data at any time and receive detailed insights from the data. Through automation of data collection and analysis, the platform reduced the data analysis workload of IT staff. The user-friendly platform also allowed more employees to participate in data analysis work, making it possible to introduce data analysis to a wider range of business processes.
"There is a connection between technology usage and business performance," says Chan. "A strong focus on digitalization and innovation from top management will enable businesses to not only keep pace with new technology trends, but also to lead them from a position of competitive advantage."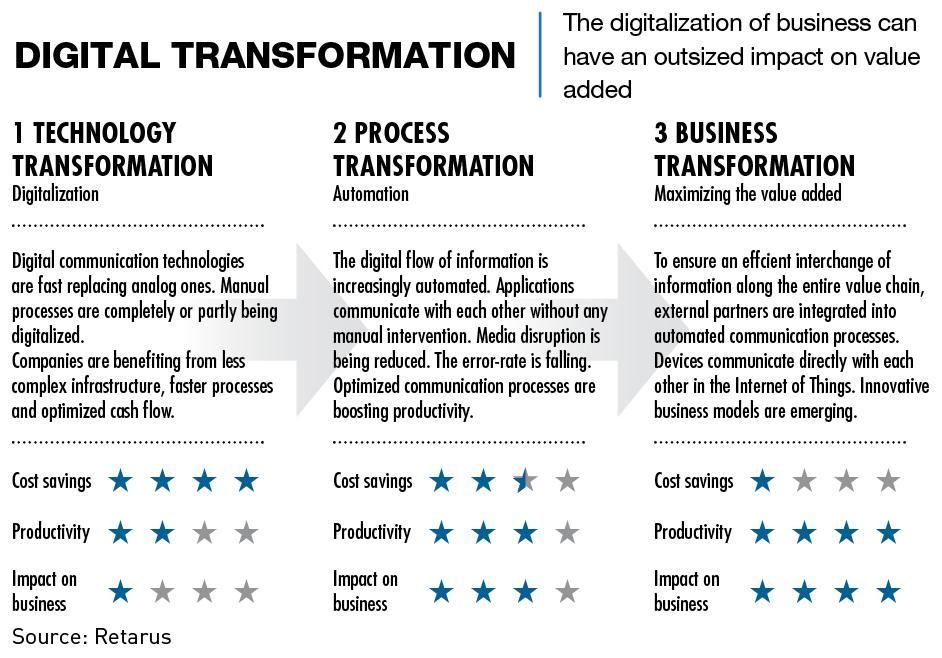 But among the digital tools that Chinese companies are embracing, AI is the most popular. China's AI market—including elements such as computer vision, natural language processing (NLP) and machine learning—grew by 42.2% year-on-year in the first half of 2021 to $2.18 billion.
According to a PwC survey, over 47% of CEOs in China surveyed reported that there are some forms of AI initiatives currently in place in their organizations, compared with 42% globally. On the other side, 39% of executives said they have plans to introduce AI initiatives in their organization in the next three years, 4% higher than their global counterparts.
Some AI tools are created internally—for instance, Ping An, China's largest insurer, developed a powerful NLP model capable of interpreting human speech and text that is used by the insurer to provide human-free smart customer services, telemarketing, training and interviews.
But most of the work is being done by standalone companies that sell enterprise solutions, such as software platforms, to businesses. AI giants SenseTime, Megvii, CloudWalk and Yitu all provide such services, as well as a host of smaller, specialized companies, such as Wofeng Technology. Wofeng recently provided dairy firm Yuexiu Huishan with a set of AI-driven CRM products to help deal with the companies growing number of pain points.
Yuexiu's original CRM platform was found to be inefficient in responding to a large number of consultations and after-sales calls from offline stores, supplier companies, sales centers and other parties. Labor, system operation and maintenance costs were high and the user experience could be unsatisfactory.
Using Wofeng's tech, Yuexiu integrated all their online consultation channels. Platforms with similar functionality have been around for well over a decade. But what the software also offered was, through the monitoring and analysis of all aspects of the customer service experience, the production of quality inspection reports and automatic development of knowledge bases for use by customer service personnel.
AI adoption in China is most clearly seen in companies such as Alibaba Group, which launched an AI-powered chatbot in 2015 to receive and clarify customer problems just like a human.
JD.com's experience with digital twins in 2020 underlined their power in supply chains, and the tool is also proving popular in other sectors such as infrastructure. Last year, the rail transit operator for Hunan province's capital of Changsha worked with 51World, a Beijing-based developer of digital twin tools, to build an exact digital model of Changsha's busiest subway station. The project allowed the partners to simulate passenger flows and the impact of potential scenarios such as equipment malfunction and emergency evacuation.
Many of these digitalization tools can be used in conjunction with each other. For instance, Microsoft launched a chatbot nicknamed Xiaoice in 2014 that combines AI, NLP, Big Data and digital twin technologies. The service—which Microsoft spun off into a standalone business under the same name in 2020—powers the smart assistants on Huawei and Xiaomi smartphones, and raised just under $75 million in an investment round last year that valued it at $1 billion. But the technology wasn't perfect and the company had to deal with blockages in China due to politically sensitive responses and a backlash in the US due to an exploit that resulted in the bot posting racist messages on Twitter.
"Through new processes, enterprises are presented with new business opportunities," says Zhou Chunsheng. "They can even turn crises into opportunities and open up a second growth curve."
Business digitalization is hugely helped by the fact that China leads globally in 5G deployment, meaning connectivity is that much faster.
From big to byte-sized
Both smaller enterprises and big, data-rich corporations have options for digitalization, but the scale of a company largely determines which digital tools they harness and to what end. Speed seems to be key for large businesses, as they often employ tools mainly to improve their efficiency and cost controls, and conserve resources.
They are also taking the opportunity to reinvent themselves, mainly through data-driven decisions. "A stability of profit is one of the key elements for business success and a new generation of business initiatives is the key factor for enterprises to transform from their 'business as usual' mode nowadays" says Chan. "Leading companies are investing in upgrading their core business through innovation and harnessing technology."
Smaller enterprises, however, are often focused on survival and ensuring cash flow. "Customer retention and satisfaction are key success factors to them, so they will focus more on improving the customer satisfaction experience," adds Chan. "It's about attracting and expanding their customer segments in different areas of business."
And business size is not the only thing that matters when it comes to digitalizing products and processes. "Digital transformation impacts all companies," says Prophet's Zhang. "But the penetration rate for digitalization varies between industries, ranging from 40% for services such as hospitality, to around 20% for manufacturing and 10% for agriculture."
Some of the biggest players in the digitalization space offer integrated services, such as Alibaba's Lingshoutong (LST) platform which works with small retailers such as mom-and-pop shops and neighborhood convenience stores to digitalize their operations, from payments through to marketing.
But as the digitalization movement accelerates, there is a growing risk of some companies struggling to keep up and ceasing to exist. "I don't think this is really specific to China," says Mooser. "Unless somebody really takes care with where technology and customer demands are headed, their company may not fare very well in a market that is thoroughly digitizing."
Even though digitalization is a work-in-progress around the world, it is clear that companies in China are pushing ahead particularly strenuously when compared with other manufacturing powerhouses, such as Germany.
"There is a cultural aspect to this," adds Mooser. "Digitalization is a buzzword in China and every company wants to have a digital transformation. Everything needs to move very, very fast in China."
China at the leading edge
More Chinese companies than ever before are reporting the use of a wide range of digital tools, and many expect to increase investment in them in the future.
Much of the enthusiasm for digitalization comes from the top as the central government has pulled the policy lever in recent years to prod companies into digitalizing their operations. When it was announced in 2015, the Made in China 2025 initiative, seen as China's answer to Industry 4.0, was the first sign of this. "The policy was really about trying to turn China from a low-cost, labor-intensive world factory to a more tech-intensive powerhouse economy," says Zhang.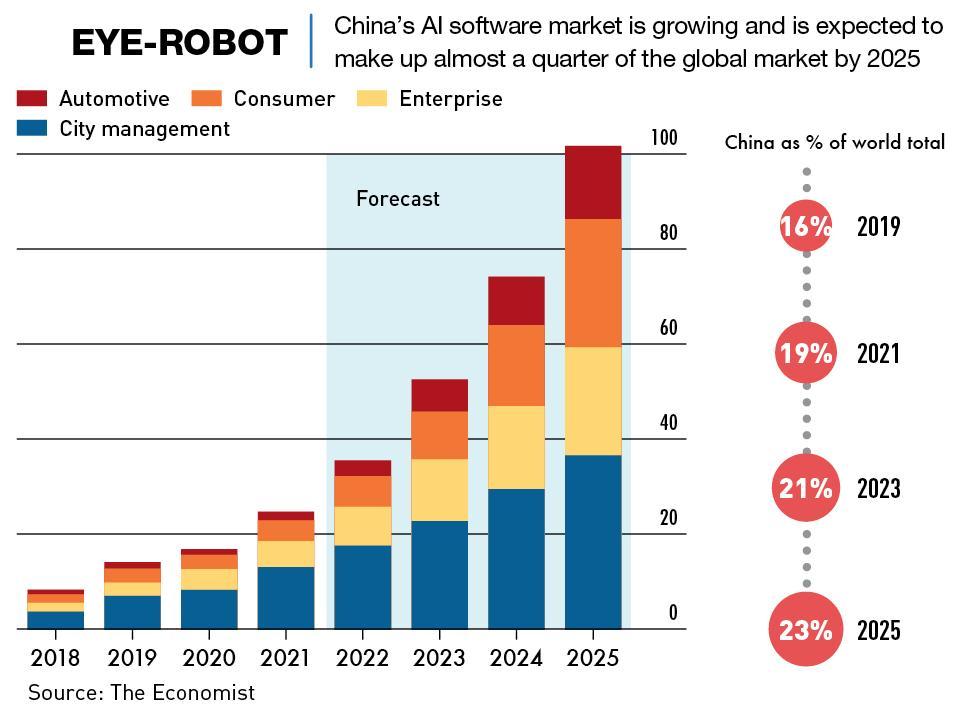 Beijing is also encouraging state-owned enterprises (SOEs) to undergo digital transformation to boost productivity and provide greater resilience to their often slow-moving and complicated organizational structures.
Few countries can boast a digital ecosystem as advanced as China's, which has earned a reputation as a hot-house for innovation and experimentation. This mindset is mirrored in Chinese consumers, who tend to love trying new products, services and technologies.
"In China, adoption can go quickly from zero to 100," says Allison Malmsten, marketing director at market research firm Daxue Consulting. "A big share of the general population are digital natives who are very comfortable with technology, so trends can spring out of nowhere."
There are potential downsides to this, though. Catering to the demands of China's fickle, hyper-connected customers can be a boon for business, but the unique nature of the market means products and ideas developed here tend to do less well abroad. "Some of the digital business solutions that have really taken off in China may not be fit for export as demands are different in other countries," says Malmsten.
Digital dilemmas
But digitalizing business operations is easier said than done. And the intense competition that exists in China can produce diminishing returns—the country is a land of rapid iteration and testing, so ideas with momentum can attract millions of users and spawn dozens of copycats.
"The incentive is often not there to encourage original ideas so those who produce said original ideas may not get the highest rewards," says Zhang. "That promotes the speed of innovation on business scaling and on commercialization, but much less so around the originality of new ideas."
According to the Dell Digital Transformation Index survey, the three major obstacles hindering the digital transformation of Chinese companies are a lack of in-house skills and expertise, data privacy and cybersecurity issues, and a lack of the right technologies in place to keep up to speed with business development. Globally, data and cybersecurity are also major issues, but budget and resource constraints and the inability to gain insights or information from data pose greater obstacles than they do in China.
When asked about solving their issues, 97% of the Chinese companies surveyed made it clear that they need to spend more on agile and scalable IT infrastructure to solve these problems, and were increasing budgets where they could. The rise of digitalization service providers in China is also helping companies who can't develop what they need in-house.
Retraining workers is also a viable option. "Enterprises can give more consideration to their talent development strategy to incorporate science, tech, engineering, art and mathematics," says Chan. "This can advance the corporate culture, help improve skills diversity, and create more synergy to help employee development."
But digitalization does not come cheap. Chan estimates that before the pandemic, large companies usually budgeted between 5-10% of their total turnover on digitalization. Now, amid intense competition to both defend and grab market share, typical spending has surged to 30%. SMEs by comparison earmark 10-15%, as they prefer to allocate resources toward sustaining growth.
There is also the risk of businesses viewing digitalization as a panacea for issues that could be addressed more easily or cheaply, by streamlining existing processes, among other things.
Folly or future?
As Chinese businesses increasingly go digital, the authorities are beginning to grapple with the challenge of transforming the world's largest workforce into lifelong learners. The task at hand is to transform education and skills development to deliver the talent needed for an innovative, digitalized, post-industrial economy.
The 14th Five-Year Plan in mid-2021 called for subsidized vocational training for 75 million people and the blueprint also made clear that a mechanism would be established to track and assess the impact of AI on employment, to prevent technology replacing people too quickly.
Much of China's edge in digitalization comes from the massive volumes of data collected across the economy and population, which is used to train highly-prized algorithms that govern everything from facial recognition to news recommendations. As more Chinese businesses go digital, more governance will be needed to ensure digitalization expands within desired parameters. Authorities have already sought to rein in the power of commercial algorithmic technology with new rules in March on their use.
But these concerns are unlikely to slow China's ascendancy in business digitalization. "Simply for the fact that it is implementing and refining its learnings," says Mooser. "China is going to be faster than most of the rest of the world."