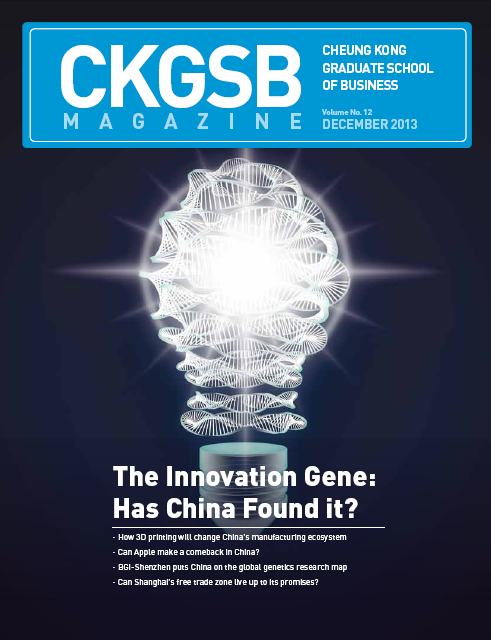 You are invited to download the December issue of CKGSB Magazine. You'll enjoy articles and interviews like:

COVER STORY:
3D printing: Prophets of doom say 3D printing will overturn manufacturing in China. They're both right and wrong.
CHINA INSIGHT:
All in the Genes: In just about 14 years of its existence, BGI-Shenzhen has become the world's largest gene sequencer How did it become so prominent?
Lightning in a Bubble: How transformative will the Shanghai free trade zone (Shanghai-FTZ) prove to be?
Screening for Gold: What are foreign production companies up against in the race to win the world's second-largest movie market?
Revved Retail: Fast fashion in China has been claiming consumers in vast numbers for years. Has it reached its peak?
Black, White and E-Read all Over: E-books are the future of publishing. Is China blazing a trail or dragging its feet?
iWho? Rivals race ahead of Apple in China's smartphone and tablet markets. What does it mean for Apple's future?
A Clockwork Tomato: Officially and scientifically, genetically modified food is the future in China. But will the people allow it?
SNAPSHOT (infographic):
Serving China's Dinner: With "food security" becoming a buzzword in China's politburo, where does China turn for its most urgent food needs?
CONVERSATIONS:
VIEWPOINT
Big Data? Big Deal: China has the will to leverage big data analysis, it just needs to find its way, says Li Yang, Associate Professor of Marketing at CKGSB.
SPECIAL
Your Environment and You: Juliet Zhu, Professor of Marketing at CKGSB, explains how environmental factors impact our cognition.
BUSINESS BAROMETER:
A New Leaf: The latest CKGSB Business Conditions Index shows that businesses are gearing up for growth.
DOWNTIME:
Earning Your Stars: Will 2014 be the year of the Michelin Star in China?
BOOKSHELF:
"On Leadership": Guo Xin, CEO of Career International, shares how John Gardner's book On Leadership applies to China today.
TO READ THE DECEMBER 2013 ISSUE, SIMPLY CLICK ON THE MAGAZINE COVER.
After it loads, you can save it to your computer.
KEEP IN TOUCH
To stay informed about new articles on the CKGSB Knowledge website, please follow us:
Enjoying what you're reading?
Sign up to our monthly newsletter to get more China insights delivered to your inbox.