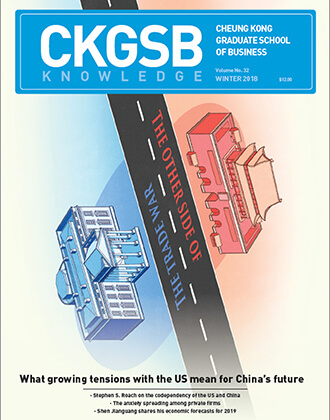 You are invited to download the Winter 2018 issue of CKGSB Knowledge Magazine. 
Over the past few months, a catchphrase from the hit HBO drama Game of Thrones seems to have been on everyone's lips in China. Investors, analysts and reporters have been lining up to tell the world that "winter is coming" to the Chinese market.
Several factors have contributed to this gloomy sentiment. More businesses are struggling to access credit following a deleveraging drive in the financial sector. A sell-off in the stock markets has exacerbated many firms' difficulties. Meanwhile, the trade war with the United States is making life tough for exporters.
All of this means that Beijing faces some big challenges in 2019. But how worried should we really be about the health of the economy? In this issue, we dig deeper into the issues driving recent headlines, and in many cases arrive at some unexpected conclusions.
We begin with the light flashing brightest on Beijing's dashboard: the growing tensions with Washington. At stake in the trade war is the fate of several core economic policies. What impact would nixing these initiatives have on China's future? Find out in "The View from Beijing".
The tariff war has mainly been viewed as a chess game between Beijing and Washington, but the pawns in this battle include the many multinational companies operating in China. In "Stuck in the Middle", we consider how they are being affected.
Completing our trade war trilogy is "Unplugging America", which dives into the issue that many consider to be the greatest source of tension between the two sides: China's ambition to rival US dominance in a number of high-tech industries.
Next, we look at the state of China's private sector. There has been a growing view that Beijing is promoting state-owned enterprises at the expense of private firms. In "State Advances, Private Retreats", we ask how worried entrepreneurs should be.
"Saving Is the New Spending" analyzes another recent media obsession in China. For months, netizens have been complaining of a "consumption downgrade" due to the rising cost of living. But as we discover, there is more to this than meets the eye.
We also have a pair of stories that zoom in on industries being transformed by new technologies. "Blockchain Chicken" (page 43) looks at how startups are using blockchain to improve food safety, while "Retail Revolution" explores how facial recognition companies like SenseTime are bridging the gap between online and offline retail.
China's technology sector is also driving social change, and in "Rising to the Top" we shine a light on how more women are obtaining top jobs in the country's largest companies, though there is still a long way to go. And "Beijing Cool" focuses on the world of fashion and asks whether we may soon see a Chinese superbrand emerge to rival the likes of Chanel and Prada.
We also feature five fascinating Q&As in this issue. Dame Barbara Woodward, British Ambassador to China, explains how the UK and Chinese governments are working together to promote gender equality. Dr. Eugene Qian, President of UBS Securities, highlights how foreign financial firms are finding new opportunities in China.
Stephen S. Roach, Senior Lecturer at the Yale School of Management, explores the US and China's "codependent" relationship. Elena Botelho, best-selling author of The CEO Next Door, tells us what it really takes to get the top job. And Dr. Shen Jianguang, Chief Economist at JD Digits, shares his predictions for the economy in 2019.
All in all, there is plenty to think about and discuss. If you have any comments or opinions to contribute, we would love to hear from you (lzhou@ckgsb.edu.cn or ckgsb.knowledge@ckgsb.edu.cn).
Enjoying what you're reading?
Sign up to our monthly newsletter to get more China insights delivered to your inbox.