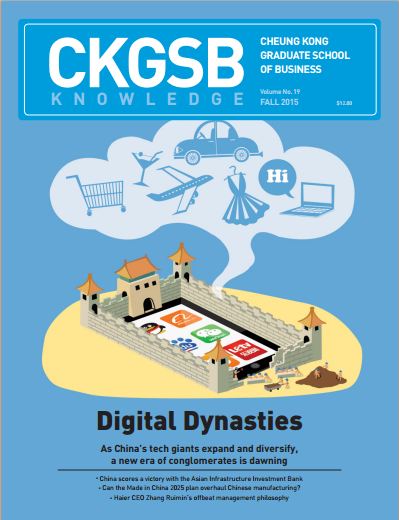 The Fall 2015 issue of CKGSB Knowledge is out! It has articles and interviews like:
COVER STORY:
The New Empire Builders: With Baidu, Alibaba and Tencent branching out into new areas, China is witnessing the rise of a new breed of digital conglomerates
CHINA DATA:
SNAPSHOT:
China's Growing Cities: The process of urbanization in China has been one of the most significant in history
CHINA INSIGHT:
Needing a Lift Up: A persistent provincial divide remains in China despite decades of government intervention
Revenue Streaming: Expensive investments and licensing agreements are putting pressure on China's culture of free online music and video
Banking on Development: The China-led AIIB looks to be a win for both Asia and China
Hunger Games: Despite a policy of grain self-sufficiency, China has a growing appetite for the world's food
The Chinternet of Things: Can China be a global leader in the Internet of Things?
Made in China 2.0: As manufacturing in the country struggles, China's leaders want to move it up the value chain
Sky's the Limit: Shenzhen-based DJI is the world leader in the nascent consumer drone market. How did it get there?
BUSINESS BAROMETER:
Cooling Optimism: Businesses remain confident in the face of difficulties, but only just
CONVERSATIONS:
DOWNTIME:
Game On: With the lifting of a 14-year long games console ban, Sony and Microsoft are finally taking on the mainland video game market
BOOKSHELF:
Matthew Crabbe, Director of Research, Asia-Pacific at Mintel, tells us which books give a reality check
TO READ THE FALL 2015 ISSUE, SIMPLY CLICK ON THE MAGAZINE COVER.
After it loads, you can save it to your computer.
TO READ THE MAGAZINE ON YOUR PHONE OR TABLET, PLEASE DOWNLOAD THE NEW CKGSB KNOWLEDGE APP:
For iOS, click here
For Android, click here
KEEP IN TOUCH
To stay informed about new articles on the CKGSB Knowledge website, please follow us on: