In the last two weeks, we took a close look at Chinese outbound investment in real estate and automobiles. This week, we turn the spotlight on the energy sector.
Energy is undoubtedly a make or break factor in economic development. China is not a resource-deprived country, but as one of the fastest-growing economies in the world, it needs to actively scout for and stock up resources. As per the Chinese Ministry of Commerce's 2012 Statistical Bulletin of China's Outward Foreign Direct Investment, Chinese outbound investment in power and mining combined reached $15.4 billion in 2012, nearly eight times of in the 2004 figures.
In 2013, state-owned China National Offshore Oil Corporation (CNOOC), one of the Big Three Chinese oil companies, hit the headlines with its $15.1 billion purchase of the Canadian oil and gas company Nexen, making it the biggest overseas acquisition of a Chinese company in history. Prior to this, CNOOC had bought Opti Canada, a Canadian oil sands developer, for $2.1 billion in 2011.
However, the worsening pollution issue and environmental concerns have put tremendous pressure on China's fossil fuel usage. As a result, investing in renewables has become a new trend. In 2009, China Solar Power acquired a US solar start-up named Thin Silicon. In 2012, Chinese Titan Wind Energy closed a wind tower factory deal with Danish wind turbine maker Vesta for an unknown amount.
Interested in Chinese outbound investment in energy? Take a look at the infographic below.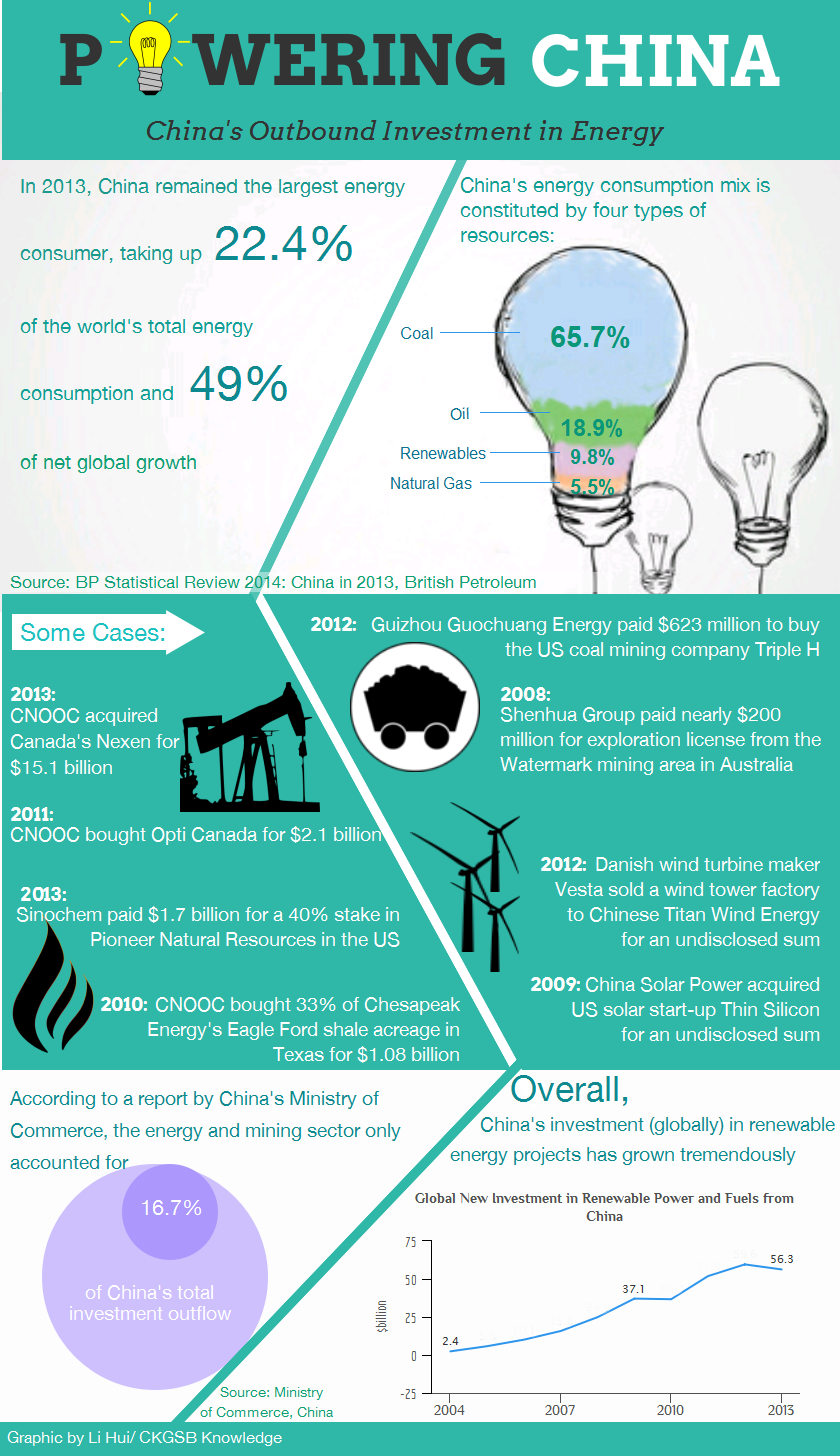 Enjoying what you're reading?
Sign up to our monthly newsletter to get more China insights delivered to your inbox.