For decades, China has been considered the biggest and most important emerging market in Asia. But now India is stepping into the spotlight, as opportunities for foreign companies grow.
Anju, a clerk aged in her late 50s, works in a trading company in Delhi, India. She swears she will never use any mobile phone other than an Apple and she definitely refuses to buy Chinese goods, even toys for her grandsons. "All Chinese products break so quickly," she says dismissively.
Anju's son Rishi, a product photographer in his late 20s, uses an iPhone, but is now considering a Chinese Xiaomi phone. He describes his mother's views as outdated, held by "India's older people only." Statistics bear him out—Indians are readily embracing Chinese-branded Androids. Over half of all mobile phone sales in the first quarter of 2017 were Chinese products.
Meanwhile, the TV set playing behind the pair in the living room of their nicely decorated middle-class home features India's beloved national cricket team wearing new jerseys. The logo featured on the breast is Oppo, China's top mobile phone maker. In March, Oppo paid 10.8 billion rupees ($166 million) for a five-year sponsorship that displaced Indian broadcasting company, Star India.
The spend is a continuation of a strong push by the company into India's mobile market—Oppo grew 1,578% in 2016. By the end of Q1 this year, the company had 9.3% of the market and was the fifth largest smartphone seller in India behind three other Chinese brands: Xiaomi, which took 14.2% marketshare, Vivo, with 10.5% and Lenovo, with 9.5%. Samsung, a Korean brand, still lead, however, with 28.1%.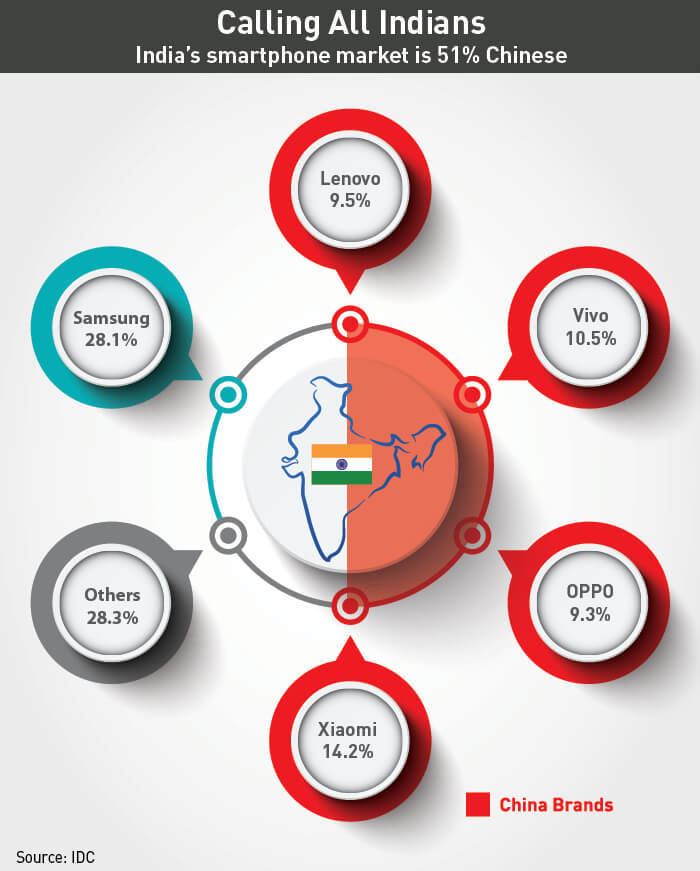 The competition in India's smartphone market reflects the increasing interest India is arousing in multinationals, as well as many Chinese firms with international ambitions. With a population of 1.2 billion and an increasingly vibrant consumer market, companies from around the world are excited about the country's potential.
Last year, a record 109.1 million smartphones were sold in India, up from 102.7 million in 2015. With the Indian market still dominated by older flip-style phones, there is plenty of room for growth. Meanwhile, passenger vehicle sales crossed the 3 million threshold for the first time last year, with sales growth of 9.2%. Consumer appliance sales also grew an estimated 7.5% in 2016. This was double Asia-Pacific growth as a whole and triple the world, according to Euromonitor International.
The boom has even stolen the economic spotlight from China. For the last two years, India's growth has outpaced its northern neighbor. In 2015, it was 7.9% compared to 6.9%, and 7% against 6.7% in 2016. When Apple Chief Executive Tim Cook recently visited to push the opening of branded retail stores in India, the state-run Global Times newspaper, based in Beijing, warned that "China's thunder" had been stolen.
Growth in India has become especially important for many multinationals, including Apple, as their market share in China has fallen in recent years. This applies not only to consumer electronics and automotive firms, but also to European and American luxury brands. Companies such as Louis Vuitton, Michael Kors and Coach are increasingly present with flagship stores located in iconic malls of major cities designed to lure new customers.
"India has a young population with jobs," says Shobhit Srivastava, an analyst with IT analysis firm Counterpoint Research, based in the city of Gurugram, southwest of New Delhi. "When you have that, you have international companies seeing potential customers."
In India, tens of millions of young people are entering the labor market each year. In comparison, China's birthrate has been low for decades and shows little uptick despite relaxation of the one-child policy last year. This has resulted in a shrinking workforce and a rapidly aging population. According to United Nations estimates in 2015, by 2030 the median age in China will be 43, but in India it will still be just 31.
Chinese companies hoping to capitalize on the boom and expecting an easy conquest of the Indian market are, however, in for a shock. A complex market, stiff competition and a heady mix of political issues means success will not come easy.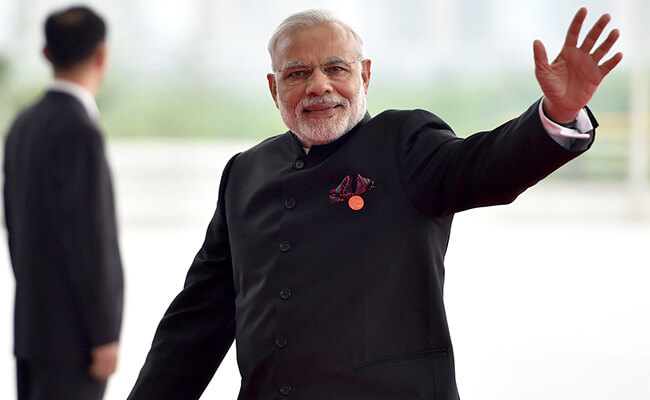 The Next Big Opportunity
"Although India has always had huge potential, the sense of urgency among international companies has grown recently," Srivastava explains. "Barriers are [being] removed for the entry of international companies and the Indian government is becoming more cooperative."
He is referring to the bold policies launched by Indian Prime Minister Narendra Modi who swept into power in 2014 on a platform to open and accelerate the Indian economy. Modi's flagship policy, the "Make in India" program, aims to increase the share of manufacturing in the economy from about 18% when he took office to 25% by 2022.
Modi's strategic outreach has already attracted a long list of foreign investment ventures. These include South Korea electronics-maker Samsung and Japanese peer Sony, as well as German automotive component and services supplier Bosch. Many other foreign players have announced major expansions to existing plants. Also on the list are Taiwanese electronics contract manufacturers Foxconn, Inventec Corporation and Winstron. SAIC Motor, China's largest auto manufacturer, has proposed a takeover of the General Motors' facility in the western state of Gujarat.
"Chinese companies are looking for their next big opportunity and India is an obvious choice," says Firat Unlu, Lead India Analyst of the Economist Intelligence Unit (EIU), a London-based think tank. Currently more than 300 Chinese companies, including IT device-makers Huawei, Lenovo, Vivo, Xiaomi and ZTE, as well as electrical equipment-maker TBEA, have established outposts across India. Heavy machinery-makers Sany, Liu Gong and home appliances-maker Haier Group also plan to expand their footprints.
Thomas Hundt, a Delhi-based representative of the German Trade and Invest (GTAI) agency, part of the German Federal Ministry for Economic Affairs and Energy, keeps a well-trained eye on trends. He notes that the Chinese have become fierce competitors to the Germans in the India market, especially in terms of industrial machinery.
"In 2006 India's industrial machinery imports from Germany and China stood at 21% and 13% of total machinery imports respectively," he says. "The positions had switched by 2016, with each holding 15% and 26% respectively."
The growing competition is not, however, limited to merchandized goods.
India's booming e-commerce business has attracted companies from Japan, Singapore, South Korea and the United States, as well as China. Among recent deals is an investment by Chinese ride-hailing service Didi Chuxing in Ola Cabs, an Indian online transportation startup. This will again see Didi pit itself against US rival Uber. After years of tough competition in the Chinese market, Uber yielded to Didi in 2016. Ironically, when selling out, then-Uber CEO Travis Kalanick indicated that the deal would allow the company to focus on India.
Similarly, when Alibaba beat eBay in China, the e-commerce sales portal reacted by establishing an investment partnership with the Flipkart Group, which has become India's leading e-commerce marketplace. After acquiring local rivals Myntra and Jabong, Flipkart and eBay are in a strong position to rebuff forays by Alibaba and Amazon, the United States online commerce behemoth.
"For Chinese brands to win in India, they not only face Amazon or Facebook, but also fierce local competition," says Doreen Wang, Global Head of market researcher BrandZ at Millward Brown. "Why should I use Alibaba? I have Flipkart!"
She stresses that India has "really smart technology and talented people," among them an army of CEOs that have received education in the West and understand investing in R&D and marketing. "Plus, they are not shy about technology. This all makes the Indians strong competitors," Wang says.
Steep Learning Curve
"It took the Chinese a few years to realize that they must localize operations by teaming up with local consultancies," says Irfan Alam, Member Secretary of the Delhi-based India China Economic and Cultural Council (ICEC), a non-governmental organization that has hosted many Chinese delegations to India. "They have also begun to understand that they need a good marketing plan."
Alam explains that this was more difficult for the Chinese to learn than other foreign players. "In the past every Indian trader went to China to buy Chinese-made no-label products, so that there was no need for the Chinese manufacturers to market themselves."
According to Alam, the lingering negative perceptions Indian consumers have of Chinese products stem from this time. Indian traders would often bring back "cheap, low-quality goods from China, despite Chinese factories actually creating goods in all price and quality categories."
Oppo's embrace of cricket is evidence that Chinese companies are catching on. Counterpoint's Srivastava says that Chinese companies are now doing a lot right to dispel the negatives associated with Chinese-made goods—which is perhaps why Anju and Rishi have such different opinions.
"There is not a single corner in the country where there is not a logo of Chinese mobile phone brands, and they… hire famous Bollywood actors for promotional campaigns," Srivastava notes. "This enables them to play on quality, so negative perceptions among consumers are eroding."
Not everyone has taken on the lessons. Some older brands, such as the Haier Group, a white goods manufacturer, have been in India for decades without making efforts in marketing and localization. Srivastava says Haier failed to impress Indian consumers at the right time, "so now people see Haier as a brand that lags far behind the quality of LG, Samsung and the like."
Alam believes there is more upside potential for Chinese companies in India. For example, while India imports much of its construction and home improvement materials, not a single Chinese brand in that sector has a significant presence in India. Chinese clothing and food brands, as well as motorcycles and cars, are not visible, either.
Political Headwinds
Increasing sentiment on the Indian side that the domestic industries need protection may hamper further engagement by Chinese companies in India, reflects Unlu of the EIU. "Given the significant differences in scale and connectivity with global markets, India clearly has an incentive to support its own companies."
In this respect, China's smartphone makers may be victims of their own success. When they snatched 51% of the total market in the first quarter of 2017, Indian competitors began demanding "anti-dumping" duties. "It looks as if India is being overwhelmed," comments Srivastava. "So the government is coming under pressure from local companies to prevent foreigners from grabbing more market share."
Such sentiments do not reflect the intricacies of modern supply chains. Thanks to Modi's policies, 86% of mobile phones sold in India are manufactured there, compared to 15% in 2014. Foxconn Chennai has production lines dedicated to Oppo's smartphone requirements in the country, as well as Huawei's plant, also in Chennai. Xiaomi, in partnership with Foxconn, opened its second smartphone manufacturing factory in Andhra Pradesh in March, and Apple has confirmed it has started assembling iPhone SE units in Bengaluru.
Srivastava explained that Modi encouraged local production by raising tariffs of completely assembled mobile phones while keeping tariffs on components lower. He added that the Modi government is now focusing on attracting localized component production as well. Recently, however, India's Ministry of Home Affairs blocked big-ticket investment plans by Shanghai Fosun Pharmaceutical and the Bank of China. This is seen as a response to growing anti-China pressure on Indian policymakers.
Political tensions are in the mix as well. Sino-Indian diplomatic relations have often been difficult due to a long-standing border dispute, while India still broods on what it believes was China's decision not to support its recent bid to join the Nuclear Suppliers Group. The latest incident in the ongoing diplomatic slights was India's boycott of the Belt and Road summit held in Beijing this May. India claims China's mega infrastructure plans ignore core concerns about sovereignty and territorial integrity.
"Every now and then, I am forwarded WhatsApp messages demanding the boycott of Chinese goods over diplomatic spats," Anju, the office clerk from Delhi, says. Among the companies on the receiving end of such anti-Chinese sentiment is the Indian mobile wallet service company Paytm, of which Alibaba is the major shareholder.
In late 2016, opposition leader Lalu Prasad attacked Modi for "advertising" Paytm because it emerged as a major beneficiary of Modi's currency reform campaign. The reform withdraws India's two highest denomination bank notes, 500 and 1000 rupees, which equates to over 80% of the value of cash in circulation—the measures triggered India's biggest-ever cash crunch.
Seemingly in reaction, Paytm confirmed in April that it was in talks with Japanese investor SoftBank. Getting SoftBank on board will help reduce the influence of Alibaba and thereby reduce potential political concerns about Chinese control in what is considered a strategically important sector.
Still Attractive
India is expected to overtake the United Kingdom in terms of GDP by 2020, making it the world's fifth-largest economy behind the US, China, Japan and Germany. For Chinese companies seeking a foothold in this rapidly growing market, the signs remain upbeat. And attracting foreign manufacturers remains vital for Modi's "Make in India" campaign as it relies on importing foreign technology and investment to create India's own ecosystem for manufacturers and tech companies. India has also liberalized business visas in non-sensitive areas and removed China from the list of countries requiring prior referral, indicating that the political risks for Chinese companies are declining, not growing.
"I think the political risk for Chinese companies is not high," says Xin Yuan, a Beijing-based China research analyst with EIU. "I don't think India will resort to protectionism because the sectors most Chinese FDI (foreign direct investment) goes into are relatively open in India, and because FDI is the major monetary source for economic development in India."
Xin says "Make in India" should not harm Chinese companies. "China is losing its competitive edge as a low-cost manufacturing base, so many Chinese companies are seeking manufacturing opportunities in India, either on their own or through joint ventures with local counterparts," she says.
Yet, while the reforms of the Modi government have made significant changes, entering India and doing business there remains notoriously difficult. Complex bureaucratic procedures, huge business startup costs and India's great internal diversity can all be significant barriers. Not only do customs, culture and stages of economic development differ starkly between Indian states, but so do the bureaucracy, tax and tariff regimes. This means brick-and-mortar business presences are often necessary throughout the country.
These difficulties were highlighted in a recently study by Dr. Wamser + Batra GmbH, a consultancy that supports German companies in India. The report found that German small- and medium-sized enterprises with boots-on-the-ground subsidiaries perform significantly better than firms with other forms of engagement.
There is a risk of "no direct access to the customer, opacity in the business behavior of local business partners, insufficiently trained sales and service staff," the report stated. Furthermore, no physical presence meant companies risked having no control over local activities, no influence on marketing strategies and, in turn, no influence on the fate of their own brands in India.
These hurdles are reflected in the World Bank's ease of doing business index in 2016. India ranks 130 out of 190 countries. China comes in at 78. "Things that are easy to do in China may be difficult in India," says Alam of the ICEC, noting the slow progress of FDI from China in comparison to countries like Japan and Germany.
Nevertheless, he concludes, India is growing fast and there are many opportunities. "The Chinese need to understand that if they are slower than others, they will miss out on the development of India."
Enjoying what you're reading?
Sign up to our monthly newsletter to get more China insights delivered to your inbox.